Editor's Note: We're all dreaming of travel ahead. Here's some inspiration for future adventures. We share places, products and activities we recommend. If you make a purchase using a link on our site, we may earn a commission.
With its towering sand dunes and windswept vistas, Great Sand Dunes National Park & Preserve almost looks like something from a movie.
This national park in a remote corner of southern Colorado offers unique adventures, from sledding or even boarding down the dunes to wading in the ankle-deep Medano Creek, which appears and disappears, depending on the time of the year.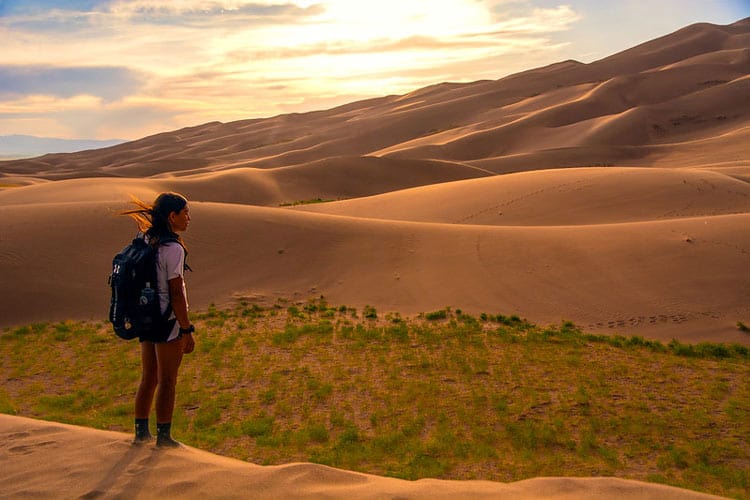 The park's remote location offers plenty of dark sky for stargazing, and there are many hiking trails in the 30-square-mile dunefield.
Camping is available at Piñon Flats Campground, and there are other private and public campsites nearby. The park even has special sand wheelchairs available at no cost, making the park accessible to all.
Here are the top 10 reasons to visit Great Sand Dunes National Park & Preserve.
1. Stargazing
Great Sand Dunes National Park & Preserve is located in the southern Rocky Mountains on the Continental Divide and is known for its dark skies. Not only is the park a dark sky preserve, but it is also home to some of the darkest skies in the entire lower 48 states.
2. Hiking & Biking
There are approximately 29 miles of maintained and marked hiking trails in Great Sand Dunes National Park, ranging in difficulty from easy to strenuous.
High Point Loop Trail is a popular hike. It has signs indicating how many feet of elevation change you will experience on your way to the peak. Additional trails include the Lazy L Loop Trail, South Trail, Dunes Knob Trail, Lower Deck Trail, Whitewater Creek Trail, Horseshoe Trail and Shale Trail.
The Dunes Knob Trail is a popular detour that takes you through tall grass and up to the top of the tallest dunes. If you visit Great Sand Dunes National Park & Preserve during winter, check out the Continental Divide Climbing Routes.
Climbers from around the world come to compete in the Sand Dunes Climbing Championship every winter. Snowshoeing, skiing and snowboarding are also popular during the winter months.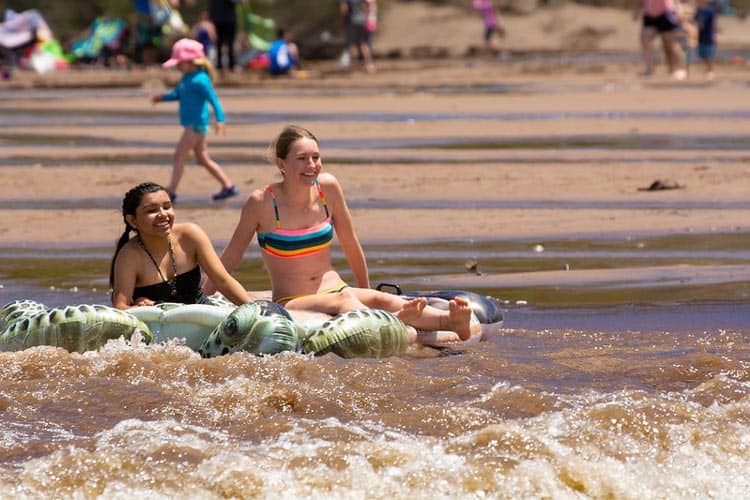 3. Medano Creek
Meandering through the tallest sand dunes in North America, the Medano Creek is a superb place to wade, swim or just enjoy a picnic. The water often spreads out far yet shallow across the sand, making it a perfect play spot for little ones.
In the summer, the area also has small trees and bushes along the water. Medano Creek is an important habitat for a variety of species, including black bears, golden eagles, coyotes, hawks and rare amphibians.
4. Camping by the Dunes
Piñon Flats Campground is the only campground located in the park, which is one of the top five popular national parks in the country.
This Colorado campground has 89 campsites (28 are partially or fully wheelchair accessible), two dump stations, picnic areas and a boat ramp. It is near the parking lot for the ranger station, which offers a shuttle to the dunes.
Bring all the best camping gear from Mountain Warehouse to keep you and your group comfortable in the outdoors. Whether you need a tent, sleeping pads or just some fire pit chairs, you can find all the essentials for your nature trips here.
Additionally, it is located just eight miles south of the entrance to Devil's Garden Wilderness. Nighttime temperatures in the campground are ideal for sleeping, with minimums in the mid-50s during summer months.
5. Wheelchair Accessibility
Great Sand Dunes National Park has a limited number of sand wheelchairs available for loan at the visitor center.
The inflatable tires make it possible to go across the sand (a helper is required to push the wheelchairs). Dunes Parking Area, located one mile north of the Visitor Center, is the closest parking to the dunefield.
If you don't have a sand wheelchair, there are accessible paths on the edge of Medano Creek, with a viewing platform just above the creek bed.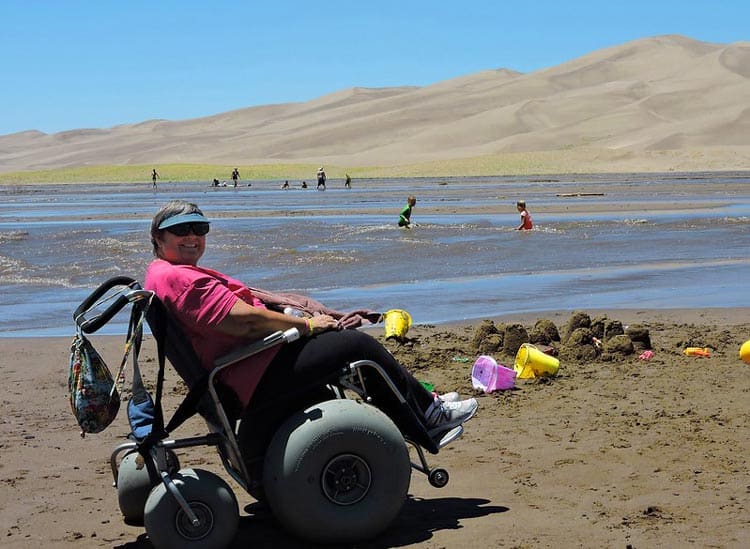 6. Dark Skies
With only 20 percent of its area under direct sunlight all day long, Great Sand Dunes is a dark-sky preserve, so there's plenty of time to spend star-gazing.
The park's remote location in southwestern Colorado means that it's a great place to be stargazing and viewing the Milky Way, even if you don't want to camp out.
You can always meet in the middle and enjoy being surrounded by nature with the comfort and space of an RV from CampingWorld. Check out the selection of RVs and accessories for rent and sale here and make your adventure at the Dunes unforgettable.
According to NASA's artificial-light map, Great Sand Dunes is the only national park in the contiguous United States that does not experience a significant amount of artificial light at night.
7. Sand Dunes Distinctive Landscape
Although the dunes are undoubtedly dramatic, you don't have to climb them to experience them. With the National Park Service (NPS)'s unique driving tour, it's possible to see the dunes from all angles.
The Park Service offers a dune tour that showcases the dunes' colors, which vary according to the time of year and conditions. You'll see things that you might otherwise miss because the area is too rugged to be accessed by nonmotorized vehicles.
The tour takes about two hours to complete and takes visitors on a series of three scenic drives: One through the east side of the park (on top of the dunes), one along the Medano Creek, and a third through a remote area of the park.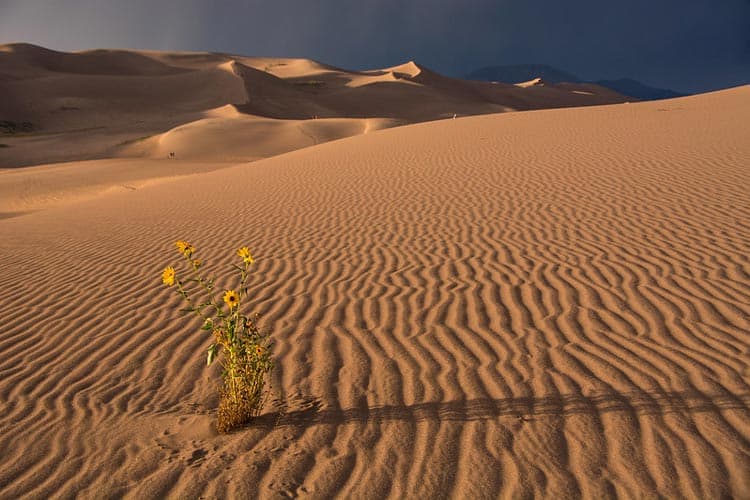 8. Geology
According to the National Park Service, the Great Sand Dunes originated from large lakes that once covered the San Luis Valley. As the lakes dried up, a dunefield emerged with sediment from the Sangre de Cristo Mountains and San Juan Mountains.
At the park, you can learn more about these unique formations and how they formed in just a few million years. As well, these ancient dunes have never completely eroded away, like sand dunes do everywhere else.
9. Wildlife
Although there is relatively little wildlife in the national park, the views of the wilderness are nonetheless impressive. More than 25 species of native grasses grow in the park and surrounding dunes, including fansedge, purple lupine, rainbow switchgrass and lamb's quarter.
Desert bighorn sheep and mule deer graze in the alpine meadows and sand dunes, and there are desert tortoises, coyotes and javelina. A herd of pronghorns, which migrate through the area every year, can be seen at certain times of the year.
10. Sandboarding and Sand Sledding
Sandboarding at Great Sand Dunes National Park is quite the experience. You'll need to bring your own sled or sandboard, as the park does not rent them. You can rent sleds and sandboards at the Oasis Store, which is just outside the park entrance.
Sledding, Sandboarding and skiing are permitted throughout the park, away from vegetated areas. From the Dunes Parking Area, it's a .7-mile hike to get to the slopes. There are smaller slopes near the base for little ones.
Please note that snow sleds and snowboards don't work well, as they require wet sand or snow to slide. It's best to use equipment made for sand with a slick base material and wax for sliding.
Book This Trip
Start planning your trip to Colorado to trek through the Great Sand Dunes National Park now! You can check out Kiwi and find the best flight deals and travel hacks here. Then look up insider knowledge on camping, hotel or VRBO options and local restaurant favorites on Travelocity and TripAdvisor.
Learn more about Great Sand Dunes National Park & Preserve