I grew up in Italy watching many of Sergio Leone's spaghetti western movies set in the desolate lands of the West. This region was always on the top of my list of places to visit.
American Road Trip
Traveling through the United States is an experience that feeds your imagination in many different ways. It is a journey through the vastness and emptiness of the valleys of the Far West where old memories can come to your mind at every direction you take.
Photography was the key driving element that led us to pick certain locations. The idea was to spend two weeks traveling in a van through the most popular national parks from California to Colorado.
We timed our destinations following the rise and the set of the sun, always trying to be in the best spot at the right moment. Obviously, we were not always lucky. Due to the short time available, we could not extend the stay in the same location when the weather was not helping to get the best light.
Death Valley
We started with the incredible diversity of landscapes that Death Valley offers: giant sand dunes, never-ending salt lakes, painted hills and the darkest skies that you can witness. We were not aware we were passing through the lowest area in the United States — the roads were so straight and the perception of changing levels was basically annulled until we started to drive through the mountains of Nevada, Arizona and Utah.
The Valley of Fire
The Valley of Fire was our next stop, a must-see if you are close to Las Vegas. These incredible rock formations really turn red for few seconds during sunrise and sunset. You can't miss this show, whether you are a photographer or a nature lover.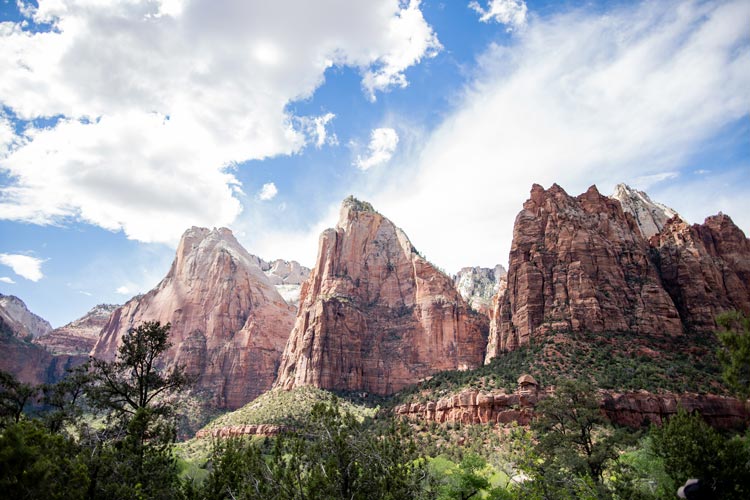 Zion National Park
The more we drove east, the more the topography changed. The horizon was hidden by giant mountain peaks until we got to Zion National Park, an incredible mix of grey big mountains and green forests bonded together by the majestic Virgin River that flows throughout the valley. Bear in mind this park requires several days to explore properly, but we just did not have the time.
Bryce Canyon
We managed to get some good shots and an early wake that put us back on the road toward Bryce Canyon. Now, this place exceeded our expectations — the last few patches of melting snow created an even more impressive panorama. It was completely covered by incredible works of art by nature called "hoodoos," some giant stack of thin rocks that looked like they were about to fall at any moment.
The weather conditions here were pretty rough, with cold temperatures and strong winds, so we moved on to our next destination pretty quickly.
Monument Valley
Once we arrived at Page, in Arizona, we felt we had entered the desert that made many movies famous. After a compulsory stop at Horseshoe Bend and Antelope Canyon, we finally arrived in the land of the "Buttes," also called Monument Valley, where we were captured by another magical vibe that surrounded us. We could not stop imagining John Wayne, trotting on his horse over the plains in search of new adventures.
The landscape is so flat and so beautifully characterized by rock formations that you can try using as many lenses as you wish, pointed to the same direction, and you will always obtain a different spectacular shot.
Shiprock Formation
The last two stops of our journey were meant to be the Arches and Canyonlands National Parks, but we decided to have a quick trip down to New Mexico to see the new Instagram-famous Shiprock formation. And the detour was worth it.
In fact, what unfolded in front of us was a 3-mile (5-kilometer) dinosaur's spine-like rock formation terminating with a giant volcanic neck. No wonder they used this location for the new Jumanji movie!
Our trip ended in Denver after enjoying three intense days between balanced rocks and delicate arches following the Colorado River in the Canyonlands.
I must admit, these 16 days were very challenging from many aspects (logistics, distance, weather conditions and temperatures) but I would do this trip over and over again.
We explored some of the most amazing places in America and I think the main lesson we learned was to respect the fragility and vulnerability of nature.
Tourism is growing fast everywhere in the world and we need to be aware that it is so easy to alter the local ecosystems. So let's be gentle and respect every aspect of the life of our planet.
Author bio: An internationally published photographer who specializes in lifestyle and travel photography, Camillo is an adventurer, and natural light is the key to his work. He likes to call himself an advocate of beauty which is expressed through the face of nature.
Instagram @francescocamilloph