Golden, the first territorial capital of Colorado, is experiencing unparalleled growth in food and dining choices as more and more chefs and restauranteurs discover this beautiful little historic mountain town.
Located just 12 miles from downtown Denver, Golden is a world away in atmosphere offering every type of dining experience, from restaurants in old historic buildings, food halls with free parking, outdoor dog-friendly beer gardens with food trucks, fine dining, raw bars, craft cocktails from local distilleries, streamside dining and outdoor cafes along an "Old West" main street that looks like a movie set for small-town America.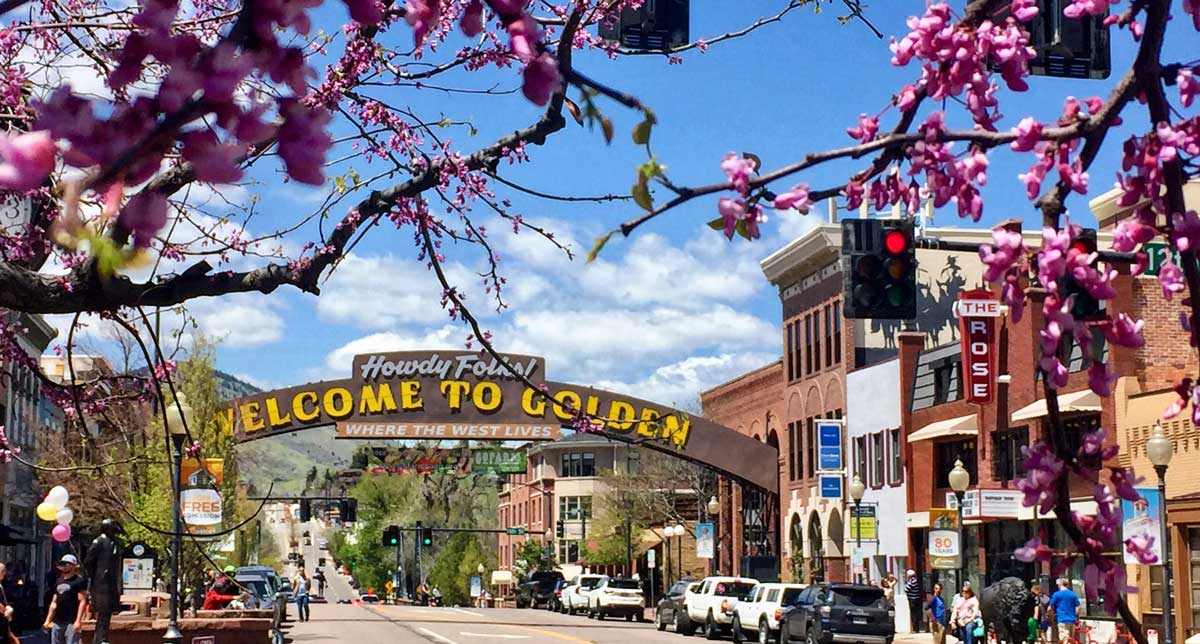 The home of Coors Brewery, Golden has long been famous for producing more beer than any other place in the world. In addition to the planet's largest brewery, Golden has eight craft breweries, each with an outdoor, dog-friendly beer garden and a changing array of food trucks.
But today's Golden is also bursting with many food choices, which makes it the perfect place for a night out. From just about anywhere in Golden, you can watch the sun set behind Lookout Mountain, park your car for free, and walk to an unbelievable choice of dining options. Here's some ideas.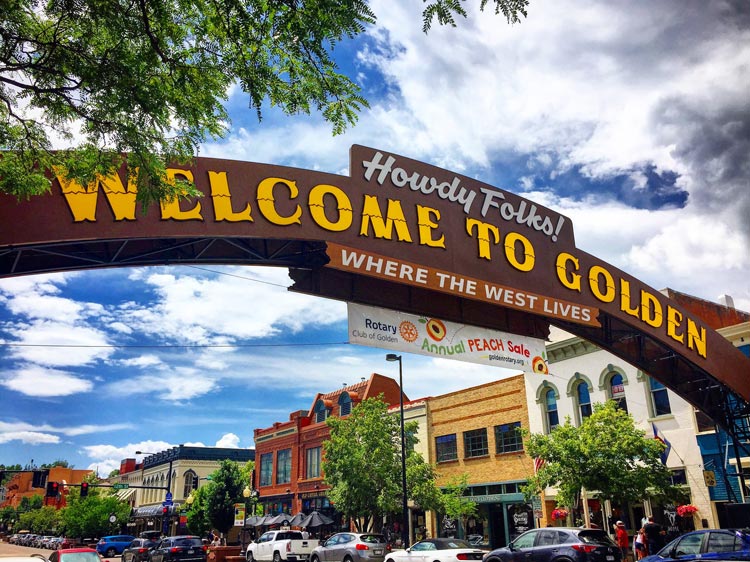 Located in Downtown Golden, Abejas (pronounced ah-bay-haus), is a community-focused restaurant dedicated to seasonality and new American dishes. Opened in 2015, they use fresh local produce, organic meats, and sustainable fish. The beverage program features local craft distilleries and breweries, small production wineries, and classic cocktails. Longtime friends and now co-owners, Brandon Bortles and Barry Dobesh (the "B's", as they are known) chose the name Abejas to convey the meaning behind the bee: agriculture, nature, and  "Abejas" means "bee" in Spanish, of course.  Try the Lamb Chop with Farro, Sun-Dried Tomato, Eggplant, Cucumber, Tumeric White Bean Puree, Leek Yogurt, or the Bone-In Pork Porterhouse New Potatoes, Baby Zucchini, Morel Mushrooms, Spring Onion Puree, Roasted Fennel. They also do lunch and a brunch with such delights as Smoked Steelhead Trout Benedict with Dill Creme Fraiche, Spinach, Hollandaise, Poached Eggs, Greens, and Potato.
Following in the same tradition, Brandon Bortles and Abejas chef de cuisine, Max Kofoed, (both born in Golden) will open a new ramen eatery called Nosu in late 2019. "Nosu," is short for "hachinosu," the Japanese word for "beehive." Bortles and Kofoed, who previously worked at the acclaimed Cholon Modern Asian in downtown Denver, plan to serve a menu of both traditional and non-traditional ramen bowls, plus gyoza, yakitori and several other small plates, bento boxes and cold noodle dishes.
Tributary Food Hall & Drinkery The big news for this small town opened in August 2019, offering a gorgeous collective of local, independent food and drink artisans, each with their own small area in a beautiful food market. Created by celebrated local chef Daniel Asher and restaurateur Josh Dinar (they previously collaborated on Boulder's River & Woods, LoHi's Ash'Kara Unorthodox Cuisine and Broadway Market's Mother Tongue,) the duo have brought a new concept to Golden. Small food stations surround a central dining area, where there is a  fun community table available to be reserved for a group gathering or to just join and make new friends. Orders can be made by computer or phone to be picked up for picnics and trips to the nearby mountains, or there is a relaxing outdoor deck and indoor seating options. The great thing is everyone can get what type of food they want, grab a drink at the bar and meet on the patio.  And the food?  Selections include:

Generous Coffee – Socially responsible brew from the best beans in the world.
Kona Bowl Superfoods Café – A healthy taste of island paradise in the Rocky Mountains.
Woodgrain Bagels – Montreal wood-fired bagels, spreads and sandwiches.
Miner Meat & Cheese – Gourmet sandwiches, charcuterie boards, and breads that taste like they were just baked in Paris.
Fringe Pizza – Uncut Neapolitan-style pizzas made with a sourdough starter with all the toppings.
SurMesa Taqueria from Brandon Bortles and Noah Heaney (co-founder of Miner's Saloon) bring tacos to Golden.
Amore Gelato – Save room for these Italian chilled delicacies.
Thai Kun – Authentic Thai street food by Chef Thai Changthong
The Tributary Bar – Creative cocktails, boutique wines, and local craft beers.

Bella Colibri offers rustic elegance and five-star, creative Italian cuisine to Golden and pay tribute to Golden restauranteur Dean Valdez's Italian heritage.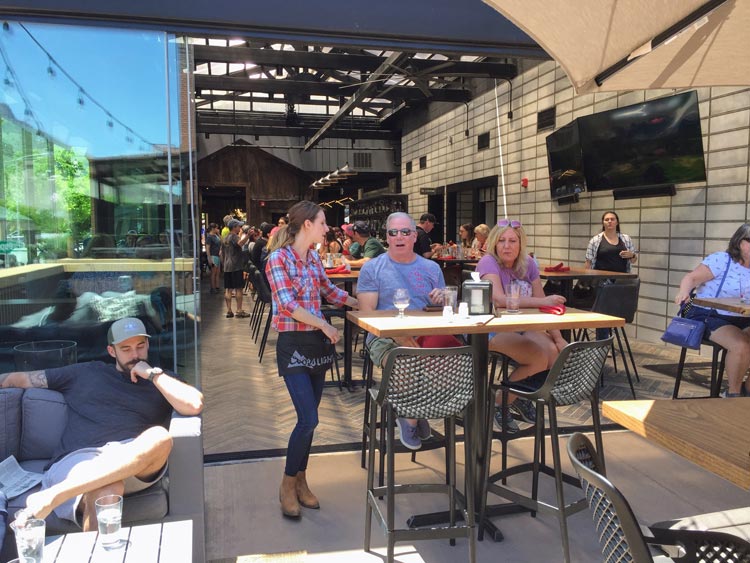 Speaking of buffalo, The Buffalo Rose, which has been a center of food and entertainment since the days of frontier scout and showman Buffalo Bill Cody (who is buried on nearby Lookout Mountain), has been completely redesigned with new skylights, patio, and a new concert hall. Generals Grant and Sherman of Civil War fame once stayed in this historic building. Today, it has been completely transformed, preserving its exposed brick walls and historic atmosphere, but adding such delicious food items as the Wild West Burger, pulled lamb sandwich, Bison ribs, pan seared Salmon, and Arroz con Pollo, as well as signature cocktails and craft beers. The attached concert hall attracts some of the biggest names in rock, country & western, and blues.
Southwest Golden is now home to the Origin Hotel, the official hotel of Red Rocks Amphitheatre, perhaps the most famous outdoor concert venue in the world having hosted everyone from the Beatles to Bruce Springsteen with 160 concerts and events in 2019. Across the street, the brand new Over Yoder Brewing Company (Golden's seventh brewery!) has food trucks and craft beer, while next door is Vice Kitchen Wine Whiskey, a perfect pre-Red Rocks dining option for Rocky Mountain Specialties like Elk Tenderloin, Golden Breaded Trout, Salmon BLT, Buffalo Ribeye and Beef and Bison burgers. It's an easy Uber down the hill to Red Rocks.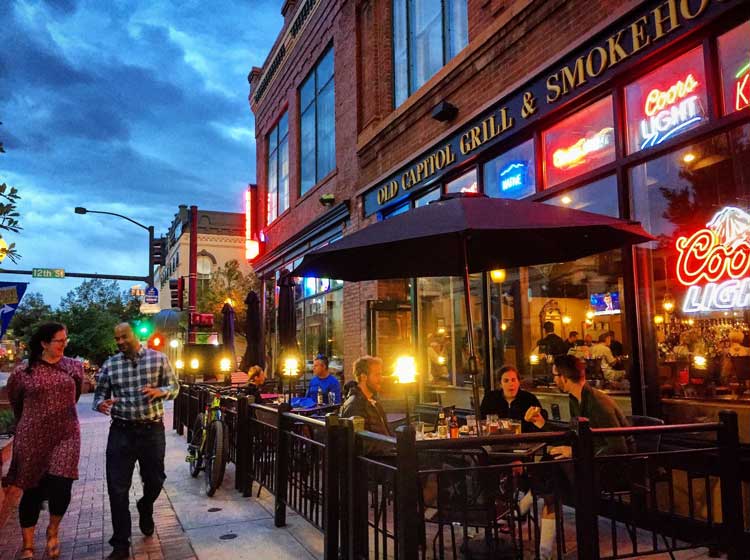 Hometown Favorites: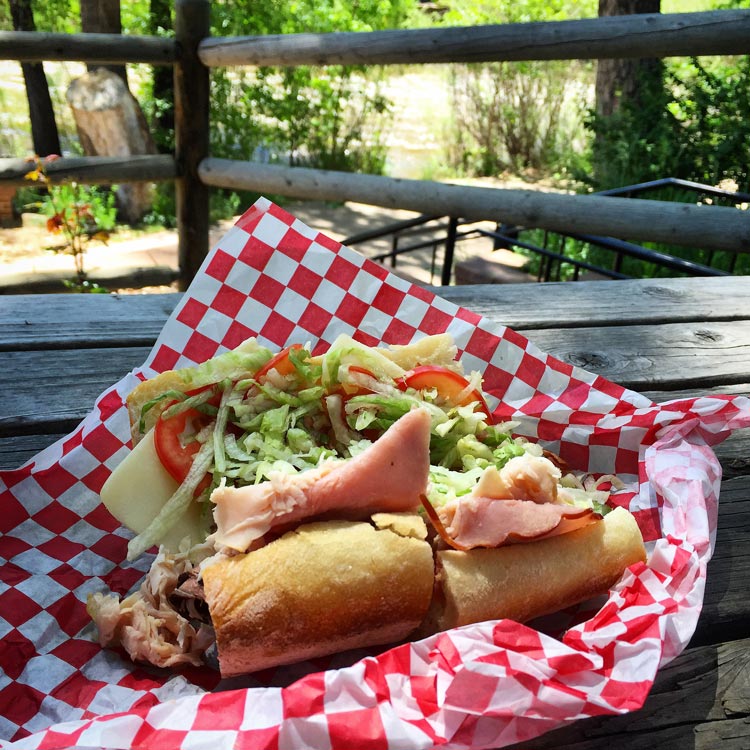 D'Deli Consistently ranked as the No. 1 sandwich shop on the Front Range, D-Deli offers all the traditional subs but is also the place to get a true Colorado sandwich that you can't find elsewhere — a Buffalo Ruben or smoked elk sandwich. Get it to go and head to a picnic table along nearby Clear Creek. This beautiful stream flows through the very heart of downtown Golden, and there are many picnic spots along it where the only noise you will hear is the rushing of water and the clouds sailing by overhead.
The Table Mountain Inn Grill & Cantina This adobe palace is like taking a trip to the Southwest. The adobe exterior blends with beautiful indoor tile, rugs, lamps and fireplaces to offer a variety of dishes that blend Mexican foods with the tastes of New Mexico and Colorado. Relax over brunch with the famous Mesa Bloody Mary, dig into a succulent TMI burger with sweet potato fries over lunch, indulge in happy hour or dive into a flavorful dinner with Rocky Mountain trout or fire-roasted chile rellenos.
Sassafras This is Cajun cooking and breakfast dishes at their best, served on a lovely patio right beside Clear Creek. Try the Catfish Po' Boy, green tomato, Cajun gumbo, or shrimp and grits with a full bar and brunch specials, while you people watch the bike path and listen to the sounds of the river splashing by.
If You Go to Golden, visit www.visitgolden.com
Planning a trip to Colorado? Head to our Colorado Travel Guide for the inside scoop on where to go, eat and stay in Colorado.