Editor's Note: We're all dreaming of travel ahead. Here's some inspiration for future adventures. We share places, products and activities we recommend. If you make a purchase using a link on our site, we may earn a commission.
The USA is comprised of some of the world's most beautiful and diverse landscapes. Because of its size, and its wide swath of latitude, the variations in the land and topography are wild and sometimes surprising.
Landscapes in the USA
When the non-contiguous states of Hawaii and Alaska are factored into its incredible places, the USA may house a larger collection of distinct landscapes than any other country on the planet. American landscapes range from vast desert to rainy redwood forests to alpine meadows and tropical beaches.
Here are 10 of the most unique and distinctive places to visit in the USA:
Everglades National Park, Florida
The Everglades marsh is actually a wide, slow-moving river created by the seasonal overflow of Lake Okeechobee. Despite inroads made by civilization, it covers two million acres – from Miami to Florida Bay.
The water is so thick with grasses that transportation by "airboat" is easier than a traditional propeller in the water.
A massive fan creates the force necessary to move the watercraft through a unique landscape of alligators, panthers and hundreds of species of birds.
See all the best sights and local animals on the Everglades National Park: Airboat Tour and Wildlife Show. Book your dates here and cancel anytime up to 24-hours before for a full refund.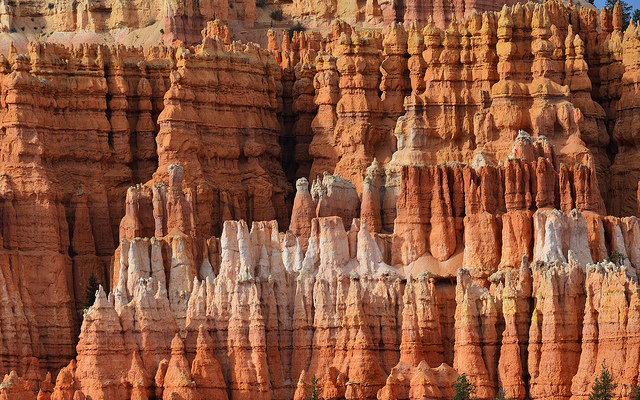 Some useful travel tips for your perfect staycation in the USA:
🤳🏽 Make your trip more exciting with Viator tours
🛌🏽 Your perfect accommodation is on Agoda
🗃️ Insure your trip with Insubuy
Bryce Canyon National Park, Utah
In stark contrast to the Everglades stands Bryce Canyon, quite literally. Thousands of hoodoos stand like a stone army.
Hoodoos are strangely shaped spires left upright despite the erosion of land around them. The sedimentary limestone was once a lake bed; differences in the rock layers density have caused the wild formations.
Because the hoodoos are created by erosion, they don't stick around very long. They decrease in height at a rate of about two feet a year.
Catch them while you can, because in three million years they're scheduled to be gone entirely.
Willamette National Forest, Oregon
The moist Pacific Northwest of the United States is so thick with vegetation and life that some of its areas qualify as rainforest.
Some places may receive over 10 feet of precipitation a year. The Siuslaw National Forest near Portland, Oregon is notably dense because of the rains and the stabilized temperatures created by its proximity to the Pacific Ocean.
Trees grow out of trees. When a pine drops its seed into its own branch crook, it takes root in the arm of its parent. Moss covers everything; mildew is inevitable.
In the Pacific Northwest, it seems mankind itself could be overgrown by the foliage, if not for willful effort.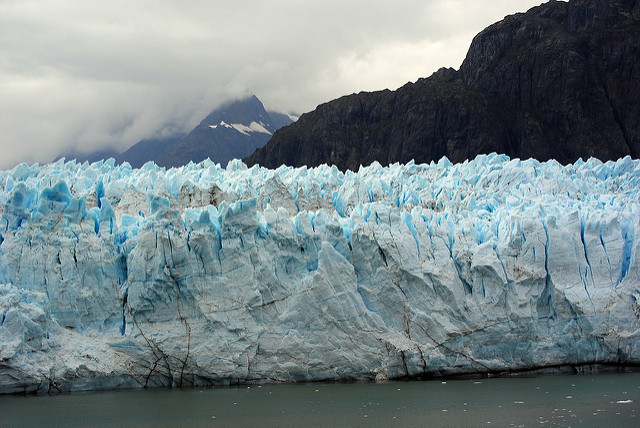 Glacier Bay National Park, Alaska
The 1867 acquisition of Alaska from Russia increased the size and diversity of the USA. While glaciers are present in the Rocky Mountains of the lower 48 states, they're on display in magnificent fashion here.
Since the icepack diffracts light into its component wavelengths, the crystals within the glaciers often appear to be blue.
Temperate rainforest vegetation, high peaks and Native American historical sites complete the experience.
A glacier viewing is a good item for any bucket list – they're melting all too quickly, and the glaciers in the park are receding more quickly than any others in the world.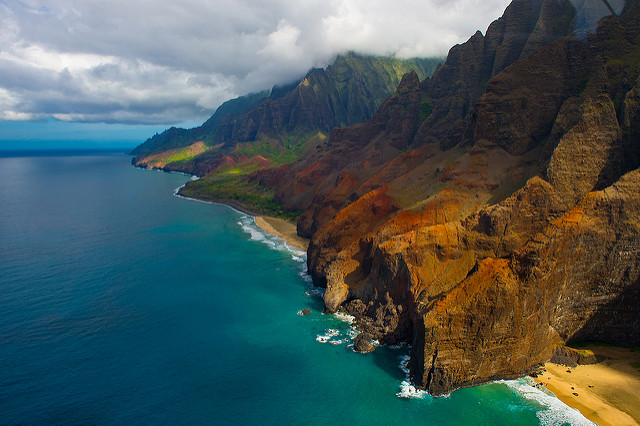 Na Pali Coast State Park, Hawaii
A different kind of coastline exists in the other outlying state. Hawaii is halfway to Asia, but it still counts among the 50 of the United States.
The Na Pali Coast is located on the north side of Hawaii's northern most island of Kauai. Rugged, lush cliffs break into fingers before dropping into the sea, with nothing to the north for thousands of miles.
Teal waters complete the picture-perfect notion of Hawaii, but the Na Pali Coast contains of a little of Middle Earth, which is to say New Zealand.
Set sail along the Na Pali coast and do some snorkeling along the way on the Na Pali Coast Tour from Port Allen. Secure your dates early here.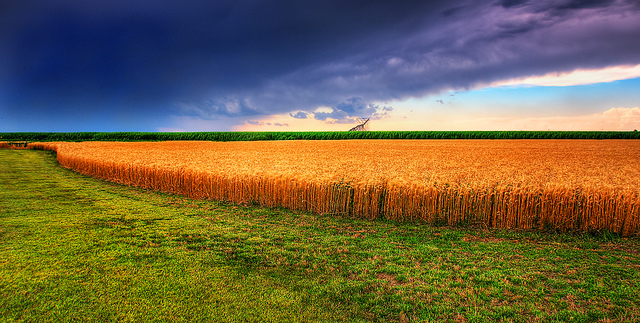 Great Plains, Kansas
There's nothing to see here but for one line – the horizon. Well, two lines if you count the highway.
This area in Kansas is America's Heartland, and one of the world's biggest producers of wheat, corn and soy. The expanse is powerfully landlocked by the Rocky Mountains to the west and the Mississippi to the east.
If you're just passing through, you'll be passing through for a long, long time.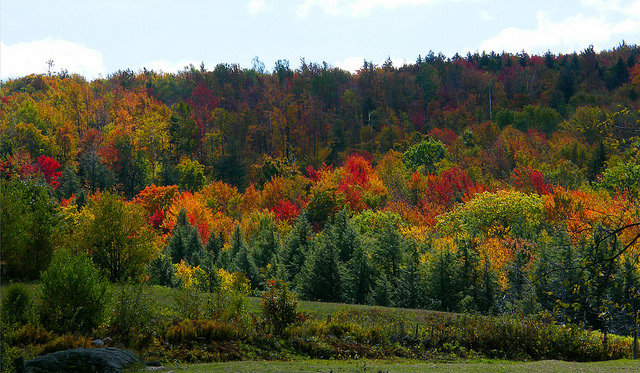 Vermont in the Autumn
Vermont epitomizes New England, and in no way more so than in the display of its "fall colors," the explosively bright turning of the autumn trees.
Because 75 percent of the state is forested, Vermont lays fair claim to the title of best fall foliage, something for which New England as a whole is well known. Rolling farmland, quaint towns and dozens of 19th-century bridges come packaged into a Vermont expedition.
Fall may be the best time to go, but the product of those burning bright trees – maple syrup – isn't ready until the beginning of the next spring.
Be sure to bring a bag that can carry all the Vermont delights back home. eBags has some excellent options for traveling light or handling more than you expected. Check out their selection here.
White Sands National Monument, New Mexico, USA
White Sands National Monument in southern New Mexico is a ghostly expanse of gypsum unlike any other place on earth.
While Vermont may be renowned for its color, White Sands is remarkable for its absence. Blue sky and hiking white sand dunes are pretty much all that's out there, though a sunset can change the hues in wild fashion.
The area was used to test the atomic bomb in the 1940s because of its wide berth from civilization. That was a good reason then, but it's an even better reason to head there for a trip now. It's the closest you'll get to the surface of the moon.
You'll want to bring a camera that can capture the beauty of the White Sands without light interference and blending. For any of these locations bring the best with Canon. From digital to classic to just durable you can find all the camera options and deals here.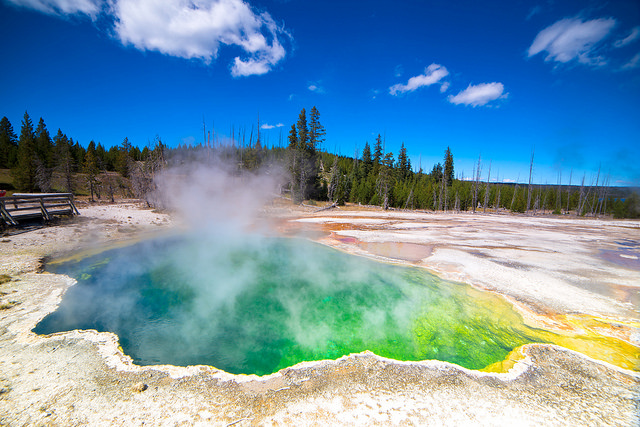 Yellowstone National Park, Wyoming (also parts in Montana and Idaho)
The natural features of Yellowstone make it an obviously special place, so special in fact that it was the world's first area designated as a national park. Located mainly in Wyoming, Yellowstone National Park spreads into parts of Montana and Idaho too
Epic canyons, waterfalls, geysers, and hot springs populate the area. Old Faithful is a must-see, in part because it's guaranteed – the geyser faithfully erupts with steam every hour and a half.
The Grand Prismatic Spring is a rainbow of microbial activity and mineral deposits that changes its hue as the seasons pass. Park-goers would do best to stay out of these particular hot springs – it's 160°F!
Find expert guides and special tours around Yellowstone National Park here.
Badlands National Park, South Dakota
The severe landscape of the Badlands in South Dakota is home to bighorn sheep, bison, and black-footed ferret, but it was once the habitat of much more.
The wild geological features are embedded with fossils of saber-tooth tiger and rhino. Hiking trails wind through the eroded rock in mellow fashion, and there are camping facilities. Backpacking in too far from the road is difficult, however, because there is essentially no water to be found.
Plan Your Trip
Feeling inspired to start planning a visit to one of these stunning and unique locations in the United States? First, you can compare flight deals to different parts of the country and find ground transportation on Kiwi. When you're ready to travel you can find hotel or VRBO options, local restaurant reviews, insider tips on what else to see and more through Travelocity and TripAdvisor.
Check out our USA Travel Guide for more information on where to go and what to see!
Author's Bio: Jack Bohannan is a freelance writer working in the Denver, Colorado area.