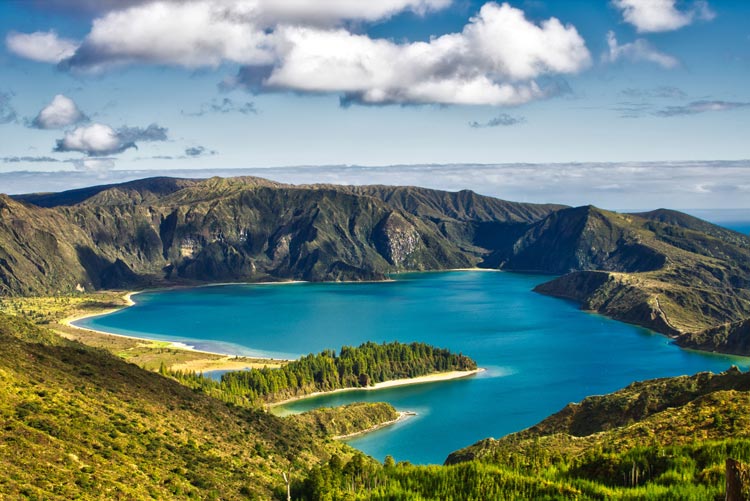 Editor's Note:  Travel to the Azores is expected to open July 1. The mandatory quarantine in the Azores will be lifted, but passengers will have to present a negative test carried out within 72 hours before disembarkation. Check Azores travel guidelines and restrictions before you go. 
Travel in the Azores Islands
For many years, the Azores Islands in the middle of the Atlantic Ocean have been seen as a place to relax and "do nothing". Not anymore. Many opportunities for adventure exist in this archipelago of nine volcanic islands that belong to Portugal.
Often compared to Hawaii but with fewer crowds and tourists, the Azores Islands have become a surfing destination. They also have many hiking trails, as well as places for paragliding, canoeing, horseback riding, whale watching and golfing.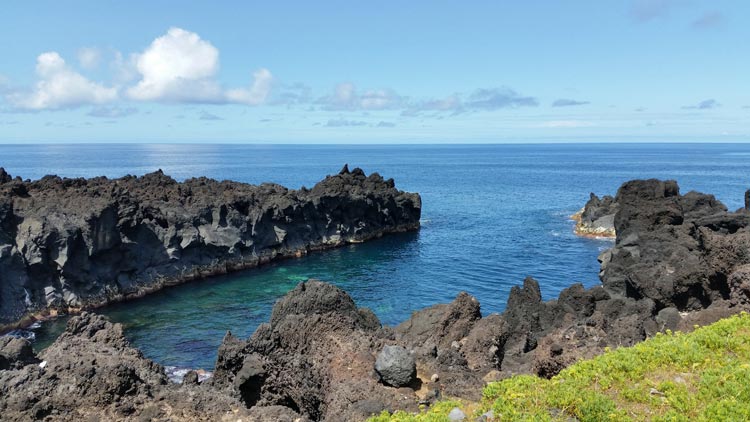 What to See in the Azores
The Azores are the ideal destination for those who are trapped in city life and seek the opportunity to reconnect with nature. The Azores' landscape is one of the most sustainable tourist destinations in the world, covered in a variety of green colors, black volcanic rocky hills, and vibrant blue lakes. These volcanoes have created some spectacular reefs including breathtaking Santa Maria.
You might notice that the landscape is often flooded with black and white spots. These are cows in the meadows.
What to Eat in the Azores
As in the rest of Portugal, eating is a great experience in the Azores, based on the Mediterranean diet, with local foods at a low price. You can't leave without eating fresh seafood, including tuna, sardines and local grilled specialties; the meat is also excellent.
The Azores have a pleasant climate and fertile ground, which means that all the islands are self-sufficient and don't need to import food from mainland Portugal.
The islands' most famous dish is cozido das furnas, a variety of meats and vegetables cooked in a pot in the ground from steam from the hot springs.  Among other good choices are Azzurri cheese, great pineapple juice and fantastic seafood whenever you like.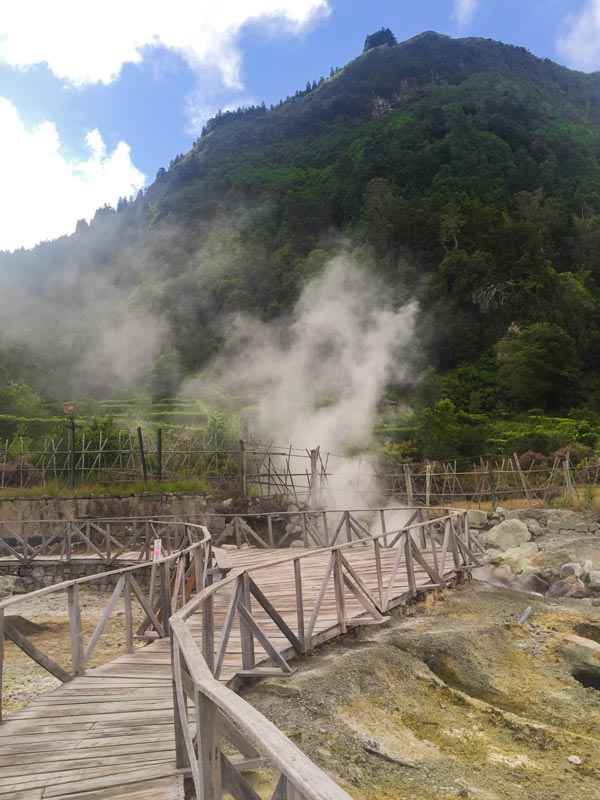 Hot Springs in the Azores
Hot springs in the Azores are a must-see! The islands' weather is unpredictable –  you can often experience all four seasons in a single day. Still, there is nothing better than swimming in hot springs on a cold rainy day, where nature can heat this mineral-rich water to temperatures of 39 C (102 F).
Hot springs are more common on São Miguel Island, surrounded by palm trees and green plants. Welcome to the surreal spa in the forest. There are also countless waterfalls throughout the Azores and, although most of them are difficult to reach and require a lot of hiking, the views are incredibly beautiful amid a fantastic natural setting.
Near Pico and Terceira, The Azores archipelago is one of the best places in the world to watch whales in their natural habitat, where up to 30 percent of all known whale species can be seen in one three-hour journey, including the great blue whale. You will want to add the islands of Corvo and Flores which are also located in The Azores archipelago.
After a trip to the Azores, you'll never want to see dolphins in the aquarium or zoo again.
Numerous and breathtaking lakes are scattered across the Azores, with most of them within the craters of volcanoes, adding mystery to the stunning view. Many hiking trails start or end around these lakes, which makes hiking an ideal way to explore the surroundings.
There is never a bad time to visit the Azores. For decades, few airlines had flights to the Azores, so passenger prices were very high. But now the islands are accessible to all travelers.
Tourism has increased by 30 percent since then, and there are new concerns as to whether the Azores can maintain eco-tourism standards because of the crowds of tourists. The Azores are still the best-kept secret in Europe. But rumors of their beauty are spreading, so visit them before the rest of the world does.
If you really want solitude and harmony with yourself, this is the place for you. Don't worry about crowded places, long lines and loud tourists. It will just be you, the sound of nature and pure tranquility.
Shopping in the Azores
Do not expect to find large residential areas, shopping malls or supermarkets. This is a place where you will buy everything you need from small shops, where everyone knows your name, and where children play in the streets. Azoreans speak European Portuguese which is considered the official language in this group of islands.
Each island has its own shape, with dark cliffs decorated with different shades of green, waterfalls falling into the ocean and massive rock formations formed by lava.
Swimming in the Azores
Be careful, because the Atlantic ocean is very rough. Only experienced swimmers can venture there, but there are still sections where you can swim because the rocks are cleverly built to create a kind of "sea pool." You can get all the benefits of swimming in the sea without danger.
Getting Around in the Azores
It's easy to get around the Azores. Thanks to paved roads and a lack of traffic, it's easy to get around the islands by car. The only downside is that there are very few public transport services, so if you can't drive yourself, this may be a problem.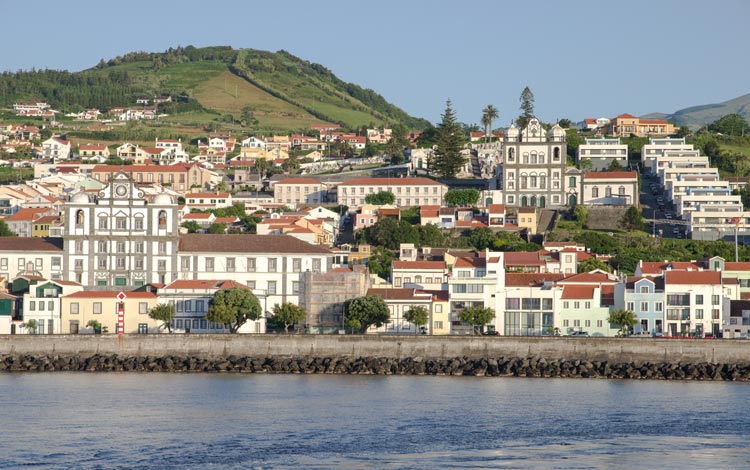 You can also navigate using many interconnected flights from different airlines including Azore Airlines which flies directly into Ponta Delgada. If you want to continue to explore more of the Azores, hop a ferry for a cheaper option for visiting different islands.
You won't want to miss the famous marina in Horta located on the island of Faial. However, you can still travel quickly via Portugal's flag carrier AP Air Portugal which takes passengers between Lisbon Angra to Heroismo and Horta.
If You Go
Author bio: Yassine Tahiri is a freelance photographer and writer. He loves traveling through unconventional places, always willing to discover something new. In his free time, he enjoys experimenting with traditional recipes discovered from around the world.