The five of us were adventure-seeking, thrill-junkie study abroad students, so a day trip to Cabo Da Roca, Portugal, fit right into our vision of an exciting day trip. It was the western most point of Europe and something not a lot of tourists know about, so finding this supposedly beautiful place was a necessity.
One of the main reasons I wanted to go, though, was because it was on the Atlantic Ocean. I have spent endless summers on Long Island in the Atlantic Ocean, with my friends and my family. Nearing the middle of my trip, I was starting to feel a bit homesick, so I knew that the smell of the ocean and the fact that I would be looking at the same water that I swam in for the past twenty years would bring chills to my spine and make me feel more at home.
After perusing TripAdvisor for an hour, we decided to just wing it and find Cabo Da Roca ourselves using the wits we all thought we had. Using her GPS, my friend led us to the train station located in the center of Lisbon.
The train was a forty minute ride. We spent most of that time considering what we should do next and gawking at the beauty of Portugal. Maroon, mint green and hay-colored houses were nestled in between hills that connected to one another in a flowing, smooth manner. Rain drops splattered on the train's windows, making the colors from the outside look warped and skewed, as if someone had taken a paint brush and was engaging in splatter art. I watched my friend Lauren as she stared out the window.
"It's just… beautiful," she said. "They remind me of beach houses, but in the middle of a hill. It's strange, but interesting." I had to agree with her. My other two friends were also looking out the window. I liked watching them. They were stuck in a moment of curiosity and awe, and I could understand what was going on in their heads. We all had the same mindset – we wanted to escape the safe, touristy attractions and do the difficult things with no predictable end.
"I can't wait to see the ocean again," my other friend, Tara, said. "I'm just itching for some coastal sea spray." Her heart lay on the coast of North Carolina, and I smiled at the fact that I needed this, too. The south shore of Long Island was calling for me.
We arrived in Sintra, which had more of a homey feel to it than Lisbon. It was quieter, the houses more spread apart. We wandered over to a bus stop, hoping we would see a sign that told us a bus was going to Cabo Da Roca. After a fifteen minute guessing game, we finally found our bus, with a forty minute wait for the next one.
Pastries, beer, and a local cafe kept us busy until our bus arrived. Four Euros later and a little apprehension, my friends and I were sitting on the back of the bus, all bouncing in a similar motion as it crawled toward our destination.
I thought we had missed our stop, so I waddled up to the front of the bus to ask the driver where we were getting off.
"How many more stops until Cabo Da Roca?" I said. He looked at me for a couple seconds before he realized he was still driving and looked back at the road.
"Yes," he said, hesitantly. I looked at my friends who weren't paying attention. This wasn't going to be easy.
"No, I mean, how many more stops, four, five?" I tried to speak slower.
"Yes, next stop." I said thank you and walked to the back of the bus, knowing he had no idea what I had just said.
I shrugged when I reached my friends and sat down, knowing I will have to rely on the street signs.
The woman in front of me turned around and stared at me for a couple of seconds.
"The bus driver is wrong," she said. "It's about fifteen minutes away." I smiled.
"Obrigata," I said, in obviously terrible Portuguese.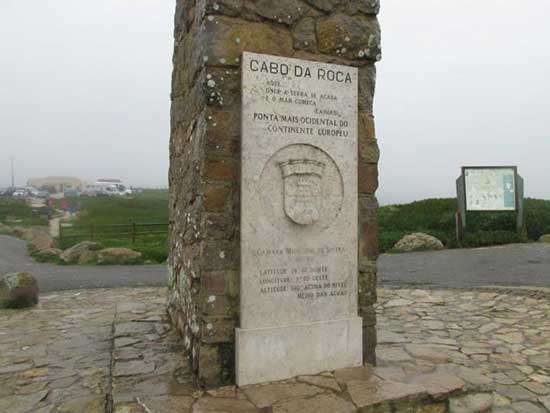 We eventually reached Cabo Da Roca. The horizon of the Atlantic Ocean stretched before me. It was a bit foggy, so some of the cliffs were covered in a white haze, making everything look eerie.
As we walked, the fog started to dissipate, revealing more of the gorgeous view that we couldn't see before. The breeze got lighter, and the crashing waves that broke against the cliff at the bottom got smaller. The simple yet such serene feel of Cabo Da Roca was such a relief from the bustling cities I had spent the past few days in.
"Hey, mom and dad," my friend, Michaela, from Massachusetts said as she cupped her hands around her mouth and jumped up and down. "Can you see me?" I laughed at the fact that our east coast families were just on the other side of the same ocean, and felt an overwhelming sense of home wash over me. We all stood in silence for a few moments, taking in the beauty and our tie to home that we hadn't seen in so long.
I never realized how much I valued home. I smiled at the remembrance of going to the beach and feeling the Atlantic Ocean around my ankles, the sand between my toes. I closed my eyes and felt at home again, let the smell of the ocean fill my lungs. I stuck out my tongue in hopes of catching a sea spray, the ocean's saltiness familiar to my mouth.
After a few hours, we trekked home, a new gratefulness planted inside of me. I knew I would have a new appreciation during my next visit to the Atlantic Ocean.
If You Go
Portugal Tourism:
https://www.visitportugal.com/en
https://www.cm-sintra.pt/
Cabo Da Roca hours of operation:
01 of October to 30 April- 09:00-19:00
From 01 of May to 30 of September 09:00-20:00
Closed Christmas Day and New Year Day
A map of Sintra:
https://www.sintraromantica.net/images/mapadesintra.pdf
Author Bio: Monica Gray is a senior majoring in English at Binghamton University. She has previously won runner-up in the Harpur Palate writing contest at her school. Monica is working on her first novel. She lives in New York.