With two COVID vaccinations behind me, I sprinted out of town. I headed for Hawaii, one of the destinations that were welcoming visitors, with restrictions. I was so grateful that Hawaii opened its doors after our long siege. Some doors weren't open yet, but that led to creativity in discovering other attractions.
What to Expect with Hawaii Travel Restrictions
To avoid quarantine at the time of my travel, Hawaii required a specific COVID test within 72 hours prior to flying. In addition, I had to fill out a health form online and receive one more COVID test at the Hawaiian airport.
That's why I felt safe in going and why they had only a few COVID cases on the big island when I arrived. I arrived to find some facilities and storefronts closed in the aftermath of COVID.
That included big attractions like Hulihe'e Palace in Kona, Lapakani Park and Parker Ranch. But this created opportunities to explore beyond the tourist destinations.
There are many treasures available for those who enjoy the hunt. Most of the hotels opened last fall. They were closed for at least 6 months, so they were staffing up as the wave of spring breakers hit them.
Restaurant reservations were hard to get and rental cars were such an astronomical price that travelers rented U-Hauls for a pittance in comparison. Of course, things are constantly changing so be sure to check the current Hawaii travel restrictions on the government site.
The Kohala Coast on the Big Island
I'll focus on the Kohala Coast on the west side of the Big Island (Hawaii) because this lush sunny side is where I stayed. The honeyed aroma of white plumeria and gardenias lifted my spirits as magenta bougainvillea and scarlet hibiscus painted the horizon when I arrived.
Coffee trees were bursting with white blossoms. The ocean lapped a rhythmic song, and the people were "Super Aloha," to quote my lunch server.
Warm people and weather in the 70s and 80's every day. What's not to love? Big island structures must avoid exceeding the height of the palm trees. That's what creates incomparable vistas, fresh air and the lush vegetation that uplifts our spirits and lures me into experiencing a bit of paradise.
Kona Coffee and Chocolate
Kona is the nearest town but enjoying it doesn't depend on a tour of the palace there, which was closed. I opted instead for Kona Coffee's Living History and the Original Hawaiian Chocolate plantation. Chocolate and coffee? Not a bad combination for treasure hunters.
Pu'uhonua O Honaunau National Historical Park near Kona was also open and offered a chance to absorb the living quarters of Hawaiian settlers.
Road Trip to Hilo
A can't-keep-your-hat-on wind kicked me out of my hotel one day, sending me on a quest on to Hilo. An essential first stop was on an obscure, rutted road to Hawaii Island Goat Dairy for fresh cheese.
This was another option I wouldn't have discovered if the standard attractions were open. Then to the antiquated town of Honoka'a to sleuth out the restaurant, Tex, for its malasada. This Hawaiian staple of hefty squares of fruit-filled, warm donut dough is not to be missed.
It was worth hiking in pouring rain near Hilo to see the 442′ high Akaka Falls. The rain didn't let up as I then headed into Hilo, so I cozied into Cafe Pesto for lunch. I had planned the Hilo excursion on a Saturday because of the open-air market.
Even in the rain, it was a welcome experience featuring sweet potato pastries, macadamia nuts and shell necklaces. The aroma of vanilla on The Hawaiian Vanilla Company tour nearby Hilo blended in among the other luscious Hawaiian fragrances.
Holualoa BBQ and Petroglyphs
An excursion to Holualoa revealed a once-passionate pink wooden hotel. It's now a boarding house in this town that time passed by. The Coffee Shack nearby Holualoa has good food and puts out honey to attract a profusion of fleet-footed geckos.
Stop there or at the BBQ wagon in Holualoa to try its ribs with sweet sauces. BBQ is classically Hawaiian so immerse yourself in those sauces.
One day I "petroglyphed", first at Kaloko-Honokohau National Historical Park where petroglyphs are pre-1700s. Then I hiked in Waikoloa where it's a rocky, but short, trek along the King's Trail to see many petroglyphs from the 1800s.
Next was Mauni Lani Resort which has a treasure trove of petroglyphs along with its stunning gardens.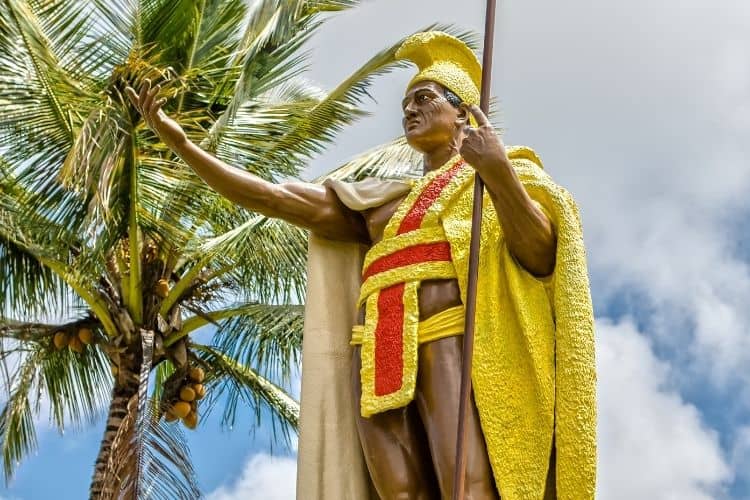 Hippie Hawi
A fascinating drive took me to the post-hippie town of Hawi where King Kamehameha's statue shines its blessings on all. Here I read about early settlers while having lunch at the historic Bamboo Restaurant.
I then took a quick drive for a majestic view from Pololu and stopped at Pu'ukohola Heiau National Historic Site along the way. It's the last intact native temple. Many chants found their way heavenward from this massive site.
Waimea Beaches and Parks
A trip to Waimea was an opportunity to travel through the cattle country of the Parker Ranch. It was no problem that neither Lapakahi State Historical Park nor the Parker Ranch homes were open.
Instead, I enjoyed the Paniolo Heritage Center where the history of the ranch is on display. The Hapuna Beach State Park in Waimea has a vast, sandy public beach where people fly kites, frolic in the waves and picnic.
Other state beaches like Spencer Beach and Kehaka Kai are open and each resort has beaches for public access. Keep your eyes posted for sea turtles on the beaches.
Volcano Adventure and a Luau
The Mauna Kea volcano and observatory are a fascinating day trip to the south of the island. Hawaii Volcanoes National Park has two museums, interactive steam vents, a petroglyph field and a newly-reopened lava tube to walk through. Seeing the volcano is the crown of the abundant Hawaiian adventures.
Don't miss a luau. The setting behind the stage enhances performers who dance pieces from the countries of Hawaii's origins (like Fiji). Dinner was a generous serving of mahi-mahi, tuna poké and pork with poi (bland purple taro paste that the Hawaiians savor).
Traditional Hawaiian Food
Hawaiian food has an Asian focus, noted especially when bacon and eggs breakfast features a rice accompaniment. Coconut or sweet potato syrup come with pancakes, and maple syrup or fruit sauce supplant milk on oatmeal.
Large, fresh chunks of papaya, pineapple and mango were irresistible and ubiquitos. Purple sweet potatoes (ule) rule, transforming themselves into chips, pancakes, noodles, sauces, pastries and salads.
Mahi mahi, kampachi and unua are some of the fish that are bountiful and often draped in a lemony, buttery sauce. I also waited in the long line at Shave Ice for a bowl of flavored shaved ice crowned with syrup then topped with the likes of nuts and capped with whipped cream.
Restaurants and Resorts on the Big Island
I dined at a variety of places. On the affordable side are Romano's Macaroni (wonderful seafood ravioli) and Mai Grille for breakfast (papayas filled with Greek yogurt, granola and coconut) in Waikoloa. The View Bar and Grill on Keahou Bay and both The Fish Hopper and Keoni's Point of View in Kona are other options easier on the wallet.
More expensive choices are Merriman's in Waimea (luscious kampachi) and Brown's (tasty unua) in the Fairmont at Mauna Lani Resort. Also Mauna Kea Resort's Meridia at the Westin Hotel. The Westin showcases a picturesque bridge, lit from below, straddling the carp ponds.
Chairs perch on islands in those ponds. Driving into Mauna Kea Resort between the trimmed, lipstick-pink hedges is a treat. But then there's Manta Restaurant where the food is scrumptious and the entertainment even better when they turn on the lights at night and giant manta rays glide into the bay.
At Waikaloa Resort, wandering the Hilton's walkways is like a trip to a museum. The historic artwork is riveting making walking is a better alternative than taking the tram that winds among the buildings. I dined at Nui there and enjoyed luscious Italian food.
Hawaii Travel Restrictions Takeaway
So, the takeaway based on my experience of dealing with Hawaii travel restrictions is this: Don't worry about what is inaccessible. Instead, use the opportunity to seek out lesser-known attractions that are reopening daily.
Also, Hawaii is all about nature and being outdoors so most of the best Hawaii activities are fully available. Go snorkeling or scuba diving. Try kiteboarding or surfing. Go for a hike or bike ride. Play golf or tennis.
Being outside surrounded by Hawaii's natural beauty will definitely soothe your soul after a year-plus of isolation.
If You Go Don't Miss
Hilo, stopping at Honoka'a for a mango malasada. Lunch at Cafe Pesto.
Hawi, lunch at Bamboo.
Holuloa, lunch at the BBQ cart.
Petroglyphs, are worth a bit of walking.
Book This Trip
Start planning your tropical vacation to the Hawaiian islands today. Get prepared with insider tips on what beaches to go to, hotel and VRBO accommodations, local restaurant reviews and more through TripAdvisor and Travelocity.
Plan even more fun by booking unique Hawaiian activities, skip-the-line tickets, ocean fun and expert-led tours through the trusted group at GetYourGuide. Find more information and beat the crowd by booking your dates in advance here.
For the exclusive flight deals and car rental options, which can be tricky, check out CheapOair. Be sure to protect your investment by getting travel insurance catered to your needs through Squaremouth.
Author Bio: Marcia McGreevy Lewis lives in Seattle and is a retired feature writer for a major Washington newspaper. She was the Director of Communications at an independent school where she founded the school's magazine. GO World Travel, ROVA Magazine, Third Act Magazine and F3LL Literary Magazine carry some of her recent work. Reach her on Facebook, Instagram: marcialewis25, Twitter: @McGreevyLewis and linkedin: Marcia Lewis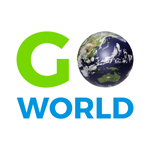 Latest posts by Go World Travel Magazine
(see all)