Floating face down in the dark ocean, I see a shadow approach from the depths below. As the creature nears, its enormous size is revealed—10′ across from tip to tip. With grace, the giant manta ray moves like a bird in flight. I stop breathing through my snorkel as it swims towards me, its mouth open so wide I can see into its body.
The young female, who will someday reach 17′ across, comes within inches, but then flips so we are belly to belly. I see the spots on her underside, and look into her eyes when she comes back again and again.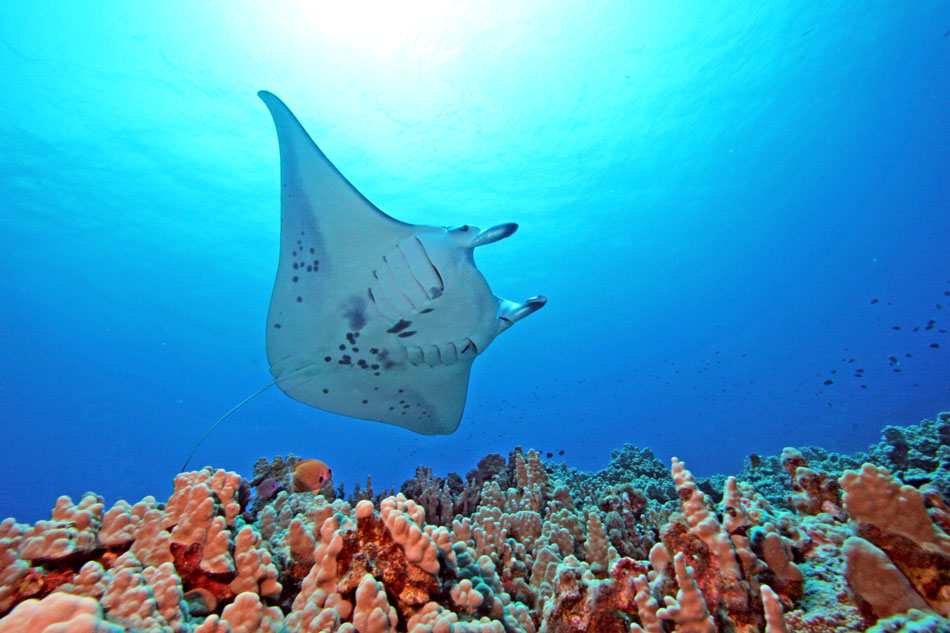 Snorkeling with Gianta Manta Rays
Such encounters are unforgettable—and Hawaii is one of the few places in the world where you can see the giant manta rays.
Giant manta rays feed on plankton nightly in the clear waters of Keauhou Bay on the Island of Hawaii, and locals have taken note. There are several top outfitters that offer snorkeling with giant manta rays.
Book a Night Manta Ray Adventure on the Big Island, Hawaii
Planning a last-minute trip to Hawaii?
Top Experiences and Tours in Hawaii:
Where to stay and transportation in Hawaii:
Select outfitters, such as Fair Wind Big Island Ocean Guides, allow snorkelers and divers to observe the creatures up close. Before jumping into the water, we learned how to observe without disturbing the animals.
Then donning a wetsuit and snorkeling gear, we slipped into the water near a floating string of lights. Plankton is drawn by the light, and the manta rays feed on the plankton. There are three giant manta rays here tonight, flipping and turning like circus acrobats. For half an hour, we watch their dance, thrilled with the surreal scene below us.
The Hawaiian Islands are known for their beauty, warm weather and unique culture, but there is an entire watery playground to explore. More than 680 fish species can be found in Hawaiian waters, and some 30 percent are only found in Hawaii.
Whale Watching in Hawaii
Humpback whales come to the island waters each winter to breed and birth their young, but other whales live in the warm Hawaiian waters year-round.
Snorkeling with Dolphins on Oahu
Spinner and spotted dolphin pods make their home among the islands. So later that week, I head out with Wild Side Specialty Tours in search of the playful animals.
We're just a few miles from Oahu's west coast when we spot a pod of 200 spotted dolphins. They see our boat, and race alongside.
"Looks like they want to play," our boat captain says. He turns the boat in a circle, and I watch in amazement as the creatures surf our wake, jumping together in groups of four or five.
Book a COMBO: Sea Caves, Wildlife & Reef Snorkel on Speed Boat Adventure
Closer to shore, we come across some 50 spinner dolphins. They're in a "resting state," swimming together slowly. We don snorkels and slip in the water, swimming above them, then beside them. For just a minute, I feel like one of the gang. It's hard not to smile in my snorkel mask.
As a diver and snorkeler, I've had a wealth of experiences in Hawaiian waters, but the real experts are local snorkel and dive outfitters. They know the best places to go according to season and conditions—and provide a safe, fun experience doing it. Diving requires dive certification, while you can learn to snorkel in about 10 minutes.
This easy water sport is good for all ages and abilities. You simply don a mask and fins, stick your head underwater and breathe through a tube. One tip: You might be more comfortable learning in protected shallow waters where you can stand up, rather than in open waters.
There are many protected bays in Hawaii where you can snorkel right offshore. Here are some of the best places to get your feet wet and experience Hawaii underwater.
Snorkeling on the Island of Hawaii
Hawaii Island (AKA the Island of Hawaii and the Big Island) is younger than the other Hawaiian Islands, so it has fewer beaches. But that youthful age means that the island's reefs are young and healthy, and offer some of the best snorkeling and diving in the islands. Kealakekua Bay is one example. Back in 1779, world explorer Captain James Cook was killed here by Hawaiian natives.
Today, the bay is popular with divers and snorkelers. You'll need a canoe or boat to get here, though. I went with local outfitter, Sea Quest and their insight was invaluable. The Sea Quest tour also stopped at Pu'uhonua o Honaunau National Historic Park. This historic "Place of Refuge" is where ancient Hawaiians found sanctuary.
Adjacent to it is Honaunau Bay, another top snorkeling location. This site is also accessible from the shore. One of my favorite shore snorkeling spots is Kahalu'u Beach Park. Reefs protect the bay, providing safe waters, abundant sea life and great snorkeling.
This is where I taught my children to snorkel. They were thrilled to find fish everywhere, even knee-deep. We saw some of our favorites, a spotted boxfish with her big, doey eyes, comical bluespine unicornfish, yellow tang and more.
The Island of Hawaii is a diver's paradise. Popular sites vary according to the season and conditions, but most are found on the Kona and Kohala coasts. Popular off-shore sites include Golden Arches, Long Lava Tube and Sharkies Cove. Favorite shore diving spots are Suck 'em up (a lava tube with beautiful sky lights), Puhi Bay and Place of Refuge.
Enjoy a Night Manta Ray Adventure on the Big Island, Hawaii
Snorkeling in Kauai
Only 33 miles long and 25 miles wide, Kauai is tiny, but mighty in all that this beautiful island offers visitors. There are dozens of ways to play in—or on—the water. If you want to see the scenery as well as the ocean's bounty, go sailing along Kauai's Napali Coast. The rugged coastline can only be viewed by boat or helicopter. One option is a sunset dinner cruise.
The rugged cliff, lush valleys, waterfalls and sea caves are beautiful—and you'll probably see dolphins, whales and sea turtles. Kauai Sea Tours (kauaiseatours.com) offers a great experience.
Inland, the Garden Isle is lush and green, and covered with hidden pools and waterfalls. We took a zipline tour (outfitterskauai.com) that zipped us across lush valleys, and then let us swim in a secluded mountain pool with a scenic waterfall roaring nearby.
Snorkeling is popular on Kauai. Poipu Beach Park is good option for families. Its protected bay has nice snorkeling, and there are lifeguards, bathrooms and showers onsite. Anini Beach, which has the longest reef on Kauai, is another favorite.
The near-shore water is shallow, and the underwater canyons at reef's edge are brimming with life. Ke'e Beach is also a popular snorkeling spot, but visit it only in the summer. During the winter, high surf and powerful currents make it dangerous.
In Kauai, swim and snorkel on the north shore during summer and on the southern shore during the winter. Even then, always be careful when visiting the north- and east-facing shores, even in the shallows, as there are dangerous riptides.
Book a LUCKY LADY – Deluxe Na Pali Morning Snorkel Tour
Popular dive spots on Kauai include Sheraton Caverns in Poipu. The sea-life-laden ledges start at some 30′ and drop to 60′ in some of the lava tubes. If the winds are calm, dive at Black Mountain, off Kipu Kai.
Brennecke's Ledge offers two big caves with rare black coral, and Aquariums, located near Nawiliwili has huge boulders that are home to octopuses and lobsters. Don't dive sites on the North Shore during the winter. Seasport Divers (seasportdivers.com) is a good resource for visiting divers. They offer dive tours and dive certification classes.
Snorkeling in Oahu
Home to Honolulu, much of Oahu has a cosmopolitan feel. Get out of the city, though, and it's a whole other story. Much of the island is rural, and there are many places to explore the ocean. Kuilima Cove is the best place for beginner snorkelers, while Sharks Cove is a popular dive and snorkel beach.
Another top snorkel spot is Hanauma Bay. This Nature Preserve on Oahu's east side is known for its high fish population and calm waters. It can be crowded, though. Visitor numbers are limited to 3,000/day, and there is a $5 entrance fee. If you want to see sea turtles and a wide variety of fish, this is a good bet.
Would you rather see dolphins? Check out Wild Side Specialty Tours (sailhawaii.com). This local outfitter knows the best spots to find the graceful creatures.
Book a Turtle Canyons Snorkel Excursion from Waikiki, Hawaii
Snorkeling in Maui
Maui has grown and changed over the years, but it continues to draw visitors for its diverse nature and well-developed visitor experience. Just three miles from the Maui coastline lies one of the Hawaii's top snorkel and dive destinations—Molokini Crater. In the shape of a crescent, this partially submerged volcanic crater provides protected, clear waters and unique fish species found nowhere else on earth.
A reef, rich with sea life, lies some 150 feet below the water, and you can often see to the bottom. Declared a State Marine Life Conservation District and Bird Sanctuary, Molokini is a must-see for anyone wanting to experience the best of Maui's sea life. Pacific Whale Foundation is one of several respected outfitters that sail to Molokini.
Book a Molokini and Turtle Town Snorkeling Adventure Aboard the Malolo
For more information on travel in Hawaii, see www.gohawaii.com
Inspire your next adventure with our articles below:
Latest posts by Janna Graber
(see all)