When visiting Portugal, it's tempting to remain in Lisbon. But if time and transportation allow, we enjoy exploring a bit further. My family and I decided to hire a driver and take a day tour from Lisbon to Cascais and Portugal's westernmost coast.
About 20 miles west of Lisbon sits Cascais, a popular resort town. Traditionally a fishing village, it is now filled with villas, hotels and tourists. The main attraction here is the beach, where you can find swimmers and sunbathers, surfers and kiters all enjoying the sun and surf.
Fishing still takes place here, but Cascais has become a fisher of tourists. The area offers not only the beach but also golf courses and resorts thick with pine and palm trees.
What to Do in Cascais
We were here for the culture, so we visited the Museu do Conde de Castro Guimaraes. The museum is located in a towering home once belonging to a Count. Decorated with paintings, furniture, jewelry and porcelain it gave us a taste of what Cascais was like a century ago.
This Creekside villa was donated by Count Manuel de Castro Gumaraes to the people of Cascais. It sits just across from the marina, filled with shopping, restaurants and cafes. 
Best Tips & Tools to Plan Your Trip
Cascais is known for its fresh seafood. It was here that we sampled fresh swordfish, salmon and octopus. A Spanish couple argued with the waiter about an overcharge on their ticket, causing a bit of chatter in multiple languages.
We were careful to inspect our bill and everything was checked out. It was a bit pricier than other meals we had in Portugal, but that was expected here. Regardless, the fresh seafood was delicious.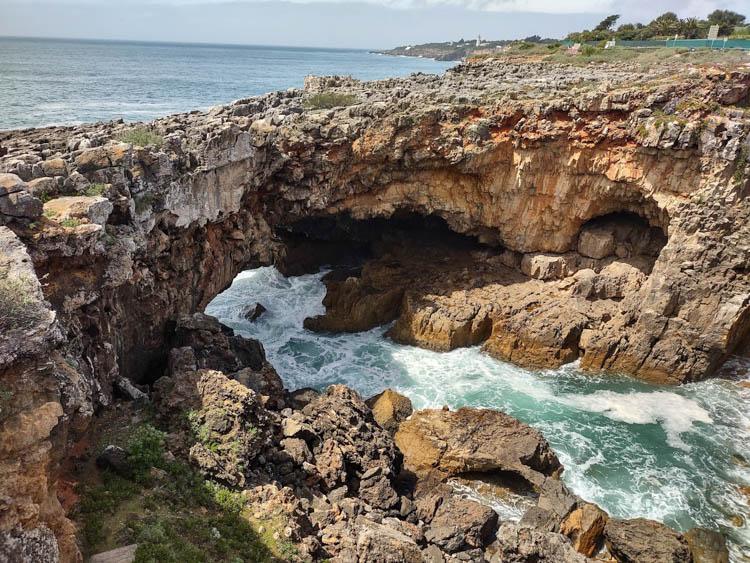 Looking Into the Mouth of Hell
After several hours in Cascais, our driver took us two miles west to Boca do Inferno or the "Mouth of Hell". The mouth is a sea cave that you can see from either side from above.
Depending on where you stand you will be looking from the inside out or the outside looking in. The mouth offers a majestic view as the sea waves rush in and out creating tide pools full of sea life.
Although not at all developed or built up, the natural area had a festive environment. People ventured out onto the flat rock at the water's edge, many getting sprayed by the sea as the crashing water smacked the rock.
A musician with harmonica and guitar played Neil Young's "Hey, Hey, My, My" and Tom Jobim's "Waters of March". We took in the scent of the sea, watched the water and listened to the waves crashing in time to the music.  
I had assumed it was called the Mouth of Hell because of the violent view of water crashing through the rocky cave. However, our tour guide explained that this site was given the name because it had once been a popular location for suicide.
"And of course, we in Portugal are mostly Catholic," he said, "and believe that suicide is a one-way destination to Hell." He invited us back in the van and we hoped this would continue to be the round-trip we had ordered. We drove away from Boca do Inferno.
Boca da Roca: Portugal's Westernmost Point
About 11 miles north up the coast from Boca do Inferno is the westernmost point in Portugal: Cabo da Roca. Unlike some geographically significant points, like Four Corners in America's west, this geographical point is more than a marker. It is also beautiful.
Furthermore, Cabo da Roca is not only the westernmost point in Portugal, but it's also the westernmost point in Europe.
It was once the site of a 17th-century fort guarding the entrance to Lisbon's harbor. Now there is only a historical stone marker and a still-functioning lighthouse. But the view of the ocean from the cliff is spectacular.
We walked through trails of succulent plants that reminded me of those in my long-ago backyard in Monterey, California.
Plus we enjoyed a panoramic view from three sides on a cliff jutting out over the sea. The wind was strong and created huge waves which crashed against the rocks.
A souvenir shop and café offered keepsakes, warm coffee and shelter from the wind. However, weathering the wind and enjoying the spectacular view was the thing to do here.
Returning to Lisbon
As our guide drove us back to Lisbon, we watched the scenery change from water and succulent plants to pine trees. Then from pine trees to urban landscape and from urban back to the red-roofed buildings of Alfama.
During our discussion, our driver shared his thoughts on the state of the union (good, thanks in part to the return of tourism dollars).
Also, the best place to get a Port wine (one of the hole-in-the-wall stand-up bars). And the best place to get an egg custard, or pastel de nata (right on the Rue Augusta at Manteigaria).
Portuguese pop music played on the car radio. Almost as though choreographed, "Waters of March" came on as the waters of Lisbon's coast came into view, this time performed by Elis Regina. It seemed a fitting end to a water-focused day along Portugal's westernmost coast.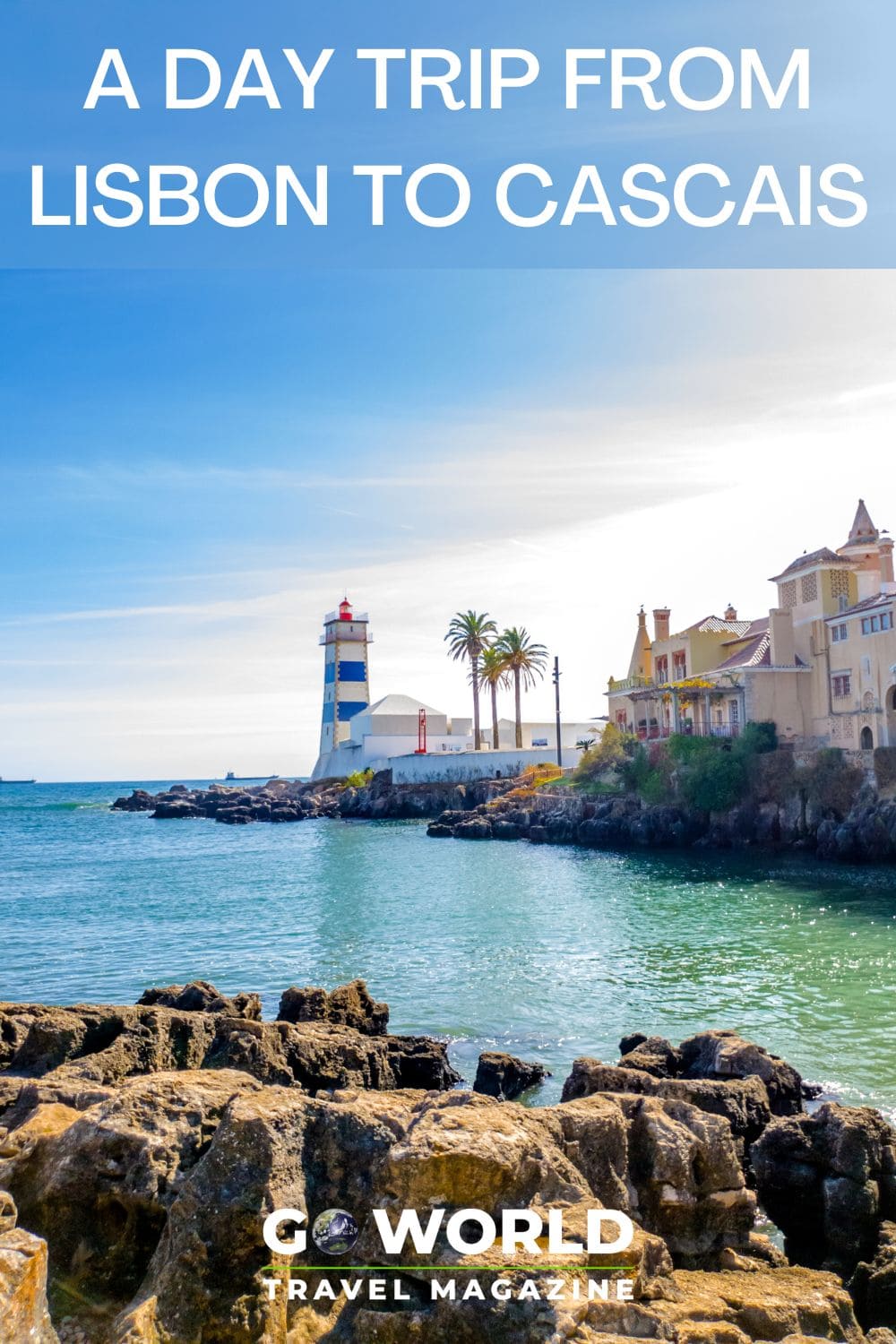 If You Go
Most people visiting Cascais, Boca do Inferno, and Cabo da Roca are already on a visit to Lisbon. It's only a short drive and the entire loop with stops, tours and meals can be made in a day.
If you want to stay overnight in the resort town of Cascais, it's likely to cost more than in Lisbon. But, it may well be worth it for the ambiance. There are several resorts, hotels and private flats available at such places as Booking.com and Airbnb.
We stayed in the Alfama of Lisbon at a flat booked online.
If you're staying in Lisbon and making a day of it, you can book day tours through places like Viator.com or hire a taxi or driver. Cascais is only about 20 minutes from Lisbon.
Author Bio: Eric D. Goodman is author of six books, the latest being Wrecks and Ruins, set in Baltimore and Lithuania. His thriller, The Color of Jadeite is set in China. Learn more about Eric and his writing at www.EricDGoodman.com