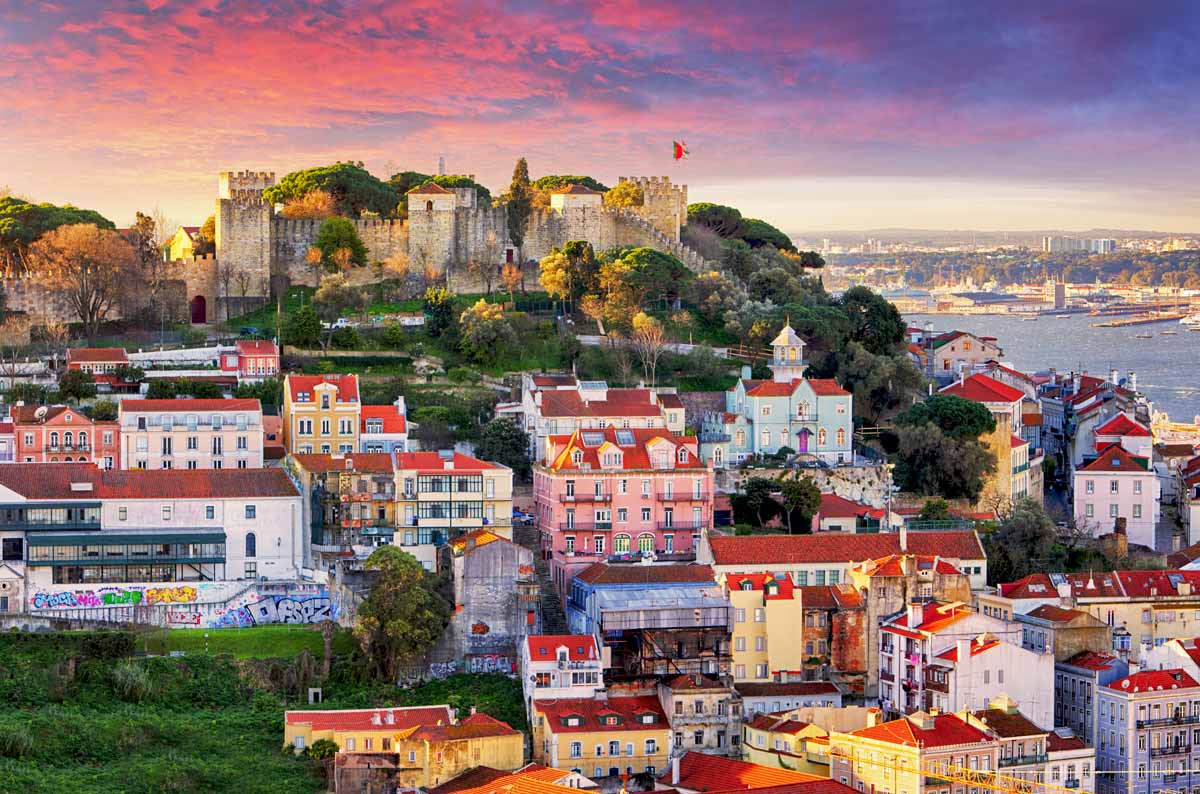 Lisbon is known for fado shows (a type of melancholic Portuguese folk music), cobbled streets, ancient ruins and white cathedrals. It also boasts magnificent viewpoints, world-class museums and pleasant year-round weather.
Located on the Atlantic coast, Lisbon is the westernmost capital of continental Europe. Furthermore, it's the cultural, educational, business and tourist center of Portugal. Needless to say, there are a lot of fabulous things to do in Lisbon.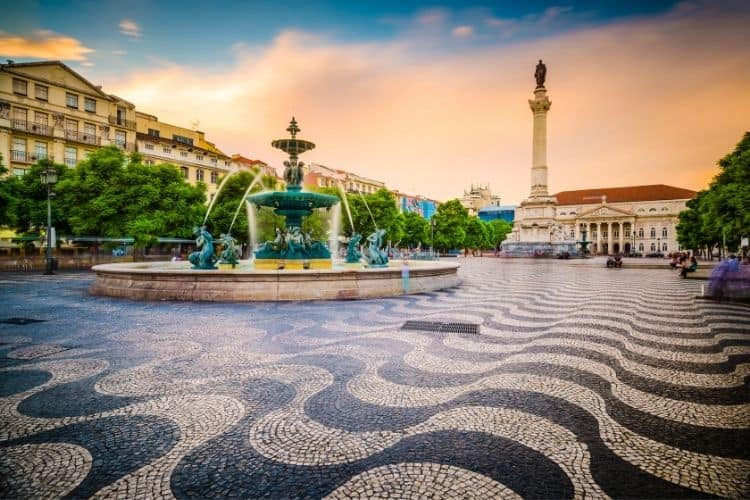 An Overview of Lisbon
Like Rome, Lisbon spreads over seven hills and is divided into two parts by the river Tejo. The bridges "Ponte 25 de Abril" and "Vasco da Gama" connect two coasts.
You can explore Lisbon by private tuk-tuk tours or by Tram 28 ride to some of the best viewpoints with a fantastic view of the city scenery. The weather in Lisbon is moderate, so you can visit the Portuguese capital year-round without worrying about overly cold weather.
Best Tips & Tools to Plan Your Trip
During the 15th and 16th centuries, Portuguese sailors headed out on overseas expeditions making the city an influential port. Today, Lisbon has several museums and a glorious "Padrao dos descobrimentos" monument that celebrates the Portuguese "Age of Discovery" period.
Sadly, in 1755, Lisbon was hit by a terrible earthquake, which destroyed 85% of buildings and took more than 60,000 lives. It took a long time for the city to recover and rebuild the destroyed parts.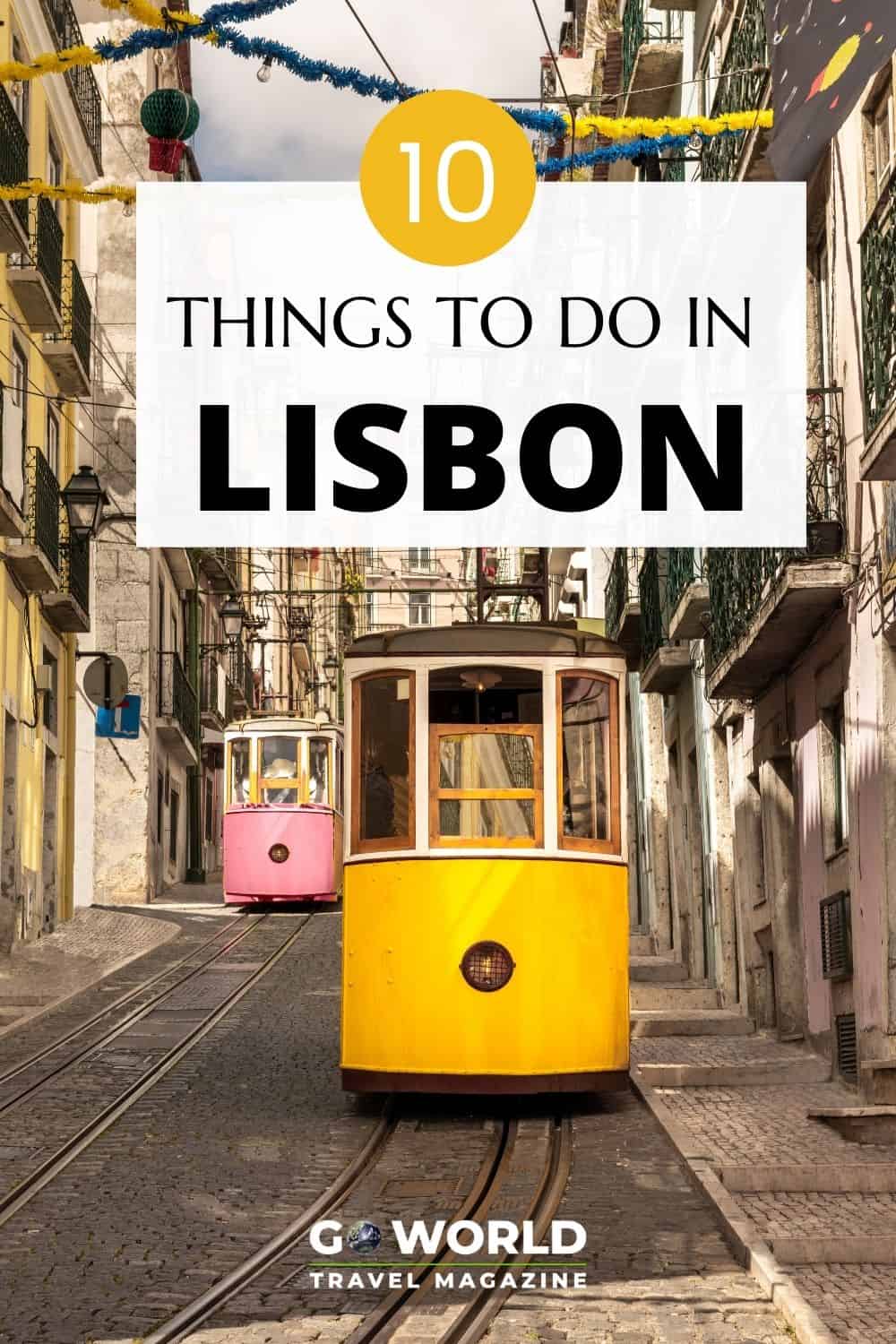 Lisbon's city center, the Baixa district, will certainly charm you. There, you can see the royal Palacio da Bolsa and the statue of King Jose I. Drink a cup of coffee on Rossio square, take a ride on the Elevator de Santa Justa, or walk through the massive triumphal gate in Rua Augusta street.
For lively and vibrant nightlife, you have to visit the Alcantara and Bairro Alto districts. Bairro Alto is also known for Elevador da Bica, an funicular ride. You can visit LX Factory in Alcantara, one of Lisbon's most fabulous spots with restaurants and shops.
There are also two famous European football clubs in Lisbon: Benfica and Sporting.
Things to do in Lisbon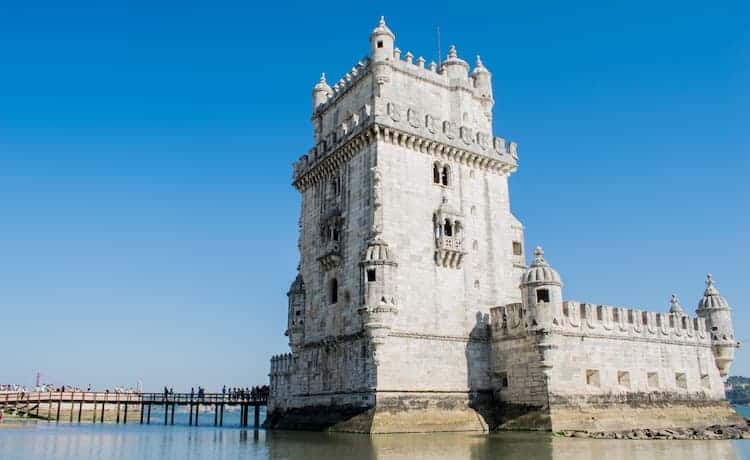 1. Climb the Historic Belem Tower
Belem Tower (Torre de Belem) is located where the Tagus River meets the Atlantic Ocean. It was built in the 16th Century by King Manuel I. The Tower is 30 meters high and 12 meters wide. On its top is a dome with 16 windows with cannons.
Belem Tower was a part of Lisbon's defense system and was also used as weapons storage and a jail. Today it is under UNESCO protection and serves as a popular tourist attraction.
Jeronimos Monastery (Mosteiro dos Jeronimos), a UNESCO World Heritage Site from the 15th century, is located just 1 kilometer away from the Belem Tower.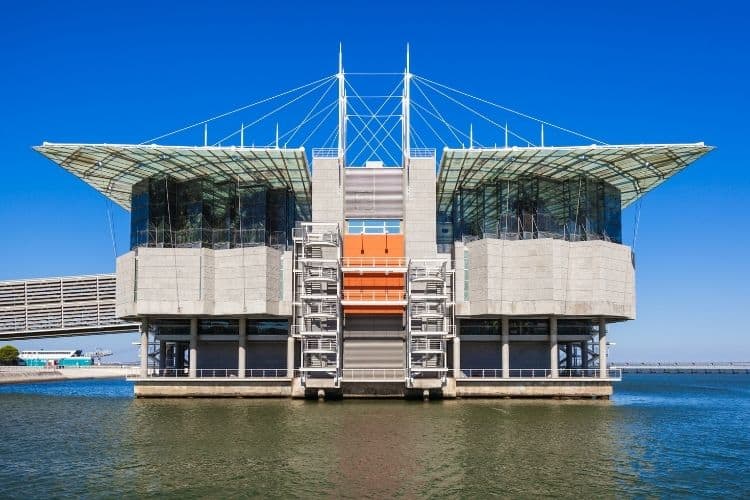 2. Have Fun at the Oceanarium
The Oceanarium (Oceanario de Lisboa) is the largest indoor aquarium in Europe. It is situated in the Parque das Nacoes, in eastern Lisbon. With 16,000 animals, it is one of Portugal's most popular tourist spots.
In Lisbon's Oceanarium, you can see 450 marine species like rays, barracudas, sharks, seagulls, penguins, jellyfish and octopuses. There is one big central tank and four smaller tanks representing specific marine conditions from around the world:
North Atlantic rocky coast
Tropical Indian coral reefs
The Temperate Pacific kelp forests
The Antarctic coastal line
Every year, Oceanarium welcomes a million visitors. If you plan to visit Lisbon with family, the Oceanarium is among the most family-oriented attractions where both you and your kids will have a great time.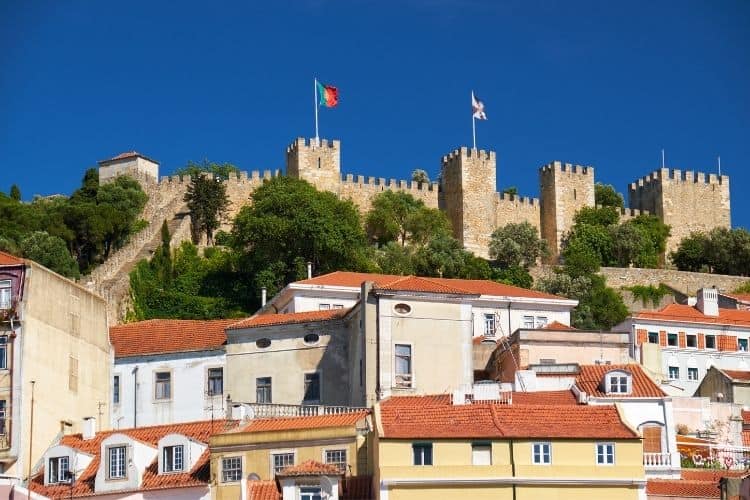 3. Admire the Views from the St. George's Castle
St George's Castle (Sao Jorge Castle) is the former royal palace situated on the hill that has an important role in Lisbon's history. Visiting the castle is one of the top things to do in Lisbon This castle has a long and turbulent history. For centuries, Phoenicians, Carthaginians, Romans and Moors also used these fortifications.
After his historic journey to India via the Cape of Good Hope, the Portuguese King welcomed famous sailor Vasco da Gama in the Castelo de Sao Jorge. Thanks to its position, you can see the castle from most parts of the city, and you can enjoy a wonderful view of Lisbon from its walls.
4. Explore Local Food at the Mercado da Ribeira
Mercado da Ribeira is the main food market in Lisbon, which opened in the late 19th century. It is also became known by the name Time Out Market several years ago. There you can find fresh seafood, fruits, and vegetables, as well as quirky food stalls.
It features a large food hall with 750 seats and numerous restaurants, where the best Lisbon chefs will prepare food for you. In addition, on the second floor, you can find interesting handicrafts and local food and specialties. Some of these products may be nice souvenirs that will remind you of Lisbon.
While you are there, we recommend visiting two lovely places near the Mercado da Ribeira: the beach Ribeira das Naus and Praca do Comercio, one of the largest squares in Portugal.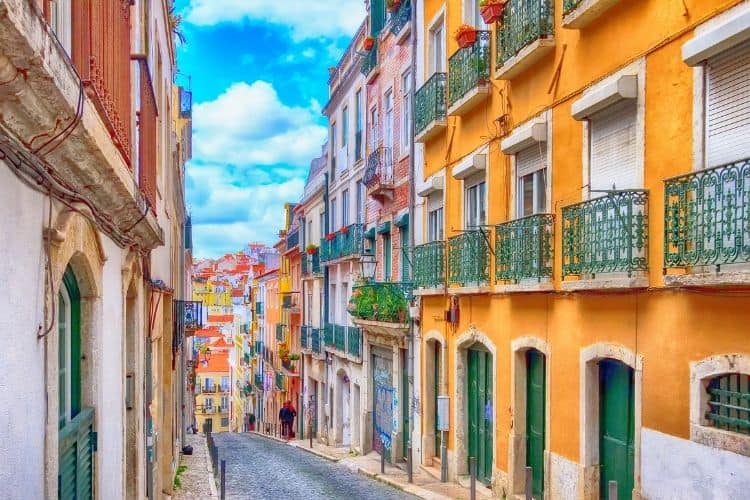 5. Alfama – The Oldest District of Lisbon
Alfama is the oldest district of Lisbon and is a charming neighborhood that was settled between river Tejo and the hill where Sao Jorge Castle is located. Many traditional houses were transformed into lovely rental apartments so you can stay there during your visit to Lisbon.
With its narrow cobbled roadways excellent for walking tours and hidden courtyards, Alfama is a kind of magical place where you can meet the soul of this city. You can visit the Museu do Fado to learn more about Fado music's cultural and social influence, Lisbon Cathedral, the National Pantheon, or the ruins of the Roman Theater.
For amazing views of Lisbon, visit Miradouro de Santa Luzia garden or Miradouro das Portas do Sol and enjoy the spectacular vistas of Alfama. If you want to hear interesting stories about Alfama, you can book a sightseeing guided tour, which usually lasts half a day.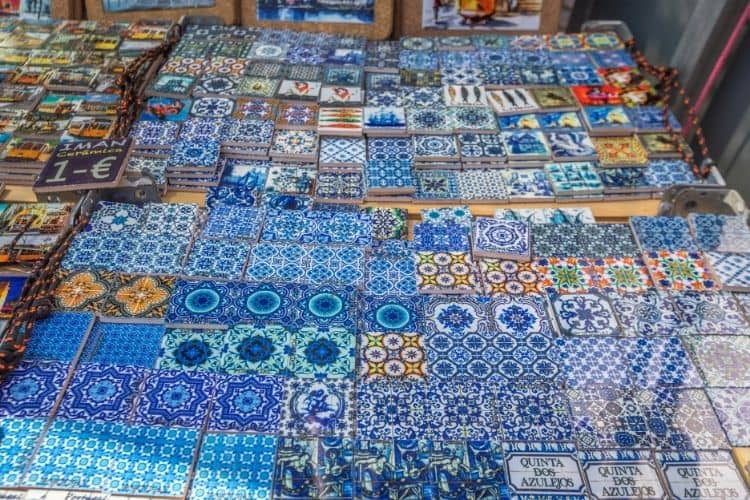 6. Visit the National Tile Museum
Long ago Lisbon residents began to put tiles on the facades of the houses to protect the walls from moisture and strong winds from the Atlantic. At the Rua da Madre de Deus street you can find The Museu Nacional to Azulejo, a museum dedicated to ceramic tiles.
This museum of ceramics contains items as far back as the 15th century. You can see how ceramic tiles are produced and many traditional tile works of Portugal. The main exhibit is a giant 23-meter long composition of 1,300 tiles, which presents Lisbon scenery from the beginning of the 18th century.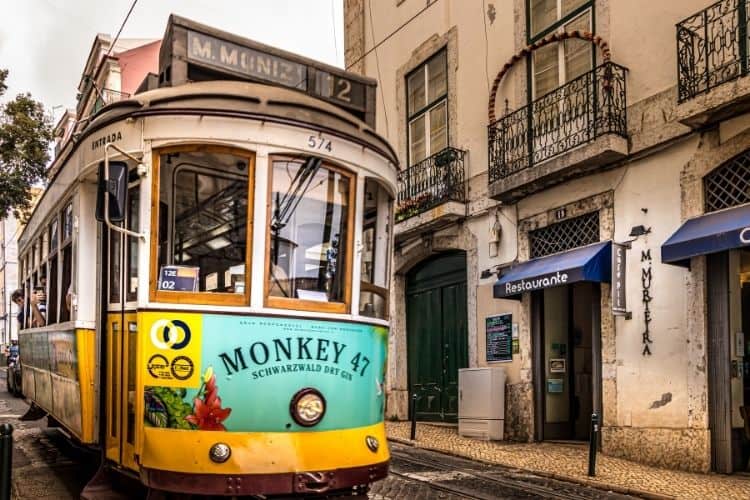 7. Catch the Tram 28
You haven't really visited Lisbon if you didn't drive in Tram 28, a vital part of the public transport grid of the Portuguese capital. That symbol of the past is included in every Lisbon travel guide. Riding the tram is definitely one of the top things to do in Lisbon.
Developed 100 years ago, the small yellow Tram 28 is a Lisbon icon and one of the city's most popular tourist attractions. The charming tram runs for 7 km through the winding and narrow streets of the Estrela, Baixa, Alfama and Graca districts.
During a unique journey through the Lisbon hills and streets, you can see many of the top sights. These sights include the medieval Monastery of St. Vincent, Basilica de Estrela, Feira da Ladra flea market, the Palacio de Sao Bento and more. There are also several incredible viewpoints along the route.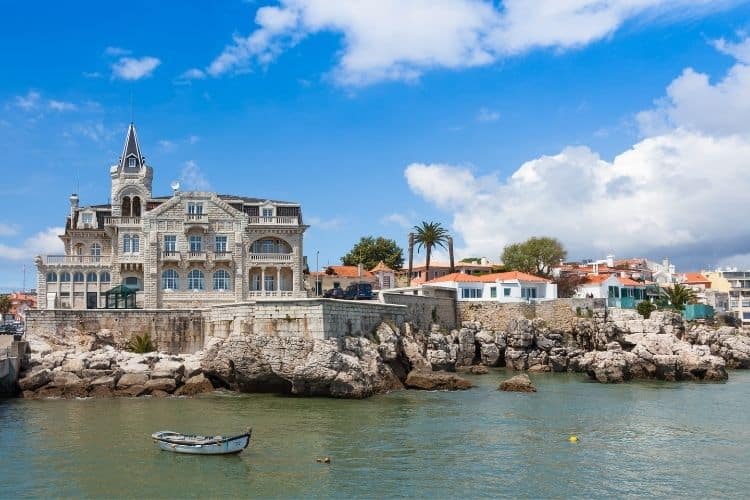 8. Cascais – Royal Family's Vacation Destination
Cascais was a small fishing village 30 km away from Lisbon. At the end of the 19th century, the Portuguese Royal family chose this beautiful place as a vacation destination. Since then, the expansion of the Cascais began.
Today, it is a popular tourist spot, with hotels, restaurants, a big yacht harbor and numerous sandy beaches.
The most popular beaches of this pretty coastal town are Queen's beach in the center of Cascais and Guincho beach, excellent for surfing lovers. In addition, Cascais is famous for its quality of life and attractions such as museums and art galleries, the ruins of a castle and lovely cobbled streets.
9. Visit Convento do Carmo
Convento do Carmo is a former Catholic convent ruined during a strong earthquake in the middle of the 18th century. The gothic Church of Our Lady of Mount Carmel was the biggest church in Lisbon before the earthquake, but its roof collapsed during that horrible disaster. The pillars, walls, and ornaments have survived to become popular tourist attractions today.
At the small archaeological museum, you can see many relics, tombs, mummies, and sculptures from the past centuries. Convento do Carmo is located in the Chiado district, so we recommend visiting the nearby Chiado Museum of the contemporary art and lovely Botanical Garden.
10. Go on a Daytrip to Sintra
Sintra became a popular destination for Europe's elite during the 19th century. The picturesque town is situated on the Portuguese Riviera, 25 km west of Lisbon, within the hills of the Serra de Sintra.
It is well connected with Lisbon by two rail routes. A day trip adventure from Lisbon to Sintra, Sintra Mountains and Sintra-Cascais Nature Park is a great idea.
You can see beautiful gardens, villas and royal palaces. This includes the medieval Moorish castle, an Arabian Monserrate Palace and the romantic Pena Palace. Sintra also has several beaches with excellent conditions for surfing and windsurfing.
The most popular beaches are Guincho, Praia das Macas and Praia da Ursa.
Book This Trip
Ready to start planning an exciting getaway to Lisbon? Get prepared with knowledge on how to get around, hotel and VRBO accommodations, local restaurant reviews, insider tips on the best shopping and more through TripAdvisor and Travelocity.
Be sure to make the most of your trip by booking fun activities in Lisbon, skip-the-line tickets for top attractions and expert-led tours through GetYourGuide. Find more information and book your dates in advance here.
Pack all your travel essentials and still have space to bring back all your shopping in Lisbon with the expanding carry-on suitcase from AWAY. Discover the rest of their top-rated travel bags here.
Author Bio: Based in Serbia in Europe, Marija Stojanovic Petkovski worked as a journalist but realized writing about the most beautiful places in the world is something that inspires her. She is sure that a pint of good craft beer perfectly accompanies a tasty homemade lasagne. In her spare time, she enjoys playing with her children and spending time outdoors with her family.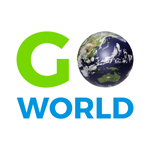 Latest posts by Go World Travel Magazine
(see all)