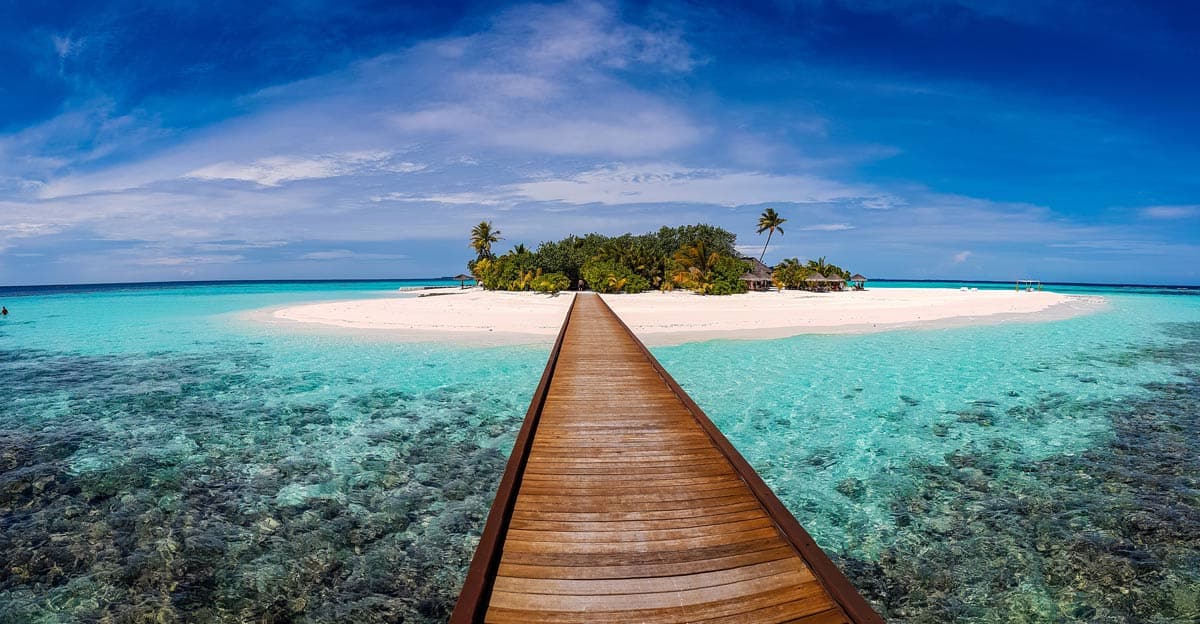 For many, the Maldives are at the top of the bucket list. Visiting these beautiful islands is an experience you'll never forget, and they're home to some of the top resorts in the world. We've selected our favorite resorts, and have pulled together some helpful information as you plan your trip to the Maldives. And one more tip: you'll find links to resorts and travel services we recommend. If you make a purchase, we might make a commission.
What You Should Know About the Maldives
First up, did you know that the Maldives consists of around 1,200 islands?
About 100 of them have been turned into private beach resorts. This beautiful holiday destination is located in the Indian Ocean, south of India. The Maldives is known for its turquoise lagoons, bungalows built above the water, pool villas, and beautiful white-sand beaches.
How to Get to the Maldives
Most international travelers to the Maldives go through Dubai or Qatar and then fly on to Male, the capital of the Maldives. (It's about a five-hour flight to Male from Dubai or Qatar.) You can find a flight to the Maldives with Qatar Airways here.
From Male, you'll take a speedboat or a seaplane to your resort. Your resort can help you make these arrangements.
The Maldives is an Islamic country, and there are a few restrictions to keep in mind. For example, it's not allowed to import alcohol, pornographic material, bibles, or any other things contrary to Islam. Also, note that exporting sand or seashells is also forbidden.
However, you can consume alcohol on the resort islands, and most resorts follow western standards. The Maldivians are welcoming and very helpful to visitors. We have many fun memories of the lovely people we've met in the Maldives.
Diving and Snorkeling in the Maldives
The Maldives is ideal for enjoying the rich underwater world and numerous water sports. The diving in the Maldives is superb, and many island resorts have their own house reef just off shore. You can simply walk into the sea with your diving gear and discover a world of incredible sea life. (See Diving in the Maldives)

And of course, the beaches in the Maldives are white sugar sand and clear azure seas. In short, it's an island paradise.
World's Most Romantic Destination
The Maldives is the perfect romantic destination. At many island resorts, you can rent a private overwater villa. No wonder, then, that the Maldives is a top honeymoon destination. The vibe at some Maldivian islands is absolute romance, and that is an appealing option for couples looking for a memorable getaway.
What are the best resorts in the Maldives?
Here are our picks for the top resorts in the Maldives. Have a look and you'll find the island resorts that are just right for you.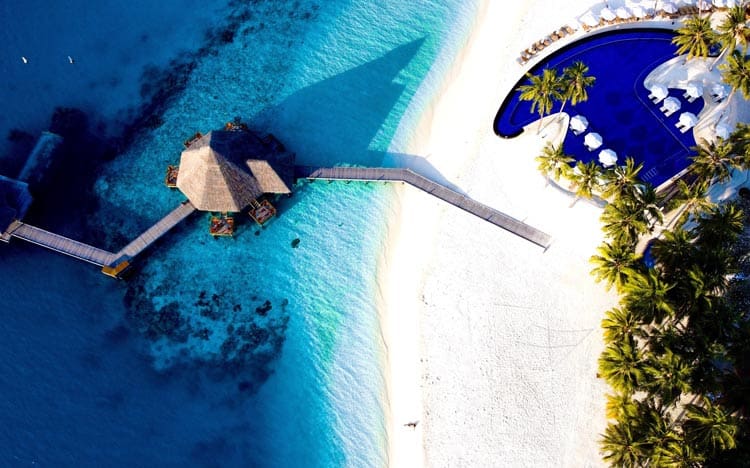 1. Soneva Fushi
Soneva Fushi is located on Kunfunadhoo Island, with beautiful beaches and tropical vegetation. Besides its rustic ambiance and top services, there is also a wine cellar, a bar, an open-air cinema, a fitness center, and tennis courts.
Within the Soneva Fushi resort, you can use the wellness center's services such as massages, sauna, and jacuzzi. Diving, wakeboarding, water skiing, or cycling are activities you can do during the day.
Book a room at Soneva Fushi here.
2. One&Only Reethi Rah
The North Male Atoll is home to the luxurious One&Only Reethi Rah resort, whose white sandy beach is 6 kilometers long. This luxury accommodation offers a private atmosphere, which makes it the perfect hideaway. Excellent service and restaurants offering delicious meals in Italian, French and Japanese cuisine also offer something this resort is famous for.
There is also an infinity pool, a separate pool for children, a boutique, a hair salon, and other facilities. Some villas within this resort have a private pool, while water villas are set in a secluded lagoon, with catamaran nets above the water for complete relaxation. You can enjoy the beach's wellness services, then the children's playroom, pedal boat, kayak and beach volleyball courts, badminton, tennis, and other sports.
Book a room at the One&Only Reethi Rah resort here.
3. Gili Lankanfushi Maldives
One of the most beautiful resorts in the Maldives is located on the island of Lankanfushi. Gili Lankanfushi offers you a holiday in eco-friendly water villas. These villas are made of wood and feature a living room, dining room, and a seating area on deck chairs. If you want to visit restaurants, bars and a swimming pool, you should know that all villas are connected to the island with bridges.
A unique attraction is a spa with a glass floor, through which you can watch the fish and corals. Besides tennis and volleyball courts, you can use kayaks, bicycles, windsurfers, and diving equipment.
Book a room at Gili Lankanfushi here.
4. LUX South Ari Atoll
This luxury all-inclusive resort is located on the island of Didhoofinolhu, in the middle of a lagoon. You will be delighted with the food available in any of the seven restaurants featuring Asian, Italian, and Oriental cuisine. There is also the Beach Rouge, a beach club where you can listen to a DJ while sipping various drinks.
The bungalows at Lux South Ari Atoll Resort are interestingly designed, well equipped, and overlooking the sea. In the beauty & wellness center, you can relax enjoying some of the several offered treatments.
If you are a fan of diving, you will be delighted by the surrounding reefs where you can see whale sharks and different species of exotic fish. There are also organized visits to locations where manta rays gather, as well as to shipwrecks. South Ari Atoll has some of the best dive sites in the Maldives.
Book a room at Lux South Ari Atoll here.
5. Anantara Dhigu Resort & Spa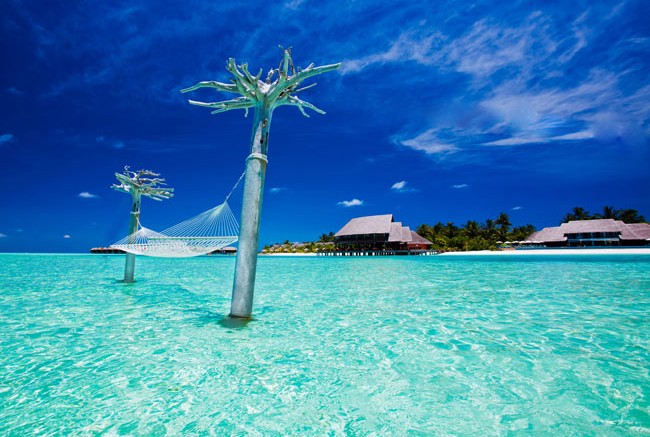 Anantara Dhigu Resort is located on an island only 500 meters (1,640 feet) long and only 120 meters (393 feet) wide, and it features an infinity pool, a boutique, a library and excellent culinary offerings. You can reach it in just half an hour by fast boats from Male airport. The villas are well equipped and have sundecks, while some also have private pools and lagoon views.
Here, you can be active during your holiday because the resort has a modern fitness center and courts for various sports. You can also engage in different water sports such as windsurfing, snorkeling, sailing, catamaran and water skiing. Anantara Dhigu Resort also has a spa area with a sauna, a steam bath, and massage rooms.
6. Anantara Veli Maldives Resort
One of the most beautiful Maldives' resorts is located on an island only 340 meters (1,115 feet ) long and 215 meters (705 feet) wide, surrounded by a stunning lagoon. When it comes to accommodation, there are overwater bungalows, and the restaurant 73 Degrees with a sandy floor is a place where you can enjoy delicious meals. There are also Thai and Japanese restaurants, bars, an infinity pool, a jewelry store, and a library.
The Balance Wellness by Anantara spa facilities are at your disposal for relaxation. Veliganduhuraa island is also an excellent location for diving because there is a coral reef nearby. Windsurfing and sailing are also popular activities.
7. Centara Grand Island Resort and Spa Maldives
Machchafushi Island is small but offers excellent diving conditions. Nearby is a first-class reef, and not far from there is a shipwreck. A diving school and diving equipment are at your disposal.
Numerous facilities and activities are available for those who desire an active holiday. There is a fitness center, tennis court, and swimming pools for kids and adults, but you can also enjoy beach volleyball, kayaking, windsurfing, and even fishing. After an exciting day, you can relax in the wellness center, indulging in massages and aromatherapy. When you get hungry, there are restaurants offering Thai and Italian dishes. For accommodation, you can choose between well-equipped beach suites and water villas.
Book a room at Centara Grand Island Resort and Spa here.
8. Baros Maldives
Baros has been named "The World's Most Romantic Resort" six times. This private Maldivian-owned island resort is known for its turquoise lagoon, house reef and villas in the shade of palm trees. It offers private villas right on the beach or overwater villas with unending views of the sea. It's the perfect place for a wedding. (Read More: Getting Married in the Maldives at Baros.)
You can relax in the spa, enjoying massages, beauty treatments, a steam bath and a jacuzzi. If you've come for your honeymoon, you will also get a romantic dinner with a bottle of Champagne. The villas are beautiful decorated in classic Maldivian design with all the modern touches; all have a terrace with sun loungers and direct access to the beach. Daily activities include diving, kayaking, yoga and table tennis, and there is also a fitness center.
Book a room at Baros Maldives here.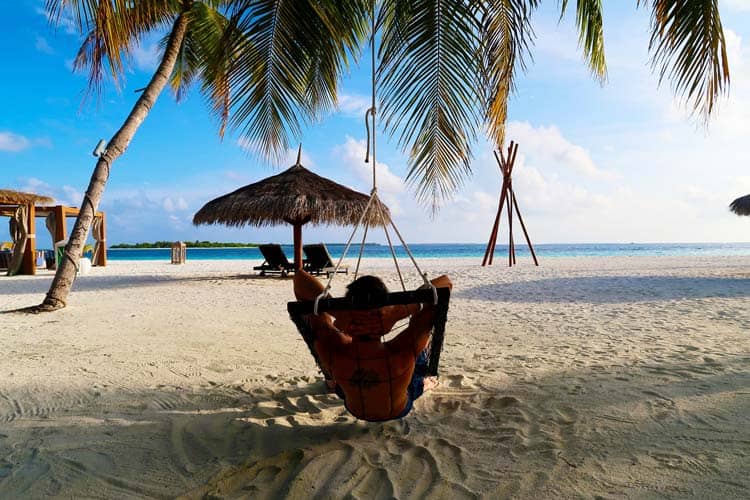 9. Cocoon Maldives
You can reach this island in half an hour by a seaplane from Male. The most attractive restaurant, Palm Square, located outdoors, offers seafood and grilled dishes. You can also have great cocktails in the bars. Additional facilities include a swimming pool, spa, and fitness center.
Beach villas and slightly more luxurious Lagoon villas with a jacuzzi tub and sunset views are your choices for accommodation. Diving trips to attractive places nearby are organized every day. And in the evening, you can have a great time at the disco, with live music or karaoke.
Book a room at Cocoon Maldives here.
10. Six Senses Laamu
This resort is located on lush Laam Atoll, and it's recognizable by its rustic design. The lovely Ocean Water Villas have beautiful relaxing terraces overlooking the ocean and a transparent glass floor. There are three restaurants at your disposal, with delicious food and top-quality chocolate sweets. In the wellness center, you can use the sauna, enjoy massages, or practice yoga.
The resort organizes boat excursions for snorkeling and diving, so your day will be filled with exciting events. You can end the day by enjoying the open-air cinema in the company of your loved one.
Book a room at Six Senses Laamu here.
11. Four Seasons at Landaa Giraavaru
Landaa Giraavaru island is located inside the Baa Atoll UNESCO Biosphere Reserve, which consists of gorgeous beaches and a fantastic coral reef.
This resort is famous for Ayurveda and Yoga Therapy at The Spa & Ayurvedic Retreat. Beach and water villas are the main accommodation choices. Many of them have personal pools and spots with a glass floor through which you can watch the magical underwater world. Ocean suites give you complete luxury and privacy, and it's a perfect hideaway.
Top-quality food, as well as tasty grilled dishes and salads, are served in nine restaurants, while bars feature tempting cocktails. If you are staying here between June and October, you will have the opportunity to experience diving with manta rays.
Book a room at Four Seasons at Landaa Giraavaru here.
12. St. Regis Maldives Vommuli Resort
Dhaalu Atoll is home to one of the most luxurious resorts in the Maldives. The St. Regis Maldives Vommuli Resort is a part of the Marriott hotel group. Exciting marine life, private lagoon, and a spa center with an outdoor infinity pool are great reasons to make this place one of the favorites for a Maldives vacation.
You can enjoy various water sports, excursions to exciting locations nearby and excellent food served in six restaurants and bars. Accommodation units are excellently equipped, and you can choose between on-land and over-water villas.
This island is also fascinating in terms of architecture – you will see the Whale Bar in the shape of a whale shark, as well as many interesting solutions in the interior of the Iridium Spa.
Book a room at St. Regis Maldives Vommuli Resort here.
13. Como Maalifushi
You can reach Maalifushi Island in Thaa Atoll less than an hour by seaplane from Male, with a voyage of the beautiful Indian Ocean, small islands, reefs, and lagoons. The island is home to the beach resort of Como Maalifushi, which is one of the most luxurious in the Maldives. It is surrounded by sandy beaches, turquoise water, and palm trees.
When it comes to accommodation, there are 33 overwater suites and villas with a swimming pool, a place to relax and sunbathe. There are 32 more villas on the island, with direct access to the beach.
Great food awaits you in two restaurants with Mediterranean, Indonesian, and Thai cuisine. There is also a restaurant built above the water where you can try Japanese specialties. Like other luxury resorts, Como Maalifushi has a spa offering various treatments, a sauna, and a Jacuzzi. You can also use the beachfront pool to relax. If you love diving, you will be delighted by the reef and rich marine life.
Book a room at Como Maalfushi here.
14. Cocoa Island by Como
This is another Como resort in the Maldives. Cocoa Island is located in the South Male Atoll and is home to 34 villas on stilts, set in a lagoon. Seafood specialties and international cuisine await you in the Ufaa restaurant, while in the Faro bar, you can enjoy cocktails at sunset. Como Shambhala Retreat offers top-notch relaxation with massages, yoga, or sauna, and there is also a gym.
There are reefs around this island where you can snorkel with turtles, watch dolphins or swim with sharks. You can enjoy a sunset cruise on the traditional boats, known as a dhoni, and complete your day with kayaking and windsurfing. Before booking accommodation, keep in mind that this is an adult-only resort.
Book a room at Cocoa Island by Como here.
15. Huvafen Fushi
Huvafen Fushi is a boutique hotel, located in a beautiful lagoon and with reefs ideal for diving. It is known for its outstanding underwater spa, with top-notch massages and wellness rituals. It is one of the few family hotels in the Maldives where you can go with younger children. You can use the infinity pool, restaurants, and bars.
There are 44 bungalows and pavilions to accommodate visitors. They are equipped with LCD / TV, coffee maker and free wi-fi, and most bungalows have a plunge pool. You can complete your vacation in the Maldives with diving, fishing trips, windsurfing, wakeboarding, or sunset cruise.
Book a room at Huvafen Fushi here.
16. Cheval Blanc Randheli
This resort is located in Baa Atoll, with a large natural lagoon and lush tropical surroundings. There are restaurants with great international dishes, bars, an infinity pool, a kid's club, recreational facilities and about 1,400 coconut trees.
Various accommodation units are available to guests: Island, Water and Lagoon villas. Luxurious Garden water villas and Lagoon garden villas have a small private garden and offer better privacy. If you want to have a private pool and spa, then the four-bedroom villa Cheval Blanc Randheli Private Island is ideal for you.
Kids can spend the day in Le Carrousel and Le Paddock playrooms, which offer sports and arts activities with animators. On the other hand, you can use tennis courts, a fitness center, or enjoy diving and snorkeling excursions. If you love to explore handcrafted items from local designers, there is a Concept Store with many impressive collections.
Book a room at Cheval Blanc Ranheli here.
17. Velaa Private Island
The name of this island, translated from the Maldivian, means "Turtle Island." Because of that, the turtle was an inspiration to the designers in creating this fantastic place. Velaa Private Island is a "World luxury spa award" winner.
In addition to the wellness center and fitness gym, there is also the main swimming pool and private pools in each villa. There are 43 villas, 18 of which were built above the water. Each villa also has a butler.
Besides restaurants and bars, your kids can go to the Lha Vela kid's club, which offers various activities, have fun in the swimming pool, or play at the large children's playground. You can spend a day playing golf or some water sports. Also, there are day trips to exciting locations in the Maldives archipelago. What makes this island stand out from the others is the unique snow room, with a temperature of -13 degrees Celsius (8.6 degrees Fahrenheit).
Book a room at Velaa Private Island here.
18. Niyama Private Islands
Niyama is a 40-minute ride by a seaplane from Male. It consists of two islands in the Dhaalu Atoll, connected by a wooden bridge. Here, you can admire beautiful beaches, thousands of coconut trees, and even get your personal butler (thakuru).
Private studios and suites with tropical outdoor bathrooms are your accommodation choices. To achieve complete relaxation of body and soul, the Drift Spa with water treatment rooms, sauna, and steam room is at your disposal.
You can have fun playing tennis and badminton or enjoy water sports such as snorkeling, scuba diving, or surfing. If you've always wanted to ride a jet ski, this is your chance. On the other hand, going on private boat trips is also available.
One of the main attractions on this island is the undersea restaurant. In the evening, head to the bar with live music, while kids spend time in the game rooms or cinema.
Book a room at Niyama Private Islands here.
19. Milaidhoo Island Maldives
Milaidhoo is a luxury resort in the Baa Atoll, close to Hanifaru Bay. There are four types of accommodation: a water villa, beach villa, beach residence, and an ocean residence. All of them have a private pool.
A nearby coral reef offers a fantastic opportunity for snorkeling. During the day, you can engage in various water sports such as kayaking or windsurfing.
Welcome the sunset by enjoying your dinner in one of the bars or restaurants overlooking the Indian Ocean. The second dining option is in-villa dining, a magical event on the deck of your villa. Milaidho Island is also a popular destination for wedding ceremonies.
Book a room at Milaidhoo Island Maldives here.
When is the best time to go to the Maldives?
The Maldives has beautiful weather all year round, but the best time to visit the Maldives is between November and April, when there is less rain. The high season is from December to March. The monsoon season starts in May and runs to October. But even during these rainier months, the weather in the Maldives still includes plenty of warm sunny days.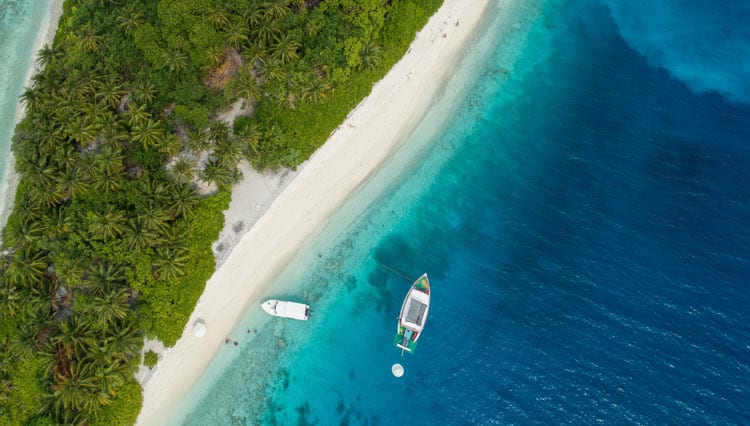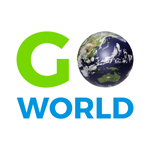 Latest posts by Go World Travel Magazine
(see all)