Florida is a destination packed with gorgeous beaches and tropical landscapes. For me, however, none has ever topped the charming town of Boca Grande.
Located on Gasparilla Island, on the southwest coast of Florida, Boca Grande is blessed with light blue, warm waters that kiss the soft, white-sand beaches. The beach itself is special because of its clean appearance, unlike many of the overpopulated, garbage-littered beaches you can find throughout Florida.
The only way to reach Boca Grande itself is either by water or a small bridge that allows for a one-way flow of vehicular traffic on and off the island. I have accessed Boca Grande both ways, but highly recommend either renting a boat or using family members, as I did, so you can experience the beautiful waters of Florida and perhaps interact with some of the sea life along the way.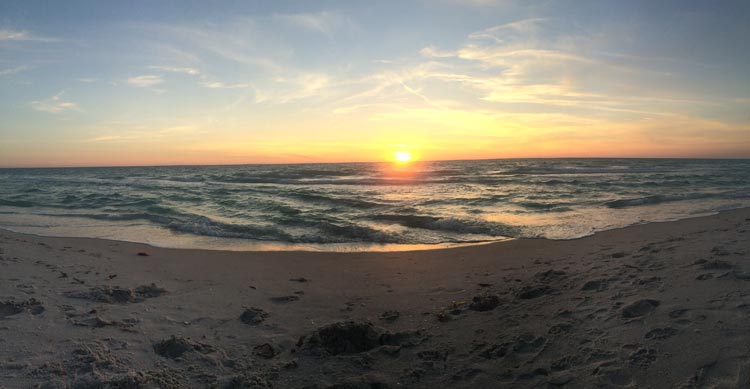 Take a boat to Boca Grande from Fort Myers, FL
The boat ride began from the docks of Fort Myers, FL, and took about 2 ½ hours to reach Boca Grande. My grandfather was the captain while my grandmother, their pup Daisy Mae and I enjoyed the light, ocean breeze.
Dolphins followed our boat, jumping and twirling through the wakes, which was quite the sight to see. This is something that often happens in Florida, due to the dolphin's inquisitive nature about an unknown object in the waters.
Upon arrival, we docked at Uncle Henry's Marina. If you have a houseboat, this is a highly recommended option because of the dolphins and manatees that are often seen swimming around the docked boats.
At the marina, you may rent golf carts you can drive on permitted paths throughout the island, making travel a breeze. There is also a bike path that runs through the main roads and into the smaller town for those looking for a more physical way of getting around.
Once you have situated yourself in the quaint town of Boca Grande, whether you are spending a day or a week there, there are a few places that are must-sees and places to eat on your trip.
Here are some suggestions:
Sunbathe on Boca Grande Beach
As much as I stressed this before, the beaches here are truly something you see on a postcard. Not only is it a beautiful beach, but it is rare to find a beach that appears completely untouched by the human hand. If you are looking for a more secluded and private beach experience, this is for you.
Side note: Parking alongside the beach will only cost a couple of dollars for the whole day.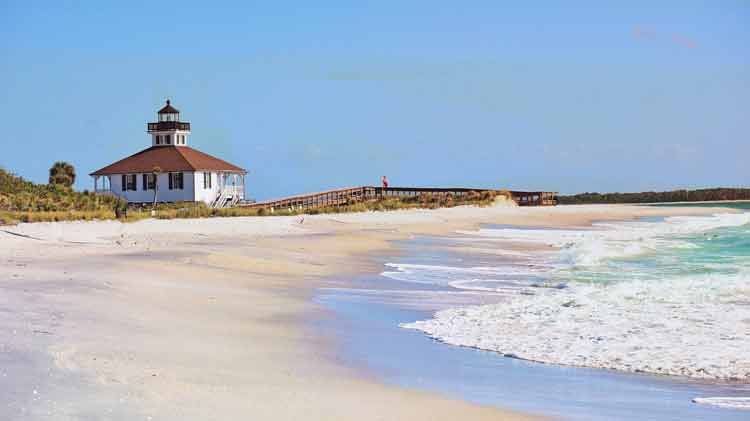 Port Boca Grande Lighthouse and Museum
Lighthouses have a way of sparking nostalgia for places you have never been before. If this is your first time on Gasparilla Island, this lighthouse will supply you with the rich history of the island since 12,000 B.C. The best part of this tour is all proceeds go to support local state parks and educational programs.
Catch A Keeper With A Fishing Guide
If you are looking to add a little bit of excitement to your trip, a day of guided fishing may be the activity for you. You can spend a couple of hours out on a boat in the crystal-clear waters catching gigantic (and edible) fish that can later be prepared by local restaurants.
Where To Eat:
South Beach Bar and Grille
The combination of ambiance and delicious food makes this my top recommended place to eat in Boca Grande. South Beach is situated right on Boca Grande Beach and offers fresh seafood that is to-die-for. I suggest going for dinner so you can watch the sunset over the gorgeous Gulf Coast waters.
Scarpa's Coastal
Scarpa is a higher-end restaurant that offers a lovely combination of Italian and seafood. Not only are the main courses delectable but the appetizers and cocktails are a perfect way to relax and unwind.
The Gasparilla Inn Main Dining Room
The Gasparilla Inn is the perfect place to spend your morning or evening. Both menus that are offered include all the classics as well as vegan items. The contemporary and fun style of the restaurant gives a comforting yet vibrant vibe.
Author Bio: Joslyn Allen is an editorial assistant at Go World Travel Magazine. A Colorado native, she has always been passionate about exploring the outdoors. Her passion for writing soon followed.