The state of Oaxaca in southern Mexico is a magical place. Vibrant. Immediate. Genuine. It's also a food mecca with seven different types of mole, artisanally produced mezcal, fragrant chocolate, salty Oaxaca cheese and more.
Plus, it's fiesta heaven (as seen in the movie Coco, which depicts the celebration of Day of the Dead in Oaxaca). Then there are neighborhoods emblazoned with murals, archeological wonders (Monte Alban is a World Heritage Site), live music ringing in the Zócolo central plaza and cobblestone side streets.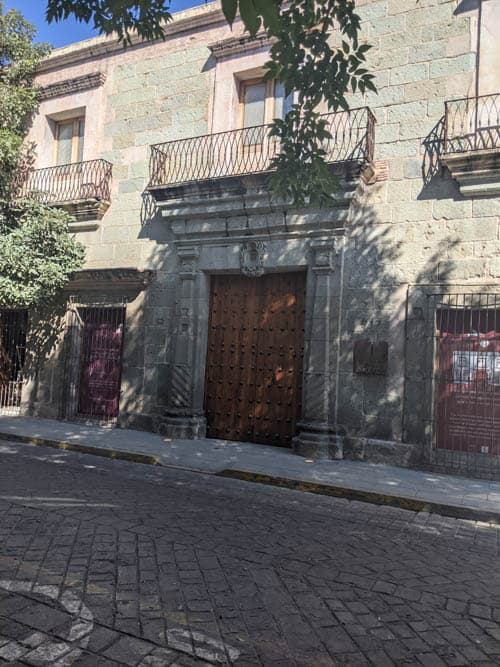 Furthermore, art is everywhere. Plus, threaded throughout the story is Oaxacan textiles. Brilliantly colored textiles including–handwoven rugs (tapetes), fabrics and hand-sewn embroidery represent a tradition passed on from generation to generation.
A tradition that is still thriving today. Undoubtedly, you will want to roll up a multi-colored rug or tuck an embroidered blouse into your luggage before you leave.
But Oaxaca also offers a unique opportunity to learn about the textiles from the artisans who create them. You can develop not only a more discerning eye but also a broader sense of appreciation and respect for the processes, the people and their heritage.
Oaxaca Textile Museum
Start with a visit to the Oaxaca Textile Museum, in the historic center of the city. This is the only textile museum in Mexico. Changing exhibits highlight the different fibers, dyes, techniques and designs produced throughout the state.
Historical and indigenous woven and embroidered pieces are displayed along with contemporary applications. Another interesting aspect are collaborations such as between artisans from Oaxaca and from Gujarat, India.
The distinctions that are sometimes made between artist and artisan disappear. As you walk through the airy rooms of what was once a 16th-century convent garden, you understand that fine artisans produce works of art.
Next, you can make arrangements to take an En Via tour to meet women entrepreneurs and artisans in their home workspaces. Or you can create your own tour.
Oaxacan Textiles Tour with En Via
Book a Oaxacan textiles tour with En Vía. They will pick you up in a van in front of the language school, Instituto Cultural Oaxaca. You may find your seat and discover that your seatmate is from somewhere across the globe.
Introductory shout-outs from the back of the van. "Czech Republic! Germany! L.A. via India! New Zealand! England!" reveal an international bunch of strangers interested in having a cultural exchange. They are joined by a volunteer guide and a translator.
The van takes a 25-minute drive to Teotitlan del Valle. This is one of many villages in Oaxaca of the Zápotec people. Their legacy goes back to 500 BC. Both the Zápotec language, in one of sixty different local idioms, and Spanish are spoken here. The translator will enable communication.
About En Via
En Vía is a non-profit organization. They provide interest-free loans and education to more than 250 women in six villages. These women have skills, motivation and ideas. But they don't have access to affordable credit to grow their businesses and support their families and communities.
The interest rate in Mexico for small loans is the second highest in the world. Additionally, there are no banks or ATMs in the villages and the women have no credit history or collateral.
En Vía charges 0% interest and has a 99.7% rate of success in return payment. Participants are required to take eight business classes, including learning how to set fair prices. The En Via guide explains that responsible tourism includes not bargaining.
A presentation following successful completion of a loan cycle is the context for the En Vía tour visits. The reasonable fee for the tour goes directly into the loan fund, education programs, driver and van.
A Taste of the Tour
Also included is a delicious lunch provided by an En Via entrepreneur. El Cazahuate in the valley with a backdrop of mountains is the lunch stop. The organic garden supplies the squash for soup flavored with chepil leaves, chilis for mole, hibiscus and cucumber juice and handmade corn tortillas. Well-fed, the travelers head to their first of five stops on the tour.
Gue'zih Gubidx, (Zapotec for 'the sunset'), is a family business behind Cafe Dulízùn. This business has grown over the course of ten years working with En Vía. Enedina Zarita Bazán Chávez has completed several loan cycles.
She demonstrates making indigo (anil) powder. Natural blue dye will be the result. The anil comes from many steps, over many days. It starts with growing and picking the anil. Then soaking, oxidizing, draining, pasting on muslin and drying it into a form that looks like a piece of coal.
Enedina grinds and reconstitutes it in a dye bath over a wood fire, kept under 90 degrees. She presents a rug she has woven on the loom in her workspace with the name of her business. Preserving her heritage and building her brand.
Cassidy Towse-Garcia, a tour member and Ph.D. student from Albuquerque, New Mexico, purchases a rug.
"If you spend any time in Mexico, you see textiles everywhere. But to get the full family story, to actually see the homes behind the handicrafts and to see women having a leadership role in their communities–I will think about that. I will think about my money going directly to the artisan and what the benefit will be." Towse-Garcia adds, "I'm offered a better price than I should be."
Customizing Your Own Oaxacan Textiles Tour
There are many artisans in and around Oaxaca central. You can make your own arrangements to visit their workshops, or you may choose to work with a private tour guide.
Oaxaca Craft Retreats will customize the tour to your interests, make the appointments, travel arrangements and provide translation services. You can reach them at [email protected].
Meeting Manuel Lopez Gonzalez
"My mother said I was born under the loom,"says Manuel Lopez Gonzalez, who has been weaving since he was ten years old. His mother was hand carding wool, taking out the tangles, right before she gave birth.
His workshop in Teotitlan del Valle is in the courtyard of his house. "This is a work family," he explains. He nods to his daughter, weaving at a pedal loom, and his wife, rolling the metate grinding stone.
Gonzalez points to a bowl that looks like it's full of spaghetti. But it is actually wool in preparation for dyeing. He stirs a pot containing a dye bath over a wood-burning fire. He explains mordant, which sets the dye.
The colors include indigo (from the anil bush which produces blue), pericon (marigolds, yellow), copal (tree resin, brown), walnut shells (brown), and cochineal (a parasite that lives on the male nopal cactus plant, red).
Producing naturally dyed wool of a five-color design takes about a week. Stringing the loom and weaving the design adds many days to the process of creating a single rug.
Gonzalez proudly displays his family's work, pointing to the colors and explaining their natural sources. He identifies Zapotec symbols depicting the life cycle. As you try to figure out how to choose a rug, Gonzalez comments that buyers are often confused about the differences in price and quality.
A Lesson on Price and Quality
Gonzalez explains that chemical dyes expose workers to dangerous substances like sulfuric acid. These chemicals sometimes are dumped in the ground and can leach into the community water source. But they are much easier to buy and use than natural dyes.
The only process with a chemical dye is to open a packet and mix it in water. The colors last longer and are more unique in a naturally dyed rug. However, because chemically-dyed rugs are produced much more quickly, they are cheaper.
He shows how to tell whether a rug has natural or chemical dye by looking at the colors. Natural dyes are more muted; chemically dyed colors are saturated and bright.
He adds that other factors affecting the price of rugs include size, the complexity of design and quality of the weave. For example, a beginner will not have the tight weave that an expert achieves.
"Maestro" Arturo Hernandez
Next to San Pablo de Mitla, the famed town with archeological ruins, is the workshop of Arturo Hernandez. He's referred to as "the maestro" because he is a master weaver of Oaxacan textiles.
"Since I was a young boy, I was weaving. My grandmother and grandfather taught me," he says. He weaves on big pedal looms and on a backstrap loom.
He leans into a leather strap across his lower back. The loom begins in his lap. The other end hangs from a hook. He works with different types of sticks as he weaves and explains the design, pointing to grains of corn, cacao beans on the border and a snake in the middle.
"The snake was a god for our ancestors," he says. "Food, drink, God, in this design. La historia es grande," (the story is great).
This master weaver takes about four hours to string the backstrap loom and then two days to make one piece. He advises calling a day in advance to make sure he will be there.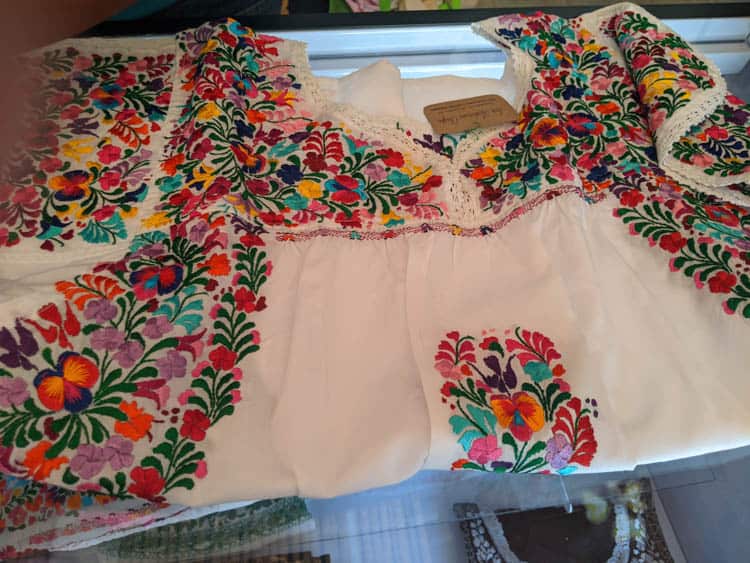 Aguja de Plata (Zapotec for 'Silver Needle') Collective
The taxi slowly follows a horse-drawn cart filled with sunflowers entering the narrow street into San Antonio Castillo Velasco, twenty miles south of Oaxaca center. Known for growing and selling flowers, the town's famous embroidery is filled with multi-colored bouquets of pansies, roses and carnations as well as local birds.
Marta Sernas Luis, a retired teacher, started the Aguja de Plata ("Silver Needle") collective of families 18 years ago. Her intention was to pass on the embroidery techniques she had learned from her mother to the younger generation.
She also saw a need for jobs in the village. "When you buy these textiles, it's the feelings of the people. You buy history," says Joel Bustamonte, who works at the collective.
He points out differences between machine-sewn and hand-sewn embroidery, visible by looking at the backside of the material. Machine-sewn stitches look the same on both sides. In hand-sewn embroidery, you can see the thread tied on the back.
The huipil, an embroidered blouse with multiple techniques of embroidery, crocheting and smocking is a favorite.
Because of the pandemic, the workshop has pivoted to also creating embroidered masks. Each one can take a day of labor. Bustamonte advises calling before coming and requesting a translator if needed.
Cochineal Farm
En route to San Antonio Castillo Velasco, check out the cochineal farm in Santa Maria Copocatec. José Manuel Loera Fernández will lead the tour. Cochineal is a parasite that feeds on the fleshy leaves of the nopal cactus. It is used for the natural dye that produces the color red.
You will learn all about the history, growth cycle and harvesting of what came to be called 'the royal dye'. Named such because it was used to dye the scarlet capes of conquering armies from Spain as well as becoming the royal dye throughout Europe.
Now it is prized as a natural dye widely used in Oaxacan textiles.
Almú Restaurant
On your way back from San Antonio Castillo Velasco, stop at Almú, a restaurant on the grounds of Palo Que Habla. The site is an alebrijes workshop and copal tree conservation farm in San Martin Tilcajete.
Copal is the wood used to carve the beloved, intricately painted alebrije figurines. You will not be disappointed.
Final Notes: Buying From an Artisan vs Buying at a Market
Wandering rows of stalls at an Oaxacan marketplace is a must and lots of fun. The markets carry every type of fresh cooking ingredient you can (and can't) imagine. Also, everyday items and lots of textiles.
You will find some textiles that are made in Oaxaca, but the quality may not be as good as what you would buy directly from an artisan. Additionally, you will find designs that look like they have been embroidered but are actually stamped on fabric.
And of course, buying from an artisan eliminates the middleman taking a chunk of the profit.
Book This Trip
Start planning your colorful vacation to Oaxaca, Mexico today. Get prepared with insider tips on the best shops, hotel and VRBO reservations, local restaurant reviews and more through TripAdvisor and Travelocity.
Have even more fun during your trip by booking some exciting tours in Oaxaca, skip-the-line tickets, and other fun activities through GetYourGuide. Find more information and book your tours in advance here.
Oaxaca Textile Museum: Free admission at Miguel Hidalgo 917, Centro Histórico. https://museotextildeoaxaca.org/ Phone: +52 951 501 1104
Tours:
Textile Workshops and Classes:
Additional Stops: