Editor's Note: Travel is complicated right now. Please check local regulations and location openings before you go. We share places, products and activities we recommend. If you make a purchase using a link on our site, we may earn a commission.
As a child growing up in Denver, my Christmas holidays were always extra special. You see, I have a birthday five days after Christmas, so the entire month of December has always been one long celebration for me.
My parents never skimped on my big day, hosting my little friends and cousins for parties during grade school years. Then in high school through adulthood, my father treated us to elegant family dinners at the Palace Arms in the beautifully decorated Brown Palace Hotel.
Lately, this stretch of time has been dubbed MileHighHolidays by the city, and I relish it as part of my birthday bash.
Lights of the Denver Holiday Season
One momentous family occasion during that month of festivities was and still is the holiday light display at the City and County Building at 1437 Bannock St. The extravagant multi-color array at the historic neoclassical building never failed to amaze me as a wide-eyed child in Colorado and even now many, many years later.
We would park (easy to do then) and walk around the grass to get a good look at the baby in the hay. Now, the city offers a two-hour Holiday Lights and Sights Walking Tour that begins here and visits many of Denver's notable landmarks decked out in their holiday finest—the 16th Street Mall, Skyline Park, the D&F Clock Tower, Larimer Square—and ends at Union Station. The cost is $25 per person for the tour. COVID restrictions apply.

Check the website for hours and safety measures.
Typically turned on the weekend after Thanksgiving, the lights this year began sparkling at the Grand Illumination on November 20, the Friday before Thanksgiving festivities, and will remain on until the end of the year.
In years past, tradition had the lights shining until the end of the National Western Stock Show in mid-January. But due to the pandemic, that iconic event held annually since 1906 has been canceled for 2021.
The newest addition to the holiday lights in the city is the Mile High Tree introduced last year. Thanks to pixel-mapping technology, this gigantic art installation from Spain—the largest of its kind in North America—pairs holiday songs with dazzling lighting displays in a five-minute program that runs about every 15 minutes.
Last year we went inside the massive tree that enveloped us in a dizzying display of color and sound. You can't miss the 110-foot tall tree on the 16th Street Mall at Welton St. It's free to go inside, but COVID restrictions apply. Check the website for hours and safety measures.
Other lighting displays include the fabulous Blossoms of Light at Denver Botanic Gardens with more than three decades of tradition (cost $18-21 non-members, $16-$19 members); and Zoo Lights at, where else, the zoo!
More than a million lights twinkling around 80 acres celebrate the 30-year anniversary of this family holiday event. Cost ranges from $15-$25. COVID restrictions apply. Check the website for hours and safety measures.
New Festivities of Denver Christmas 2020
This year Cherry Creek North has jumped into the shining spectacles with Winter Wonderland Light Walk, a 16-block interactive light art installation to go along with its new outdoor holiday market.
At Denver's Union Station, a new Winter WonderLights show makes its debut. The festivities feature exciting animations, historic Denver photos, visual creations by local artists and more, all synced with holiday tunes. The show is free and runs through the end of the year.
Though it's been around for 20 years, the free European-style Christkindl Market is now in a more spacious, open-air location along the center promenade of Civic Center Park.
The expanded festival brings the holiday culture of Germany to Denver with artisan gifts and authentic German food and drink and music. Capacity is limited during open hours, and guests will be asked to queue at the entrances until space becomes available. Masks are required and contact tracing is implemented. Open through December 23.
The Dairy Block in LoDo morphs into a European village with an après ski vibe for a plethora of holiday activities.
There's holiday singing, chalk art installations, and the AF Holiday Market. One of the Parade of Lights floats is also on display from November 27-December 31.
Pre-registration is required on the website, and capacity is limited to a maximum of 75 people at one time.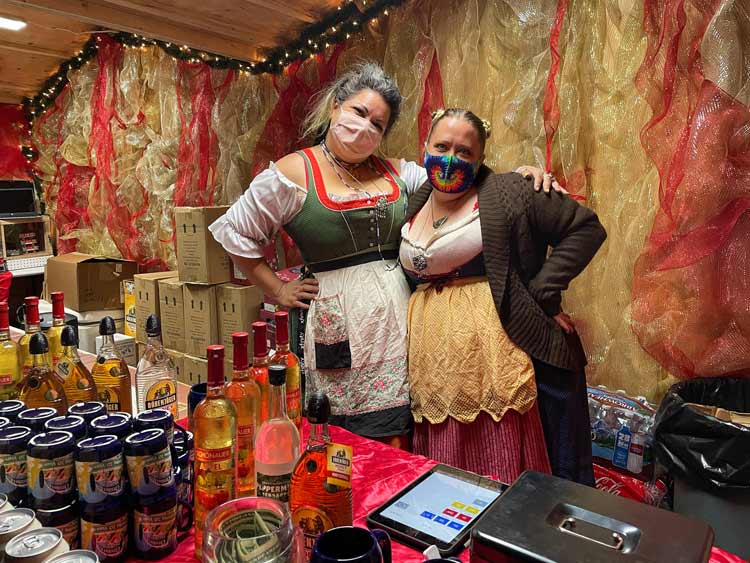 Old Festivities of Denver Christmas
Sadly, the pandemic has knocked out many of the city's holiday traditions that we have enjoyed over the years.
For example, 2020 would have been the 60th year for Colorado Ballet's The Nutcracker, which was in the process of revamping all its costumes and sets for this year's mainstage production. I was so looking forward to the holiday outing that has become legendary in my family.
But, wait. . .there's good news! Colorado Ballet is partnering with Rocky Mountain PBS to air The Nutcracker from Thanksgiving to Christmas Day (check the website for dates and times).
Also available for online viewing only December 5-January 2 via ticketing is Cleo Parker Robinson Dance's Granny Dances to a Holiday Drum. The 29-year seasonal favorite blends dance, live music, word and seasonal celebrations and customs from around the world.
The Parade of Lights has been reimagined for 2020. Instead of parading through downtown Denver, holiday floats sit at various places throughout the city for everyone to enjoy as festive pieces of art.
The Oxford Hotel's Dolls Tea Party is another century-old event canceled due to COVID. My daughter, granddaughter and I loved seeing the Arvada Dance Center ballerinas perform while enjoying tea, elegant sandwiches, hot cocoa and sweet treats. It will be back next year.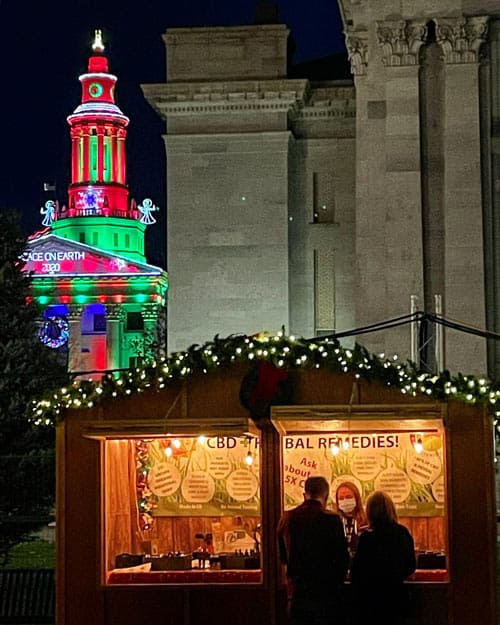 More About Denver Christmas
Many more festivities in and around the city as well as virtual are making this season glow brighter than ever, bringing warmth and human kindness throughout our community.
Visit MileHighHolidays for more outdoor activities, socially distanced markets and safe places to stay. This will be a holiday never to be forgotten!

Author's Bio: Claudia Carbone is an award-winning travel writer and member of the Society of American Travel Writers, North American Travel Journalists Assoc. and Denver Woman's Press Club. Currently, her work is published in The Denver Post, Colorado Expression Magazine, London Sunday Telegraph's Hotelegraph, GoWorldTravel.com, RealFoodTraveler.com, MtnTown Magazine and The Villager Newspaper. Her blog Sleepin' Around covers any place you can sleep on vacation.