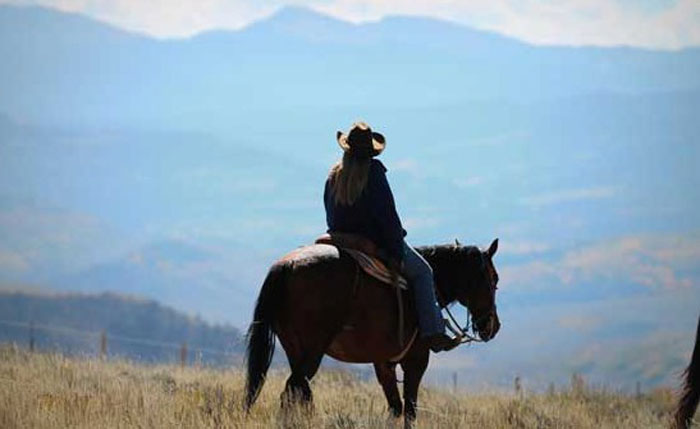 Editor's Note: Travel is complicated right now. Please check local regulations and location openings before you go. We share places, products and activities we recommend. If you make a purchase using a link on our site, we may earn a commission.
"Auntie Jan, will you be lassoing cows?" Max asked.
Oh, dear. Would it matter if I exaggerated my trip to a Colorado dude ranch just a tad for a seven-year-old? I was saved from having to answer by my godson holding out a small package.
"We bought this for you."
Unwrapping Max's gift on the tube to Heathrow, I saw why he'd asked that question. The front cover of "A Cowgirl's Guide to Life" depicted a woman on a horse, her lasso in mid-air circling the neck of a steer. Realistically, the chances of my mastering such a skill in a week, if ever, were as low as Gladiola Montana being the author's real name. It was a great little book, though, full of motivational epigrams equally applicable to cowgirls and the newly-divorced like myself.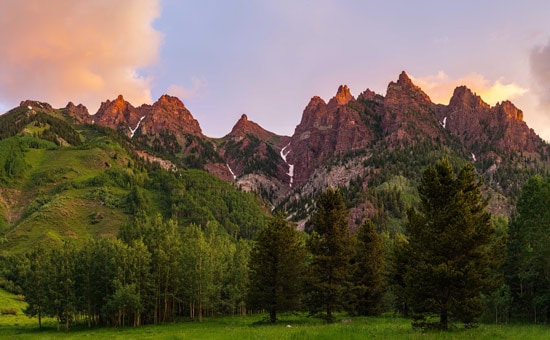 Solo Travel in the American West
Feeling pretty certain the stranger in the next seat wouldn't hold my hand even if I asked him to, I concentrated on reading my book during take-off from London. By the time we were above the clouds, I realized my fear of flying was actually lessened by not having a sympathetic companion to indulge me. I ordered a glass of red wine, leaned back in my seat and continued the pretense of enjoying the flight. I think I fooled everyone, including myself.
My choice of destination had been based in typically British fashion on the weather. Arizona appealed – what greater contrast to Scotland is there than a desert punctuated by huge cacti? But I'm not good with extremes of hot or cold.
Having selected the more temperate state of Colorado, I discovered that by booking my stay direct with a ranch and my own flights, rather than taking the easy way out with a package deal, I could afford a few extra days in Denver. Decision made: no longer simply a self-reliant woman, I was now an independent traveler too.
Denver Travel Deals! Save on flights with promo code DEN24.Book Now with CheapOair.
"You're Scottish?" asked one of the group of pensioners returning from a trip to Milan who adopted me on the flight from Washington to Denver.
I replied using words I'd repeat often over the next two weeks. "No, I'm English, but I live in Scotland."
I could tell they were disappointed.
Visit to Denver
"D'you wanna wraparound window?" the Comfort Inn clerk in Denver asked. I nodded enthusiastically. Whatever that was, it had to be an improvement on the airport hotel where I'd spent the previous night. The term became clear as soon as I entered my room, which was on a corner with glass-forming two of its four sides. Obvious, really.
Despite being on the eighteenth floor, I got a crick in my neck trying to see the tops of the even taller buildings surrounding the hotel. One of these was entirely mirrored, so I jumped up and down and waved at it. When I couldn't see my reflection I felt a little foolish. Had someone inside observed my antics?
Find the best deal for you on a Denver hotel here.
I knew which of Denver's attractions I wanted to take in before traveling by train to the ranch, including several art galleries and museums. However, often the best way to get the feel of a new city is to go shopping, so that's what I did first. After all, I had to hunt down those horse-riding ranch essentials: Levi jeans, cowboy hat, boots and Ray-Bans.
Appropriately, the Mile High City's main shopping precinct, the 16th Street Mall, is a mile long. I walked up and down it several times during the next few days. On my first afternoon, I stopped to stare admiringly at a motorcycle cop astride his machine, parked up outside a bookshop. Looking at the glorious fusion of black leather and chrome, it was hard to tell where the man stopped and the bike started.
"Ma'am,' he said, inclining his head slightly. I couldn't see his eyes behind those mirrored sunglasses.
"Hello," I replied in my best English voice, hoping my accent might prompt an invitation to admire his bike close up. But it didn't, so I walked on, unable even to pluck up the courage to ask if I could photograph him.
I stopped for lunch at the Rock Bottom Brewery. Although more a fan of white wine, I sampled one of their craft beers with my shrimp salad and enjoyed it so much I ordered another. Not long after the waitress had asked where I came from and told me about her Scottish great-grandmother, the combination of beer and jet-lag had me agreeing to return later for their singles night.
Museum of Western Art
Although still seeking a pair of boots I could wear back in Scotland (which ruled out pink leather and rhinestones) I swore off shopping the next day and opted for culture instead. My schooling had completely ignored American history in favor of British kings, queens and sea battles, and what knowledge I possessed of the Wild West was courtesy of Messrs. Eastwood and Wayne. So the Museum of Western Art seemed a good place to begin.
Much was made in the guidebooks of the scandalous history of the building which housed the Museum. It had served as a bordello and a gambling hall, neither of which explained why I felt so at home there. I walked round slowly, admiring the depictions of frontier America's cowboys, native peoples and landscapes, and returned several times to my favorites.
I'd never heard of Charlie Russell, Frederic Remington or Georgia O'Keeffe before, but their work grabbed me and wouldn't let me go. On the way out I bought a poster of 'The Fireboat', Russell's portrayal of Native Americans watching a steamboat travel down the Missouri River. Several years later it would send me on a pilgrimage to the artist's home town in Montana (but that's another story).
The more mainstream Denver Arts Museum couldn't help but be a letdown after that. I hurried around it, stopping only to savor a work by Monet. Back out in the sun, I was drawn by the sound of music to a park filled with food stalls, art and craft vendors and live bands. I spent the rest of the day there, listening to the performers, choosing a piece of jewelry to take home and eating corn-on-the-cob on a stick.
I didn't make it to the Rock Bottom singles night, opting instead for a room-service buffalo burger and reruns of TV comedy shows I'd never seen in the first place. But I didn't beat myself up over it. I'd got this far, hadn't I?
Union Station in Denver
After three days in Denver, I vacated my high-rise hotel room to travel by rail to the Bar Lazy J Ranch, which is just outside the town of Parshall southwest of the Rocky Mountain National Park. The platform at Union Station was eerily deserted. Had I missed my train or got there way too early?
"Hey!"
The man calling me wore a uniform. He'd know what was going on.
"Whachoo doin' down here?" he demanded, beating a clipboard against his thigh.
I smiled sweetly. "Sorry, am I on the wrong platform for the California Zephyr?"
"Donchoo know you wait for the train there?" He waved his clipboard towards the booking hall, then set off in that direction. I followed, catching up with him when he halted next to a row of wooden seats and pointed at one.
"Sichooself down an' wait to be called."
"Thanks," I said, but he had already gone. Ten minutes later, my train was announced and I queued airport-style to collect a boarding pass. Another ten minutes and I was stowing my case on a rack then climbing the stairs to the train's upper floor.
The journey promised to be too scenic to spend it reading, so I bagged a seat in the observation car. The ascent out of Denver to the ranch was so steep the train seemed at times to be winding back on itself. As we went into the Moffat Tunnel, more than six miles hewn out of solid rock, the train's lights came on and the only sound to be heard was the hiss of air conditioning. Everyone remained hushed until we emerged into a greener and less dramatic landscape than the one we'd left behind.
I was met off the train by Jerry, the ranch owner. From further along the train came three other guests: Bill and Joanne and their young son. To everyone's amusement, I tried to get in the car on the driver's side.
"Can we stop for beer?" Bill asked.
"Is there a craft shop in town?" Joanne asked.
Bar Lazy J Ranch
My accommodation at Bar Lazy J Ranch couldn't have been in greater contrast to the Comfort Inn. The log cabin sat so close to the Colorado River that I imagined fishing from the rocking chair on its porch. Inside was one of those pot belly stoves you see keeping the coffee hot in old Westerns, although I had no need to light it during my stay, despite the ranch having been covered in snow only a week earlier.
It seemed churlish not to accept Joanne's invitation to sit with them over dinner. Along with much else, I learned she was a pharmacist and had to keep a close eye on Bill's cholesterol level, which was why she wouldn't let him have a second wedge of key lime pie. The whole family flossed their teeth at the table as soon as they'd finished eating.
The wranglers joined the guests after their meal, one of them introducing himself as he slid into the chair next to me. "Hey Janet, I'm Eric. So you're from Scotland," he said.
"Yes," I said. "I live about fifty miles south of Edinburgh."
Eric looked confused. "But you sound like the gal from London who worked here last year."
After breakfast, we gathered in front of a sign warning us about 'the inherent dangers of equine activities' to be introduced to our horses. How unlike the Pony Club it all was, with not a pair of jodhpurs or a hard hat to be seen. Everyone on the ranch wore blue jeans, the wranglers' legs further protected by chaps, those leather leggings belted together at the waist. Most of the male guests favored baseball caps, Donna from California had brought a straw hat adorned with paper flowers, and the rest of us wore cowboy hats.
The previous evening, Jerry had gone round discreetly asking each of his guests their height and weight, to help match them with the right horse.
"Five feet two and about nine stones," I said.
"What's that in pounds, young lady?"
"I have no idea, sorry."
Expressionless, Jerry had looked me up and down then written something on his pad.
It felt a long way up on Summer, the grey mare assigned to me, but the western-style saddle, with its deep seat and 'horn' at the front, was very comfortable. Our first ride out was taken at a gentle pace, and Summer, a true professional, soon put me at ease. Now accustomed to being the outsider, I wasn't surprised at the amusement I caused by rising to trot. Americans sit it out, but my butt — to use a wrangler term — never adapted to bumping along in the saddle.
Joanne started off alongside me, for once almost silent except for an occasional squeal. However, as we left the valley and climbed up a wooded hillside, she fell back, and about twenty minutes into the ride we came to a halt. After a hushed discussion between Jerry and Eric, we watched the wrangler put a leading rein on Joanne's horse and take her back to the ranch.
"Let's lope!"
Any superiority I had felt over Joanne's lack of riding skills vanished when Billy, the head wrangler, shouted those words on the afternoon ride. We set off at a canter across the scrubby landscape and I clung on to my saddle's horn. This was more frightening than the flight over.
Then I heard Jerry's reassuring voice call out to me. "Heels down, eyes up, young lady."
Something miraculous happened. When I took his advice, not only did I not fall off but I began to move with Summer's rhythm and found I was enjoying myself. When we stopped for one of our regular 'Kodak moments' to photograph yet another stunning view, I couldn't wait to get going again.
Dinner that night was around a campfire, and afterward, we were invited to have our boots branded. I'd not given much thought to the ranch's name, but it turned out Bar Lazy J is the simple mark – a horizontal bar next to the letter 'J' on its side – once used to brand the ranch's livestock.
'Hold it steady,' Eric said, waving the glowing iron in my direction.
An acrid smell rose from my boot, competing with the smoke from the fire, but disappointingly there was no sizzle. I guess you have to brand live flesh for that.
The next day I was so stiff I could only cross my legs with the help of my hands, and climbing back on Summer was agony. "Ged in that hot tub!" was Jerry's advice when we returned from our ride. It certainly helped, and thus the routine for my stay was established: a morning ride followed by a soak, lunch, then an afternoon excursion, dinner and entertainment.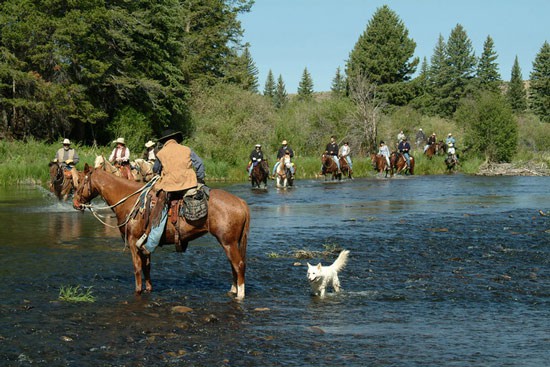 As well as eating heartily, sleeping soundly and avoiding my new best friend as much as good manners allowed (she stayed at the ranch and never got back on a horse after the first day, so rides were Joanne-free), I lapped up every new experience made available to me. I saw prairie dogs (which are actually small rodents), discovered a place called Hot Sulphur Springs smells exactly like you'd expect, and learned that line-dancing isn't as easy as it looks, however genuine your boots are.
At the end of the week, the most intrepid guests — gratifyingly, I was one of them — went on a day-long ride. We followed the Colorado River for some distance then, at a sharp bend, were told to lift our legs and keep going straight across it. Although taken at a walk, moving through that fast-moving water on horseback was an exhilarating, almost mystical, experience. Summer dipped her head into the river then raised and shook it, showering me with drops of icy water.
"Having a good time, young lady?" asked Jerry, who was riding next to me.
"The best," I said.
"Take this," Billy said, thrusting a round tin marked 'Copenhagen' into my hand.
When we first met, I'd romanticized that his swollen lip and tendency to spit on the ground were results of a bar-room brawl, probably over a girl. A couple of days later I saw him take something from a small tin and slip it into his mouth. When he saw me looking, Billy explained this was 'dip', a smokeless tobacco that delivers nicotine by being placed between the lower lip and gums. Not romantic at all.
It was my last day and we were saying goodbye. I took the proffered tin and kissed Billy on the cheek. An hour later, the train for Denver came to a halt at Granby station, and the conductor climbed down to check my ticket.
"Your car's at the other end," he said.
I picked up my bags.
"No, Ma'am, it'll come to you." And with that he spoke into his walkie-talkie and the long train moved slowly forward, just for me.
Billy's tin is ideal for storing pins, I wear my boots every winter (sometimes they're in fashion, sometimes they're not), and my cowboy hat hangs above my desk. I take it down and brush it occasionally, every mote of dust taking me back to Colorado.
Happy memories triggered by housework? That's another miracle.
If You Travel to Colorado
Author's Bio: Janet O'Kane lives in the Scottish Borders, about fifty miles south of Edinburgh, with her stonemason husband, a cat, two dogs and far too many chickens. She published her first crime novel, No Stranger to Death, in 2013 and its sequel is out later this year. She harbors an ambition to write a TV program about the men and women who recorded the Old American West in art.