Editor's Note: We're all dreaming of travel ahead. Here's some inspiration for future adventures. We share places, products and activities we recommend. If you make a purchase using a link on our site, we may earn a commission.
Wave Winners
I stood in a trough between swells of solid rock. Pink, red and buff sandstone appeared to spill down the cliff on the left and wash under my feet. Flowing on, it crested high above me on the right.
The Wave, as it is aptly called, looked like a huge pastel-striped ocean wave plopped into the middle of the desert wilderness along the Arizona-Utah border.
The peaceful silence was broken now and then by a footstep or a respectful voice of one of the few people there. The Bureau of Land Management (BLM), which administers the area, allows only 20 people to visit each day.
Ten of the visitors apply through the Internet and 10 are allowed entrance if they win a lottery that occurs the day before their visit. I had won the previous day. A woman from Japan had shrieked when her name was announced as a winner. She was there with a companion.
Find a hotel or Airbnb in Utah
The Wave
The pleasant spring day had started out cool; they wore wide-brimmed hats and outfits with long sleeves and pants. As I heat up easily, I wore shorts and a short-sleeved T-shirt with liberal amounts of sunscreen applied.
A young German in a red jacket, his tripod and camera set up, was taking pictures of the formation. Three or four others, Americans, like me, walked around exploring, getting different shots. Everyone took care to stay out of the others' photographs in that special place.
To get to The Wave, a bit of luck and a long hike are required. Here's how to do it.
The Wave is in Arizona, however, the trailhead is in Utah. Applications for day permits (no overnight camping is allowed) can be made up to three months in advance online, or at one of two BLM stations, depending on the time of year.
From November 15 through March 15 visitors must check-in at the BLM Kanab Field Office in Kanab, Utah; from March 16 through November 14, they should visit the BLM Paria Contact Station on U.S. Highway 89 in Utah, 30 miles (48 km) northwest of Page, Arizona.
It is essential to apply before 9 a.m. If one is lucky, no more than 10 people are there, and the permit is issued. When more than 10 apply, which is often the case, names are put into a hat for a drawing held promptly at 9 a.m.
The BLM gave each of us a topographical map marked with the route. We also got detailed directions and pictures of landmarks.
Sandstone Climbs
From the trailhead, which is several miles from the BLM station, the route followed a stream-wash bed then branched onto a sandy trail. The going was easy.
After a mile (1.6 km), the trail disappeared onto hard rock. The BLM's directions and landmarks then were vital, as the way became more difficult.
For the next hour, I wound across a long incline of pretty pink, rough sandstone that went on approximately two miles (3.2 km). Strangely twisted cones of sandstone arose, some a hundred feet high (30 m) or more. The land was beautiful and barren, apart from a few scrub brushes. The landmarks were easy to spot.
Loose sand reappeared near the end, covering a steep hill I had to ascend. The climb left me winded. Then, after a 90-minute hike, suddenly, there it was. The sight stopped me in my tracks.
The multi-colored wave formation flowed around and above me. The quiet was like a cathedral, the only sound coming from my heavy breathing. Taking it in, I knew that my true good fortune was being able to get there and experience this extraordinary wonder of nature.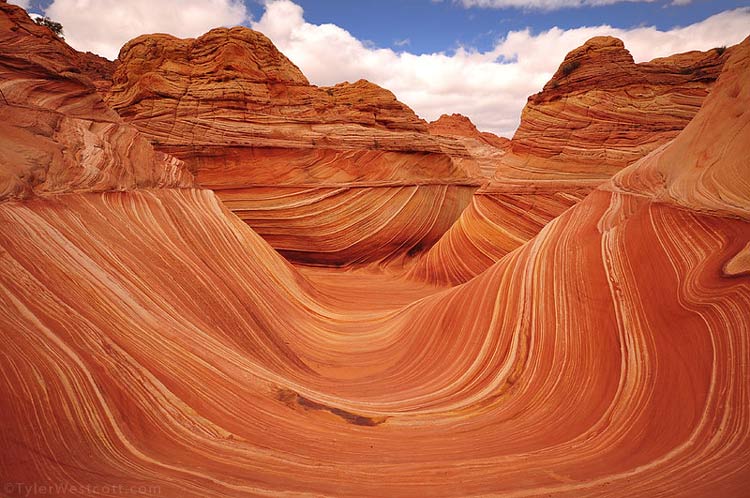 If You Go
Apply in person by 9 a.m. for a trail permit at: Bureau of Land Management
BLM issues advance permits at www.az.blm.gov/paria.
The Wave is located in an arid wilderness environment. Take plenty of water, food and a first-aid kit. A compass or GPS receiver is recommended. A moderately fit person will find the hike moderately difficult. In wet weather, the road to the trailhead may be impassable.
Page, Arizona, is recommended as a base for this trip because it is convenient and has interesting things to do during the remainder of the day after getting (or not) a trail permit. Lake Powell, Antelope Canyon and Horseshoe Bend are all close.
Page has an airport with very limited commercial-airline service. Phoenix and Flagstaff airports have more flights. All the airports have rental-car agencies.
Check out some of the best deals for rentals here and for all of your other transportation and hotel needs here.
An automobile is essential for getting to the BLM station and to the trailhead. A truck or sport-utility vehicle is not required.