In today's world, the simple idea of family can seem to get lost in all the hustle and bustle. It might sound a little crazy, but think about it. Between work, school, extracurricular activities and whatever else comes around, quality family time seems to get less and less with every passing year.
Quality Family Time
Granted, we have probably seen much more of our immediate families in the last year than we have in a long time, but maybe you are ready to get out into a different environment with them and more members of the family.
Plan a Dude Ranch Family Reunion
Finding a vacation destination where strengthening family roots and dynamics as well as making priceless memories is the absolute key. A Dude Ranchers' Association dude ranch is the perfect destination to do this.
Take the quality time for you and your family to rekindle relationships and strengthen bonds. Disconnect from technology and the outside world and reconnect with people, nature and the loved ones who surround you.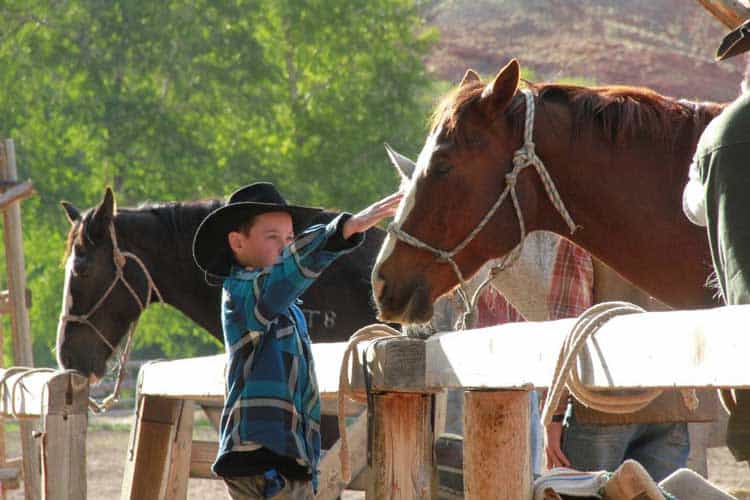 By taking a family vacation to a dude or guest ranch, you are giving everyone the chance at endless opportunities to explore. Experience something you have never done before like horseback riding or fly fishing.
Take the time to truly relax and unwind. Enjoy some time at the spa or sitting on your cabin porch reading that book you have been meaning to get to. Go watch or even participate with your kids making precious memories that can't be made anywhere else.
Why Dude Ranches Are Perfect for a Family Vacation
There are several reasons why dude ranch vacations are the perfect destination for a family vacation or reunion, here are a few favorites.
Three Square Meals Arere Prepared Daily (Even for Picky Eaters)
Finding a restaurant everyone will enjoy while on the road seems to be one of life's greatest challenges sometimes! This isn't the case at a dude ranch. All the guesswork is taken out of the equation and professionally trained chefs make wonderful dinners for the whole family – even if someone has a special dietary need.
Breakfast, lunch, dinner, and snacks are all planned out for you. And the best part? You get to enjoy this with the whole family, and you won't have to worry about clean up, grocery shopping, and making sure there's something on the menu the kids will eat.
Once you let the kitchen know what you'll need for the family, the entire week will be "all gravy," if you will, at mealtime.
Chores Are Non-Existent Unless You Want Them
A ranch vacation goes far beyond booking a typical hotel or even staying at a vacation rental home. We all know what it would take to replace mom and dad's jobs while on vacation, an entire team of folks.
And that's just what a dude ranch has for you for your stay. The staff at dude ranches are worth their weight in gold and make your vacation the most memorable possible, yes, including not having to clean dishes, do laundry, and tidy your room!
Want your kids to get excited about chores? Send them to the barn to help with the horses and other animals that may need to be tended to. A little manual labor never hurt anyone and will bring you (and your kids!) a sense of pride and accomplishment.
The Activity Planning is Already Done
While at a dude ranch, you won't have to worry about scouring the internet for things to do at your destination. Stop the hassle of worrying about TripAdvisor reviews of afternoon excursions for outdoor adventures.
The ranch will have you and the whole family covered for fun things to do. The best thing about this? You won't have to plan every step or every activity out for the week beforehand.
You and the family can decide in the morning what you want to do. Activities like horseback riding, fishing, rafting, swimming, hiking, biking, rock climbing, kids camp, spa treatments and so much more await you at a dude ranch. There is truly something for everyone of every age group to enjoy.
Disconnect from Devices
WIFI and cell phone capabilities are available at most DRA ranches, but unless you must spend time on your device for work or school, you will want to be out enjoying all the ranch has to offer.
Everyone in the family will be encouraged to leave their phones and devices in the cabin and truly disconnect for a while. Dude ranches do offer the unique opportunity though to enjoy a "workcation" or "schoolcation".
When choosing a ranch be sure to ask about their WIFI and cell phone service so you can still get out of the house and enjoy a vacation while taking work with you if necessary.
Hello Fresh Air and Sunshine
There is no better vacation destination out there right now than somewhere with fresh air and sunshine! Dude ranches are known for their beautiful settings in the mountains and deserts.
With every horseback ride or afternoon rodeo, kids and parents will get plenty of time in the great outdoors. The only thing to remember is your camera.
Although the pictures won't do justice of the real-life experiences, you'll enjoy looking back on the pictures of your kids on green grass and mountain views. The fresh air will be rejuvenating not just for your mind but also for your immune system!
Crowds? What Crowds?
This may be the best point of all in the current world we live in! Dude ranches are full of wide-open spaces and an intimate number of people.
With an average of 30 guests per week on most dude ranches, everybody will get to meet each other, the staff and other guests alike. By the end of the week, everyone in the family is sure to have made a new friend.
If you are planning a family reunion, some ranches allow families to book out the entire ranch for a whole week.
How neat would it be to share a dude ranch experience just with your family and the staff on the property! You are not going to find that kind of experience anywhere else.
Now that you have learned a little bit about why family vacations and reunions at a dude ranch are so important, what are you waiting for?
Plan a Dude Ranch Vacation
Grab the kids and start planning the vacation of a lifetime! Everyone in the family will appreciate the time and dedication to getting out of the house and a whole new experience. Unplug and reconnect with your family, you will not be sorry you did.
For more information on dude ranch vacations and for help finding the right ranch for you and your family, contact the Dude Ranchers' Association at 307-587-2339, [email protected] or visit www.duderanch.org.
Read More: 7 Things You Should Know About a Dude Ranch Vacation
Editor's Note: This post was developed in partnership with the Dude Ranchers' Association