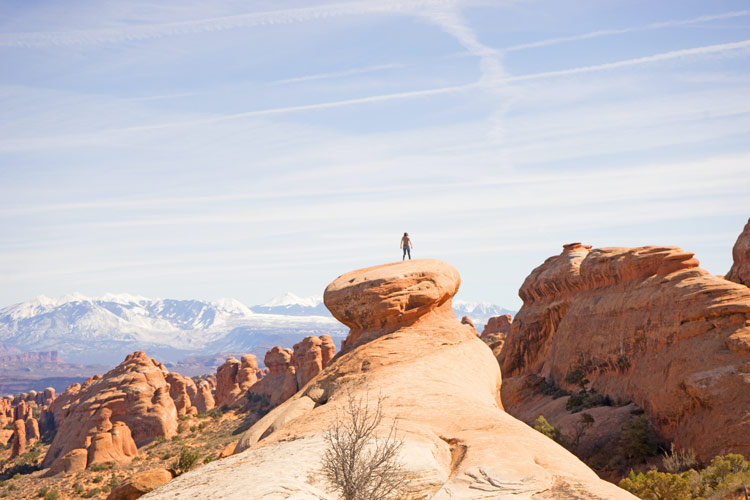 Tucked away in a remote region of southeastern Utah, the tiny town of Moab has drawn millions of visitors from around the world ― and for good reason. This desert town is nestled in a valley on the banks of the Colorado River between dramatic red sandstone cliffs.
Wide, empty deserts stretch across the horizon, dotted with towering mesas and sharp rock formations that seem to reach for the sky. With awesome scenery like this, it's no wonder that dozens of filmmakers have used the rugged region as a backdrop in films like City Slickers and Indiana Jones and the Last Crusade.
About Moab
The small community of Moab, population 5,300, is the gateway to two popular National Parks, as well as several Utah State Parks. It's an excellent place for those who love nature and extraordinary desert adventures.
Moab's culture is an eclectic mix of New Age thinkers, nature lovers and those drawn to its quiet, small-town feel. There are no big glitzy resorts or big developments here. Rather, Main Street is lined with little shops and family-owned outfitters.
Like many Utah towns, Moab was founded in 1855 by Mormon settlers. Yet the city was soon abandoned due to the settlers' fear of their Native American neighbors. The town was resettled in 1876 and then boomed in the 1950s when uranium was discovered in the area. Those mining days waned, however.
These days, tourism is the region's main draw and is wildly popular with international visitors. A good place to start an adventure in Moab is at the Moab Information Center, which provides information on climbing, hiking trails, parks and other activities unique to the area. For good overall information on the area, travelers can check out the film, "Welcome to Moab", at the center.
Plan the Weekend in Moab
Getting to Moab can be a challenge. Although the town has a tiny airport, most people fly into Grand Junction, Colorado (1.5 hours away by car) or Salt Lake City, Utah (a three-hour drive). Others simply stumble across the town while driving through this part of the country.
Moab is one-hour south of I-70, the main highway running east to west across the Midwestern states. If you're driving from I-70, take Exit 214 south through the minuscule town of Cisco. The road becomes Colorado River Scenic Byway 128, and winds through dramatic red-walled gorges and past finger-like rock spires, which are visible for miles. The town has art, hiking, biking and water-based activities that everyone can enjoy.
Arches National Park
Arches National Park (www.nps.gov/arch; US$ 10 entrance fee) is perhaps the best-known attraction in this region. The National Park is home to renowned red sandstone formations, such as massive pinnacles and fins, and more than 2,000 arches over the 76,518 acres. Arches National Park is a photographer's dream with all of its contrasting colors and sunshine, so be sure to pack your camera.
Trails to suit hikers of every ability level weave across the massive park. The park guide lists out the most popular hikes— along with their length and difficulty level — so you can plan your day accordingly. Be sure to bring in lunch and plenty of water. The dry Utah sun can dehydrate you quickly!
You'll also note that signs throughout the park warn of stepping off of the trail. Why? The desert landscape is very fragile. Much of the dry red earth is covered with cryptobiotic soil. This "crust" is actually made up of millions of tiny organisms that take decades to grow. They are the desert's way of preventing erosion, and a single careless footstep can destroy that life in an instant. Stay on the rock or on marked trails.
Ancient rock art and other cultural artifacts of the past can be found throughout the Moab region, from pioneer ghost towns to ancient stone weapons. These artifacts are protected, and in many areas, visitors are asked to follow certain rules to preserve their nature.
Located in "The Windows" section of the park, the trail to Double Arch is only .8 miles (1.2 km) long, and leads to one of the park's largest formations — two double arches. The rock can be slippery during your trek; make sure you wear shoes with good tread.
Another hike especially good for children is the short trail that leads to Sand Dune Arch (kids will like playing in the soft sand here, and the rock walls provide cool shade).
The park's most popular attraction is Delicate Arch, which roughly 46 ft high and 32 ft wide of weather formed sandstone. It is a stunning rock formation that also graces the Utah license plate. To reach the arch, drive to the Wolf Ranch parking area and hike the three-mile (4.8 km) trail in.
Be sure to bring at least one quart (about one liter) of water per person. There is no shade along the hike, and there is a slight rise in elevation (480 ft/146 m). Delicate Arch is most beautiful at sunset, and it's one of the park's most photographed spots.
Though there are no food vendors at the park there are picnic tables, grills and restrooms in the camping area. Reservations for camping are typically open year-round at Devils Garden Campground.
Canyonlands National Park
After a good breakfast at the Red Rock Bakery (74 S Main St., 435-259-5941), head to Dead Horse Point, located in Dead Horse Point State Park. This spectacular viewpoint towers 2,000 ft (610 m) above the Colorado River, offering a stunning panoramic view of Canyonlands National Park.
Canyonlands National Park features dramatic canyons and caves formed over decades by the Colorado River and other erosion.
Legend has it that in the 1950s, a group of cowboys herded their horses into the canyon for safekeeping. However, there were no water sources and the cowboys returned to find that their horses had perished. Today, the park has a much lighter note. Romantics enjoy the view at sunset, which locals say is better than any view of the Grand Canyon. To reach this state park, take the 23-mile (37 km) drive on Hwy U-313, which begins just north of Moab.
Over 80 natural arches fill the Canyonlands National Park but the most popular is the Mesa Arch. It overlooks a deep canyon filled with unique red rock formations. Another famous area is the Island in the Sky district, which is a breath-taking drive to see the Island in the Sky, sitting atop a 1,500-foot mesa shooting towards the sky.
If you're up for something new, consider taking a white-water rafting or jet-boat trip with Adrift Adventures (378 North Main Street, 800-874-4483; www.adrift.com). These wet and playful activities offer a refreshing break from the dry heat that fills Moab in late spring through fall.
Landlubbers may prefer to explore Canyonlands National Park. For thousands of years, the Colorado and the Green Rivers have sculpted the canyons of Southern Utah, resulting in a series of strange, yet beautiful geological features. Canyonlands National Park shows off that diversity well.
The region is set off in three distinct geological districts: Island in the Sky, The Needles and The Maze. Pack a lunch and head out on one of the park's many hiking trails. Keep in mind that some of the backcountry regions require permits and during high season, permit reservations are recommended. Call the Park Service for more information (2282 SW Resource Blvd; 435-719-2313; www.nps.gov/cany).
During your hike, be sure to look for native wildlife. Lizards, snakes and other tiny animals call the Moab desert home. Even the potholes — basins that have been carved by nature in the sandstone — may be home for desert life. Tiny organisms thrive in these basins, for although the desert is hot and dry for long periods of time, the basins collect enough rainwater for these organisms to survive.
As the sun sets on your last day in Moab, hike up to one of the lookouts in Canyonlands National Park. From your perch, you can sit and watch nature's best show spread across the sky and canyon below. This stunning panoramic view is a fitting way to end your time in Moab.
Off-Road Tours in Moab
While tours in 4WD Jeeps may sound tame, it is anything but! A skilled, professional driver and the ultra-equipped Jeep's off-road capabilities allow you to forge through canyons, across Slickrock (the term used for the local stone) and up and over boulders in a way you never thought possible.
The two-hour Hell's Revenge Trail is like a natural roller coaster in the desert. The tour starts on a narrow trail across Slickrock (Note the emphasis on narrow. Don't look down!), and then winds up and over rocks, boulder, hills and sandpits, often at angles of up to 65 degrees. It's hard to believe this until you're actually doing it yourself.
The Sand Flats Recreation Area has different trails for bikers, ATV riders, motorbikes and four-wheel drives. The trails in Moab are rated from 1 to 5, with 5 being the most difficult. Hell's Revenge is a 4 and 4+ trail. From the top of the trail, there are panoramic views of Arches National Park and the La Sal Mountains of Colorado.
There are multiple companies offering Jeep or 4WD tours, so research one based on your trail-rated preference.
Where to Eat & Drink in Moab
Start off your day with a yummy breakfast at Knave of Heart Bakery (84 W. 200 North, 435-259-4116), and then gather your courage for adventurous trip off-roading.
You'll be hungry after your day of exploring. For dinner, head to La Hacienda (574 North Main Street, 435-259-6319), where Jeff and Lauren Davis have been serving home-style Mexican food for over 25 years.
The cozy establishment is popular with locals, so come before 6 p.m. The portions here are generous and the price affordable. Try their signature lobster enchiladas or carnitas, a seasoned pork dish served with grilled veggies and flour tortillas.
Where to Stay in Moab
Where do you stay while in Moab? Outside of camping in the National Parks, if you're willing to plop down a few bucks and want a ranch-like experience, try Sorrel River Ranch Resort (Mile 17 Hwy. 128; 435-259-4642; www.sorrelriver.com), or Red Cliffs Lodge (Mile 14 Hwy. 128; 435-259-2002; www.redcliffslodge.com), an adventure lodge which offers horseback riding, mountain biking and river rafting.
If you are looking to get truly off the beaten desert path but still have luxury amenities and opportunities to visit Moab, consider staying at Gateway Canyons Resort, just an hour drive from Moab.
If you're on a budget, your best bet is to stay downtown. Families will find roomy, yet affordable accommodations at the River Canyon Lodge just one block off Main Street (71 W 200 North; 866-486-6738; www.rivercanyonlodge.com).
If You Go
Moab Area Travel
800-635-6622
Latest posts by Janna Graber
(see all)