Having never been to Phoenix, I wasn't sure what to expect. Phoenix is the capital of Arizona—a Southwest destination, and it's known for its warm (and sometimes hot) weather. Even in the winter months, I knew it would be warm. That made it a perfect escape from the winter cold back home.
But I wasn't sure what I would do in Phoenix. The Grand Canyon was too far away to visit (it's some 225 miles from Phoenix), so I decided to spend my time in the city. Happily, I found a variety of unexpected experiences that made my three-day winter escape memorable.
Visit Phoenix
Whether it's smoldering August or warm October, ice cream is always a necessity in Phoenix. The city's neighborhoods each offer a variety of small, local ice cream shops to choose from. Not to mention all the other top attractions including the Desert Botanical Garden, Sonoran Desert, Heard Museum, Phoenix Zoo, Arizona Science Center and the Phoenix Art Museum.
One such shop is Churn, a family-owned candy shop located in the heart of Phoenix on Central Ave. Old-fashioned candy is sold for cheap along with 10 different flavors of ice cream, ranging from vanilla to toasted coconut.
Churn also prepares sundaes in cups or homemade cones, and even nine different types of homemade ice cream cookie sandwiches. You can also buy a cookie or two on its own if you don't want it covered in tooth-chilling ice cream.
The shop's location is perfect because it's far enough away from downtown to feel like a completely new city. While downtown Phoenix feels like a decorative ghost town, the outer neighborhoods are filled with lively locals who know where the hot spots and best boutiques are located.
Churn is attached to a popular restaurant, and both businesses share an outdoor patio for their patrons. There was a line of about five people ahead of me when I arrived, but the line moved quickly, and I was greeted with a smile by the two employees behind the counter. And that's just one stop on the map for ice cream junkies.
While downtown Phoenix doesn't exactly offer the lively experience I expected from a heavily-populated city center, I found several fun locations to visit. Washington Street in the heart of downtown is known as CityScape. This is a business complex that includes restaurants, shopping centers and entertainment businesses all in one place.
Where to grab breakfast
Here you'll find Breakfast Club, a popular breakfast and brunch location that is the perfect place to grab a bite before catching your flight out of Phoenix. The restaurant is fairly priced and decorated in a comforting way that makes it feel set apart from the busy downtown city streets. When I visited, it was not too crowded, and I did not have to wait to be seated. The staff was friendly, as were the other patrons, and I enjoyed the variety of classic breakfast beverages and foods.
I settled on an eggs benedict, of which the restaurant offers four different kinds: traditional, salmon and lox, "Cali" bene with turkey and avocado, and mignon bene. To be honest, I wrestled over the decision between eggs benedict and the BC Signature French Toast, which comes loaded with fresh fruit, nuts, granola, caramel sauce and powdered sugar. I wish I'd thought to grab an order to go.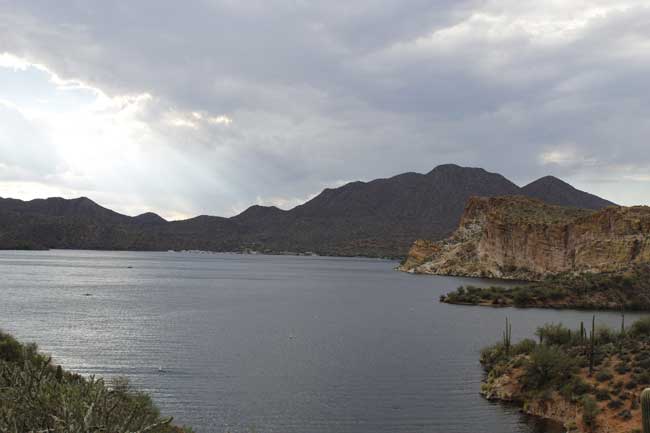 Sightseeing and Saguaro Lake
In between exploring Phoenix's culinary scene, there are several mountains and lakes to discover in the area. Saguaro Lake is about an hour-long drive from central Phoenix to the north. On your way to the lake, stop at NoSnow Paddle Board Shop in Mesa, which is a neighborhood of Phoenix. NoSnow offers half-day and full-day paddleboard rentals for groups of all experience levels. You can rent boards to take to the lake or even float the Salt River.
On the drive up to Saguaro Lake, keep your eyes open for wild horses. Several herds of horses can be spotted near the riverbanks with their foals. While the horses are accustomed to having people in their territory, they are not tame, so be careful not to get too close. The horses are most likely descendants of ranch horses who were abandoned or ran away from nearby farms in the '30s.
Saguaro Lake is popular with stand-up paddle boarders, swimmers, boaters and fishermen, so be sure to share the beach. There is also a hiking trail that winds around the lake, in case you want to explore more of the lake after you've enjoyed a picnic or a dip in the warm water. Keep an eye out for tarantulas.
Speaking of crawly critters, rattlesnakes also inhabit the Phoenix area, and there are some parts of the city where you should be particularly cautious. The Phoenix Mountain Preserve area includes a visitor's center and several short hikes in the center of Phoenix, and rattlesnakes have been spotted lounging just outside the visitor's center during hot months. They are less likely to be spotted during the fall or winter, but make sure you wear closed-toed shoes just the same if you plan to go walking in the desert.
Shaw Butte Trail
The Shaw Butte Trail is a popular hike within the Phoenix Mountain Preserve. The loop leads up to a peak with a 360-degree view of the city of Phoenix. Even if the heat is nearly unbearable, the views are sure to take the rest of your breath away after the 2-mile hike and make for the perfect day trips during your Phoenix visit.
The Shaw Butte Trail is pet-friendly and follows a road up and down the peak. From the trailhead, the trail to the left-hand side is steeper, so unless you're looking for a challenge, I'd recommend taking the right-hand side up and coming down on the left.
Like the rest of the Phoenix area, there isn't much shade along the Shaw Butte Trail, so take plenty of cool water with you and make sure you have the address of a local ice cream shop plugged into your phone after your hike so you can go cool off, no matter the time of year.
Before you visit check out Visit Phoenix.com