This story was reprinted by permission from Adventures of a Lifetime
(World Traveler Press, 2015)
For some reason, I had always imagined it smaller, but the river that took my family is wide and beautiful. As powerful as the Mississippi River, the mighty Daugava River runs from western Russia through Belarus and into Latvia before draining into an arm of the Baltic Sea.
Right here, where I stand, the Daugava pushes against the wide river banks of Riga, the Latvian capital. On one side lies medieval Old Town Riga, with its ancient cathedrals, tidy cobblestone alleys and Art Nouveau treasures. Across the bridge – a modern design that could be in any European city – lies the Riga of today, with offices, shops, apartments and even the ultra-modern Latvian National Library, which opened in 2014.
It has taken my family almost 100 years to return to this land, this tiny nation on the Baltic Sea – and for right now, it is just me, gathering in all I can of Latvia and its people, trying to pick up the pieces of what was lost here.
*****
Mention Latvia and many people will scratch their heads. Little is known about this country of 2 million just across the sea from Sweden and bordering Estonia, Lithuania, Russia and Belarus. With a language and culture all their own, Latvians have lived here quietly for centuries. But invading nations, from the Swedes to the Russians to the Germans, have often sought to take Latvia for their own. All too often, in the last hundred years, Latvians have been caught in the middle.
My grandfather was one of them.
He was just 14 years old in 1915 when rumors began to swirl about Germans invading Latvia. At first, people weren't concerned. Like most good Latvians, my grandpa and his family spent their summers in the countryside. Though they lived in Riga during the school year, when the warm weather came, his mother packed up the kids and off they went to the family farm.
At the time, Latvia had already been claimed by Russia, and advancing German soldiers could only mean trouble. As Germans began to fill the country-side, my family decided it was time to flee. The older teenage sons, fearing conscription, were sent north. My grandfather and his sisters accompanied his mom as they packed up some of the family belongings. My grandfather was tasked with bringing along a pair of sheep.
They joined hundreds of refugees, often sleeping in abandoned castles or fields as they slowly walked toward Riga. Finally, they reached the Daugava River, and the refugees lined up to cross the bridge. But just as my grandfather and his family began to cross, the Germans began shelling.
In the chaos, my grandfather ended up in the river. He couldn't swim, but the sheep could. He finally made it safely to the shore.
I think about that now, as I look at the river. My whole family line saved by a pair of sheep.
When he fell into the river, my grandpa was separated from his family. He waited all day on the river banks, hoping to find them, but they never appeared. He spent days searching, but found no one. Did his family die in the river? Were their bodies swept out to sea? Or was his mother searching frantically for her child only to keep missing him?
He never found them. As he said once many years later, he started across the bridge that day with his family and ended up on the other side completely alone. Although I never got to meet my grandpa (he died when I was a baby), I had been told that story since I was a child. Yet I had never really understood that loss until now.
I wonder why on earth it took me so long to get here.
*****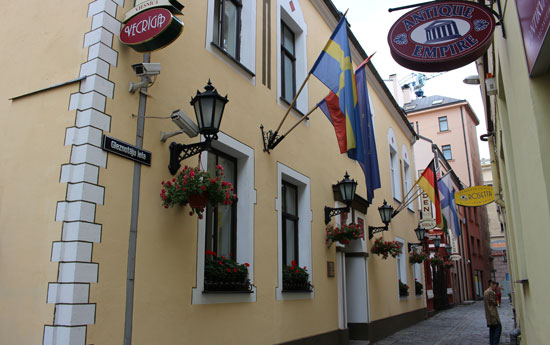 My heart had been beating a mile a minute when my boyfriend Ben and I arrived in Riga. My eyes were glued to the window as we flew in from Stockholm and then took a taxi into town. It felt like I was going to meet a long-lost old relative, someone I had heard about, but was very nervous to meet.
The first thing I had wanted to see was the river – the river where everything had changed for my family. So here I am now, still standing on the river banks. I try to imagine that tragic day. But it is hard to think of such tragedy when the sun is shining and there is a beautiful European city waiting to be explored. So Ben and I turn around and head back into Old Town.
Named a UNESCO World Heritage site, Old Town Riga has been carefully restored and preserved. Not a speck of trash can be seen on the streets, and most of the buildings have fresh coats of paint, many in pale yellows, blues, greens and ochre.
We've chosen to stay at Old Riga Hotel Vecriga, a tiny boutique property in the heart of Old Town. The price of 150 euros a night includes full breakfast and dinner for two, and we can walk to all the main attractions. Latvia is one of the last affordable destinations in Europe.
After dropping off our things, we set off eagerly to explore. I can't help feeling a bit giddy as we turn down corner after corner, for Riga is more beautiful than I had imagined. I knew that Latvia had been in the grip of communism for decades and had only recently become part of the European Union, but I hadn't know how far it had come.
Latvia gained its independence in 1991 after "The Baltic Way," a powerful peaceful protest in 1989 when 2 million people across the three Baltic countries of Latvia, Lithuania and Estonia stood hand in hand in a human chain to protest Soviet rule. The chain spanned more than 600km, and it affirmed their unity and expressed their yearning for freedom. The event began the path toward independence in all three Baltic nations after the fall of the totalitarian Soviet regime.
That independence looks good on this small country of determined people. The cobblestone streets of Old Town have the look of a tidy Swiss village, but with a flair all their own. The outdoor patios of the restaurants are lined with flower boxes and filled to the brim with patrons.
*****
Riga was declared the European Capital of Culture for 2014. The town is pulsing with young life, and while capitalism here is alive and well, I don't see the gaudy look of visible Western greed.
Our first stop is at an outdoor café for coffee and pastries. As we lounge in the sun, I enjoy people-watching. Many of the Latvians are blond and blue-eyed. I also see many Russian faces; a quarter of Latvia's population is Russian.
I can't help but notice that most Latvians are slim and fit. Western overindulgence doesn't seem to have reached Latvia yet. As I study the women who walk by, many of whom are wearing pretty summer dresses with sensible heels, I am struck by something – they are of medium height, but are small-boned with tiny waists, like me.
For years, the women in my family have struggled to find clothes in America that fit. Almost every skirt or pair of pants that I buy has to be tailored at the waist. But here, I see that many women have my same frame. I test out my theory later in the afternoon by going shopping. Sure enough – I find many items that fit. I go into four stores and come out with several bags full of clothing that fit like a glove.
While shopping and later dining out, I'm surprised at the level of English I find in Riga. Though most people learned Russian in the Soviet days, every shopkeeper, waiter and hotel personnel we've met has spoken English with ease. It's impressive for a country that only opened up to the western world in 1991.
The day goes by quickly, and we're shocked to look at our watches and find that it's almost 10 p.m. The sun is still shining. Northern winters may be hard, but summers in the far north offer long days of sunshine. Those days are something to be celebrated, and the streets are still filled with families, couples and friends out enjoying the warm summer air. We join everyone else and relax in one of the many town squares for a late dinner, listening to live music.
All these years, Latvia had always been a foggy blur in my mind. Yet here it is – alive, thriving and absolutely beautiful. Part of me feels like skipping all the way back to our hotel.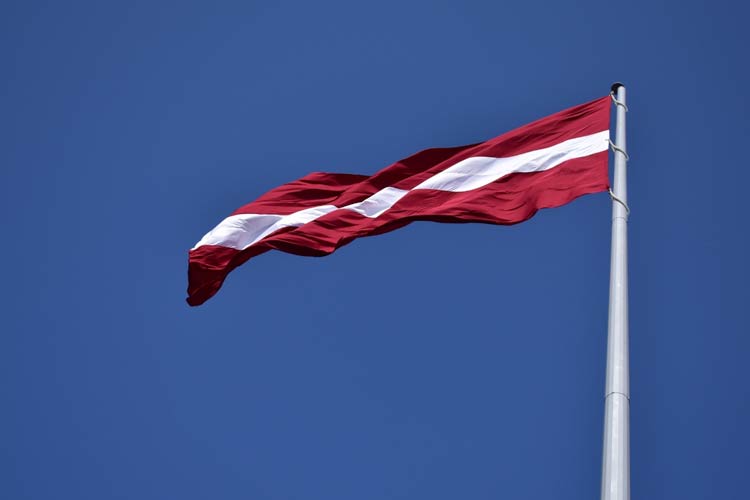 *****
Latvia today is a vibrant part of the European Union, but that independence was long in coming. Soon after he lost his family in 1915, my grandpa was deported to Russia, along with 700,000 other Latvians. He ended up in Siberia, where he found himself in the middle of the growing Russian Revolution and was forced to fight with the White Russians.
Tired and weary, he made his way across Russia and to a refugee camp in the Philippines. After hopping a sea freighter, he eventually washed up on the shores of California at the age of 19. He picked a new last name from the phone book and took odd jobs. Finally, he joined the U.S. Army Air Corps, where he spent the rest of his career.
WWII would take him back to Europe as an American soldier, but Latvia, though so close, was unreachable. After WWII, the Soviets locked Latvia behind the Iron Curtain.
How often he must have wondered about his family. I wonder about them now, too. Do I still have family here?
Being here in Latvia, I finally understand the mark that war can leave on a family for generations. It's a story that has occurred in many families – parents flee, leaving a country and culture behind. They try so hard to survive in the new country that there is little energy to remember what was left behind. All those traditions, family, friends, foods, beloved places and even language are lost. But they often leave a hole, even if the following generations don't know it.
The hole that was left behind in my grandfather was filled with silence. He married later in life and had children in his 40s. By all accounts, he was a quiet man who rarely spoke, rarely engaged at all, leaving his three children grappling on their own to find their confidence. He never spoke his language again, and rarely spoke of that day he lost everything in Riga. Fortunately, he told his story once on tape, capturing it for later generations to hear.
Ambiguous loss – not knowing what has happened to someone you have lost – leaves a deep hole. Parents who have had a child disappear have felt it. Those whose loved ones were on the unfortunate Malaysia Airlines 370 that disappeared in 2014 felt it. And now I realize that my grandfather must have felt it, too.
*****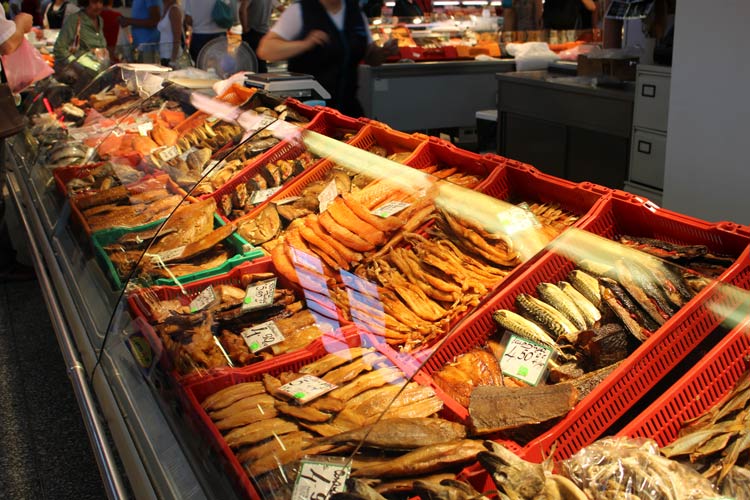 I'm hoping to learn as much about Latvia as I can. Culture can dilate over generations, and often the only remnants that survive can be found in food and holiday traditions.
I start with the food. From the few stories I've heard about my grandpa, I know that he liked to eat pickled fish and dark bread. Pickled vegetables were also a common household staple.
Ben and I discover whole aisles of pickled and smoked fish, as well as dark breads at Riga's Central Market. Housed in five former Zeppelin hangers that the Germans left behind, it is one of the largest farmer's markets in Europe. The aisles of each hanger are overflowing with flowers, produce, meats and breads.
Andra is our guide. A local Latvian in her 30's, she is old enough to remember the former Soviet days. "There were times," she says, "when there were meat or milk shortages. Food was not as abundant as it is now."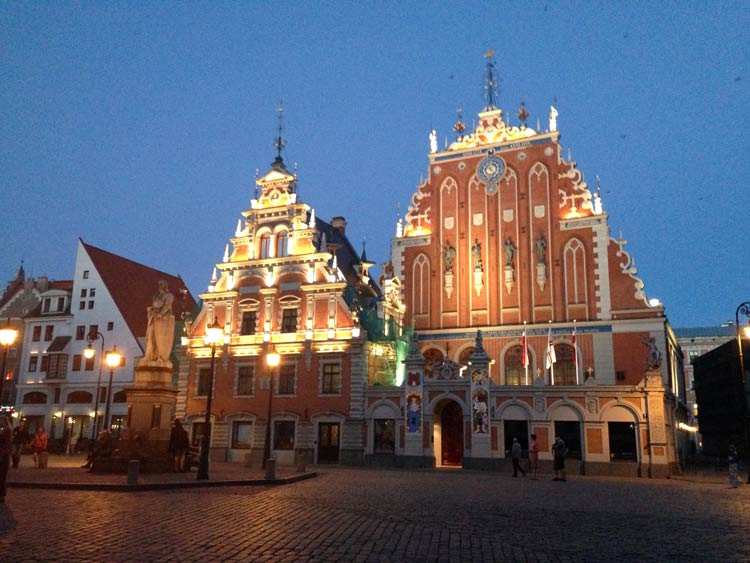 But times have changed, and the market is over-flowing with produce. "Here are some of our favorite foods," she says, picking up a loaf of black bread, and then pointing out the local mushrooms that Rigans like to hunt for in the forest.
Pickling is a beloved art in Latvia. While many people see little cucumbers, Andra jokes, Latvians see potential pickles. As she talks, I remember the hours that my own mother spent pickling tomatoes, cucumbers and beets from our huge garden. Was this a tiny piece of Latvian family heritage that had survived through the years?
From the Central Market, we wind our way back into Old Town, passing beautiful cathedrals with Gothic spires, as well as lush green parks, which seem abundant in the city. We stop at the Powder Tower, one of Riga's fortification towers that dates to 1330.
"Your grandpa surely walked past this many times," she says, while I try to imagine his teenage image in the square.
"I'll show you more of his Riga," Andra says, pulling me from my thoughts.
And she does.
We take an elevator to the top of St. Peter's Church, built in 1209. From platforms at the top, we can see a panoramic view of Riga. My eyes scan across the mighty Daugava, and across the red roofs of Old Town. A cruise ship is docked in port, and I can see tiny guests getting off to explore the city.
Then we're off to one of the "hottest" real estate areas in the city – Alberta Street. Riga is known best for its Art Nouveau buildings. This decorative style of architecture was popular in the U.S. and Western Europe from 1890 to WWI. The style uses intricate linear designs and flowing curves to create beautiful buildings that seem like works of art.
In Riga, some of the best Art Nouveau buildings can be found on Alberta Street. Many of them had just been finished in 1915, when my grandpa lost his family. Most of the structures fell into disrepair in the following decades, but have been lovingly restored today. Alberta Street is now home to many embassies and international companies.
Riga, especially Old Town, is tidy and attractive, and it's hard to imagine all that it has been through. But then we pass a small monument behind St. Jacob's Church that was erected after Latvia gained its freedom. Andra translates for us: "God give us the strength and intelligence so that we will never let anyone enslave us again."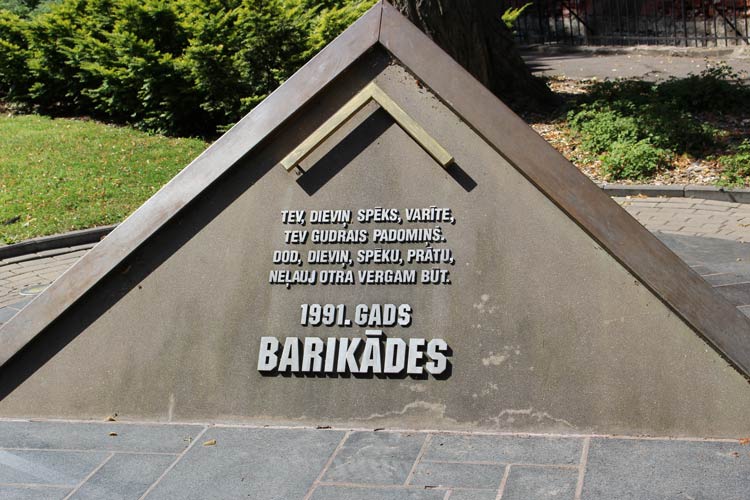 Enslave. The word saddens me greatly, and I realize its truth when we reach the Corner Building, also known as the KGB Building.
While the rest of Riga glimmers in restored beauty, the Corner Building is old, run down and ugly. For years, the Latvians have been debating what to do with it. After all, what do you do with a building that you hate, but is still part of your history?
Once a lovely structure built in 1912, the building was commandeered by the Nazis in 1940. From there, the Nazis orchestrated their rule of terror, killing more than 70,000 Latvian Jews without thought, and imprisoning many Latvians for the slightest in-fractions. But the building's horrible story was just beginning. When the Nazis left, the KGB took over.
As we enter the building, I see a small sign. Translated, it reads: "I believe these times will vanish like a horrible nightmare. It gives me strength to stand here and breathe. Our nation has suffered a lot and has learned to survive and it will survive these dark times too."
Inside, our young tour guide takes us through the building, telling its story in a somber, yet forthright tone. "In most places," she says, "the war ended in 1945. But for Soviet-occupied countries like Latvia, the war didn't end till 1990."
The Soviets controlled everything and everyone. Those who dared to protest – such as one elderly farmer's wife who grumbled when the Soviets took her farm – were thrown into the dank, crowded cells in the bottom floor of the building.
The "cells" are about as large as a walk-in closet, and they were crowded and dirty. The KGB kept the lights on constantly and the heat or cold temperatures at extreme. They wanted to make each prisoner as miserable as they could. Food and water was with-held, torture was common. Many prisoners were simply killed.
Our group is silent, for it is hard to comprehend such cruelty to fellow human beings. I wonder then if my family who was lost that day on the bridge survived only to suffer under the grinding thumb of the Nazis and Soviets.
The ache in my heart grows as we walk through the building. As we come up from the lower floors of the prison, our guide talks more about life in Latvia today. As young as she is, she still knows stories of the past. Even in the 1980's, she tells us, the mother of one of her friends was arrested and interrogated by the KGB for singing a funny song about the lack of meat in the country. The woman was only 17 at the time.
The talk eventually turns to Russia today. "It is hard to live next to Russia," our guide says. "We have lost much to that country."
The group is silent as we listen. From what we've seen and heard at the KBG Building, that feeling is understandable.
*****
Having learned about the Latvia of the past, we're ready to explore the vibrant Latvia of today.
Its culture is filled with centuries-old traditions, and singing is one of them. Every five years, Latvia gets together to sing at the Nationwide Song and Dance Celebration. There are contests and parades, where some 30,000 Latvians wearing traditional folk costumes and flowers in their hair fill the streets. The culmination is a gala concert where thousands of Latvians sing and dance together as one.
Determined to see some local music ourselves, we head to a restaurant called Folkklubs Ala Pagrabs. Housed in a cellar, it's known for its large selection of local beers, live music and dancing.
Red bricks line the cellar walls, and candles light up several nooks and crannies. The rooms are filled with young Latvians, and we soon learn why.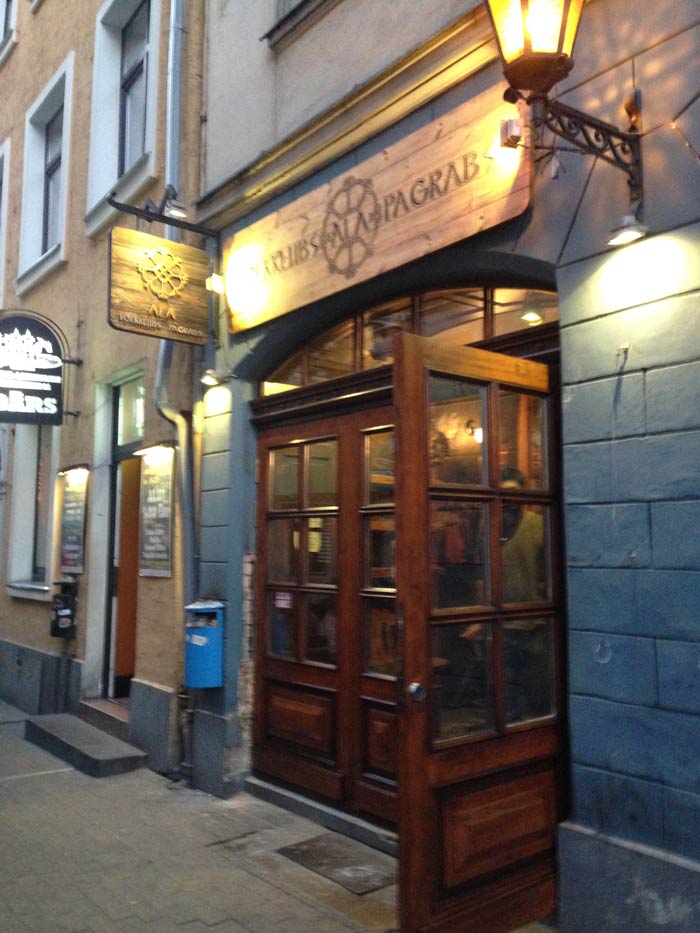 The food and beer are excellent – and cheap. Ben orders a local caramel beer for 2 euros. It's only 1 euro for the soup of the day. We ask our waitress, a young blonde woman in her early 20's, to bring us whatever local Latvian foods are her favorite.
She starts off with Latvian garlic bread – sticks of black bread baked with chunks of butter and garlic served with herb sour cream sauce. Already I'm in heaven.
Then she brings us Latvian meatballs and sweet red sauerkraut. It's unlike any kraut I've ever had, and it's fantastic.
As we eat, a violinist and accordionist come to the stage. As they start to play a selection of folk music I don't recognize, the young people around us start to jump up. Tables are moved and chairs are cleared.
And then they dance. Not the usual haphazard dancing that fills most American clubs, but authentic and precise folk dances. No one misses a step, and they dance with enthusiasm, laughing as they move.
Ben and I are enthralled. "How do you guys know all these dances?" we ask our waitress.
"Oh we learn them in school," she replies. "That's how we have kept our language and culture through all the different occupations." And then she's off to serve someone else.
She stops by again to serve us dessert of black bread pudding and sliced apples with whipped cream.
"What brings you to Latvia?" she asks.
"Well, I came to learn more about my heritage," I reply. "But next time, I think I'll come back just because I want to be in Latvia."
*****
There are some moments that you know to enjoy and savor as they happen – and this is one of them. As we walk back from the restaurant to our hotel, I listen to the sound of our footsteps on the cobblestone, and concentrate on the soft sounds of Latvian around me. It is like no other language I've heard, and I've tried over the last few days to learn a few words. After all, I know I will be back.
But as we walk through the hotel courtyard with its hanging flowers and happy-sounding fountain to our room, I think of one very important word that I haven't learned yet.
"I'll be right back," I tell Ben, and rush back to the front desk. The woman working there tonight kindly obliges my request for a one-word Latvian language lesson.
"The word is vectēvs," she says with a smile.
I try to say it, but the word is awkward on my tongue, heavy with lost years and family history.
"It's OK," she smiles. "Try again."
"Vectēvs," I say again, picturing the man whose legacy I have felt here in Riga.
It is the Latvian word for grandfather.
Author Bio: Janna Graber is an American travel journalist, editor and producer who has covered travel in more than 38 countries. She fell in love with exploring other countries and cultures while studying abroad in Austria, and has been hooked ever since. She is the managing editor at GoWorldTravel.com, and has written for Parade, Reader's Digest, Outside, Chicago Tribune and many more. Read more of her work at jannagraber.com or follow her on Twitter @AColoradoGirl.