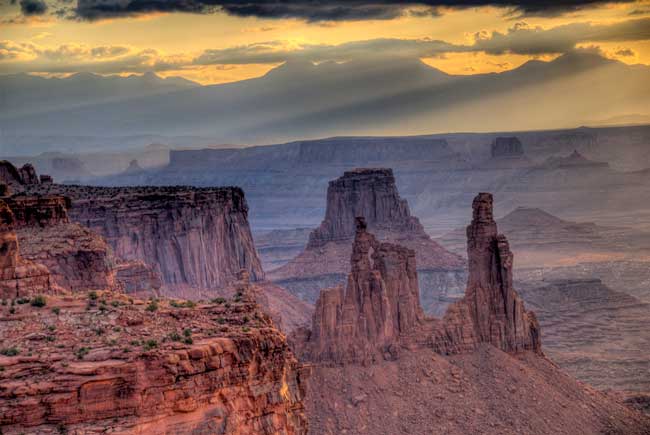 The Utah park ranger guarding the entry station is twiddling his thumbs. There are no lines snaking in front of the gates of remote Canyonlands National Park, in Utah's southeastern corner.
You may encounter an occasional rattlesnake, though, with red rocky desert stretching as far as the eye can see, interspersed by a few forlorn clumps of sagebrush and gnarly piñon trees. No wonder the lone ranger seems delighted about every visitor. And chatty.
Canyonlands National Park
"What color is the sky at your home?" he asks me. What a question. Blue, of course, and sometimes cloudy white. The man in the booth smiles sympathetically. "Just wait until you'll see our sunsets," he radiates as he hands out a map of the park. "Welcome to colorful Canyonlands!"
The Colorado and Green rivers join aquatic forces in Utah's largest national park. On the map, the confluence looks like a massive blue "Y." The rivers slice the park into three districts, named after their most prominent geological features.
The northern and most accessible section of the park — only about a 40–minute drive from the town of Moab to the visitor center — is Island in the Sky, a spectacular table mountain of sheer sandstone cliffs rising more than 1,000 feet (305 m) above the surrounding terrain. It is a gigantic viewing platform boasting breathtaking vistas of thousands of square miles of dramatic canyon country, including the Needles district to the east.
In Needles — named for its red-and-white banded spires of Cedar Mesa sandstone — Mother Nature has put together an impressive natural sculpture park boasting pinnacles and rock needles jutting out of the ground. Trails for hiking, mountain biking and 4-wheeling wind through this geological wonderland.
Squaw Flats Campground, at the foot of a rocky ledge dotted with gigantic stony mushrooms, is an ideal base camp from which to explore the Needles district — and one of the only places in the entire park where water is available year-round.
The isolated Maze district lies to the west. It is the most difficult to access. There are only a few dirt roads leading to this "30-square-mile [78 km²] puzzle in sandstone," as described by early explorers. Only all-terrain or 4-wheel-drive vehicles and their undaunted passengers dare travel to this labyrinth of seemingly countless canyons.
There are no services in this wilderness. You must bring sufficient drinking water, gas and provisions for your "Survivor" experience; it can be dangerous to get lost here.
Should you plan to visit all three districts, you need to drive around the 527-square-mile (1,365 km²) park, as there are no bridges spanning the wide canyons carved from the earth over millions of years by relentless waters. It's a day's drive, minimum, and most overnight campsites are rustic.
Continued on next page