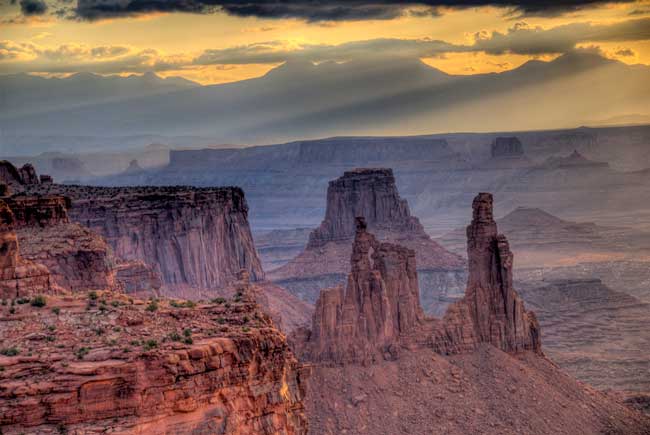 The Utah park ranger guarding the entry station is twiddling his thumbs. There are no lines snaking in front of the gates of remote Canyonlands National Park, in Utah's southeastern corner.
You may encounter an occasional rattlesnake, though, with red rocky desert stretching as far as the eye can see, interspersed by a few forlorn clumps of sagebrush and gnarly piñon trees.
No wonder the lone ranger seems delighted about every visitor. And chatty.
Canyonlands National Park
"What color is the sky at your home?" he asks me. What a question. Blue, of course, and sometimes cloudy white. The man in the booth smiles sympathetically.
"Just wait until you'll see our sunsets," he radiates as he hands out a map of the park. "Welcome to colorful Canyonlands!"
The Colorado and Green rivers join aquatic forces in Utah's largest national park. On the map, the confluence looks like a massive blue "Y."
The rivers slice the park into three districts, named after their most prominent geological features.
The Northern Section of the Park
The northern and most accessible section of the park — only about a 40–minute drive from the town of Moab to the visitor center.
It is Island in the Sky, a spectacular table mountain of sheer sandstone cliffs rising more than 1,000 feet (305 m) above the surrounding terrain.
It is a gigantic viewing platform boasting breathtaking vistas of thousands of square miles of dramatic canyon country, including the Needles district to the east.
In Needles — named for its red-and-white banded spires of Cedar Mesa sandstone — Mother Nature has put together an impressive natural sculpture park boasting pinnacles and rock needles jutting out of the ground.
Trails for hiking, mountain biking and 4-wheeling wind through this geological wonderland.
Squaw Flats Campground, at the foot of a rocky ledge dotted with gigantic stony mushrooms, is an ideal base camp from which to explore the Needles district.
It is one of the only places in the entire park where water is available year-round.
The Maze District
The isolated Maze district lies to the west. It is the most difficult to access. There are only a few dirt roads leading to this "30-square-mile [78 km²] puzzle in sandstone," as described by early explorers.
Only all-terrain or 4-wheel-drive vehicles and their undaunted passengers dare travel to this labyrinth of seemingly countless canyons.
There are no services in this wilderness. You must bring sufficient drinking water, gas and provisions for your "Survivor" experience; it can be dangerous to get lost here.
Should you plan to visit all three districts, you need to drive around the 527-square-mile (1,365 km²) park.
There are no bridges spanning the wide canyons carved from the earth over millions of years by relentless waters. It's a day's drive, minimum, and most overnight campsites are rustic.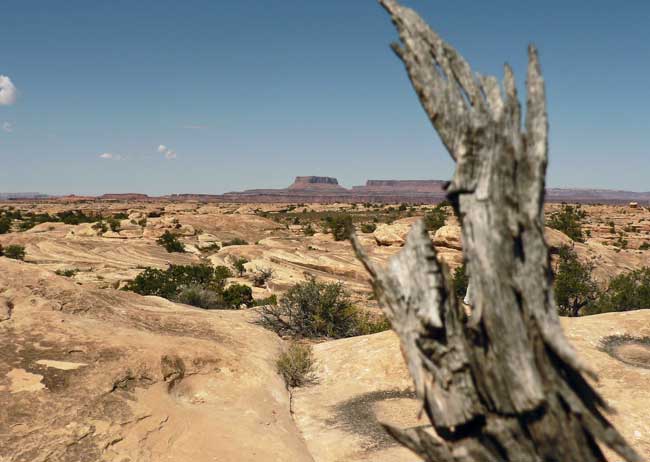 The closest hotel with air-conditioning is far away, which deters most visitors from exploring this wilderness overnight.
The Silent Environment Around Me
Canyonlands remains remote, sweltering hot, underdeveloped and very dusty. Hence it's one of the most fascinating areas of the United States.
My ears ring with silence. I feel small and insignificant, engulfed by this seemingly endless, open country still shaped by gigantic natural powers and untouched by civilization.
The sun burns relentlessly. Sudden winds whirl up hot desert sands. One particle at a time, the fine grains patiently pound at the rock, blasting my face, and soon crunch between my teeth.
High above my head, towering clouds conglomerate into gigantic mushrooms. Thunderstorms are rare here, except during the late-summer monsoon season, but when they do occur, they become a violent outburst of primeval powers.
Change happens infinitely slowly though. Only the light moves at the speed of lightning.
Sun and clouds paint constantly varying patterns of shade onto their rocky red canvass, like a time-lapse movie come to life.
Only a handful of paved roads zigzag as timid catwalks of civilization through this monumental landscape. Frequently, however, there are only dirt tracks, such as Shafer Trail. The narrow pathway clings desperately to a steep wall resembling an amphitheater.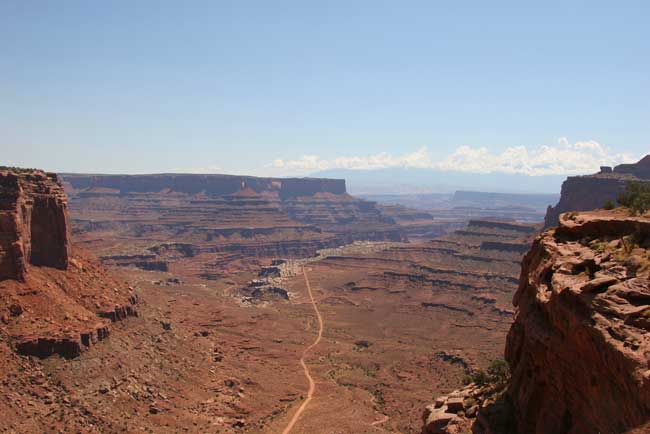 Originally cattle were driven up the harrowing serpentines. Today daredevil 4-wheelers scramble along this adventurous alternative route leading up from the edge of the Colorado River southwest of Moab to the Island in the Sky district.
This is the most-visited and most-accessible part of the park. Canyonlands' visitor center has outhouses, but desert country or not, has a drinking fountain — with a sign posted asking visitors to please not fill their water bottles.
The Spectacular Landscape
The miniature source is strategically positioned right across from the information desk and supervised by suspicious rangers who seem to be making sure that I am only taking a few sips and not secretly refilling my bottle.
Hydrated, I'm ready to head out into the spectacular landscape. Some sites, such as Angel Arch, and cliff houses and petroglyphs of ancestral Pueblo Indians, can be reached only by all-terrain vehicles, mountain bikes or arduous hikes.
Perhaps it's best to test my desert fitness on a short hike to the famed Upheaval Dome first.
This enormous crater is one of the strangest geological formations in the entire park; it would actually be much more fitting for the moon.
A whitish gray-green dome-shaped rock rises from the center of a 1,400-foot-deep (427 m) basin. Its origin is much debated.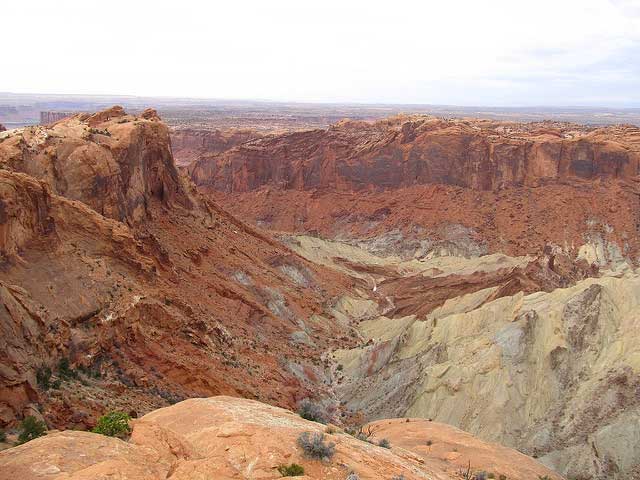 Watch Your Steps
One explanation is that deep-lying layers of salt have pushed the rock upward. Another theory is that the salt dome is a remnant of a meteorite. Mystically inclined minds naturally suspect the work of extraterrestrials.
I need to watch my step. The desert is alive with "cryptobiotic soil crust" read warning signs along the trail.
This sensitive top layer formed over decades from black, knobby algae, lichens and bacteria covering the meager, sandy soil, creating ideal conditions for fragile desert plants. Even so-called potholes are brimming with life.
Tiny organisms prosper in these hollows washed out by the rain, which can range from less than an inch to big enough to bathe in.
Even if it's hot and dry for prolonged periods, there's sufficient moisture in these holes for miniscule invertebrate creatures to exist.
Lying on my belly and peering into their water world, I feel as if I could watch the wondrous water ballet of tadpoles and mini shrimps for hours, but a crimson evening sun suddenly reflects in the puddle.
Much too fast my desert day comes to an end — with an amazing show. The sky mirrors the red earth and shimmers not in its ordinary blue, but in a violet hue. Cirrus clouds cannot settle for one color; some are pink, others yellow-orange, lavender or pastel purple.
All of Canyonlands is dipped into a rosy lilac glow. And I finally understand what the park ranger at the entrance gate meant. He didn't over-promise.
If You Go
Canyonlands National Park
www.nps.gov/cany
Canyonlands Information
www.discovermoab.com