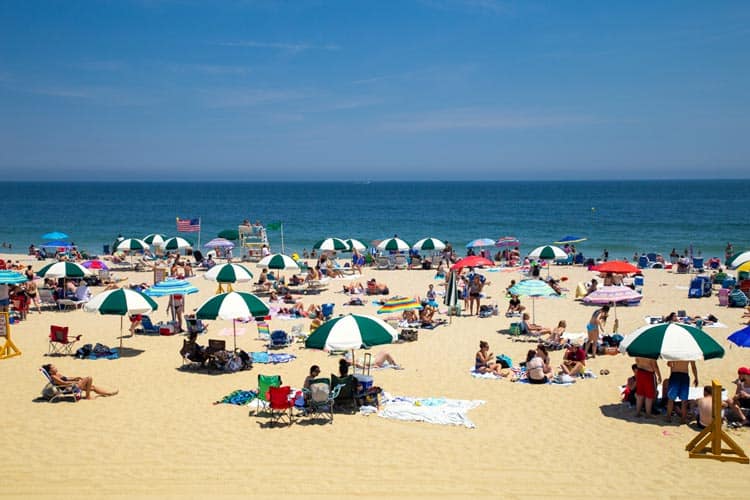 New Jersey is known as the Garden State, but it's New Jersey's shorelines on the Atlantic, Thomas Edison, boardwalks, amusement parks, county parks, state parks and art museums that draw visitors each year.
Located on the East Coast and just across from New York City, New Jersey offers the perfect getaway.
Best Tips & Tools to Plan Your Trip
The list of fun things to do in New Jersey is long, so we've compiled the top 10 things to do and see while visiting New Jersey. Pack your swimsuit and your sense of outdoor adventure and historic interests.
1. Visit Cape May
Cape May's charm dates to the 18th century with plenty of Victorian architecture, a state park with a historic lighthouse and a beach town feel.
Located on Delaware Bay and the Atlantic Ocean, Cape May offers kid-friendly activities for visitors of all ages.
Book your stay in Cape May here.
2. Atlantic City's Boardwalk
New Jersey's most-visited boardwalk is in Atlantic City and was constructed in 1870. It follows the seaside resort town for four miles.
This stretch of its famous boardwalk boasts casinos, resorts, restaurants, shops and the best places to cool off and grab an ice cream.
3. Battlefield State Park
New Jersey's state parks are a living history lesson and Battlefield State Park is no exception. This historic site is over 200 acres in size and is where the Battle of Princeton was fought in 1777.
Also worth visiting is the Clarke House Museum, which served as a military hospital. Incidentally, this is also the historic spot where George Washington had a victorious battle.
4. Grounds for Sculpture
Located in Hamilton, N.J., the Grounds for Sculpture sprawls over 42 acres with contemporary art and some of the most verdant landscaping.
The New Jersey fairgrounds are also near this attraction. This is the perfect spot biking, picnics or just to get some fresh air.
5. Delaware Water Gap
The Delaware Water Gap is the perfect place for hiking, biking, fishing, kayaking and more. This National Recreation Area is over 70,000 acres and smack dab between the border of New Jersey and Pennsylvania.
Be sure to stop by the visitor center to get all the information you need to enjoy the water sports and even tubing on the Delaware River.
6. Jersey Shore
Walking and biking along the Jersey Shore are popular at any time of year. The fresh ocean breeze and the wide-open scenery are good for the soul.

This shoreline on the Atlantic Ocean also offers a wealth of activities. The Jersey Shore boasts 130 miles of New Jersey beaches with Cape May, Atlantic City's Boardwalk, Ocean City, Asbury Park and Point Pleasant.
It's best to make a weekend of it since there is so much to see in just one day. Don't miss Long Beach Island in Ocean County, which is a very popular Shore community.
Book your stay at the Jersey Shore here.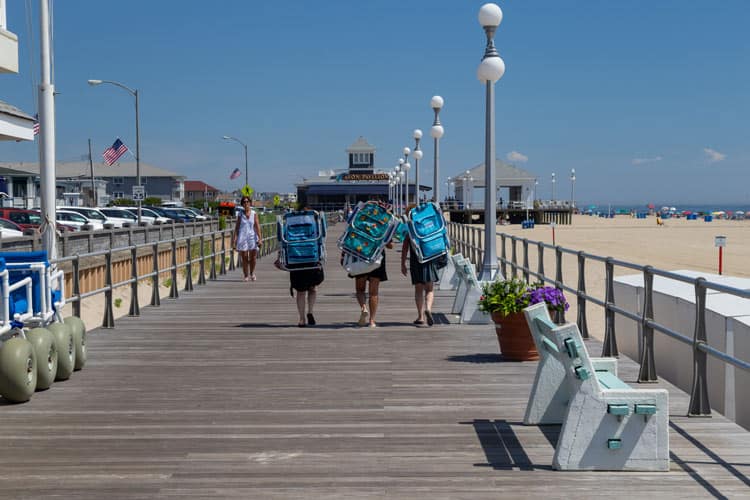 7. Jersey City
Jersey City is the second most-populated city in New Jersey with a vibrant nightlife and plenty of museums, such as the Liberty Science Center where kids can geek out about science.
Liberty State Park is next to New York City's Statue of Liberty on Ellis Island and features over 1,200 acres of verdant lawns and even a wildlife preserve.
8. New Jersey's Wildwood
Wildwood, like Cape May, is a popular draw for tourists seeking sun, fun and an oceanside view.
Located in Cape May County, it has several hotels, resorts, restaurants and ice cream parlors, as well as an amusement park that features over 100 rides and attractions, a water park, and an impressive Ferris wheel.
9. Camden
Some of the top attractions in the Garden State are located in the city of Camden. Get up close to sea creatures at the Adventure Aquarium or visit a floating museum with guided tours on the Battleship New Jersey.
Camden also has several museums, including the Walt Whitman House, and plenty of art museums.
10. Princeton
Princeton is best known for the ivy-league university and is one of the most beautiful college campuses in the United States.
Some of the not-to-be-missed attractions include Princeton University Art Museum, Delaware and Raritan Canal State Park, and the placid Carnegie Lake.
Inspire your next adventure with our articles below:
Author's Bio: Angie Cavallari is a lifestyle and pop culture expert and author of "Trailer Trash: an '80s Memoir." Her blogs and articles have been featured in Huffington Post, The Reset and Go World Travel, among others. When she is not traveling, she is spending time with her kids and her precocious pug, JJ.