As the birthplace of the American movie industry, it's no wonder that New York City has been featured in thousands of films from the 1901's What Happened on Twenty-third Street, New York City to West Side Story (both versions).
Almost every major Manhattan site from the Empire State Building (King Kong) to Grand Central Station (North by Northwest) from Times Square (Taxi Driver) to Macy's (Miracle on 34th Street) has been seen countless times on the big and small screens.
Planning a last-minute trip to New York?
Top Experiences and Tours in New York:
Where to stay and transportation in New York:
Beyond the upper-famous film sites, take this tour of movie and TV locations and places where celebrities have been honored in Manhattan. Along the way, discover nearby sights and restaurants.
Staten Island Ferry Terminal, Downtown
Start at Battery Park, the southern tip of Manhattan where one can ride the Staten Island Ferry for free or walk inside the renovated terminal for an amazing view of the Statue of Liberty, Ellis Island and the New York harbor.
In the movie Working Girl, Melanie Griffith's character Tess commutes from her working-class home on Staten Island to a steel and glass office in downtown Manhattan. Her commute and the ferry serve as a recurring motif in the movie.
Nearby places to visit in Battery Park:
Castle Clinton National Memorial – fort constructed in early 1800s.
SeaGlass Carousel with fish instead of horses
The Immigrants statue
Korean War Memorial with view of Statue of Liberty
American Merchants Marines Memorial
Audrey Hepburn Mural Building, Little Italy
A dazzling mural in Little Italy honors the luminous actress Audrey Hepburn. It's part of a Little Italy Street Art project. Find this mural on the side of the Caffe Roma pastry shop at the corner of Mulberry and Broome Streets.
Hepburn's most noted association with New York movies is much further uptown and coincidentally also relates to pastries. At the corner of Fifth Avenue and 57th Streets stands Tiffany & Co, where Hepburn stood outside eating a Danish in Breakfast at Tiffany's.
Best Tips & Tools to Plan Your Trip
Another Hepburn-NYC connection is that the actress's first role in America was playing title role in Gigi in 1951 at the Fulton Theater, a Broadway theater at 46th Street that was demolished in 1982. She returned a few years later to star on Broadway in Ondine.
Nearby places to visit in Little Italy:
Discover a whimsical portrait of Pope Francis on the side of the Little Cupcake Bakeshop, Mott Street at Prince Street.
Mulberry and Mott Streets are loaded with Italian restaurants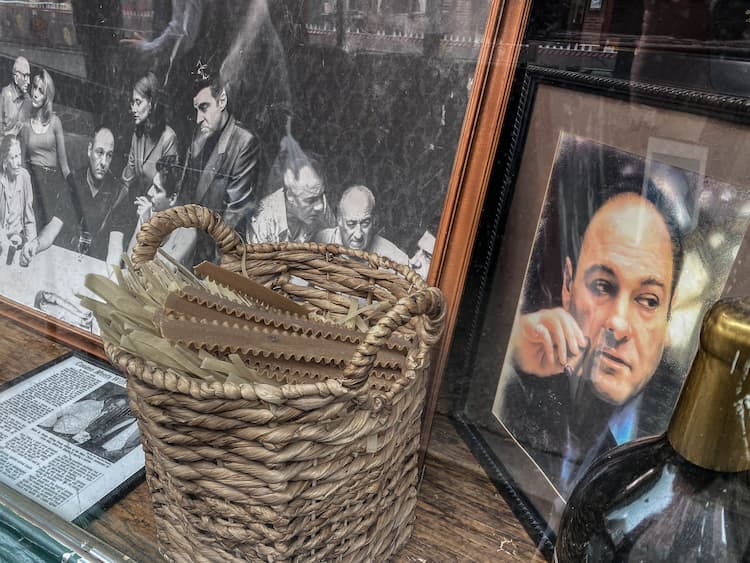 Mulberry Street Bar & Restaurant, Little Italy
In more than a dozen episodes of The Sopranos, the Mulberry Street Bar & Restaurant became the location of the Averna Club where plans were hatched by Tony Soprano and his goombahs. As tribute to the famous TV series, numerous Sopranos mementos are displayed in the restaurant's window.
The restaurant was also prominently featured in the movie Donnie Brasco starring Al Pacino and Johnny Depp and played a role inThe Godfather Part III in a scene featuring Andy Garcia and Sophia Coppola.
Nearby movie locations to visit in Little Italy:
A scene with Al Pacino in The Godfather Part III was filmed inside St. Patrick's Old Cathedral, 263 Mulberry Street. Outside the cathedral in the graveyard surrounding the church, Robert DeNiro and Harvey Keitel play a scene from Mean Streets.
All of Mulberry Street was decked out for the annual Feast of San Gennaro in a key scene with a young Vito Corleone (DeNiro) seeking to kill a mobster.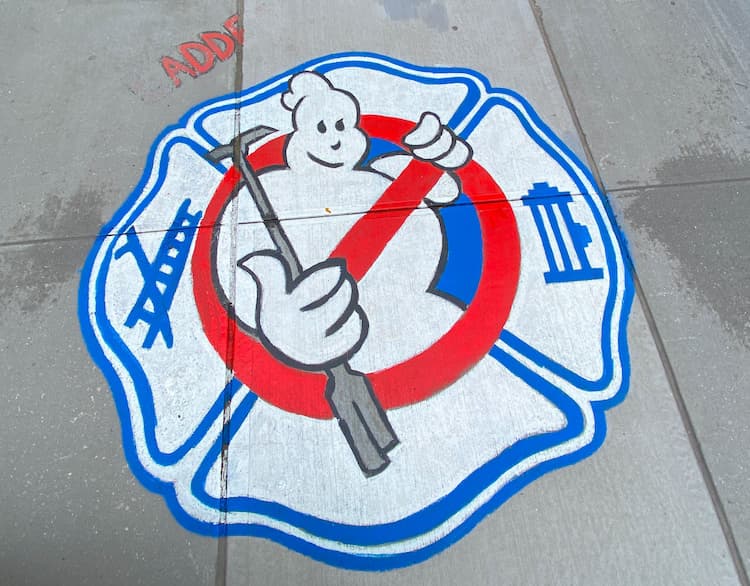 Hook & Ladder Company 8, Tribeca
Firemen and fire trucks have been featured in numerous New York City films, but there's only one firehouse that really matters to cinema lovers and that's Hook & Ladder Company 8, 14 North Moore Street in Tribeca.
The exterior of the firehouse became famous as the headquarters of the Ghostbusters with Dan Aykroyd, Bill Murray and Harold Ramis. In the 2016 reboot with the same name, the Ghostbusters played by Melissa McCarthy, Kristen Wiig, Kate McKinnon and Leslie Jones were filmed at the firehouse.
It's easy to spot the firehouse, not only for its Beaux Art style architecture, but with Ghostbuster symbols on the sidewalk and on the building's façade.
Nearby places to visit in Tribeca:
While eating at the Tribeca Grill, 375 Greenwich Street, diners might see one of the famous owners – actor Robert De Niro.
Head west to Pier 25 along the Hudson River with a range of fun activities such as an 18-hole miniature golf course, volleyball courts, a children's playground and lounge chair overlooking the Hudson River.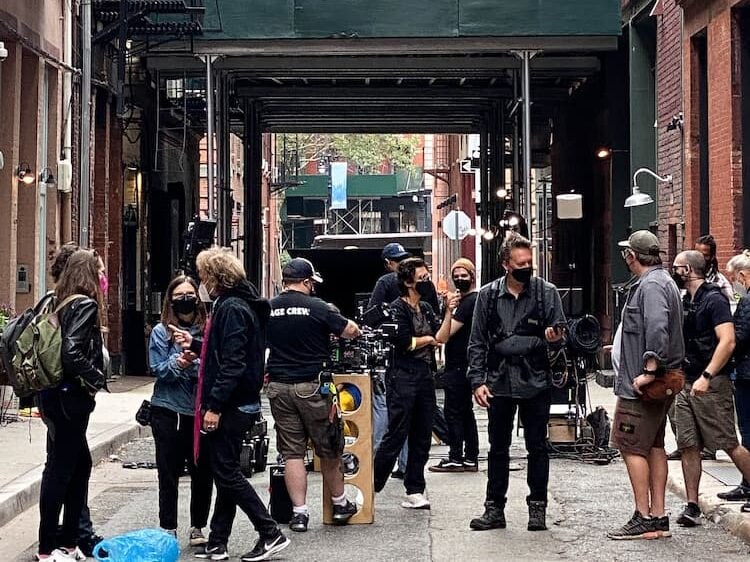 Staple Street Sky Bridge, Tribeca
In Out of the Shadows, the Teenage Mutant Ninja Turtles clan stopped in one of most interesting alleyways in all of New York. The Staple Street Skyway connecting 9 Jay Street to 67 Hudson Street was built only to connect two buildings owned by New York Hospital.
Today, the third floors of both buildings have been combined into a 7,500-square-foot work/residential loft which recently sold for $24 million.
Nearby places to visit in Tribeca:
Across West Street at the Hudson River is The Teardrop Park, a true urban oasis with curved walkways and surprising tall playground.
For terrific American comfort food, stop at Bubby's, 120 Hudson Street.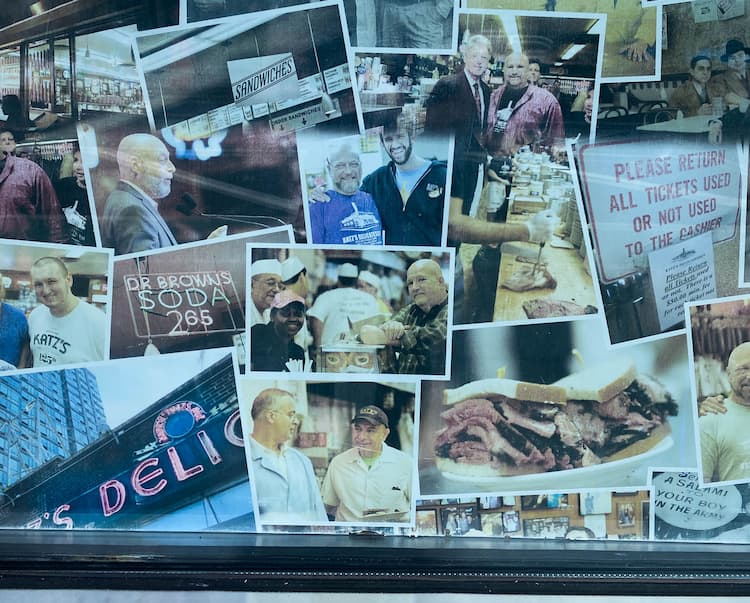 Katz's Deli, Lower East Side
Almost every neighborhood in Manhattan used to have a neighborhood delicatessen. Most have long since succumbed to a demand for more healthy dining options except the venerable Katz's Deli, 205 E. Houston Street.
In filmdom, Katz's Deli is most well-known for the "I'll have what she is having" scene" from When Harry Met Sally with Billy Crystal and Meg Ryan. A sign hanging from the ceiling today notes the table where they sat. Katz's Deli has been serving their famous pastrami sandwiches since 1888.
Other films that have used the deli as a location include Across the Universe, Donnie Brasco, Disney's Enchanted and We Own the Night with Joaquin Phoenix and Eva Mendes.
Nearby places to visit on Lower East Side:
Visit the nearby Tenement Museum, Delancey and Orchard Streets, to learn the story of immigrants and working-class families who lived in tenement buildings on the Lower East Side from the 1860s to the 1930s. Visitors can take guided tours of two restored tenement buildings, 97 Orchard Street and 103 Orchard Street.
A block west on Houston Street is Russ & Daughters, a high-end smoked fish, caviar and specialty food store which opened in 1914.
Friends Apartment Building, West Village
At almost any hour of the day, people stop at the six-story red brick building on the corner of Bedford and Grove Streets to photograph the building known to the world as the home of Monica, Rachel, Chandler, Joey, Phoebe and Ross from the uber-popular TV series, Friends.
Although interiors were shot on a soundstage in Los Angeles, it remains one of Manhattan's most popular film locations for tourists. A Mediterranean restaurant, the Little Owl, occupies the first-floor corner retail space.
Nearby places to visit in the West Village:
Across West 4th Street is the Stonewall National Monument, 38-64 Christopher Street, a park honoring the struggle for civil rights of LGBT Americans.
At 121 Charles Street is one of the most unusual building in Manhattan. Once a farmhouse on the Upper East Side, it was moved in 1967 to its current location, where it's a private home.
Carrie Bradshaw Stoop, West Village
Even more popular than the Friends building is Carrie Bradshaw's iconic stoop, 66 Perry Street. This quintessential New York stoop with a brownstone facade, four steep steps and a black wrought-iron railing was featured in countless episodes of Sex and the City, serving as a backdrop for Carrie's conversations with her friends, her romantic encounters, and her everyday life.
Nearby places to visit in the West Village:
The Jefferson Market Library, 425 6th Avenue, is a former courthouse converted into a public library. Mae West's obscenity trial was held here after she was arrested and charged with obscenity for her Broadway play, Sex, which was considered to be too risqué for the time. West was convicted and sentenced to 10 days in jail, but she used the trial to her advantage, generating publicity for herself and her play.
The White Horse Tavern, 567 Hudson Street, is a circa-1880 bar with a storied history as a hangout for writers including Dylan Thomas, Jack Kerouac, James Baldwin and Anais Nin.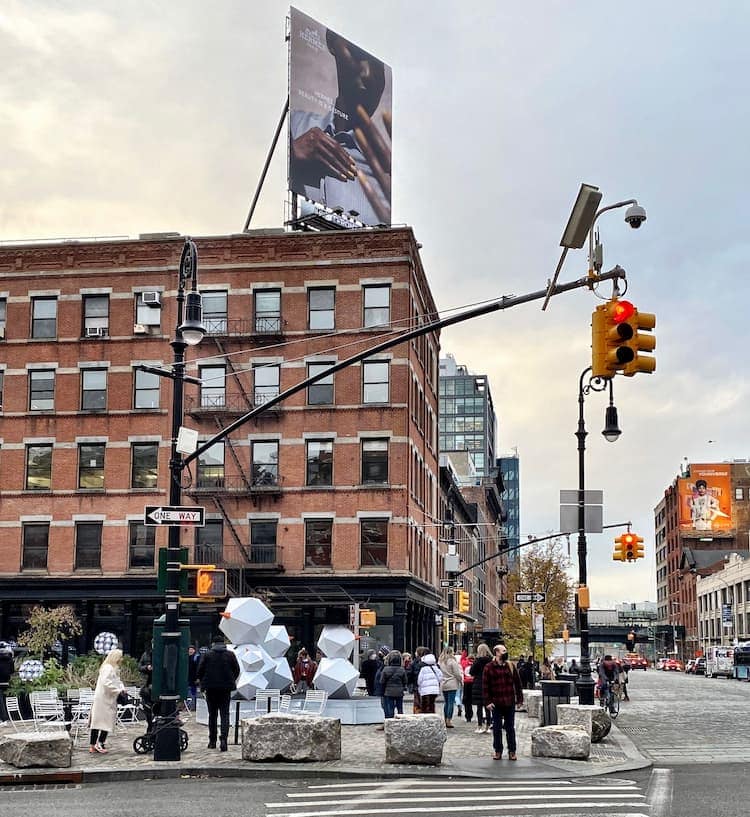 Fatal Attraction and Serpico Building, West Village
At 675 Hudson Street is a 12-story red brick warehouse building famous as the character Alex Forrest's apartment building in Fatal Attraction. The building was also featured in Serpico with Al Pacino,
Nearby places to visit in the West Village/Meat Packing District:
Chelsea Market, Ninth Avenue and 15th Street, is an indoor marketplace renowned for its wide range of grocers, shops and eateries.
Starting at Gansevoort and Washington Streets is The High Line, the 1.45-mile elevated park created from an abandoned rail line, that offers stunning views, lush greenery and public art.
The Whitney Museum of American Art, Gansevoort and 14th Street, is known for its collection of 20th-century and contemporary American art in a stunning new building that offers outdoor space with remarkable views of the Manhattan skyline.
Flatiron Building, Midtown East
The Flatiron Building, Fifth Avenue and 23rd Street, was the fictional Daily Bugle newspaper office in the Sam Raimi Spider-Man trilogy, starring Tobey Maguire as Peter Parker/Spider-Man. In the films, Peter Parker works as a freelance photographer for the Daily Bugle, and he is shown frequently arriving and departing for work.
Nearby places to visit in Midtown East:
Across the street is Madison Square Garden, a delightful urban oasis with a popular Shake Shack restaurant. The original Madison Square Garden was built in 1879 at the northeast corner of 26th Street and Madison Avenue but eventually moved to its current location on Seventh Avenue and 34th Street.
The New York Life Building, Madison Avenue on the east side of the park, is one of the most iconic buildings in city with its gold-colored pyramidal roof.
Katherine Hepburn Park, Midtown East
A modest garden at East 47 Street and 1st Avenue bears the name of one of Hollywood's great actresses and one of New York City most famous residents. In the 1980s, with when the 80-year-old garden fell into disrepair, a local community group launched a campaign to renovate the garden and preserve its historic character.
Hepburn was a strong supporter of the campaign, donating money to help fund the renovation. When it renovated and re-opened in 1997, the park was named in her honor.
Nearby places to visit in Midtown East:
Across 1st Avenue is the United Nations which is open daily for tours.
The Robert Moses playground (named for the NYC city planner) at 42nd Street and 1 Avenue is a popular spot for sports and dog walking.
Marilyn Monroe Subway Grate, Midtown East
At the southeast corner of Lexington Avenue and 52nd Street is a modest subway grate. In the 1955 film The Seven Year Itch, Marilyn Monroe plays a young woman who moves in upstairs across from Tom Ewell's character, Richard Sherman, while his wife and children are away on vacation.
One evening, the two are walking home when they pass a subway grate where the woman stops to cool off and leans over the grate, feeling the breeze from the passing trains. Her white dress billows up, revealing her legs and underwear.
This scene is one of the most iconic images in cinema history, and it helped to cement Marilyn Monroe's status as a sex symbol. The depiction of scene in other media is arguably more famous than the film itself.
Nearby places to visit in Midtown East:
Bloomingdale's landmark store is located at 59th Street and Lexington Avenue.
Sutton Place Park, Midtown East
Not only is Sutton Place Park, East 57th Street and the East River, a setting for several scenes in Woody Allen's Manhattan, but a photographic image of the park at dusk overlooking the Ed Koch Queensboro Bridge dominates the movie poster.
This long, narrow park features shade trees and benches, along with a notable statue, Porcellino, a model of a marble statue at the Uffizi Gallery in Florence, Italy.
Nearby places to visit in Midtown East:
Take the Roosevelt Island Tram across the East River.
The FDR Park at the southern tip of Roosevelt Island is a beautiful, serene place to visit.
Jackie Gleason Honeymooners Statue, Midtown
An homage to movie and TV history sits on the sidewalk outside' the world's busiest bus station, the Port Authority Bus Terminal, 8th Avenue and 40th Street.
Honoring Jackie Gleason's role as fictional New York bus driver Ralph Kramden in the classic television series, The Honeymooners, that statue was commissioned by the TV Land cable channel and Gleason's estate, and it was dedicated in August 2000.
Nearby places to visit in Midtown
On 42nd Street between 8th and 7th Avenues is Madame Tussauds New York – a perfect spot with waxed sculptures from films such as the female reboot of Ghostbusters and King Kong.
The best place in Manhattan for books about Broadway, theater and film is the Drama Book Shop, 266 W. 39th Street.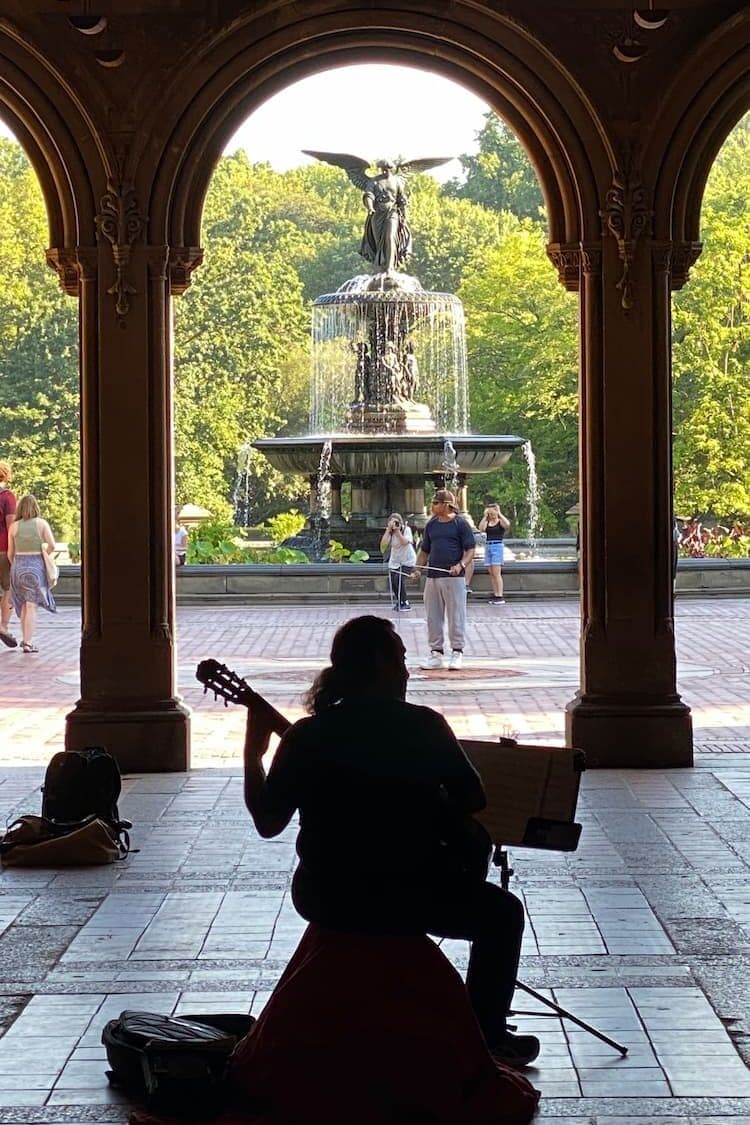 Bethesda Fountain, Central Park
After a long day traveling through Manhattan seeking out TV and movies locations and celebrity sites, head to Central Park. Walk to the enchanting Bethesda Fountain which has been often used in Hollywood scenes such as:
Enchanted with Amy Adams and Patrick Dempsey dancing and singing in the fountain
Annie Hall with Diane Keaton and Woody Allen
Home Alone 2 with Macaulay Culkin hiding from the bad guys in the fountain
Elf with Will Ferrell singing "Baby, It's Cold Outside"
Tips for Visiting Manhattan
What's New: Some of Manhattan's newest attractions include:
Jackie Robinson Museum near Canal Street at 75 Varick Street
Museum of Broadway at 145 W. 45th Street near Broadway
Perelman Performing Arts Center at 251 Fulton Street in downtown Manhattan near One World Trade Center
Getting Around: A one-way subway ride costs $2.90. Metro cards can still be used but it's easier to set up the Omny tap-and-go system available with most phones. (www.omny.info)

Inspire your next adventure with our articles below:
Author Bio: For more than 40 years, R.C Staab has been a tourism and culture expert who has been quoted by and had photos published in numerous publications including the New York Times, USA Today, the Wall Street Journal, the LA Times, and CNN. He wrote 100 Things to Do at the Jersey Shore Before You Die, now in its second printing, and is a frequent contributor to New Jersey Monthly magazine. His latest book, New York City Scavenger: The Ultimate Search for New York City's Hidden Treasures, explores Manhattan from Battery Park to Washington Heights with both famous and unexpected sites in all neighborhoods, including Times Square, Greenwich Village and Central Park. Pick up a copy of his Jersey Shore book and his new NYC book. He lives in Manhattan with his wife, Valari, and dog, Skye.