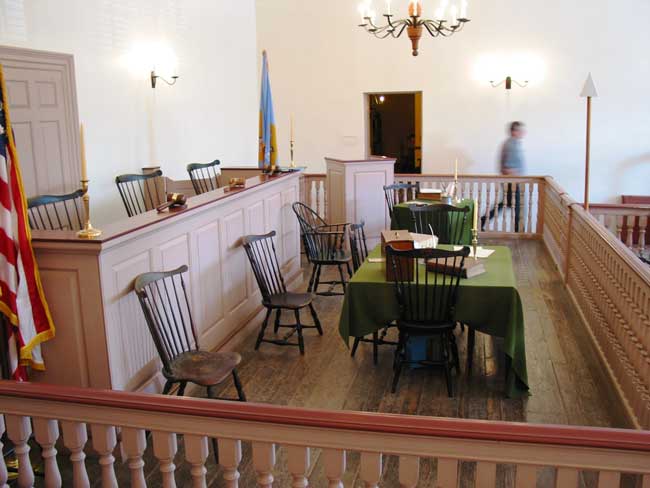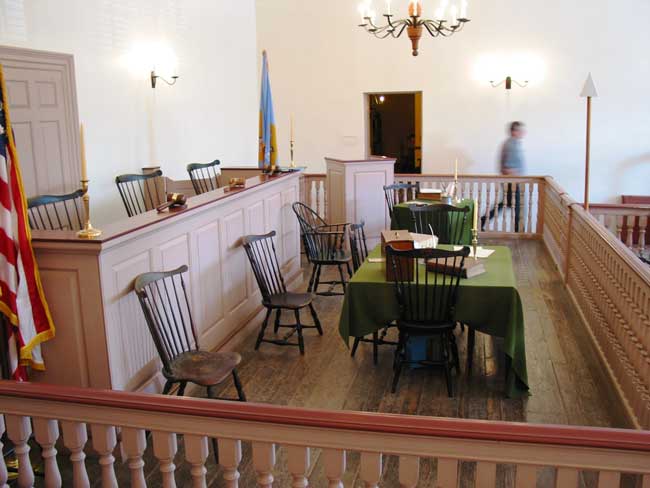 Everyone has heard of Colonial Williamsburg with its dozens of buildings from the late-17th to mid-19th centuries. But it's not real, folks! Although few people have heard of New Castle, Delaware, it has almost as many buildings from that same era and real people live there.
They're not dressed up like Revolutionaries, but the history there is even more…well, historic. It's a genuine Colonial town but without the colonists. The town is replete with houses that used to be taverns, blacksmith shops, stables, ship repair shops during the war. The industries of this working class Colonial town may have shuttered but the structures remain.
No, wait, I'm being told by Brian Cannon, the Historic Site Lead Interpreter: Do not compare New Castle with Colonial Williamsburg, though that was the hook that originally got me there. CW, as Cannon not-so-affectionately refers to the tourist town, is frozen in July 1776 and its many building built over many centuries have been "restored" to that hallowed place in history. They're what is not real.
New Castle, Delaware
New Castle, on the other hand, Cannon explains, "is a continuously occupied community containing over 500 buildings spanning four centuries of Colonial, Federal and Victorian architecture."
He adds: "We celebrate our historic diversity. CW has no historic diversity." Admonished, I move on.
Fortunately, New Castle is replete with history unrelated to the Revolutionary War, as well. William Penn, of nearby Pennsylvania fame, first set foot on American soil here is October 1682.
At an alleyway called Penn's Place — no surprise there — is found the oldest building foundation in town which dates its original construction back to Penn's arrival. Take that, Williamsburg! You can't get more authentic than that.
The Underground Railroad
Fast forward a half-century to 1732 when the Old Courthouse was built. Of course, it was later updated. The modern renovations? The new steps put in in 1845, right about the time Thomas Garrett and his pal, Harriet Tubman, were hustling runaway slaves to freedom via the Underground Railroad, whose many stations ran right through neighboring Wilmington.
Garrett, Tubman's right-hand man and "head stationmaster," was tried for just such activities in the New Castle Courthouse in 1848. The presiding judge? Conservative Supreme Court Justice Roger Taney of the Dred Scott decision fame denigrating the Constitutional rights of African-Americans.
Not surprisingly, he ruled against the abolitionist, bankrupting him.  Garrett's reply: "Judge, thou has left me not a dollar, but I wish to say to thee and to all in this courtroom that if anyone knows a fugitive who wants a shelter and a friend, send him to Thomas Garrett and he will befriend him."
Pretty impressive courthouse to this day!
And yes, there is also a Revolutionary War connection. On June 15, 1776, the Delaware Assembly meeting in the same courthouse declared independence from Great Britain, predating the rest of the country. Williamsburg didn't catch up for another month! Somehow these comparisons are hard to avoid.
Further American history abounds everywhere, with several houses of famous people over several centuries dotting the streets. And the cemetery at the Immanual Episcopal Church, founded in 1689, is home to its own well-known clientele, many of whom lived in those houses.
Grave sites from the early 1700's to the present-day, of Founding Fathers to state governors, generals from the War of 1812 and Civil War to WWI and WWII veterans. The past brought into the present in a beautiful peaceful setting that does justice to both.
Two of the oldest houses in New Castle include the original framing structure of the Dutch House on East Third Street, which dates from 1690-1700 and is the best example of an intact original period dwelling, and No. 8 The Strand which was built as a much smaller brick house around 1690. Williamsburg can't boast such early architectural edifices.
And another several hundred homes cover multiple centuries and architectural styles, with close to a hundred spanning the 17th-19th century time frame. Did I mention the cobblestone streets upon which I was sure the sounds of stagecoaches still reverberate?
Jessup's Tavern and Colonial Restaurant
A visit to Jessup's Tavern and Colonial Restaurant: more confusion, more confirmation. The sign stating that it is now home to the largest selection of Belgian beers in Delaware, despite the Dutch, Swedish and British flags flying overhead, was jarring.
I'm pretty sure that's not one of the more famous legacies of the Revolutionary — or any other American — War. But once inside, impressions change. Beer of any country served in a crock mug somehow tastes better that way.
Several flavors of "Colonial" ice cream are a sweet testimonial to the Colonists if not in reality a favored dessert. And although there are indeed dishes on the Bill of Fare representative of all the flags –- and therefore history of New Castle — it is the English pub fare and ambiance that pre-dominate.
The server was dressed like…well…what can I say? The word wench comes to mind. Not that I know what one would actually look like, but the menu written is Olde English script is exactly what I assume a wench would write.
So yes, very much the feel of an 18th-century tavern. And how would I know? Well, okay — I experienced one in Williamsburg. Admittedly, the USB charger in the center of the napkin holder was somewhat disorienting.
But as we were leaving, I spotted a Revolutionary War musket on the wall — somehow that made me feel better. But shhhh – don't tell Mr. Cannon.
If You Go
For more information about New Castle, visit https://newcastlecity.delaware.gov.
Authors: Fyllis Hockman and Victor Block are a husband-wife team of experienced travel journalists who have gallivanted throughout the United States, and to nearly 80 countries around the world, and written about what they have seen, done and learned. Their articles have appeared in newspapers across the country and on websites across the Internet, and they each have won numerous writing awards. They love to explore new destinations and cultures and uncover off-the-beaten-path attractions. When not traveling, they are almost as happy watching plays or movies, working out and sitting on a bar stool eating, drinking and savoring all their adventures. Read more of their blog at Rambling Writers. 
Latest posts by Rambling Writers
(see all)