A first-time visitor to New York City can't be faulted for choosing the allure of the imposing Met, the stylish MoMA or iconic Guggenheim Museums. Equally, the jaw-dropping dinosaurs of the American Museum of Natural History or the highly emotional 9/11 Museum are must-sees.
Make sure you see all the sights with a New York Pass by Go City.
Understandably, these NYC museums get the spotlight. But, there is a cornucopia of other cultural institutions covering art, photography, fashion, history, design and more.
These also provide an enriching experience. Furthermore, as icing on the cake, many are housed in buildings that are architectural marvels and have a historical heritage.
So, when you are in New York, remind yourself to include a visit to some of these overlooked but amazingly cool NYC museums.
Cool NYC Museums on Museum Mile
The Museum Mile on Fifth Avenue in Manhattan stretches from East 82nd to East 105th Street. Therefore, it is, without doubt, the best place to start off your cultural experience.
After a tour of The Met you can head to The Frick Collection. Here you'll enjoy a seamless immersion into Henry Clay Frick's personal collection of European art and sculpture from the Middle Ages to the 19th-century. The collection's original Gilded Age era home at 70th Street is currently undergoing renovation.
However, you can see the masterpieces at 945 Madison Avenue and 75th Street. This Marcel Breuer-designed building first housed the Whitney Museum of American Art followed by The Met Breuer.
Frick Madison's modernist stone and concrete interior and exterior make for an inimitable way to display sculptures, decorative arts and paintings by the Old Masters.
Neue Galerie at 86th Street is near the illustrious Metropolitan Museum of Art. Situated in a Beaux-Arts style Gilded Age mansion, this museum highlights 19th century German and Austrian fine and decorative arts and sculpture.
The prized piece to see here is Gustav Klimt's magnificent painting of Adele Bloch-Bauer I. "The Woman in Gold" was painted by Klimt in 1907 during his Golden Phase.
Cooper Hewitt Smithsonian Design Museum at E. 91st Street is located in the erstwhile mansion of Andrew Carnegie. This cool NYC museum shows off collections of design spanning from historical to contemporary.
Pieces range from drawings and art to decorative arts to modern product designs and more. My favorites include the 18th-century architectural models of an Italian church and a 19th-century French staircase to the Immersion Room.
Moreover, this room enabled me to digitally project wall coverings from the museum's gargantuan collection.
Move a bit further up and stop at the Jewish Museum at E. 93rd Street, the oldest such museum in the United States. A repository of Jewish art and culture, the museum puts a spotlight on 4000 years of Jewish history.
The collection of Hanukkah lamps, the world's largest, includes lamps from four continents. Each one differs in style, details and materials and represents the festival from Renaissance to modern times.
NYC City Museums In and Around Central Park
If you are museum-hopping on 5th Avenue, it goes without saying you will take a walk in Central Park. Certainly, the piece de resistance that makes New York City the greenest city in America.
But surprisingly, not many visitors go to the Central Park Conservatory Garden, an enchanting, peaceful refuge of natural splendor that opened in 1937. It's located between 104th and 105th Street along Fifth Avenue.
This formal garden inside the park has three distinct areas. There is the French North Garden, the English South Garden and the Italianate style Center Garden.
I think of it as a living museum because the name is taken from the 19th-century conservatory that existed on the site. Secondly, because of its literature-inspired fountains, Gilded Age gate and history-themed walkway.
For this entire NYC adventure, you'll want super comfortable and stylish shoes to trek the city. In honor of the greenest city in America, check out these AllBirds walking shoes made from nature. Find more styles and sizes here.
Be sure to step through Vanderbilt Gate which has its own story. It was built in Paris in 1894 to grace the Vanderbilt mansion on Fifth Avenue. In addition, don't miss the Untermyer Fountain with the delightful bronze sculpture of Three Dancing Maidens. You'll find it in the northern part of the garden.
Step back out on Fifth Avenue and 106th Street to head to El Museo del Barrio. The museum is dedicated to Caribbean, Latino and Latin American cultures represented through exhibitions, educational programs and the performing arts.
Founded in 1969 by Raphael Montañez Ortiz and a group of Puerto Rican artists, the museum exhibits works by celebrated as well as emerging Latino and Caribbean artists.
Finally, at Fifth Avenue and 103rd Street is the Museum of the City of New York. It's devoted to the vast history and culture of New York City. The exhibits inside showcase the rise and evolution of the city.
Subsequently, you'll be taken from a Dutch trading outpost to the modern megalopolis through films, photographs, art and artifacts.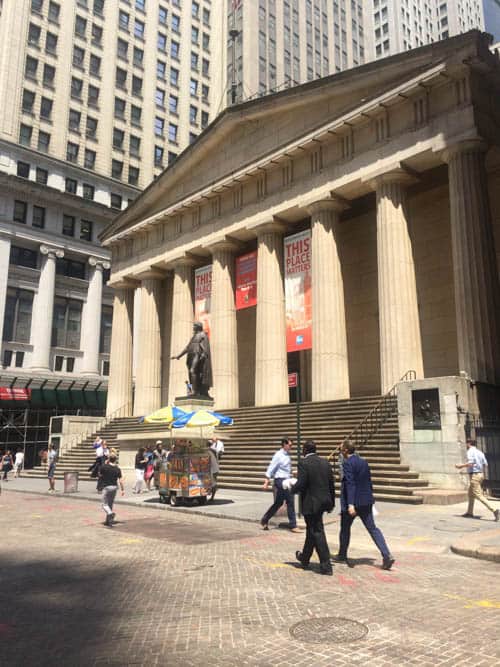 Lower East Side Museums
The southern tip of Manhattan has a wealth of cool NYC museums to choose from. For example, on the Lower East Side of Manhattan, at 235 Bowery, is the New Museum.
The museum quarters, a staggered stack of rectilinear boxes with a shimmering aluminum façade, complements the exhibits inside. That is to say the exhibits are devoted entirely to contemporary art including works by new artists.
Secondly, the Tenement Museum on Orchard Street is a joy to visit. It underscores American immigrant history through its exhibits. These exhibits display everyday items of people who inhabited these two apartment buildings or tenements between 1860 and 1930.
Further down in Battery Park City at the tip of Lower Manhattan is The Skyscraper Museum. Here you can examine the architectural history and heritage of the celebrated skyline of New York City.
A few minutes away from Battery Park City is the Wall Street neighborhood. This area is full of tourists at Trinity Church, the somber 9/11 Memorial and the New York Stock Exchange.
Meanwhile, there are many people clicking pictures on the steps of Federal Hall National Memorial, located at a stone's throw from NYSE. However, not as many venture inside.
Most importantly, George Washington was sworn in here as the first president of the United States. In addition, the museum inside contains highly informative exhibits perfect for history buffs.
Fifteen minutes from the modernistic Whitney Museum of American Art is the completely different world of Rubin Museum of Art on 17th Street off 7th Avenue.
This cool NYC museum is devoted entirely to art and culture of the Himalayan regions. A visit here will bring forth an experience of enjoying Buddhist and Hindu imagery in all its glory. There are many representations from Nepal, Tibet and India.
Continuing with this theme, you might also decide on The Asia Society, located close to the Museum Mile, at 70th Street and Park Avenue. The superb permanent collection was donated by John D. Rockefeller III, the founder of the society in 1956.
The exhibits encompass art and sculpture, both ancient and modern, from all Asian nations. In addition, it offers a platform to countries whose artworks are not often seen in major museums. More than a museum it is a cultural center.
Here they offer a profusion of lectures, films and other cultural events celebrating all of Asia.
Eclectic Museums at Columbus Circle
Travel to the neighborhood of Columbus Circle on the west side of Manhattan for some eclectic museums. Start at 59th Street and Columbus Circle. At the southwest corner is the Museum of Arts and Design or MAD, where you will see a confluence of art, craft and design.
The exhibitions highlight the numerous ways by which artists display their creativity using materials and techniques ranging from simple craftsmanship to modern technology.
I loved the goblet collection displayed in the stairwell. It's glass artistry at its finest with pieces by well-known artists including Dale Chihuly.
Walk up Broadway to 66th Street to reach the small, jewel-like and free to visit American Folk Art Museum. Unusual in that it presents art only by self-taught artists, the collection is powerful and dazzling.
The store is particularly charming with its offerings of handmade items from around the world. You are bound to come away with a haul of unusual gift items.
At 77th Street and Central Park West, a stone's throw from the behemoth American Museum of Natural History is the New-York Historical Society. It is the oldest museum in New York and is now slated for an expansion with an addition of another five stories.
Meanwhile, the current museum presents artworks and objects covering 350 years of New York and American history. Do not miss the beautiful collection of 132 lighted Tiffany lamps. It's one of the largest such collections in the world. Moreover, walking through will give you an ethereal feeling.
Visiting the Museums of Uptown of Manhattan
If you have visited the Metropolitan Museum of Art, you must save your ticket to visit The Met Cloisters. It's nestled in Fort Tryon Park in the Washington Heights neighborhood, overlooking the Hudson River.
This spectacular outpost of the Met is home to an incredible collection of European medieval art extending from the 12th to the 15th century. Moreover, the museum is named after the building that houses the collection.
To clarify, this building has the original parts of five French abbey cloisters incorporated into it making it architecturally compelling.
After feasting your eyes on artworks and tapestries (the Unicorn tapestries beg a special mention), walk through the colonnaded walkways to spend moments in the meditative Medieval gardens. After that, complete your visit by going to the terrace for stunning views of the Hudson River.
The Hamilton Grange, Morris-Jumel Mansion and the Dyckman Farmhouse Museum are three stellar historic house museums in Upper Manhattan. George Washington used the Morris-Jumel Mansion, the oldest house in Manhattan, as his military headquarters during the Revolutionary War.
Hamilton Grange, relocated twice, is the home of the U. S. founding father and the first Secretary of the Treasury, Alexander Hamilton. Dyckman Farmhouse is the oldest farmhouse in Manhattan, built in 1784.
At 125th Street and Adam Clayton Powell Boulevard is The Studio Museum in Harlem, a premier museum devoted to African American art and artists. It is now temporarily closed, as it awaits the completion of its new quarters with an opening date in 2022.
The museum will then showcase its vast collection spanning over 200 years of history.
The small and intimate National Jazz Museum in Harlem, a Smithsonian affiliate, is located off Malcolm X Boulevard on 129th Street. While the museum may be small, the exhibits are gigantic in importance.
As a result, it's a perfect stopover for jazz and music lovers. However, the crown jewel of this cool NYC museum is The Savory Collection. It's a compendium of more than 100 hours of recordings of radio broadcasts by jazz greats from 1935-41.
For an off-the-beaten-path museum experience, nothing comes close to the Nicholas Roerich Museum. It's situated in a striking 19th-century brownstone in Upper West Side at 107th Street between Broadway and Riverside Drive.
Here you will see the entire collection of paintings created by Nicholas Roerich, a Russian writer, painter and historian. Roerich was also an advocate for world peace and was nominated three times for the Nobel Peace Prize.
Apart from the paintings of Russian landscapes, saints and churches, my favorites were the majestic artworks of the Himalayan landscapes and interpretations of Indian miniature paintings. Roerich spent a large portion of his life in the Kullu region of India.
For visitors with small children, a trip to the Children's Museum of Manhattan at Broadway and 83rd Street is a must. Kids can enjoy immersive and interactive colorful exhibits geared towards learning. Furthermore, programs of art, music, dance and storytelling will also capture their interest.
Museums in the Other NYC Boroughs
A subway ride into the other boroughs of New York City will open up a world of many delightful museums. Visiting these will make you feel like a local. Consequently, you will come away with a deeper perspective of this vibrant city.
Long Island City, Queens
If you have seen MoMA, try a short subway ride to visit its counterpart MoMA PS1 in Long Island City, Queens. This nonprofit arts center has its galleries in former classrooms where experimental contemporary art and design are showcased.
Further, the courtyard is where artists put forward their creative thinking on using a public space.
The Isamu Noguchi Foundation and Garden Museum is another gem, also located in Long Island City, Queens. The museum is a creation of the Japanese American artist and sculptor Isamu Noguchi. His phenomenal abstract works, including his famed paper lamps, are exhibited here giving us an insight into his aesthetic designs.
Bronx
Many tourists head into the Bronx to see its biggest attractions. These include the New York Botanical Garden and the Bronx Zoo. However, the Bronx Museum of the Arts on Grand Concourse is an off-the-beaten-track museum that is also well worth a visit.
Founded in 1971, the museum represents the diverse culture of the Bronx. It bestows an emphasis on African, Asian and Latin American artists through a variety of contemporary and 20th-century art. Mediums include paintings, photographs, mixed media and more.
The Bartow-Pell Mansion Museum is a 19th century estate at 895 Shore Road. The Van Cortlandt Manor Museum, the oldest standing house in the Bronx, is at 6035 Broadway.
These are two historic house museums in the Bronx that are lovely to visit. Walking through the richly decorated rooms and the exquisitely maintained gardens, you might forget that you are in NYC.
The houses are part of the group of historic houses found in the boroughs of New York City. You can access the entire list at https://historichousetrust.org/houses/
Staten Island
The borough of Staten Island is easily accessible from Manhattan by way of the free Staten Island Ferry. Just a few minutes' walk from the ferry terminal you will reach the National Lighthouse Museum.
This historic site served as the quarantine point for immigrants long before Ellis Island existed. The museum is located on the former site of the U. S. Lighthouse Service's General Depot.
Its exhibits bring to light the history and development of lighthouses across the nation. Seasonal boat tours from the museum are also an incredible way to view the waters of New York City.
Historic Richmond Town, a living history village and museum, is quite a popular tourist site. However, you may also think of going to Snug Harbor Cultural Center & Botanical Garden, which began as an 83-acre property for retired seamen.
The 28 buildings in the complex showcase the architectural era of the 19th and early 20th centuries. Today, these buildings are home to galleries and museums. Additionally, there are 14 gardens. Stroll through the magnificent bamboo-lined path to enjoy the Ming Dynasty-style Chinese Scholar's Garden.
Staten Island is home to the exceptional Jacques Marchais Museum of Tibetan Art. The museum resembles a Himalayan monastery set atop Lighthouse Hill. It was founded by Jacques Marchais in 1947.
She was a child actor who became fascinated with Tibetan history, culture and art. All without ever stepping out of the U.S. The museum displays her exquisite collection of Buddhist artifacts from Tibet, Nepal, Mongolia and Northern China.
Brooklyn
This area is well known for the incredible Brooklyn Museum and the Brooklyn Botanic Garden. However, the borough of Brooklyn also has an array of less traveled museums.
For example, you can begin with The Waterfront Museum, located on the water in the Red Hook section of Brooklyn. It is housed in the 1914 Lehigh Valley Barge number 79, a railroad barge bought in 1985 by David Sharps.
He was a juggler and entertainer who evolved into being a preservationist and a museum curator. Inside are exhibits on nautical equipment and local cultural performances are a prime draw for families.
The City Reliquary on Metropolitan Avenue in the Williamsburg neighborhood is another impressive off-beat museum to visit. This community museum began with founder Dave Herman displaying artifacts in the window of his ground floor apartment.
Subsequently, it has since developed into a gallery with permanent and rotating exhibits of NYC-related objects and memorabilia.
Train buffs will enjoy the New York Transit Museum at Boerum Place in downtown Brooklyn. This cool NYC museum is housed in a decommissioned underground subway station where you can wander through engrossing exhibits of vintage subway cars.
In addition, rare photos show the changing cityscape with the advent of the subway in the early 20th century. Plus a variety of objects and ephemera that looks at all modes of transportation in New York City.
If You Go:
New York City requires visitors to show proof of COVID-19 vaccinations for entry into museums. All museums follow COVID-19 protocols.
Visitors are expected to reserve timed tickets in advance before entry. Many museums are also offering free or pay-as-you-wish admissions and these too have to be reserved in advance.
For more unique activities in New York City, skip-the-line tickets, expert-led tours and more fun check out GetYourGuide. Find additional information and book your dates in advance here.
Visit the museum websites for all up-to-date information.
Author Bio: Susmita Sengupta, an architect by background from New York City, loves to travel with her family. Her articles are published in many online travel magazines including at Go World Travel.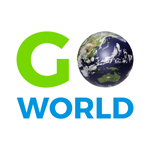 Latest posts by Go World Travel Magazine
(see all)