Lisbon is very much a walkable city. You can leisurely stroll across the entire city, hills and all, in a day. Or perhaps seven days, if you want to stop and see all of the sights along the way, breaking for meals once in a while.
The city of Lisbon is sort of like a museum of museums and sights itself. It is a city with many pieces (churches, overlooks, castles, and museums) in its collection. However, when it comes to Portuguese National Museums in Lisbon, there are a few gems that stand out.
One drawback for the walker is that they are a bit out of the way. They are still walkable if you're making a day of each one. But it's worth spending a few dollars to take a taxi to and from if you're fitting them into a busy itinerary.
In other words, these national museums are not smack-dab in the middle of the dozens of other attractions that are centrally located. However, you don't want to miss them just because they're a half-hour walk, or ten-minute taxi ride, out of the way. They're worth taking the time to visit.
National Museum of Ancient Art
Portugal's National Museum of Ancient Art contains forty thousand items. This includes paintings, sculptures, gold, furniture, textiles, tapestries, ceramics and prints. It counts itself as one of the most visited museums in the nation.
The museum is located in the former Palace of Alvor which became the home of Marquis of Pombal in 1770. Later, in 1884, it became a museum to house the collections of the Royal Family and the National Academy of Fine Arts.
Best Tips & Tools to Plan Your Trip
The palace is situated about a ten-to-fifteen-minute walk (or short taxi ride) west of Commerce or Palace Square, in the opposite direction of Alfama, along the river. It's about halfway between Alfama and Belem.
Highlights of the museum include a ceramic violin, carved ivory salt cellar and Japanese screens depicting trade between Japan and Portugal. There are also the St. Vincent Panels by Nuno Goncalves, and paintings by Bosch, Raphael, Durer and many others.
Calouste Gulbenkian Museum
For art lovers like us, the Calouste Gulbenkian Museum in Lisbon is the most impressive art museum in Portugal and one of the best private art collections in Europe.
Curated by its namesake, an Armenian oil magnate, the collection is wide-ranging and includes paintings, sculptures, porcelain, textiles and jewelry.
Art in Gulbenkian's collection comes from China, Japan, the Islamic world, ancient Egypt and across Europe. French decorative arts include Luis XV and XVI royal furnishings from the 18th century and silver from the same period.
We were impressed with impressionism, including significant works by Monet, Manet, Renoir, Degas, and Cassatt. Also featured in the museum were sculptures by Rodin, and paintings by Rubens, Turner, Sargent and Corot.
"Here's my favorite part of the museum," Nataliya said as we entered the collection of Rene Lalique.
Pieces in Lalique's collection include jewelry, broaches, combs and glassware. In addition, there are displays that feature intricate carvings, etchings, and semiprecious stone inlays. Especially stunning was a bejeweled peacock corsage ornament.
It was like a golden bowtie with the bird at its center and it's tailfeathers flowing out in both directions with opals, diamonds, and enamel. Also impressive was the beautiful Dragonfly woman corsage ornament that looks almost like a large pin or broach.
It had a woman's head and torso extending to a pillar-like dragonfly body and beautiful extended wings of gold, moonstones, chrysoprase, chalcedony and enamel.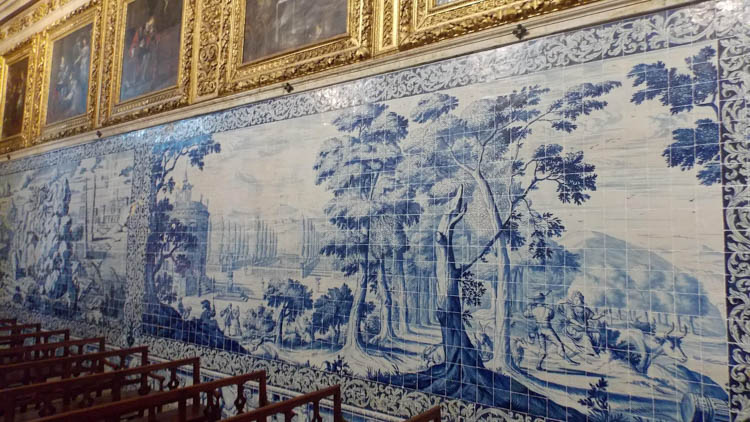 National Tile Museum
About a 30-minute walk or 10-minute cab ride up the coast from Alfama is another Portuguese treasure, the National Tile Museum, or National Museum of the Azulejo.
It doesn't take long in Portugal to learn that the national art form is the azulejo, or decorative tile. So, it's fitting that they've fit so many beautiful and historic tiles into one museum. In fact, this isn't just the biggest display of decorative tile in the country—it's one of the largest collections of ceramics in the world.
The building housing the tile museum was once the Convent of Madre Deus, founded by Queen Lenor in the early 1500s. Some of the tiles featured in the museum are even older. The displays in this museum date back to the 1400s and bring visitors to the present day.
The tiles range from decorative patterns to panoramic landscapes. There is a hunting scene from the 1600s and almost soviet-looking agricultural and industrial scenes to promote the value of good work. Plus,  an amazing panoramic of Lisbon as it appeared before the 1755 earthquake. It shows the former palace where Palace Square (or Commerce Square) now lies wide open.
Although it can be tempting to skip the museum since the entire city of Lisbon seems to be a museum to tile, this is certainly worth the visit. Relatively small compared to greater art museums, this out-of-the-way place arguably features the best tile collection in the world.
During our time in Lisbon, we preferred to stay close to the center with the winding, fado-filled streets of Alfama, the lively buzz of Rue Agusta and the elaborate stone carvings in Belem.
But these three National Museums, to ancient art, Portuguese tile and the collection of Calouse Gulbenkian, are a great way to round out a visit to Lisbon.
If You Go
Many major airlines fly into Lisbon Portugal from just about every international airport in the U.S. and Europe. There are also a number of Lisbon tours available through travel companies that you can find here on Go World Travel.
Tourism has taken off in Lisbon and there is no shortage of places to stay. We found our family-owned apartment on Airbnb.
It was a spacious flat right on the square across from Apalonia Station and next to the Military Museum, right in the roots of our favorite neighborhood: The Alfama. You can also find hotels and flats on Booking.com and other accommodation websites.
The easiest and most enjoyable way to get around Lisbon is by foot. These museums are a bit off the beaten path but if determined, you can walk to and from them. However, taxis in Lisbon are inexpensive, and it's worth paying $10 to save half an hour of walking and searching urban streets.
The public transportation system is easy enough to use, but if more than two or three are traveling, it's the same price (and easier) to get the door-to-door service of a taxi. Save Tram 28 for the old-town tourists.
Book This Trip To Visit Museums in Lisbon
Start planning your Portugal getaway today. Get prepared with knowledge on how to get around, hotel and VRBO accommodations, local restaurant reviews and more through TripAdvisor and Travelocity.
Plan even more fun by booking unique Lisbon activities, expert-led tours and skip-the-line tickets to major attractions through GetYourGuide. Find more information and book your dates in advance here.
For the best flight deals, train tickets and car rental options check out OMIO Travel.
Author Bio: Eric D. Goodman is author of six books, the latest being Wrecks and Ruins, set in Baltimore and Lithuania. His thriller, The Color of Jadeite is set in China. Learn more about Eric and his writing at www.EricDGoodman.com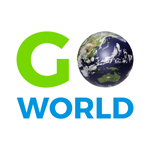 Latest posts by Go World Travel Magazine
(see all)