Our favorite area to stay in Lisbon is Alfama. It's as ancient as Lisbon itself, being the oldest neighborhood of the city, founded in 1200 BCE. The rustic neighborhood looks like something out of a sketch from centuries ago.
Historic apartment buildings with red-clay roofs are everywhere. Cobblestone side streets twist through the hillsides connecting little squares. Plus decorative tiles mark doorways and locals sell liquor from their windows—or hang laundry from them.
There's more to Lisbon than Alfama, and certainly more impressive things to see. Some individual sights in Belem and other parts of the city are more impressive, but there's just something about the authenticity of Alfama Lisbon.
Beneath the layer of tourism, we're still walking on the same cobblestoned streets, up and down the same hills, through the same buildings that existed here before the great earthquake of 1775.
Other neighborhoods have been rebuilt after one disaster or another, but not Alfama. Moreso than in other parts of Lisbon, what you see in Alfama is what you would have seen 200 years ago.
Portuguese Coffee and Egg Custard
Our first stop when we arrived at Lisbon's Santa Apolonia Station around 9 am was a simple little cafe for Portuguese coffee and egg custard.
We reached it by crossing over the parking square, between the train station and the Military Museum's decorative façade and walking through the sidewalk tables and yellow umbrellas.
This was our second visit to Lisbon and we were familiar with this little square and café. Our adult and teenage kids, Nicole and Alex, had been talking about egg custards for a while.
My wife, Nataliya, and I had been too, along with the strong Portuguese coffee. And we wanted to make this little hole-in-the-wall café our first destination.
Best Tips & Tools to Plan Your Trip
Nothing exceptional, but special to us because of its simplicity. There was an old man at the counter serving coffee and pastries and locals were sitting and reading newspapers, drinking coffee and having quiet conversations.
With the help of a customer who spoke English and a bit of pointing, we ordered our strong Portuguese coffee, tea and pastries as we waited for our host, Carlos, to find us where he left us years before.
Carolos greeted us at the café and helped us with our bags as we walked just a few buildings down to his: a corner building at the roots of the Alfama.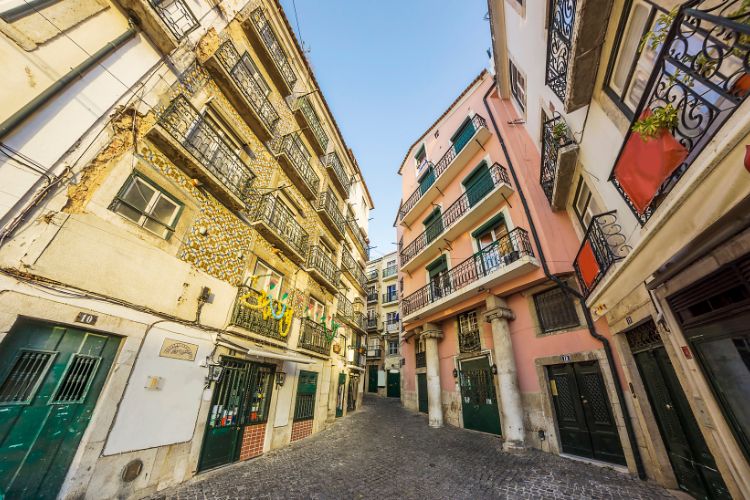 At Home in Alfama Lisbon
The spacious flat stood right on the square across from Apolonia Station and next to the Military Museum. Located on the second floor, our flat included an entryway, office, three bedrooms, kitchen, dining room and bathroom. The building was historic on the outside but completely new on the inside.
This was one of a few flats that Carlos and his family had purchased to renovate as guest houses. Knowing that the biggest and fastest-growing industry in Lisbon today was tourism.
The busy cafés bustled below. From our bedroom window, we could see both the river and the statuary adorning the military museum beside us.
The Alfama brings to mind a sort of old-world San Francisco. There are steep hills and yellow and red trollies roll by regularly, twisting through the narrow, curvy, hilly streets.
These days they are filled more with tourists than local passengers. In fact, we've learned that it's best to avoid hopping onto the popular Tram 28 unless you want to be taken for a ride.
Looking at the area today, it's hard to believe that Alfama was once the wealthiest part of Lisbon. Fear of earthquakes motivated wealthy residents to flee to other areas. Ironic, since Alfama is the only neighborhood to survive the big earthquake.
Struggling fishermen and workers populated the Alfama in 1775 during the earthquake that saw the rest of Lisbon suffer. Their spirit lives in the neighborhood today.
Come to think of it, Alfama is much like that first café we wanted to hit upon returning. Nothing exceptional, but special to us because of its simplicity. Alfama is not necessarily magnificent or notable, but it is pleasing and comfortable in its authenticity.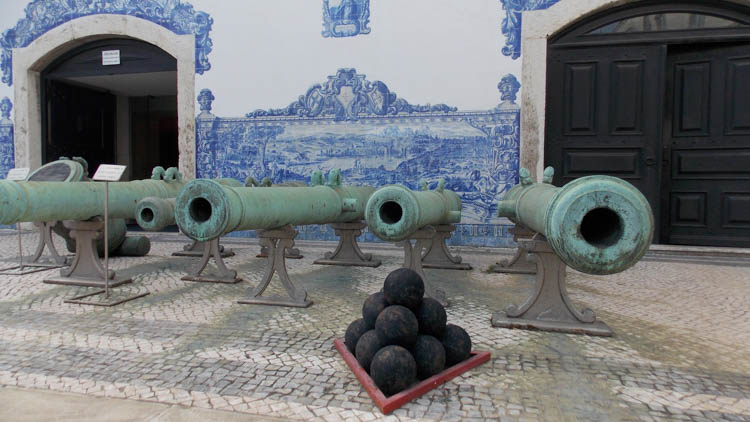 Museums in Alfama Lisbon
The Military Museum was easy to find since it was just next to our flat. However, it's easy for anyone to find because it's just across from Santa Apolonia's train station. The building itself is a beautifully embellished 16th-century cannon foundry and weapons storehouse.
Today it showcases old cannons, weapons and military items from throughout the ages, from flints and spears to guns and cannons. Beautiful coats of arms and crests decorate the rooms and doorways.
The walls and ceilings of the rooms themselves look more like those of a palace than barracks. This Lisbon museum stands its ground against other museums in the city.
One such other museum is Casa dos Bicos or House of Diamonds. The former home of Nobel Prize-winning author Jose Saramango is now a museum dedicated to his work. The permanent exhibition of Saramango's work, including multiple copies of his books in multiple languages, is impressive.
However, it's the façade of the building, covered in diamond-shaped stones, a style popular in the 1500s, that most people find most interesting.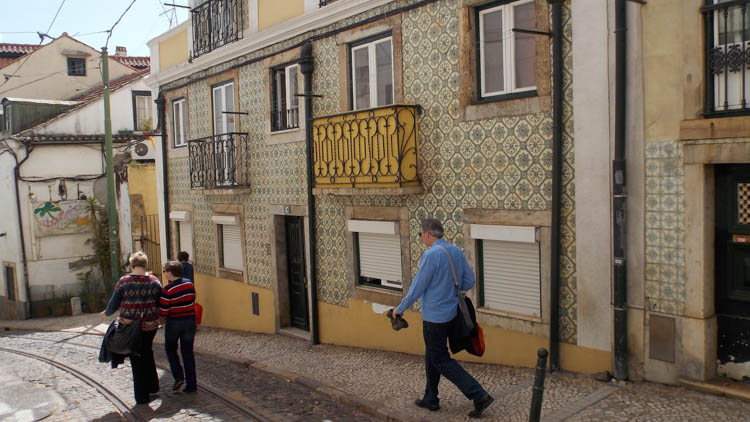 Stroll the Cobblestone Streets
"What are we going to do now?" Nicole asked.
"Probably walk around some more," Alex said.
One of our favorite things to do in Alfama Lisbon is to simply explore the winding streets without a map. Each time you set out for a stroll across the cobblestone you discover new things or are greeted by old favorites.
Like the hole-in-the-wall Gingija bar we visited every couple days during both visits. Just an open door, one table for two on the street, another table for two inside, and a small bar large enough for three people to stand at. People walk up and order their Gingija or Port, beer, wine, or coffee.
They have a quick drink and perhaps a short conversation, then pay the barkeep and move on. We enjoyed seeing the familiar, friendly faces behind the bar each time we returned for another refreshment.
"We made some regular friends last time we were here," Nataliya reminisced. Many of the same locals, Brits, and other European visitors would show up each time we visited. After a few visits, sometimes the bartender would tell us what we wanted instead of the other way around.
A stroll through Alfama always features beautiful blue, yellow and full-color tiles, often hand-painted, decorating houses and buildings. The tiles displayed scenes of Fado, of historic figures, religious images, ships and battles. There was even a map of Alfama rendered in blue and white.
Miradouro de Santa Luiza
Sometimes you come across an entire courtyard filled with decorative tile and offering an amazing view of the city of Lisbon. An example of this is Miradouro de Santa Luiza—a terrace next to a church with a sweeping view over Alfama and the river.
You can usually find tourists here taking pictures. But also street musicians playing Portuguese Guitarra, old men playing cards and street artists selling their painted tiles and watercolors.
Next to the terrace is the church that gives it its name: Santa Luiza, built in the 12th century. You just can't miss the white façade with its striking red door. But the highlight of this church for most visitors, including us, is the blue and white tiles depicting historic scenes on the exterior wall in the terrace.
Just beyond the terrace, we visited the Museum of Decorative Arts, a nice little institute that has been preserving the traditions of Portuguese decorative arts since the 1950s. Here we took in the ceramics, textiles, porcelain, and of course, tile panels.
The museum guards often simply sit in chairs and tell people not to touch. However, here they offered to tell us about some of the interesting pieces of decorative furniture.
We even enjoyed a demonstration of how to apply gold leaf to woodwork. This was something that may come in handy as we consider refreshing some of our antique frames back home.
Alfama's Religious Experience
The Alfama is most known for its hilly streets, authentic architecture, sweeping views and old-world feel. But the other thing that struck us during our time in the neighborhood was the beautiful churches, featuring styles and scales as diverse as the people visiting them.
Lisbon's cathedral is Se, built in 1150 on the site of an old mosque. Its twin bell towers and the rose window over the arched door between them characterize the Se Cathedral.
Perhaps not the best location, it was destroyed by earthquakes three times in the 14th century. And again, in the big one of 1755.
Inside, the carved tombs of 14th-century nobles show their stone bodies at rest on top. They are, clutching prayer books and have dogs resting or fighting for table scraps at their feet. The church features individual chapels, a gothic cloister and a treasury with relics, robes and silver.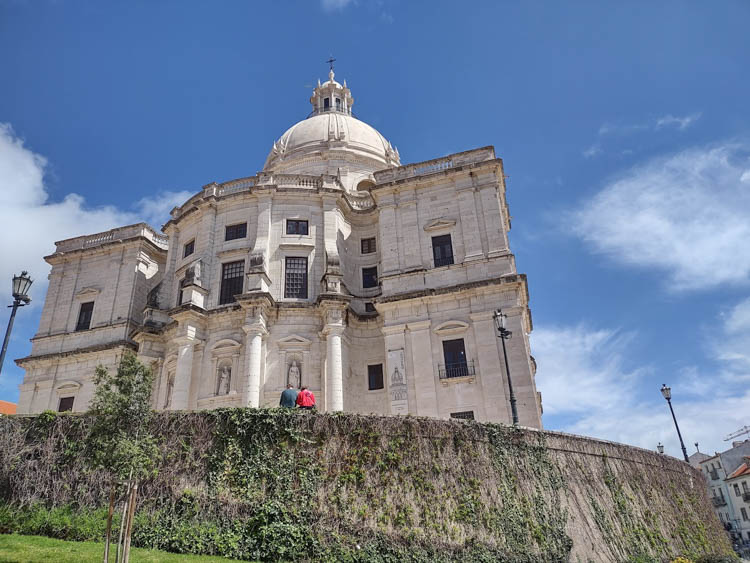 Santa Engracia
The gleaming white dome of Santa Engracia, or Portugal's National Pantheon, can't be missed. Construction started on this Baroque monument in the 1600s but was not completed until 1966.
"Maybe this is where Gaudi was inspired to go with a hundred-year-plus timeline for building his Sagrada Familia in Barcelona," I suggested. But the teenager didn't roll his eyes for long—there was too much to see.
Inside, the enormous interior of Santa Engracia felt grand. The floor was tiled with multicolored marble and sun shone in through the cupola. On display were cenotaphs of Portuguese heroes, like Vasco da Gama and Alfonso de Albuquerque.
We climbed the stairs, with a rest stop halfway up, for a view of the interior from above. Eventually, we came to the top, where we could walk out on the wide-open roof for an amazing view of the city and a close-up of the dome from the outside. It was extremely windy when we visited; I had to hold on to the hat that I removed when I entered the church.
Beware: in order to come back down, you must first return inside and walk around a narrow, circular passage that wraps the interior of the dome.
The railing is low, the balcony is high, and the path is narrow. Vertigo sufferers may want to sneak back down the up path. The view—inside and out—is worth it.
Relax in the Park
Back outside, not far from the Pantheon, is a community park. Here you can sit on a bench and enjoy a panoramic view. Or, use any of a number of exercise contraptions to work the muscles you haven't been working while walking up and down the hills of Alfama. We tried out some of the metal machines in the park, just for fun.
We happened to be passing by this way at the right time. On Saturday and Thursday, there is a Feira da Ladra, or "thieves' market." It's a sort of flea market, with some of the vendors regulars and others coming occasionally with their goods.
Nataliya found a great deal on a large, hand-painted ceramic pitcher from Coimbra. It was a fraction of what it would have cost new in one of the shops we had visited there. After such a steal, we felt the need to repent, so we decided to go back to church.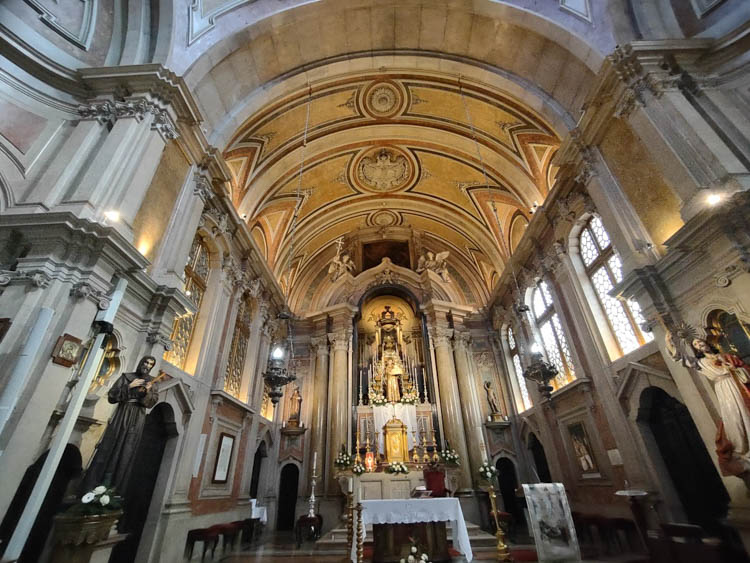 City of Saints
Santo Antonio church is built on the ground where the house of St. Anthony's birth once stood. After the original church was destroyed in the big earthquake in the 1700s, local children crossed the community begging "a small coin for St. Anthony." People parted with their coins to restore the church.
When we visited, coins continued to decorate the floor of the little chapel in the crypt. A blue and white tile depicts Pope John Paul II's visit in 1995. It's a small church, but you can't miss it. A statue of St. Anthony with a child on his shoulder stands in front of it.
Or just pray to St. Anthony, the Patron Saint of lost things. He's sure to help you find it.
Another church worth finding is Sao Vincente de Fora, noticeable for its off-white Italian Renaissance-style façade. St. Vincent is Lisbon's patron saint, and his statue stands over the entrance.
A baroque canopy decorates the altar, and the monastery features a cloister with decorative tiles. An interesting highlight is the tomb of Carlos I with the stone statue of a woman praying before it, her clothing appearing real from certain angles.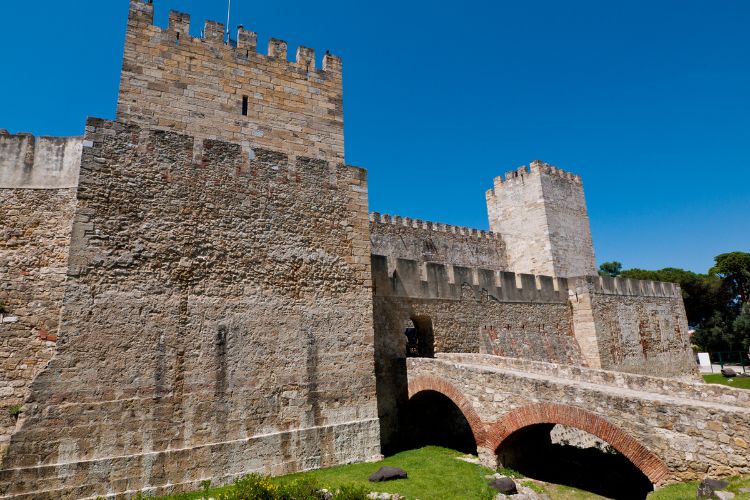 Storming the Castle
A light rain began as we continued up the cobblestone paths toward the castle. It seemed like an appropriate time to storm the Castelo de Sao Jorge.
After retaking this mountaintop site from the Moors in 1147, the king transformed the citadel into a royal residence. Little remains of the original castle, rebuilt in the early 1900s to appear as it did during medieval times. But it's still fun and interesting to explore.
We walked along the battlements, climbing the towers for great views. A terrace offered panoramic views of Lisbon and the river below.
Gardens populated with trees and peacocks made for a fun, lazy afternoon. The peacocks even perched in trees and strutted around outdoor cafes waiting for food—almost like beautiful pigeons.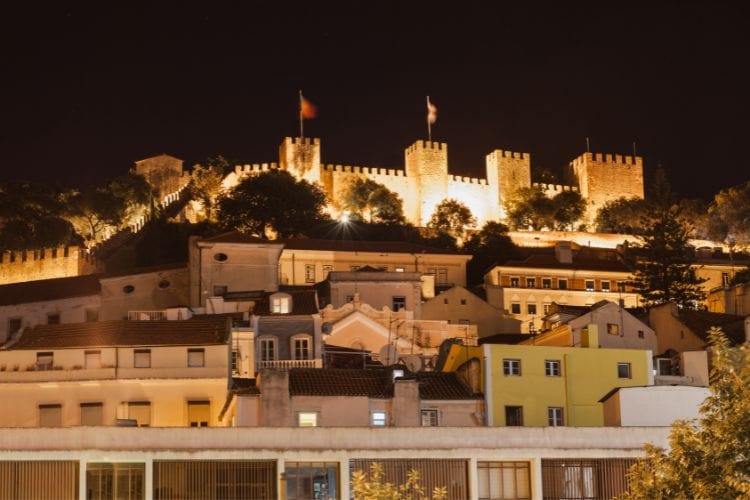 Torre Da Igreja do Castelo de Sao Jorge
Beside the castle is the charming little Torre Da Igreja do Castelo de Sao Jorge. It seemed to escape most tourists since it blended in with the neighborhood landscape. It's not as polished as some tourist sights, but that gave it a more authentic feel.
The tour began as our guide poured us a Portuguese drink: port, liquor, beer, wine, or juice. I had a port, Nataliya tried a green wine, Nicole went with red and Alex had a Portuguese beer.
With our glasses in hand, we climbed the bell tower, where we took our time standing between the bells and enjoying the incredible view of the castle grounds from one side, the river from another and the rooftops of Lisbon from another.
Three bells hung in the four open arches. After enjoying the view—and our drinks—we returned to the base of the tower. We were then escorted to the old church that appeared to be a dusty relic itself from a time long passed.
A thick man in a suit stopped us as we began to enter the church. "No, this is not a tour site."
"But we have tickets," I said.
"This is a funeral," he said.
The guide who sold us the tickets was quick to intervene, escorting us away from the main entrance of the working church and through another entry.
Fortunately, the church was empty and there was no funeral service taking place. But it did look like they might be preparing for one given the somber, darkened interior. We didn't spend long in the church, but the visit to the bell tower was worth the visit.
Art in Alfama, Lisbon
Walking down from the castle area, a woman leaning in her upstairs apartment window yelled down at tourists who bumped her clothes that were hanging to dry below. Vendors stood on the edges of the cobblestone path, selling everything from painted tiles to paintings, sawed-out coins to cork purses and hats.
Continuing our stroll down from the castle, we entered the pleasant art gallery of Ukrainian-born Stepan Zaporozhan, where he served as a sort of living art installation himself, working on a painting in front of customers. Several half-finished works were scattered around him. And hundreds of completed works—oils, watercolors, tiles—hung on the walls.
His son greeted us when we entered and showed us around. Portuguese guitar-infused covers of songs by Paul Simon, Guns and Roses, and Leonard Cohen played softly in the background as we selected some art. We learned that he worked as a street artist himself for several years before earning enough to open his own gallery.
"These are beautiful," Nataliya complimented.
"A lot better than the factory-pressed ones out in the souvenir shops," I said.
Alex browsed some of the postcard-sized limited prints. "Can I get one?"
As we picked out a few original items, we had a conversation about the current situation in Ukraine, his family still back home, and how fortunate he and his immediate family were to be in Lisbon during the war.
Before leaving the castle district, we stopped off for a snack on Tram 28. Not the actual tram, but a restaurant located within an old tram car, complete with diner-style booths and trolly-style bars.
"Too bad this thing doesn't work," Nicole said. "We could ride our way back down while we eat."
"If it worked," I said, "we probably would have ridden it up while we ate."
Instead, we ate and walked our way back down the cobblestone path.
Finding Fado
No stay in the Alfama is complete without experiencing fado. It's hard to escape even if you try. Walking through the streets at night, you'll hear the music wafting from open-doored restaurants and cafes at every corner.
Fado is like the Portuguese version of the blues. Many of the songs originate from a time when women sang sadly about their sailor husbands who never returned from sea.
But be careful stepping into a fado establishment without looking it over first. Otherwise, you may be wailing a fado-esque tune about the loss of your money.
While enjoying a fado concert is a wonderful experience, some fado restaurants are notorious for ripping people off. Food and drink at a fado restaurant will be two to three times what you pay for the same food elsewhere, and that's to be expected as payment for the entertainment.
In fact, one fado restaurant that we went to accidentally gave us both a fado and non-fado menu, where everything was the same except for the prices. The people luring you in will tell you that the show is free if you have dinner, and it is worth overpaying for the food so that you can enjoy the music.
But we've learned to take a close look at our bill before paying because they may charge for the music they promised was being paid for by overpriced food.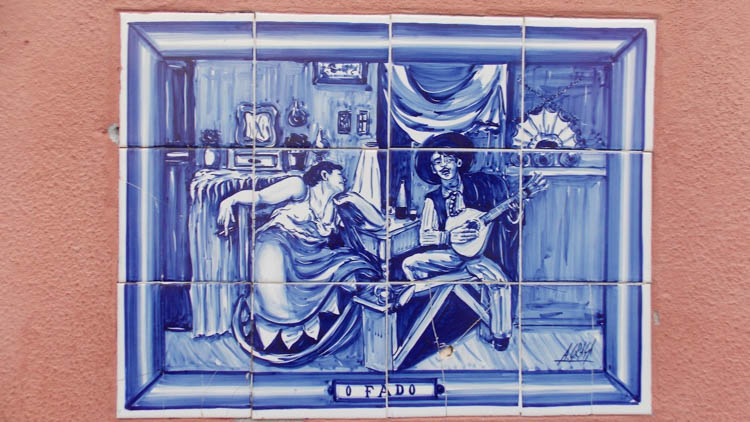 Our friendly waiter was quick to put snacks on the table, some of them being snacks we didn't want. So began a game of push and pull, moving them to the side and finding them back at the center. We had to make it clear that we didn't want the things we didn't want so they wouldn't appear on our bill.
When traveling in another country, we usually prefer to pay in cash using the local currency—in this case, Euros. But sometimes it pays to use a credit card as a layer of protection. For fado and certain restaurants, we sometimes pay by card so we have the option of contesting the charge if we notice something wrong later.
Cashing out can be hectic with the loud music and dark room, or, in some cases, a rush of people leaving between sets or during a rushed closing time.
There are dozens of fado restaurants in Alfama ranging from shady to trendy. There are two that we really enjoyed, each offering a different experience.
For rustic, folksy experience, we enjoyed Tasca do Chico.
For a pricier, glitzier show-club experience, Clube de Fadois a good choice.
In either place, we expect the music and overall experience to take precedence over the food.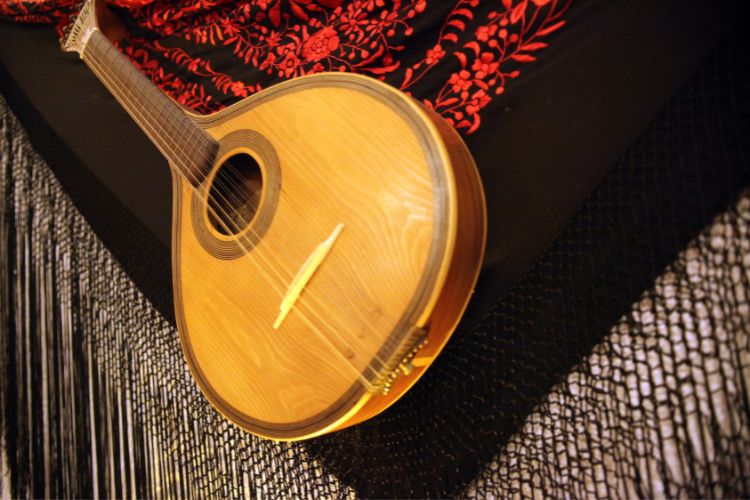 Fado Museum
Another way to enjoy fado is at the Fado Museum, in front of a small square in Alfama, Lisbon. However, during our visit, there was little fado to be heard within the walls of the museum.
Exhibits of pictures, instruments, and video clips revealed the story of Fado's history. Listening stations (at least the ones that worked) allowed us to put on headphones to hear samples.
The Fado Museum is worthwhile, but it's not the best of the museums in Lisbon if time is limited, nor is it the best way to experience Fado.
The best way to learn about fado is to experience it in the air around you, in an authentic setting. To walk into a hole-in-the-wall restaurant, often owned by fado musicians themselves, and sit back and feel the soulful music.
As long as we remember to establish the price, refuse the unwanted snacks, and double-check the bill, a night of fado leaves us feeling much happier than the sad music would seem to imply.
If You Go
Tourism has boomed in Lisbon, and even with the pandemic, we could see a difference between our visits in 2016 and 2022. The extra tourism dollars have created some more polished squares and posh restaurants.
However, the city still has a rustic, undiscovered feel to it compared to more widely visited cities in Europe. And a lower price tag to go with it. Plus there's no shortage of places to stay as entrepreneurs have created a number of nice furnished apartments in historic buildings.
We booked a nice-sized, three-bedroom flat with a kitchen for a week that cost less than a hotel. And wherever you are in Alfama, Lisbon you're within walking distance of just about everything.
Vehicles are a commodity in Lisbon. Everything is within walking distance, and if you don't feel like climbing the cobblestoned hills, there are trams, taxis, and even public elevators.
Taxis are inexpensive, especially if traveling with two or more people. Even to and from the airport, you'll save money and get door-to-door service with a taxi if there are three or more.
Author Bio: Eric D. Goodman is author of six books, the latest being Wrecks and Ruins, set in Baltimore and Lithuania. His thriller, The Color of Jadeite is set in China. Learn more about Eric and his writing at www.EricDGoodman.com