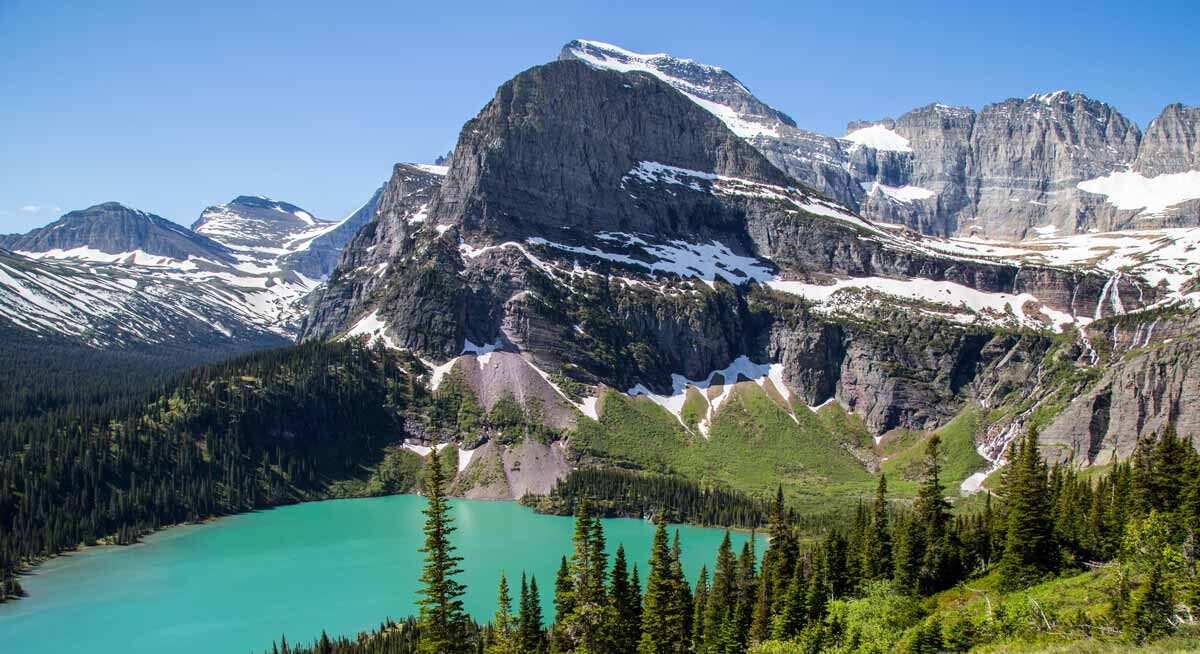 Each grueling step I took in the upward slog to the summit felt less like progress and more like an insane undertaking, completely unachievable the further off the ground I climbed. Nearly 9,000 feet of elevation and eight hours of strenuous climbing had turned my senses to mush.
Maybe it was the giant gallon bag of melted Cliff bars, or perhaps it was the concerning fact that I'd run out of water hours ago, but every step I took expended more energy than I had left in me.
This was my Everest, I thought as I trudged on ever so slowly, just a tiny speck on the jagged ridge of this monster of a mountain. The sun baked my body, seeping into the fibers of my black t-shirt and currents of sweat dribbled down my forehead.
This was the hardest undertaking I'd experienced. Physically and mentally, I was climbing this mountain with all that I was.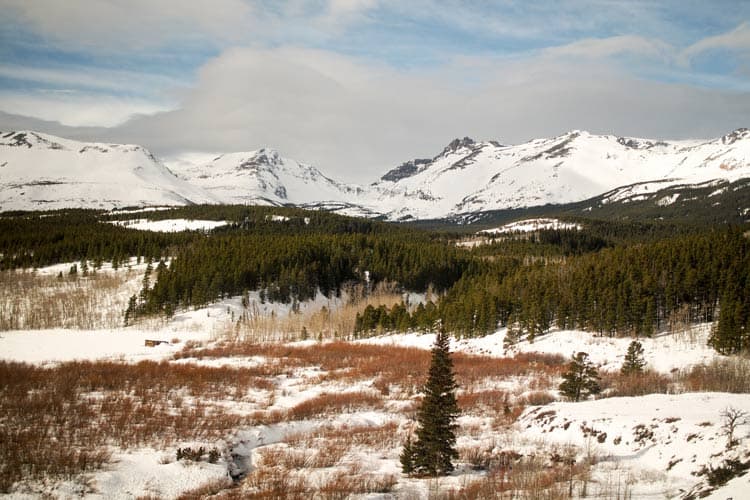 Hiking Heaven's Peak in Glacier National Park
Glacier National Park is located in West Glacier, Montana in the American Northwest. It is a place where people take joy in hiking, mountain climbing, fishing, skiing, camping and other various outdoor activities.
Heaven's Peak dominates the skyline, seeming to even tower intimidatingly over some of the taller peaks around it. Its permanent snowfields and sheer rock faces are nothing short of spectacular. It's the textbook definition of a massive mountain.
Make sure to pack your binoculars and camera for this adventure. Canon has great options for durable, light-weight and even water-proof electronics to capture the best parts of the trek. Browse the outdoor electronic gear here.
When I first came to Glacier, I proclaimed, with naiveté, that I would someday climb it. The instant Heaven's Peak came into view through the car windshield, the mountain had a hypnotic hold over me.
The Impossible Dream of Hiking Heaven's Peak in Montana
The more I talked about it, the more obsessed I became, and the more I was discouraged with everybody's responses to my designated "pipe dream." My friends, co-workers, and fellow climbers all scoffed at my plans, assuming I wasn't really serious about this endeavor.
"Nobody climbs Heaven's Peak," they told me. Very few had, and those who did were intense climbers, to begin with. That, and they were probably a bit on the mental side.
And then there was me: an amateur hiker at best. What I lacked in skill, experience and knowledge, I certainly made up for in heart, determination and pure grit. But was that enough to conquer a mountain some of the most experienced hikers dared even attempt?
One year later, I discovered the answer.
Which Route on Heaven's Peak?
My team consisted of Ashley, a free-spirited barista who bagged peaks like nobody's business, Jim, a fast-walking power machine, who aspired to chug a beer on every summit; and Andy, my former boss-turned-friend and king of solo summit attempts.
There are a number of routes to the summit, each their own version of hell. We opted for the North Ridge, which offered a questionably maintained trail and Class 2 and 3 climbing — simple scrambling, minimal exposure, and no real need for a rope. We also avoided the miles of bushwhacking and technical climbing that the other routes were doomed with.
Gloves with a good grip and some light layers to protect from the sun are pretty important on a journey like this. Colombia has great moisture-wicking long sleeves and protective gear. Check out their selection and deals here.
However, we were tacking on many additional miles and a multi-day trip in the backcountry. This meant more gear and more weight added to our already-hefty packs. The approach — the walk in — would cover thousands of feet of elevation just to reach the base of the mountain. We had two days to navigate 30 unkempt miles.
I knew before we even started, this would be the boldest thing I'd ever attempted to do. I just didn't know where the line between ambitious and pure stupidity crossed, and I hoped I wouldn't find out the hard way.
A Near Moose Attack While Mountain Climbing in Montana
We'd spent the previous night camping at Arrow Lake, seven miles deep in Glacier's backcountry, and awoke to aches and soreness that made me cry out in pain. Still, I forced myself out of my cocoon-like sleeping bag and into dawn's frozen air.
The trail — or lack thereof — began with a harsh river crossing before the sun even cleared the horizon. Rushing water froze my legs like popsicles, and staying upright on slippery moss-covered rocks with a 20-pound pack was a tedious balancing act.
Suddenly, we heard a rustling in the brush.
Heads on a swivel, my hand intuitively went to my chest strap, where my canister of bear spray — aerosol bear deterrent — hung. Senses were on high alert in grizzly country, and being out in Glacier's backcountry warranted a constant sense of paranoia. There was a large commotion as a ginormous moose towered over us, trampling trees like they were twigs. Bulls can be dangerous, unpredictable and aggressive, and an attack even deadly.
We skirted the lake's edge, holding our breath until what seemed like miles past. It wasn't even daybreak, and we'd already experienced a near-heart attack, hypothermic river temperatures and more excitement than we'd bargained for. To add insult to injury, we still had 90% of the climb ahead of us.
I knew it was going to be a long day. But, at this point, I hadn't the faintest idea of what obstacles lay far ahead.
A 2,000-Feet Climb on Heaven's Peak
After miles of ruthless bushwhack that attacked my body in scratches, we arrived at the base of the mountain.
Staring upwards at the 2,000-feet of pure rock that we were about to ascend, I could barely see to the top of the ridge. Physicality concerns aside, I gulped back my fear and got started with the long uphill battle that lay ahead. The beginning of the climb was thrilling. New terrain meant a renewed sense of excitement.
Much of the climbing was as expected, at first — mostly scrambling with a few vertical spots that required both foot and hand holds. Whether it was a tedious, technical move or a spot with dangerous exposure, my adrenaline ran steady as we slowly scaled the solid cliffs. With every couple hundred feet, I'd peer up at the top with waning hope; somehow, it seemed to be getting farther away the higher we climbed.
After hours on the wall, dodging falling rocks and pulling myself up, along with a backpack more than half the size of my body, was running me ragged. The closer we got to the ridge, the less stable the cliffs became, and my heart skipped a beat each time I grabbed a rock that turned to dust.
The skin on my hands was coarse and calloused from gripping sharp edges as if my life depended on it — which, quite literally, it did. I finally pulled myself up over the last band of cliffs, standing on solid ground for the first time in hours.
We'd made it to the ridge, and the summit was finally in sight for the first time since leaving camp. Now directly under midday's beating sun, there was nowhere to hide and nowhere to go but up.
The Ridge Walk to the Summit on Heaven's Peak
The ridgeline that stretched to heaven was a brutal climb that required rolling elevation, false summits, and inclines so steep, it could hardly be categorized as walking upright. The sheer exposure of thousand-foot drop-offs which required me to walk, one foot in front of the other across a narrow slab, left my whole body quivering uncontrollably.
Reaching the summit mattered much less to my dehydrated body than the implications that came with it. I was going on hours of no water and had surpassed hunger so long ago that the dizzy spells had faded into numbness.
I cared very little about actually bagging this peak; logistically speaking, I needed to reach the summit, where a giant snowfield — my only chance of water — lay, melting in the midday sun. Grunting my way up the home stretch, I finally reached the summit — the very spot that I'd spent 365 days dreaming about. At that moment, my squished PB&J seemed more appealing than the panoramic views.
My team mustered a half-hearted whoop and high-fives all around, but it was evident that obtaining the summit had cost us a lot more than we'd bargained for. Climbing the mountain is only half of it; getting back down is just as hard. Again, dangerously short on water, we began our careful descent down the mountainside. Below me was 2,000-feet of air.
Taking a tumble on this part would be fatal and required a significant amount of coordination and concentration, which I had a hard time mustering. For hours, we descended in agony, carefully placing feet and fingers in tiny notches of the rock. I wanted to cry but didn't because my dehydrated body simply could not afford to lose more water.
Reaching solid ground was hardly cause for celebration. Night had fallen, and the most terrifying part of the hike was still ahead. Concerned about the decayed carcass we'd come across earlier and bushwhacking through grizzly country in the dark, this was exactly the kind of activity that got people killed. Nevertheless, we trekked onwards to base camp, led only by our measly headlamps.
After 16 hours of hiking, we collapsed in our tents and fell asleep before our heads had even hit the ground.
A Heroic Return to West Glacier Village
Returning to West Glacier Village felt a bit like a heroic homecoming; word travels fast in a small community and rumors were flying. Some had heard we'd gotten stuck up on the mountain, while others had conjured up far worse fates.
The first time I saw Heaven's Peak from the road again was a week after our climb. "The Loop" was a popular spot where people pulled off to admire the mountain.
As I sat there with my journal and a coffee cup full of melted ice cream, I overhead a tourist's conversation.
"Look at that mountain," she said, with a recognizable glint in her eye. "Do you think anyone actually climbs it?"
I smiled, got in my car, and drove home with Heaven's Peak shining in my rearview mirror.
If You Go:
Before you go, check out the National Park Service website for weather and road updates, trail tips and the best spots to see while exploring the Crown of the Continent.
Author Bio: Ariella Nardizzi is a journalist and photographer at the Walter Cronkite School of Journalism whose work has been published in Arizona Highways Magazine and a plethora of local news outlets in the Phoenix area. Her travels have taken her all over the globe, but she especially enjoys the excitement of the great outdoors and spends her free time rock climbing, backpacking and camping.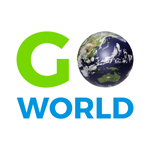 Latest posts by Go World Travel Magazine
(see all)