Editor's Note: Travel is complicated right now. Please check local regulations and location openings before you go. We share places, products and activities we recommend. If you make a purchase using a link on our site, we may earn a commission.
When I crested the bluff overlooking Estes Park, the sun pushed away the gray that had followed me all the way from Denver (an hour away) to reveal bluebird skies.
Estes Park, Colorado, that sweet mountain town guarded by 14,000-foot peaks of the Rocky Mountain National Park, rests in a cleft carved by the Big Thompson River.
I was drawn here by the vivid descriptions of this magical realm by Isabella Lucy Bird, a 19th-century English explorer, writer, photographer, and naturalist.
She journaled her stay as she rode 800 miles solo on her trusty mare Birdie in 1873. Her book, A Lady's Life in the Rocky Mountains, gives unique insight into the Colorado of the past.
Estes Park, Colorado
Today, Estes Park is a bustling tourist town filled with mountain kitsch, outdoor gear shops, singing cowboys, and a few good eateries.
A delightful park cooled by the spray of the Big Thompson that runs through the heart of town is a welcome stop.
Estes Park is a haven for hikers who want to know the beauty of the ethereal high country. People of all shapes and sizes line up for shuttles in town and in the park that take them to well-marked trailheads.
What to Do in Estes Park
A local woman told me the hike to Loch Lake was the best one for me—a fairly fit boomer. I had planned on staying at lower elevations, but not wanting to miss out on the full-tilt Rocky Mountain experience, I set my sites for the glacier-fed lake.
I hopped off the shuttle at the Glacier Basin stop. I was told that the Bear Lake stop will take you to the lake as well, but that it is a more difficult approach. The first leg of the inviting path took me over a footbridge crossing a chuckling creek lined with lush grasses and fern fronds. A stair-stepper climb later found me at Alberta Falls.
For any hike like this, you'll need some durable boots that can handle all types of weather. Some of the comfiest hiking boots are on special at Columbia here
.
Energetic water charging over immense boulders carves a gorge framed in orange rock formations striated with mineral deposits. Once the territory of gold seekers, hunters, and cattlemen, Rocky Mountain National Park (established in 1915) is preserved for all of us to enjoy.
Young couples with baby carriers on their backs to seniors with walking sticks shared the beauty of this bright day in late June. The intoxicating air, the promise of more solitude, and the mystique of the crystalline alpine waters pulled me up the canyon.
The altitude was affecting me, so I took many rest stops beneath shady Ponderosa pine or the spinning leaves of aspen trees. The mountainside trail that led to stunning vistas of granite precipices overlooking the river was lined with a profusion of wildflowers: lavender lupine, fire engine red penstemon, and yellow wallflower to name a few.
I was getting quite tired when I ran into the woman who had recommended this trail on the way down from the lake. She was leading a hiking group from Germany.
"Am I almost there?" I asked hoping she would tell me to throw in the towel and go back down to the safety of lower elevations.
"You are just three switchbacks away. Don't give up."
"It's worth it," called a beaming German lady marching briskly down the rock-strewn trail.
Now I couldn't turn back without reaching the promised nirvana.
Estes Park Lakes
When I hit snow, I feared I had made a terrible mistake. A young woman took my arm and helped me through the slip-and-slide that was the last stretch of the trail opening to the vista of Loch Lake guarded by snow-streaked spires.
"Welcome," came from a group who had arrived just before me. "Care to join us for lunch? Would you like us to filter some water for you?"
I was most grateful for their kind of company. Isabella's rapturous, unrestrained delight in this region that gave her "cheerful good health" had brought me here. The majesty of Loch Lake did not disappoint. Mountain trout swam in the placid, chill waters. I dangled my toes in the invigorating glacier run-off and felt proud of myself for meeting the challenges of the hike.
Breathing deeply of the crystalline air left me amazingly refreshed. Thanks to Izzy and new-found friends, I would have my Rocky Mountain High. The next day I took an easy nature walk around Lily Lake off of Highway 7 where there was free parking and easy access.
Inviting benches provide quiet places to ponder the tranquility of the still waters where birds twitter sweetly and butterflies waft over mounds of wildflowers. Impressive clusters of columbine, Colorado's state flower, are a reminder of the unending beauty to be found here.
Lunch at the nearby Baldpate Inn, built in 1917 and showcasing the pine-sheathed mountains and Tahosa Valley far below, made a perfect close to my adventures in the enchanting Rocky Mountain National Park.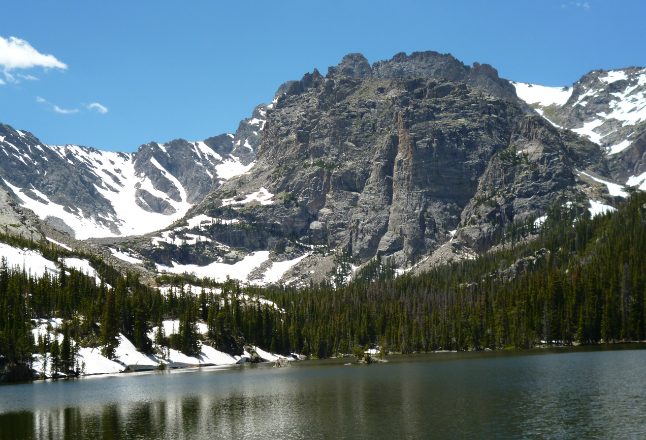 If You Go to Estes Park:
The RMNP newspaper provides a schedule of ranger-led programs from wildflower strolls to alpine climbs. There are outings for every level of ability and persuasion. Rocky Mountain Park, about an hour north of Denver, is easily accessed. Shuttles in Estes Park, and at park and rides inside the park, take hikers to the trailheads for free.
However, there is an entry fee for the park. Passes can be obtained at park gates, visitors centers, and online.
Estes Park is the gateway to the eastern entry points of the RMNP is a bustling mountain town. Room reservations are strongly advised in the summer months.
Rocky Mountain National Park official site: https://www.nps.gov/romo/index.htm
Estes Park: https://estes-park.com/
Baldpate Inn: https://www.baldpateinn.com/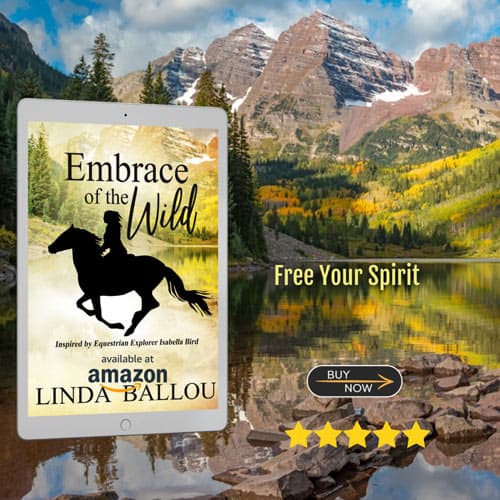 Author's Bio: Adventure-travel writer, Linda Ballou's mission is to get to as many beautiful places as she can before they are gone! She shares a host of travel articles and information about her memoir Lost Angel Walkabout-One Traveler's Tales and her guide book Lost Angel in Paradise at LostAngelAdvenures.com. Embrace of the Wild inspired the life of Isabella Bird is available on Amazon along with her other books. 
Join her on Facebook