Go World Travel is reader-supported and may earn a commission from purchases made through links in this piece.
Many of us are used to the sights of our cities. The towering skyscrapers, the dazzling lights that illuminate adverts, and the countless cars that swoop by.
Many of us also enjoy an escape to nature, surrounded by the silent whispers of the trees and undulating, sweeping landscapes. But no matter where we've been or what we've seen, nothing can compare to the first time you lay eyes on the Himalayas.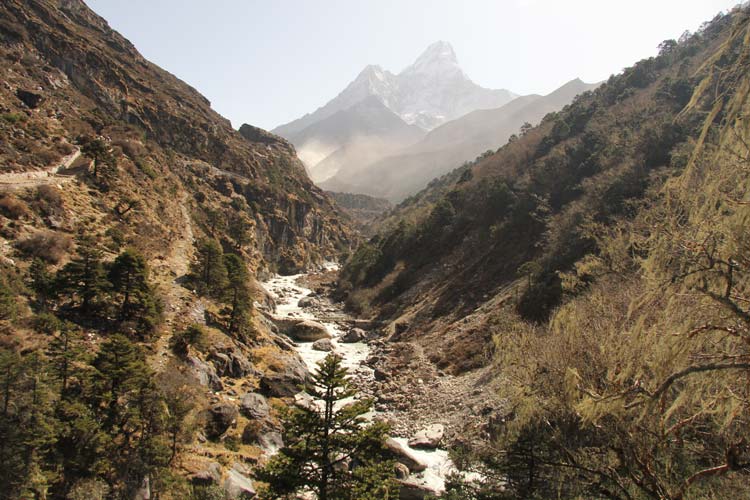 Tears filled my eyes when the clouds finally dispersed and unveiled Aba Dablam, a mighty summit soaring at just under 7,000 meters. It was the fourth day of my two-week trek to Everest Base Camp.
The mist had cloaked our view for the first few days of walking, so we had yet to bear witness to the astonishing sights that encircled us.
When you see a mountain range that runs on for miles in both directions, with each peak and slope crowned and crusted with snow, your eyes take it in, but your mind can't quite comprehend it.
It feels like you're reaching for something you can't grasp. These mountains and the landscape that they erupt from make up the most dramatic scenery our planet has to offer.
Experiencing The Himalayas
I had always dreamed of experiencing the Himalayas. My father is an extreme sportsman and hiking and climbing fanatic, so it was only natural that my love for nature and mountain exploration blossomed from a young age.
But when he phoned me to tell me he was climbing Mount Everest and wanted me to join him for the hike to Everest Base Camp, I didn't know what to expect. How can one possibly know how to prepare for such an adventure?
Best Tips & Tools to Plan Your Trip
The short answer: you don't. Not really. The physical aspect is what I set my focus on. I increased my training, hiking three times a week.
I went on several all-day hikes with my group, and both read and watched as many blogs and vlogs as I could find. While these helped tremendously with what to pack and look out for, they certainly can't prepare you for the real thing.
After arriving in Kathmandu, Nepal's capital city, I was ushered through chaos. The streets buzz and shout with the horns of what seems like a million motorbikes going every which way.
Incense streams through the air, masking only some of the pollution that acts as a perpetual haze over the entire city. Only on days after it's rained can you see the blue sky.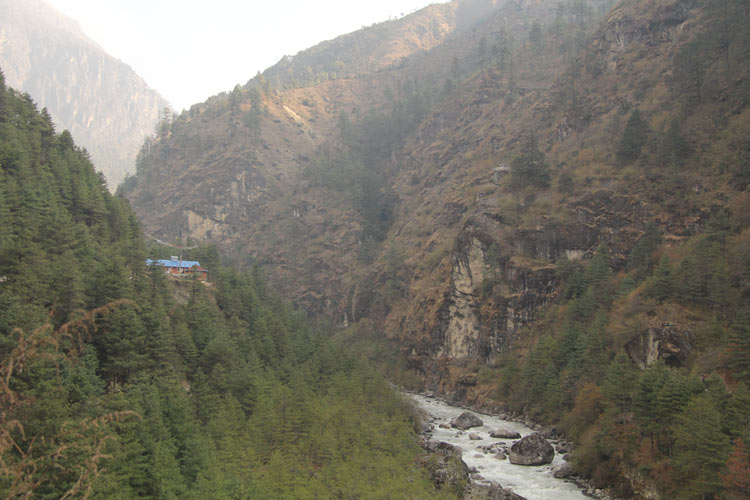 Getting Closer To Mount Everest
After adjusting for just under a week, we set off to Lukla, a small town on the lowest slopes of Sagarmatha National Park. Prayer wheels of vibrant hues line the walkways. Fluffy mountain dogs approach you with enthusiasm.
Statues of Buddha gaze down at you. It was here that we were first introduced to our Sherpas. The Sherpa people are the Nepalese people of the mountains, and many work as guides for the long trek to Everest Base Camp and beyond.
It is a surreal experience to meet a stranger of entirely different background and life to you, but to trust them wholly and completely from the moment you greet them; to know that this is someone who will protect you in your most vulnerable state.
Our journey started with unwavering excitement. We meandered the mountain footpaths that led us into deep-reaching valleys, through pine-covered forests, and along flowing glacier rivers. We rang every prayer bell we passed and soaked in the sights of thousands of prayer flags dancing in the winds.
But we soon realised that this is no walk in the park. While you don't have to be a fitness fanatic to tackle this trek, you must be fit. Day two presents an amazing incline, which consisted of about three hours of uphill trekking.
Slow and steady is the name of the game. But once you've reached the top, a turn around the corner brings you to a staggering sight.
The Sherpa's Capital
Namche Bazaar is a colourful Buddhist hamlet hugging the edge of a cliff. As the Sherpa's capital, the town has everything you need. From coffee shops and hair salons to climbing stores and Nepalese antiques, there is no telling what you might come across.
We spent our first acclimatization day in this charming mountain sanctuary. With the rapid incline of the mountain range, it's necessary to give your body time to adjust to the increasing altitude. And after the steep walk, we were quite delighted to mull about the town for an afternoon.
The next day, we left Namche Bazaar and made our way to Kim Jung, which is home to two of our Sherpas. We were fortunate enough to meet their families and discover more about their hometowns.
In the afternoon, we visited the Buddhist monastery, a striking building of brilliant blues, yellows, and greens. Entombed within were four giant, glittering statues of Buddha in his various stages of enlightenment.
It was here that one of the monks performed a Puja, a blessing to the mountain gods to keep us out of harm's way—a sacred and spiritual experience for us all.
Buddhist Monastery Leading To Everest
The next day embraced us with warm weather and a gentle glide down the valley. We made our way through the pine carpeted forest, with rhododendron trees punctuating our path.
We enjoyed a hearty lunch of Dahl Bhat, a traditional Nepalese curry and rice dish packed with nourishing lentils; Sherpa stew, filled with organic vegetables and a tasty broth; and potatoes in every form imaginable.
Another strenuous uphill followed suit shortly afterwards, and we took to the steep slopes with determination. What waited at the top was truly a gift. Laid before us was our humble lodge, which sat opposite one of the largest Buddhist monasteries in the area.
All around us was a breathtaking scene of the mountain range, glistening in all its glory. In the distant background, way off to the right, we captured our first sight of the revered Mount Everest.
Our surroundings were breathtaking – in more ways than one. Here at Tengboche, I began to notice the altitude change. The pace of my inhales quickened, and the depth of my breath was significantly reduced.
For the first time in my life, I found that I could no longer take a deep breath and had to consciously think about how I was taking in air.
Fortunately, our group included two mountain doctors. Apart from being incredibly kind and approachable, they know the Himalayas and understand the mental and emotional aspect that comes with the change in altitude and its effects. With the peace of mind they provided, I could push past my discomfort and journey on.
The Ancient Rhododendron Forest Paths
The next two days consisted of meandering the footpaths through the ancient rhododendron forest. Moss cascaded down the age-old tree branches, cloaked the fallen rocks, and margined our trail. All along the way, Aba Dablam gazed down at us, peeking through the cracks in the canopy.
Our route took us past the sacred prayer stones, each painted or engraved with blessings. As a rule, you always have to walk to the left when passing them. That is the only way to receive the blessings yourself and honour those who carved their silent prayers into the stone.
As we continued, we noticed the sudden decrease of trees and any kind of foliage. Lush bushes transformed into hardy shrubs, and the sprawling grasslands warped into an almost arid escarpment.
Rockfalls from the past were apparent all around us. The air started to turn crisp. We were certainly reaching higher grounds.
After another acclimatisation day in the valley below some of the highest peaks on the planet, we set off for the last leg of our journey. This was Day 9, a gruelling day of uphills, followed by a large transition into oxygen-sparse air. I walked slowly, my mind dizzied by the high altitude.
Alight one of the most strenuous hills was a sobering sight – a memorial to all the fallen climbers. Prayer flag-dressed shrines peppered the area, overlooking the tremendous view of the valley and far-reaching mountains.
With tears streaking down my cheeks, I realised what an unbelievable feat it is for humanity to scale this part of the world, to climb up to the highest point of planet Earth.
Reaching Mount Everest Base Camp
Reaching Lobuche, our final lodge stay before Everest Base Camp, we nestled ourselves next to the fire. Lemon, ginger, and honey tea was constantly being poured into our cups, and we sat in a breathless state, watching the soft snowflakes fall around us.
And then it was D-day. One hot bowl of apple and cinnamon oats later, we slowly made our way through the ice-crusted footpath toward the Khumbu Icefall. This was by far my toughest day.
The route was rocky and rugged, while the altitude kept me constantly out of breath and dizzy. We scaled the narrow escarpment line that made up the trail for six hours.
Suddenly, yellow spots formed on the horizon, and each step brought us closer until we finally reached the renowned rock proclaiming our entrance into Mount Everest Base Camp.
A huge sense of relief and pride washed over me. In the distance, a sun-crowned Mount Everest gleamed down at us. Beside me, fellow hikers whispered, "Welcome home."
And while I had never dreamed of being amid Earth's rocky giants, I truly did feel as though I belonged.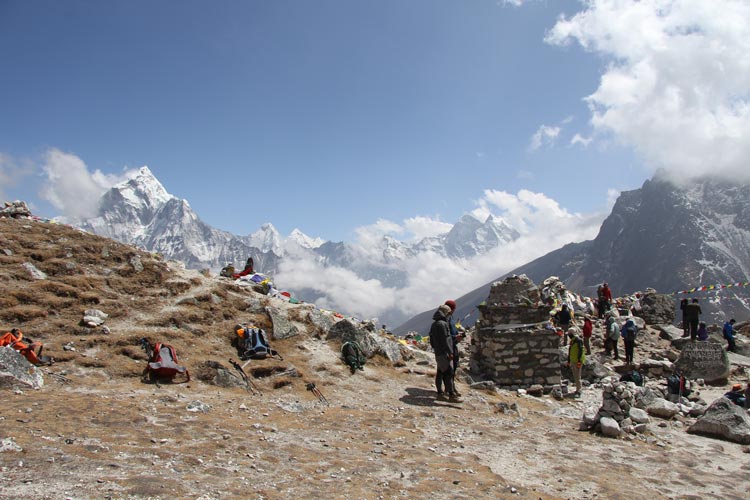 If You Go
If you're thinking about journeying to the foot of Mount Everest on one of the most epic adventures in a lifetime, I would highly recommend booking your trip through Asian Trekking.
This mountaineering company is extremely helpful and caring and organises every little aspect to the tee. They will ensure everything you need is taken care of, including hotels in Kathmandu and transportation every step of the way.
It is important to note that this is not a trip for the faint-hearted or those attached to a more affluent way of living. While you receive lodging and delicious food along the way, you have to remember that you are in the deep mountains and the usual luxuries we have at home are not accessible here.
Your backpack will become your new best friend, so invest in the best. I recommend Arc'teryx. While it may be pricey, the bags are extremely durable, comfortable, and the perfect size.
Author's Bio: Georgia Carter is a freelance writer and photographer from South Africa. She specialises in travel, adventure, and conservation writing. She has a fierce enthusiasm for storytelling and sharing her discoveries of cultures and significant sights from around the world. She hopes to summit Mount Kilimanjaro next.