The Himalayas are a trekking and mountaineering haven with plenty of options to offer in terms of intensity and scope of the adventure. A trekking or climbing expedition in this renowned mountain range is not only an incredible outdoor experience but also, a unique way of getting to know the local culture and life.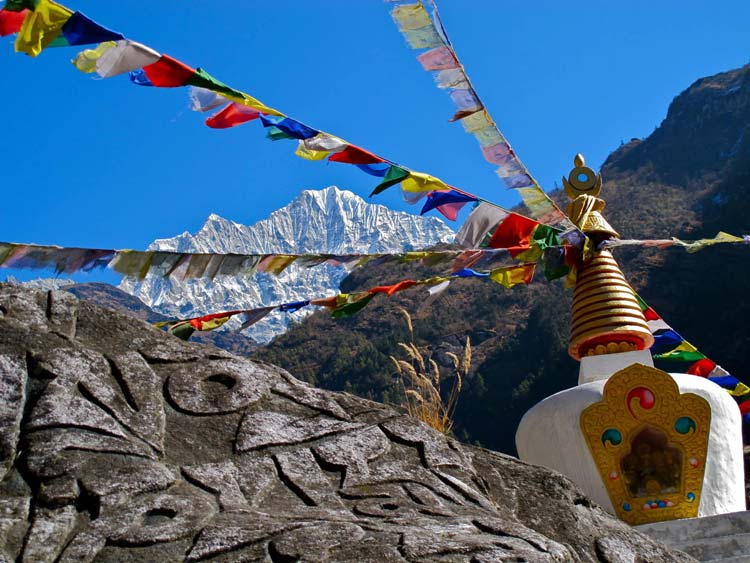 Whether you want to traverse rhododendron lined valleys and pass by local sherpa villages or climb some of the highest mountains in the world, the Himalayas have something for you, and from Nepal, you will easily access amazing routes that you can explore with the help of a local certified guide and of friendly sherpas and yaks.
The best season to travel to Nepal is from April to June or September to November, that is to say, before or after the heavy rains of the monsoon.
Due to the level of logistics involved, as well as the varying levels of difficulty, terrains, and climate-related conditions, going with a guide is a must and there are plenty of options to hire a private guide or to join a group, which will result in a cheaper and perhaps more fun experience.
On this top 5 selection, you will get an overview of some of the most popular options. There are plenty more, but these just may be the very best.
1. ABC Trek in Nepal
You won't learn the alphabet on the ABC Trek, but you will learn a lot about the gorgeous Annapurna massif in north-central Nepal, a trekking hotspot in the region, and for good reason.
To explore Annapurna you can actually choose between the Annapurna Circuit Trek (voted one of the best long-distance treks in the world) or the Annapurna Base Camp Trek (which is what ABC stands for in this case).
The ABC Trek is just as stunning as the Circuit Trek, but a bit less strenuous as it is shorter and at a lower altitude, this makes it the perfect option for hikers with little experience but great fitness.
The ABC Trek usually starts in Nayapul and reaches its highest point at the Annapurna Sanctuary 4,130 m (13,550 ft). The average duration of the trek is two weeks and it will gift you with gorgeous Himalaya views, as well as a close-up of the local villages and culture.
Book it: Join a certified local guide on an unforgettable ABC Trek in Nepal!
2. EBC Trek in Nepal
If ABC stands for Annapurna Base Camp, you don't have to be Reinhold Messner to figure out that EBC stands for Everest Base Camp. You also don't need to be Reinhold Messner-like to complete the EBC Trek, which won't take you to the summit of the world's highest mountain, but will give you an unforgettable experience of Everest nonetheless.
This classic trek is a bit more demanding than the ABC trek, so it requires more experience. Treks to the Everest Base Camp usually begin from Lukla and have a 2-week duration. The highest point is the base camp at (5,364 m) 17,598 feet.
The EBC Trek will give you amazing views of the Himalayas, an experience of the local culture, but also, a taste of Everest's mountaineering culture and some training for more difficult treks and climbs down the line.
Book it: Keep it classic on an EBC adventure led by a certified local guide!
3. Ama Dablam – "Mother's Necklace"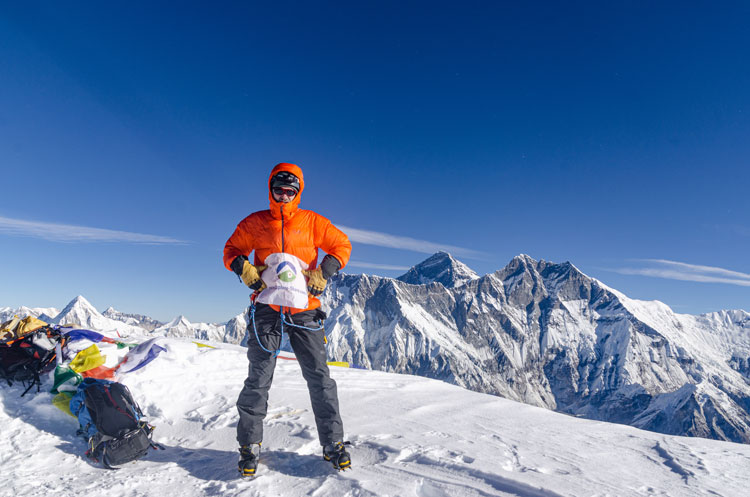 At 6,812 m (22,349 ft), Ama Dablam (a.k.a the "Matterhorn of the Himalayas") is a favorite among climbers looking for an intermediate peak in the giant range. That does not mean it is easy! In fact, it is often a great training ground for harder mountains such as Everest.
Ama Dablam is located in the Khumbu region and is usually climbed by the Southwest Ridge, over the course of one month on average. Technical skills are required, and, aside from being a great training ground, it is also famous for its gorgeous hanging glacier.
Book it: Enjoy an amazing Ama Dablam climb on a unique 5-Peaks Himalaya Climbing Course!
4. Manaslu- "Mountain of the Spirit"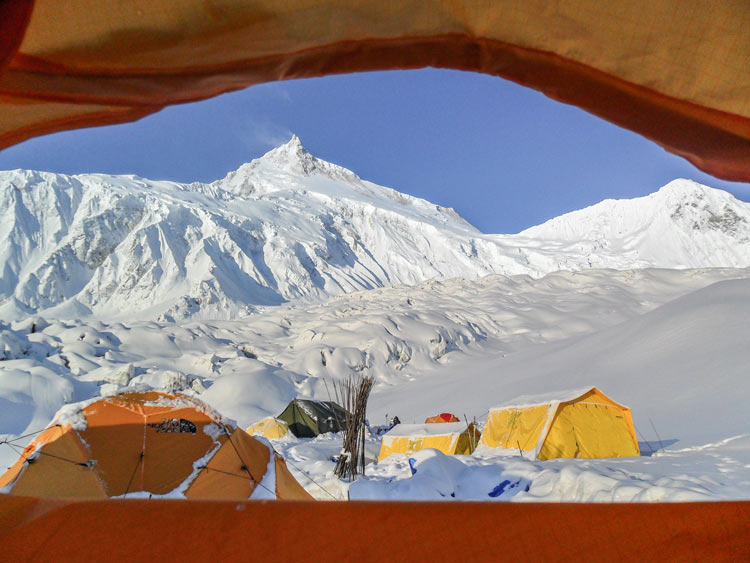 At 8,163 metres (26,781 ft), Manaslu is the eighth highest mountain in the world and is also considered to be the easiest 8-thousander to climb. This makes it a great training ground for Everest aspirants as it allows for a very high altitude experience with lots of opportunities to practice advanced mountaineering at a relatively low risk of avalanche.
Manaslu is located in the Manaslu Himal subrange and boasts amazing glacial valleys and ridges. Climbing Manaslu usually takes between one and two months, and expeditions usually set off from Kathmandu. The optimal time to climb Manaslu is September.
Book it: See how high you can go on an exhilarating Manaslu guided climb!
5. Everest- "Mountain of Mountains"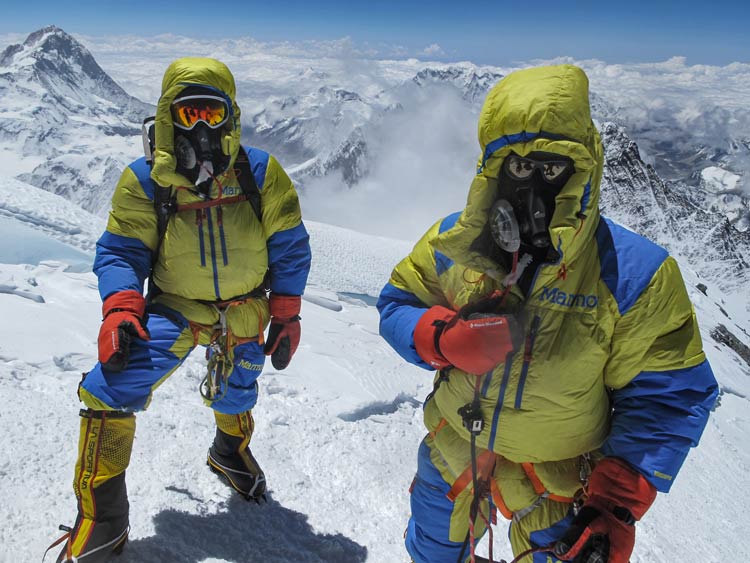 Probably the most famous mountain in the world, and also the highest, at 8,848.86 m (29,031.7 ft), Everest is every mountaineer's ultimate dream peak. Experience, training, and paperwork are necessary to climb Everest, as well as oxygen (unless you are Reinhold Messner or similar).
On an Everest ascent, you will deal with technical difficulties, acute altitude, extreme weather, and other challenging obstacles.
The Everest ascent takes around two months starting from Lukla and tackling the mountain from the Nepalese South Side route. However, training for Everest takes at least a full year and prior mountaineering experience.
To get the most out of your Everest climb, and increase the chances of making it to the top, go in April and May, with an experienced, certified local guide, such as Tshering Pandhe Bote. Don't forget to share your story after you make it to the top!
Book it: Reach the summit of summits on a legendary guided expedition to the top of Mount Everest!