Editor's Note: We're all dreaming of travel ahead. Here's some inspiration for future adventures. We share places, products and activities we recommend. If you make a purchase using a link on our site, we may earn a commission.
I didn't know what was a crazier idea — going to Tanzania and attempting a world-class climb of Mt. Kilimanjaro or just going to Tanzania during a worldwide pandemic in the first place?
How about both?
Looking back, the global virus — which had kept us all locked up at home — was a catalyst that fueled me to do whatever I could to go anywhere, far away and as soon as possible. And what better way to isolate and break the boredom of self-quarantine than making a solo climb on the deserted trails of a lone mountain?
Talk about taking social distancing to an extreme.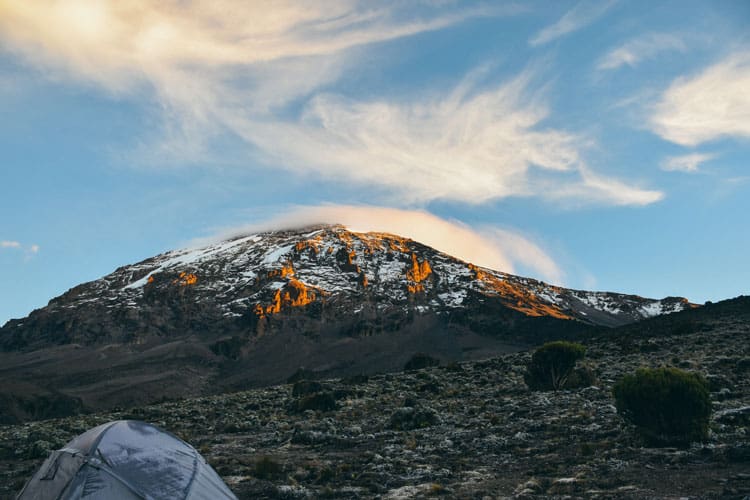 My plans for traveling overseas in April were dashed when flight limitations, the fear of contracting and spreading COVID-19 or getting stranded in a foreign quarantine ward were, for lack of a better phrase, at a fever pitch.
During a frustrating summer, I contacted a doctor friend (an infectious disease specialist who climbed Kili last year) who assured me it was okay to travel but stick to the usual precautions like masks, hand-cleaning and social distancing. Her reassurance went a long way in helping to make my decision.
Climbing Experts on Mt. Kilimanjaro
So, when — after months of anxious, self-imposed seclusion at home — Tanzania re-opened its borders, my mid-September take-off couldn't come soon enough. I would have company, but only members of a climbing team employed by a tour group.
I booked my week-long Kilimanjaro trek with Kessy Brothers Tours and Travel out of Moshi, Tanzania — an operation referred to and recommended by the doctor and her husband who scaled Kilimanjaro last year.
The brothers (two jovial siblings with no resemblance to each other except for their constant grins) also ran safari tours out of their office space.
What Does It Cost to Climb Mt. Kilimanjaro?
Trekking as one person in my party, the total price would be $1,665 (a $300 deposit was wired in advance), and the balance had to be paid in cash. They love US dollars in Tanzania almost wherever you go. A surprisingly substantial portion of that payment goes towards climbing fees and permits, totaling over $700!
The cost would include pick-up and drop-off from Kilimanjaro International Airport, two nights in a hotel room, three meals a day, plus all of the essential cold-weather gear that Kessy Brothers would provide — bulky items I would only temporarily need for certain stages of the climb and didn't want to pack and lug from the US to Tanzania and then back again.
They loaned me a tent, sleeping bag, parka, hiking boots, walking poles, rain gear, thermals, balaclava mask and just about anything you would need or asked for. I brought my own light trail shoes, headlamp, socks, gloves, gaiters and thermal undergarments.
And, oh yeah, that included another important survival tool — your climbing team.
Tipping the indispensable crew members adds an additional tally at the end of the trip — and it's not minimal. The recommended gratuity came to $75-per day (guide: $20, chef: $15 and four porters at $10 each), but it's a majority of their pay for the trip and worth it.
It's a good thing to find out about the tipping arrangement beforehand. On their climb, my friends observed another group who didn't, and the lack of communication led to a trek-souring discourse before coming to a resolution about what the team expected and what their party thought was fair.
Remember, your life is fundamentally in their hands.
The tip is usually awarded on day-seven, the morning after the summit, at Mweka camp. A bonus supplementing the team's relatively low pay plays a major factor in the exuberance of the team's combination farewell/congratulatory dance to the climber(s) after the gratuity — I will get to that later in my story.
Arrival in Tanzania
I arrived at Kilimanjaro International — after a 29-hour flight circuit from the US — at 10:00 am (local time) Monday. Customs at the airport was a breeze. Temperature taken, visa inspected and no negative COVID test necessary.
The Kessy Brothers said they would be sending someone to pick me up outside the small terminal, and Kweka was right on time.
Kweka greeted me with a robust jambo, the Tanzania hello, the first of hundreds of times I would hear it the next few weeks.
A 30-minute ride into the city of Moshi preceded arrival at the tour group's headquarters, where I was warmly greeted by the two brothers. And even though I was already spent from the long trip, there were still business expenses to finalize.
Selecting Gear to Climb Mt. Kilimanjaro
Next came the equipment and apparel fittings. The procedure was almost Monty Python-like, as I stood there in a weary state, wearing only my underwear and face mask, watching a half-dozen assistants rummage through large boxes and closets inside the office looking for the right sized gear to outfit me for the cold weather ahead.
The men hastily pulled out different sized parkas, rain pants, hiking boots, fleece sweaters and hats — simultaneously slipping different garments on and off until they got the right fit. I wondered if this was how runway models felt during rushed backstage wardrobe changes at fashion shows. All that was missing was the taping up of body parts and makeup touch-ups.
The frenzy continued as I stood there while the swarm of stranger's hands started buttoning, zipping, wrapping and then unbuttoning, unzipping and unwrapping until my cold-weather ensemble was complete.
After the Kilimanjaro makeover, Kweka took me out to runs some errands — namely exchanging money, getting a SIM card and extra bottles of water. The Kessy Brothers set me up at The Keys Hotel, a cozy resort hotel that took way more COVID precautions than anybody else I had seen since arriving. The staff all wore masks, and they even had an attendant at the gate, taking temperatures before you entered.
After a late afternoon shower and then a pizza and beer lunch, I slept soundly until my morning pick-up to the Machame Trail starting point — a 45-minute drive from Moshi.
Day One: The Machame Trail on Kilimanjaro
The Machame Trail is one of the most popular — and shortest — of the seven main routes up Kilimanjaro. It is usually a seven-day trek with a difficulty rating of challenging.
It's thirty-seven miles of up-and-down footpaths dotted with many rock, gravel and scramble sections that can be conquered by even the least experienced trekkers — but they need to be in good physical condition.
Machame boasts one of the most scenic trails up the mountain, and the numerous panoramic views help take your mind off the rugged hike while you plod on.
After a quick rearrangement of my backpack by my Tanzanian guide, Michael — too much excess stuff — I ended up with only three liters of water (in reusable bottles since plastic water bottles are forbidden on the mountain), my phone, charger and camera equipment, snacks and a fleece jacket.
Having durable and comfortable layers is critical on a trip like this. We recommend being prepared for all-weather while your hiking or climbing with a fleece jacket from Colombia Sportswear. Check out all of their active gear here.
Setting Off from Machame Gate
We set off from Machame Gate — an actual gate at 5718-feet — around 1 p.m., leaving the porters and chef behind to finish loading the gear. It was cloudy and cool, but perfect hiking weather. Shorts and a t-shirt would be sufficient while breaking a light sweat the first day.
Michael pointed out occasional points of interest — local trees and birds — while I quietly trudged along behind him, trying to follow his exact steps, footprint-by-footprint. Take your time, he would say, not that I needed any reminding. Slowly, slowly or pole-pole (polay, polay) as they say in Swahili.
While I was geared up with trekking shoes, hiking socks, cargo pants and walking poles, Michael looked like he just jumped off the couch to get something from the fridge. Skechers, blue jeans and a light sweater under a giant backpack filled with items I might need and forgot on the trail — including a couple of small emergency oxygen tanks and apparatus.
It wasn't more than an hour when the porters passed us one at a time — each with about 50-pounds (25-kilo limits weighed at the start by park agents) of equipment they carried on their heads.
Even after all of my pre-climb training (running, biking, swimming and even yoga), I felt like a lightweight. It was the ankle I sprained while running a week ago, I thought to myself.
Nah. These guys were just conditioned to it.
Machame Camp
We set up at Machame Camp (at 9800 ft) after a five-hour climb. The high altitude, combined with the physical hike and last throes of jetlag, hit me hard. I essentially looked at my dinner and crashed to sleep by 8 p.m.
Day 2: A View of Mt. Meru From Machame Trail I woke up to a chilly morning and that dreaded first cold squat dump in a crude toilet facility, which was nothing more than a hole in the floor. I could already hear my knees crack on the walkover.
A fog swept in over the camp as I tried to wash a couple of crepe pancakes down with cups of coffee. I still wasn't hungry. I met a German couple, Vanessa and Alex, after breakfast. They and their team were the only other souls in the fairly large campsite.
Michael told me mid-September was usually one of the busiest times on Kilimanjaro, but COVID-19 had all but scared away tourists — even the adventurous ones. He said he usually guides two treks a month, but my climb was the first one he has led since March.
Trying to tie an upbeat bow on the story, Michael went on to tell me that he and his wife own and run a modest pig farm to supplement his loss of income. But I could tell that the mountain was his real calling.
Shira Trail
A grueling four-hour hike on Shira trail was mostly uphill and a gut-check to my abilities that day. But, when the sun came out and a marvelous view of Mt. Meru (Tanzania's second-highest mountain) peered through, it was worth the effort.
I couldn't help but reflect on where I was in the world. The quiet personal introspection and contemplation that goes hand-in-hand with the isolation of trekking makes it easy to forget the world's problems — including the coronavirus. Looking out onto the horizon alone, the mountain's silent power protecteding me from the internet and other voices during my solo climb.
I called it social media distancing.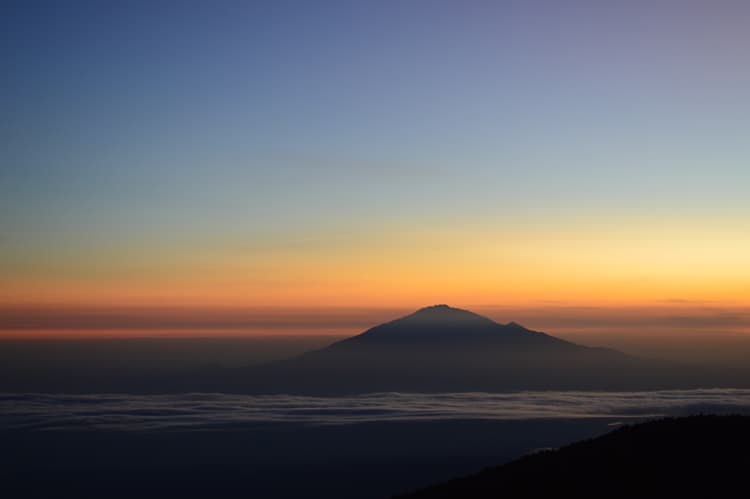 The Natural Elements on Machame
Later, light rain and wind came. Those intellectual reflections turned to body warmth thoughts and getting to the campsite.
Since we were above the treeline, there was no natural shelter from the elements. I slipped a pair of my old-school long-legged thermals on under my shorts. Standing there, nobody would ever confuse me with some Northface catalog model, but my yellowed-white, pock-marked leggings did the trick.
An eerie and surreal fog enveloped our camp while setting up the tents. It was still light outside when I forced myself out of the comfort of my sleeping bag to wander the camp. There was a stunning view of Mt. Meru poking its peak out of a layer of clouds hovering below the 12,000-feet altitude we now camped.
Dozens of giant crows with white bands of feathers around their necks scoured the area for scraps. I looked at the German couple's campsite and curiously noticed a tall square 3-ft by 3-ft tent. They told me it was a portable western-style toilet and paid for an extra porter to carry it. I laughed.
Later, when I walked over to my dank, smelly hole in the ground, I was jealous.
Besides being thankful about thermal underwear after last night's freeze — the temperature dropped to about 12 degrees Fahrenheit — I was grateful that I brought along a pair of lightweight, slip-on sneakers for walking around camp. It was way better than bulky boots and let my hiking shoes air out quicker.
Just remember to bring all footwear inside the tent at night, so the damp insoles don't freeze up.
Day Two: The Freezing Hike to Lava Rock on Mt. Kilimanjaro
The chef made me a giant breakfast of crepes, eggs and fruit that I barely touched. Michael pushed some food in my face like he was ready to force-feed me.
"You need the calories for energy," he said with a concerned look.
I just wanted my two cups of coffee before we ascended to the Barranco camp via the Lava Tower (15,750 feet) or Lava Rock as it was also known. The hike to Lava Rock was a cold, barren trudge. The landscape is all rock and is what Michael called a moonwalk. Stepping over the coal-black lava rock made it seem almost otherworldly.
You mostly never see Mt. Kilimanjaro directly on the way up— because of fog, clouds or high cliffs obstructing the view — but its presence is always looming, constantly playing games with your mind.
After a couple of hours of steady, quiet walking, I spotted what I thought was a mirage, a couple of colorful moving objects in the distance through the fog — hues that contrasted with the blackish terrain. As we got closer, I could hear a voice.
"Well, hello," said Jason with a cheerful voice. It was sort of strange seeing any other hikers but the German couple the past few days, and I wondered how he came from out of nowhere.
Jason, a San Franciscan, said he and his guide, in nearly matching hiking gear, were coming from taking the Lemosho Route — a tad longer, but an easier eight or nine-day trek from the western edge of Kili.
Lava Rock
The Lava Rock area is where the two paths intertwine. Jason and I chatted about the weather conditions and then about how we both climbed Machu Picchu. I bid him goodbye and forged ahead.
Lunch at Lava Rock was spent with Michael and me standing in a wet cave as an icy rain fell. We washed down fried chicken and vegetable bread squares with mango juice and chai tea. The giant crows with white crests hopped around outside our caved picnic area, waiting for the leftovers. The rest of the day would be hiking downhill to Barranco Camp (1,300 feet) and not as easy as I had hoped.
I could feel my downward toes being squished into the front of my shoes, and we descended over boulders and small streams of water. This is where walking poles come in handy for weight distribution and balance.
At dinner, the different leg muscles I used to go down with, and never even knew I had, started to stiffen in the cold from their newfound utilization. Three hours up, then three hours down — the up won. The temperature dropped 20 degrees Fahrenheit as soon as the sun went down.
My sleep was interrupted by the incessant snoring coming from the porters' four-person tent set up right next to mine that night.
Day Three: Preparing for the Summit Climb in Tanzania
For some reason, the freezing morning in the crude toilet made me wonder how soldiers in the Battle of the Bulge or March to Yalu in Korea managed to handle the frigid weather under even more trying war conditions.
Vanessa and Alex told me that they would be starting their summit climb four hours later at 4 a.m. instead of midnight, so, after discussing this suggestion with Michael, he agreed on doing the same.
This change of plans would give me more daylight on the 6-hour trek up but would eliminate any chance of seeing the sunrise from the top — a reward most climbers base their trips on.
Some of them even coordinate their summit climb with a full moon for better illumination on the trail. We would have an ample third quarter moon to go with our headlamps so, if everything went on schedule, we would get to see the same sunrise, just from below the mountaintop.
Michael suggested we do a double climb today, bypassing the planned night in Karanga campsite and plowing on to Barafu Camp (15,000 feet) for the night and early morning summit start. Doubling down on the three-hour hikes sounded crazy but it meant I had an extra day to give the summit climb a second shot if I needed it.
I couldn't argue with that.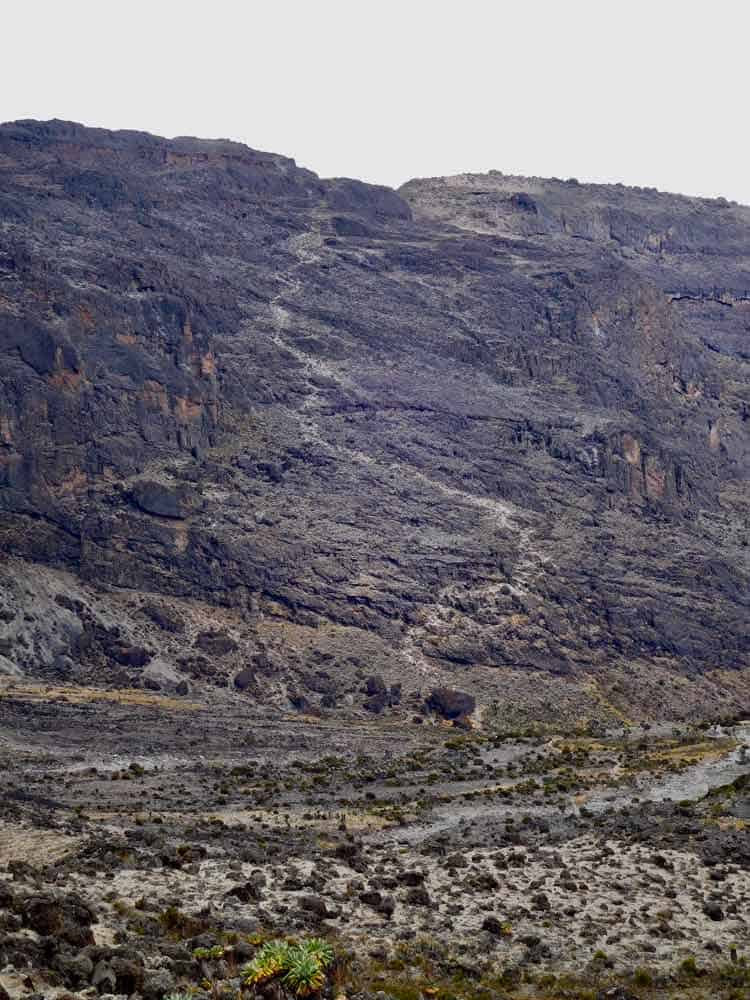 Day Four: "The Barranco Wall" Hike to Base Camp
Our day started with a scramble climb up "The Barranco Wall" — an intimidating, almost vertical, hike up a winding artery of slippery rocks, made slicker by the light drizzle which started the climb with us.
The air cooled as we marched through the Alpine desert and made it to Barafu hut for lunch.
We had to wait. As the temps continued to fall and the wind kicked up, Michael looked concerned when none of the porters — with my heavy winter gear — arrived. The notion that I beat them up to camp kind of warmed my spirits, but, still dressed in thermal pants and only a fleece jacket and thin gloves, the sweat on my skin was starting to freeze up.
It took all of my reserve inner strength to stay positive.
Finally, the porters arrived.
After switching clothes and bulking up my outfit we gathered around a propane stove in a dark, rudimentary tin hut for lunch. I could barely see my bowl of thick vegetable soup through the stream of light shining in through vents in the framework of the shed, but it sure tasted good.
Afterward, we continued our final segment of the trail that day. A sign on the path to base camp warned all:
DEAR ESTEEMED CLIMBERS: Don't push yourself to higher altitudes if you have breathing problems… We all love the mountain, let us make climbing safe by considering DESCENDING as a better option.
It was GO time.
We made it to base camp at around 3:30 pm. I was tired but happy to be swaddled in warmer attire. I hunkered down in my tent listening to the porters set up the rest of the camp while trying to write in my journal — my fingers still too numb to even hold a pen.
Through my tent flaps, I noticed a small group of trekkers — who I'd never seen before — pass through the camp and head the other way. I wondered if they already summited and why they didn't have some look of accomplishment on their faces. I didn't ask.
I nibbled at dinner before hitting the sleeping bag and waking up at 3 a.m. The chef had coffee and cookies ready. Through the cold darkness, I suited up with heavy winter gear — hiking boots, thermals, snow pants, parka, earmuffs and neck gaiter. I took my camera and phone off the portable charger (amazingly still full) and packed my RayBans.
Find a lightweight digital camera that you can take on every adventure from Canon. Shop their daily deals here.
Day Five: My Moonlit Climb/Crawl toward the Summit Mt. Kilimanjaro
It was a slow, plodding hike. The grey terrain was illuminated by a thin beam of light from my headlamp and the third quarter moon, which lent a ghostly luminosity to it.
When the sun started to peek out from the horizon, its burst of daylight made for some awesome photos and also gave me the first sight of the task at hand which the blackness had hidden from me for two hours — reaching the summit.
We reached Stella Point (18,885 ft) at around 10 a.m. The combination of altitude sickness and hypoglycemia (I should have eaten more) were in effect. I literally crawled the last 200 meters in a windy snow flurry.
Like my body, my camera battery was just about out of power, so there were only a few photos at the top. The effects of the altitude turned my descent into a drunk-like stumble back to base camp.
Hiking Down Mt. Kilimanjaro
It was a three-hour downward stagger over a desert of loose blackish-gray pebbles — which was already difficult to get your footing on — before we got back to base camp. I crawled into my tent and tried to nap before another two-hour to warmer climes and sleep at Mweka Camp.
We were joined on the hike to Mweka by Vanessa and Alex, and I remembered how nice it was to socialize in real conversation again. Their English was better than my climbing team's or the Swahili I attempted with them. It was a less strenuous trek, but due to the long day and my lingering sickness, I had to push myself hard the last hour or so.
I became curious about these single-tired, flat-bed carts with side handles at frequent intervals of the path as our little parade of hikers passed.
"They for bodies?" I sort of joked.
"Actually, they are," responded Michael, who looked at me like I would be needing one myself.
He then explained that this is where a good majority of people collapse.
"This is where altitude sickness and physical exhaustion kick in," he went on. "The people fall apart and start seeing things."
I could attest to that, I thought, as I slowly seemed to fade away myself. Vanessa and Alex jumped on ahead after I started to slow down. I could see the camp, but it never seemed to get closer. So I was more than thankful that the porters had camp set up way before I arrived. Needless to say, I plopped into my tent for the night.
I woke up feeling like a million — make that 100 million Tanzanian shilling (still only about $40,000) — but happy with my accomplishment.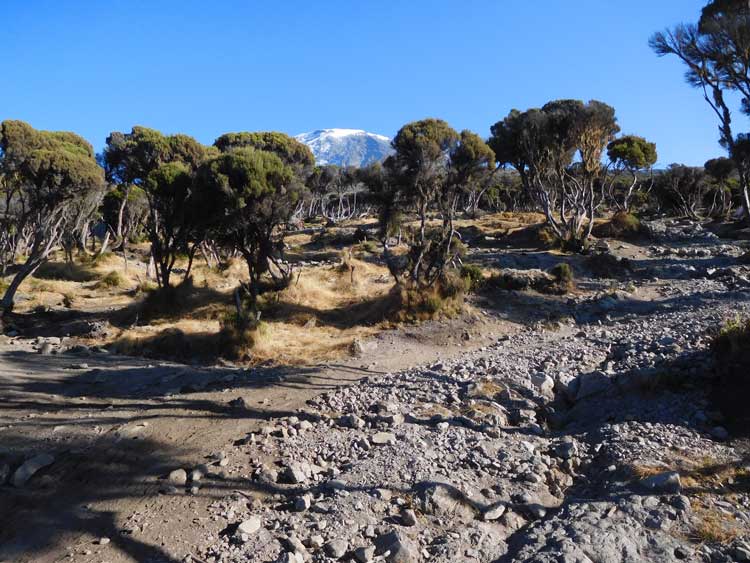 The Final Descent to Mweka Gate on Mt. Kilimanjaro
After a final breakfast with the team, it was time for the delicate situation regarding the gratuity. As I previously mentioned, the tip is a major part of the team's individual pay. I'm sure the men had planned on being tipped for a seven-day climb, but, since we did the climb in six, might find themselves shortchanged.
I surprised them with tips for seven days and another day as a bonus. There were smiles all over as I handed Michael $600 to divvied up respectively among the team.
Then came the aforementioned traditional dance and song about Kilimanjaro in front of my tent under the million-year-old gaze of the great mountain. It was a jubilant thank you and, in exchange, and to their delight, I jumped into the middle of the festive performance.
Then, after that marvelous farewell to Kilimanjaro, came the final descent down to Mweka Gate. And those last 3.5 hours were no cakewalk.
On top of a stomach illness — one that had me running for the bushes every half hour or so — was pain from my toes being crammed into the front of my hiking shoes from the downward angle of the trail. Upon my return to the US, both big-toe nails would eventually turn black and fall off.
But no COVID.
There were farewells and appreciations at the gate, then two showers, a pizza and chilled Kilimanjaro beer back at the Keys Hotel. Over my poolside lunch, I reminisced about the climb and checked my social media accounts.
Suddenly, while scrolling through hashtags, memes and tweets, I pensively remembered what brought me here in the first place.
Author's Bio: Tony Mangia has been internationally published as a writer and photographer for over thirty years. He has contributed to many publications including The New York Times Magazine, The Associated Press, The New York Post, The Boston Globe, World of Sport magazine, Village Voice, Wall Street Journal, National Geographic, Time Out New York, Gothamist, Daily Mail, Wink News (CBS), Travel and Leisure, and The Ring Magazine. Tony worked as a New York correspondent for Sygma Photo Agency and stock photographer for Sportschrome, before becoming a staffer at The Union City Dispatch and Editor at The Other Paper.
In recent years, Tony posted a popular sports blog for Fox Sports while completing three screenplays: The 10-Speed Diaries, The Stringer and The Daddy Caddy. Tony continues to be a regular contributor to MSN, Fox Sports, NBC Sports.com, ESPN.com and SI.com as a sportswriter and photographer.