Exploring Iceland
In a country where 11 percent of the land mass is comprised of glaciers, the curious traveler in Iceland is afforded a rainbow of adventurous options. For those looking to get their feet wet on the ice, there is glacier hiking. If you're looking for a vertical challenge, ice climbing awaits.
For hardened adventurers seeking lengthier exploring, you can climb Iceland's tallest glacier, Hvannadalshnúkur standing tall at 6,900 ft. Glacier traveling courses teach how to hone your skills on the ice and what to do if you fall in a crevasse.
Can't decide? Take a six-day course and cover all your bases.
Hiking
As an experienced hiker without experience on glaciers, I decided a glacier hike would be the right fit for me. I have snow-shoed around a caldera lake, summited mountains, and spent hundreds of miles trudging through the forest.
Why not add glaciers to the list?
Glacier Hiking in Iceland
As you can imagine, December in Iceland can be a bit cold. The 20-40 degrees during the sunlight was tolerable. After the sun went down, I bundled up like an Eskimo and imagined warm fires.
If you're having doubts, let me stop you there – anyone who has experienced typical winter weather can handle Iceland. Don't let your fear of frosty temps stop you from exploring the beauty that awaits.
The Incredible Weather
During the days prior to my hike, I learned that once or twice a week, the weather in Iceland is incredibly unforgiving. The skies open and shower sleet and rain, all while gale force winds take your breath away.
Winds so powerful in fact, there are occasional warnings issued to parents advising they hold tight to their children outside.On the day of the hike, I couldn't have been more grateful the winds were calm, the sky clear, and the sun shining.
Our knowledgeable, funny, and patient tour guide named Helga guided us to the fourth largest glacier in Iceland, Sólheimajökull. Helga was also in the process of completing her doctorate, with a focus on geology and glaciology.
A Good Guide is Everything
A knowledgeable guide who was passionate about glaciers? Jackpot. Sólheimajökull was a two-hour ride from Reykjavik, located in the center of the southern coast of Iceland.
Throughout the tour, Helga shared out an endless array of facts and cultural information. As our tour bus drove past flat fields of frozen tundra and Icelandic ponies charging through the snow, she spouted more facts than I could possibly remember.
As we pulled up to the glacier, she let us know that Iceland as a whole is growing larger. In recent years, sea temperatures have risen, causing ice to melt, allowing Iceland to emerge further out of the sea.
The road to Sólheimajökull is lengthened every year or two to accommodate the shrinking glacier and growing land mass. Upon arrival to Sólheimajökull, our group of 30 split up into smaller groups of 10 as we prepared for our voyage. I stuck with Helga.
Our Hiking Outfit
We suited into warm pants and parkas, strapped crampons to the bottom of our shoes, and held tight to the ice pick axe that would serve as a stabilizer in the event of a misstep. We wouldn't need rope or harnesses as the area of glacier we were walking on didn't require them.
The black volcanic pebbles below our feet quickly changed to crisp, clear ice tinted blue. Our crampons crunched heartily into the glacier beneath us, securing our footing.
The glacier was nothing like what I had imagined prior to my trip. It was better.
Nature's paintbrush is unparalleled to any other. The resulting grandeur before me was breathtaking and exhilarating. In places, clear ice afforded a shallow view below. Dark volcanic ash swirled with white and blue ice, shaped majestically by sunlight and wind.
Ice patterns looked like mini moguls combined with upward sloping walls of ice sliced with sharp crevasses. Glacial cauldrons, known to commoners as "hungry cauldrons," dotted our path. Deceptive when filled with snow, glacial cauldrons can go anywhere from five feet to 500 feet deep.
Helga cautiously steered us away from any missteps that could end in a potential cauldron feeding. We climbed up, down, around and over Sólheimajökull, our faces smiling the entire way. As we descended the glacier, Helga told us to turn around and take another look.
Ice Monsters
Easily overlooked at first glance, she pointed out what looked like small black peaks rising out of the glacier like horns. These strange formations were know to the locals as "ice monsters," and some locals got the heebeejeebies from what appeared to be eerie blue eyes glowing underneath devilish black horns.
In a country like Iceland, where elves, trolls and other mythical creatures are a staple of cultural folklore, this wasn't surprising. Iceland was founded by Vikings, after all. For a country name that conjures icy spine-tingling shivers, Iceland makes up for its chilly image with a cast of colorful characters.
Our hike provided the most picturesque photo opportunities of my entire trip, and was also a safe option for all age levels. Our group ranged from young twenty-somethings to sprightly seniors, all of whom felt equally comfortable.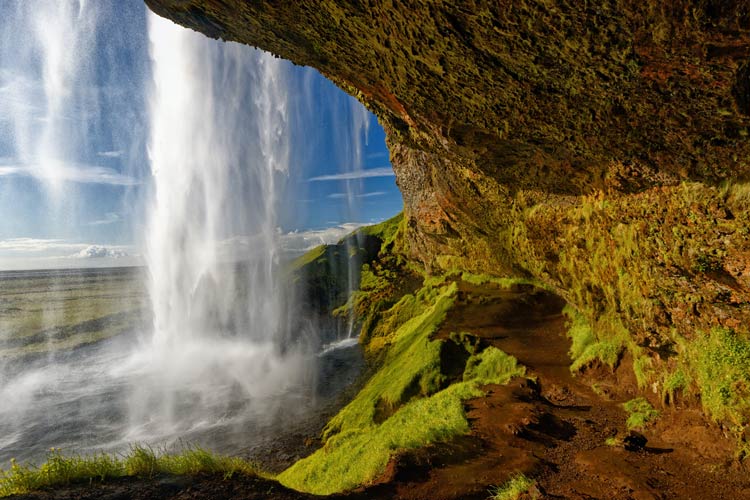 The glacier hike in Iceland was part of a day-long tour lasting twelve hours and including a variety of additional Icelandic sights: the Seljalandsfoss and Skógarfoss waterfalls, a visit to the Eyjafjallajökull Eruption centre (remember the big volcanic eruption back in 2010).
A stop at a quaint country inn for lamb soup, and multiple stops to attempt a glimpse of the infamous Aurora Borealis (unfortunately, the Northern Lights didn't come out that night).
If you're looking to dip your toe in the proverbial glacial waters, look no further. A great value for the cost, especially in a country where the exchange rate isn't in favor of your wallet.
Book This Trip
Ready to journey through the inspiring Icelandic glaciers? Then start preparing for your adventure with knowledge on public transportation, best hiking gear shops, hotel and VRBO options, local restaurants and more through Travelocity and TripAdvisor. Next, you can compare exclusive flight deals and ground transportation options through Kiwi.
For More Information:
Icelandic Mountain Guides
Provided: Crampons and ice pick axes
Bring: A parka, hat, warm pants, gloves and camera
Additional Options: Ice Climbing I, Ice Climbing II, Mountain Skills, Winter Mountaineering, Glacier Traveling Course
Author Bio: Gina Kremer is an adventure travel writer based in Denver, Colorado