Editor's Note: We share places, products and activities we recommend. If you make a purchase using a link on our site, we may earn a commission.
Blue Lagoon in Iceland
An eerie, almost surreal, morning mist settles across the milky aquamarine waters. Looking around at the other bathers, their faces masked in luminous white, I feel as if I'm a participant in some peculiar rendition of Carnival.
But no gondolas glide by. There is no ripple of movement skimming across the surface. I don't see any Venetian revelers. I don't hear any raucous laughter or notice any drumming of calypso music. There is no sign whatsoever of masquerading partygoers.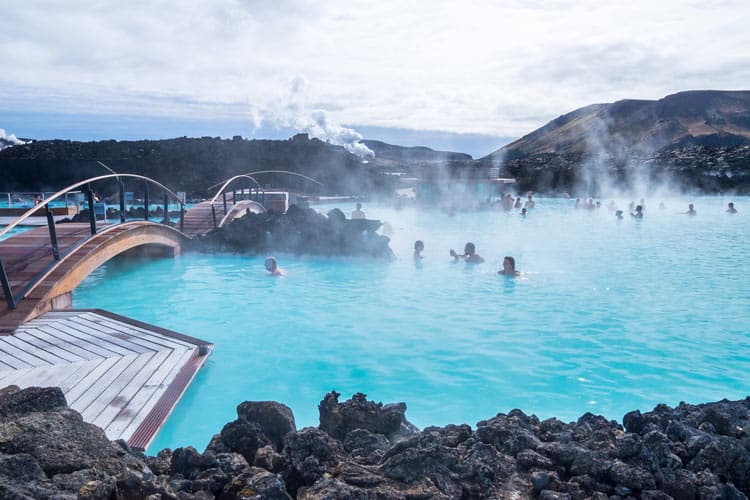 There are just other quiet pleasure-seekers like myself, their countenances slathered with handfuls of thick silica mud, relishing in the balmy, 98-102°F (37-39°C) thermal waters of Iceland's Blue Lagoon.
Fed by 1.5 million gallons (6 million liters) of seawater, heated deep within the earth and renewed every 40 hours, the Lagoon offers the perfect balance of healthful nutrients for your skin and calming, chlorine-free water for your personal relaxation.
As if under a spell, I imagine all of the daily stresses slowly seeping out of my body. Into the tepid warmth. Fully refreshed, and poached to perfection, I scarcely remember that arctic winter chill as I dash back indoors.
I say, 'scarcely remember'. There are, after all, still traces of snow on the surrounding lava rock and a hint of bluster in the wind.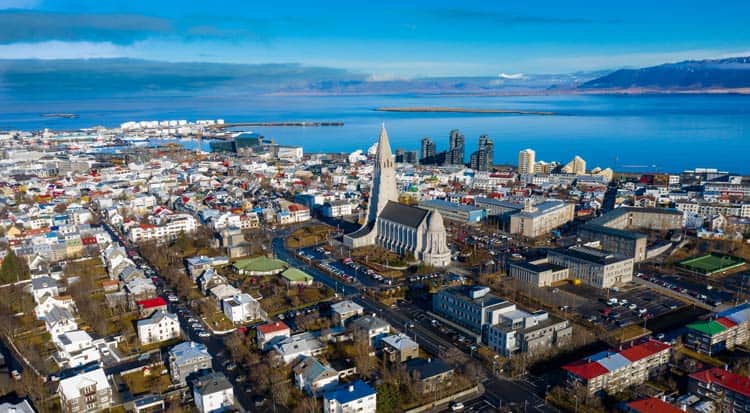 Visit Reykjavík
The crisp air, however, doesn't deter my family and me from venturing out a bit further from the Blue Lagoon. Just 29 miles (47km) from the capital city of Reykjavík, Iceland's most famous landmark is only one of several attractions located on the Reykjanes Peninsula.
With a map in hand, we head the rental car in a southwesterly direction, toward the geothermal area of Krýsuvík. Having long been a fan of Yellowstone and its boiling pools of sulfur, I am delighted to see the same-style meandering boardwalks at Seltún.
In and out, they weave an intricate pattern. They serpentine amongst the snowdrifts, mud pots and the steaming vents–Mother Nature reeking in all her glory.
Further along the Peninsula, we encounter Gunnuhver, another hot spot of thermic activity. Unfortunately, visibility here is low due to unscheduled rainfall. Undeterred, my husband and I merely tighten the hoods on our waterproof jackets.
We fashion some makeshift rain-repellent outerwear from a large clear-plastic trash bag that we use to cloak my son's new coat, and the three of us tramp, oblivious, through an otherworldly landscape of fumaroles and bubbling water holes.
The droplets of warming rain continue to fall, eradicating almost all the final remnants of the previous week's snowfall. At the Bridge Between Two Continents, slightly past Hafnir, we clamber across Leif the Lucky's Bridge to the midpoint where we straddle the rift between the North American and Eurasian tectonic plates.
We laugh at how 'cool' it is for me to be in America, while my son, just inches away, is in Europe. 'Cooler' still is to actually gaze down into the barren no-man's land of the Continental Divide, undeniable proof that the crustal plates are actually shifting apart.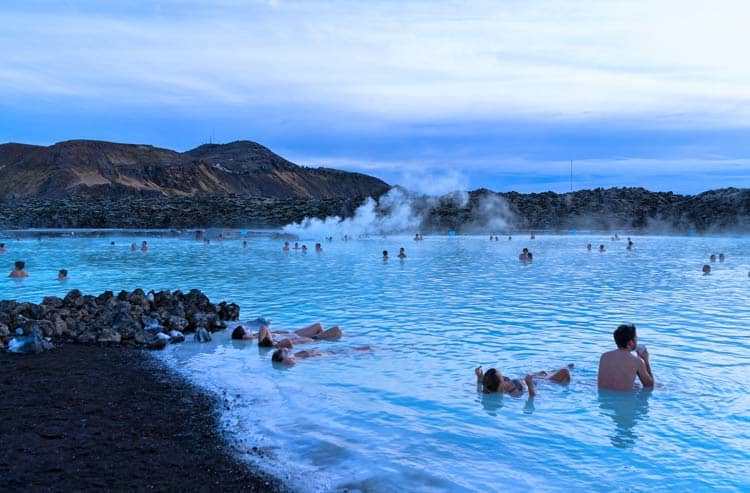 Iceland's Viking Attitude
Weary from sightseeing, we wind our way around the Reykjanes Peninsula, in the direction of Reykjavík. With darkness approaching, we wonder if the clouds will dissipate and the skies will be clear enough to see those elusive Northern Lights. They don't. The lights are another no-show. It's a shame, but you just can't predict those sightings of the aurora borealis.
Back at the Blue Lagoon, after a spirited week of snowmobiling, hiking and waterfall watching, we are more than happy to be dropped off by the Netbus for several hours of soaking before our flight home. It's right on the road to Keflavik Airport.
Lazy in the healing waters, with silica mud pasted over every imaginable pore of my face, I'm sure I look like a masked socialite at a Carnival celebration. With only my dark eyes peeking out, people might think I've had one too many shots of Brennivín after a weekend pub crawl. But a quick dousing of water, followed by an invigorating scrub, and the mask disappears.
I feel completely rejuvenated and I look at least a good 15 minutes younger. Iceland's world-renowned spa retreat is indeed the perfect way to end a vacation. The perfect way to end a vacation in a land of mystery and intrigue, a little bit of elfin magic and a whole lot of Viking attitude.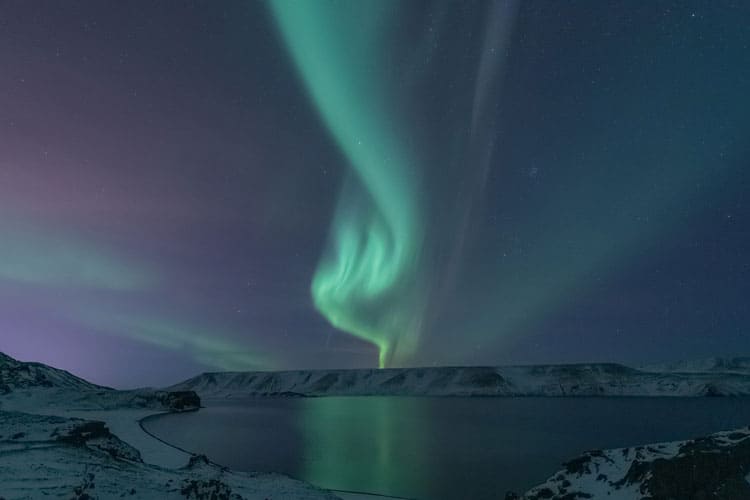 Book This Trip
Time to unwind in the therapeutic Blue Lagoon waters of Iceland? Start planning your trip with hotel or VRBO options, knowledge on local hikes, vacation package deals, restaurant reviews and more through Travelocity and TripAdvisor. Then you can book your flight and ground transportation at the best rates through FlightHub.
Be sure to book a couple of tours and activities around Iceland through GetYourGuide. From exploring Reykjavik to exciting day-trips through the volcanoes, there are plenty of activities to enjoy. Check out the tour and trip options here.
Check out our Iceland Travel Guide for more information on what to see and do in Iceland.