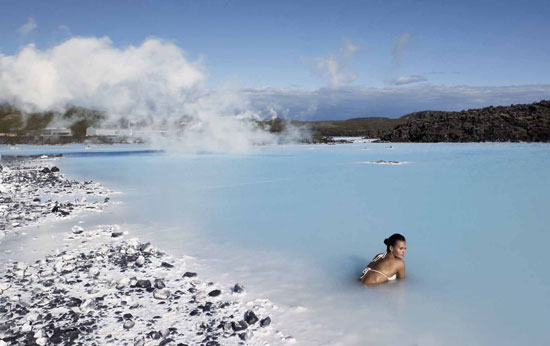 An eerie, almost surreal, morning mist settles across the milky aquamarine waters. Looking around at the other bathers, their faces masked in luminous white, I feel as if I'm a participant in some peculiar rendition of Carnival. But no gondolas glide by–there is no ripple of movement skimming across the surface. I don't see any Venetian revelers.
I don't hear any raucous laughter or notice any drumming of calypso music. There is no sign whatsoever of masquerading partygoers. And even in the scant lighting created by the shifting fog, I am certain I am not surrounded by bronzed Brazilian beauties. Just other pleasure-seekers like myself, their countenances slathered with handfuls of thick silica mud, relishing in the balmy, 98-102°F (37-39°C) thermal waters of Iceland's Blue Lagoon.
Fed by 1.5 million gallons (6 million liters) of seawater, heated deep within the earth and renewed every 40 hours, the Lagoon offers the perfect balance of healthful nutrients for your skin and calming, chlorine-free water for your personal relaxation.
As if under a spell, I imagine all of the daily stresses slowly seeping out of my body. Into the tepid warmth. Fully refreshed, and poached to perfection, I scarcely remember that arctic winter chill as I dash back indoors. I say, 'scarcely remember'. There are, after all, still traces of snow on the surrounding lava rock and a hint of bluster in the wind.
The crisp air, however, doesn't deter my family and I from venturing out a bit further from the Blue Lagoon. Just 29 miles (47km) from the capital city of Reykjavík, Iceland's most famous landmark is only one of several attractions located on the Reykjanes Peninsula.
With map in hand, we head the rental car in a southwesterly direction, toward the geothermal area of Krýsuvík. Having long been a fan of Yellowstone and its boiling pools of sulfur, I am delighted to see the same-style meandering boardwalks at Seltún. In and out, they weave an intricate pattern. They serpentine amongst the snowdrifts, mud pots and the steaming vents–Mother Nature reeking in all her glory.
Further along the Peninsula, we encounter Gunnuhver, another hot spot of thermic activity. Unfortunately, visibility here is low due to unscheduled rainfall. Undeterred, my husband and I merely tighten the hoods on our waterproof jackets. We fashion some makeshift rain-repellent outerwear from a large clear-plastic trash bag that we use to cloak my son's new coat, and the three of us tramp, oblivious, through an otherworldly landscape of fumaroles and burbling water holes.
The droplets of warming rain continue to fall, eradicating almost all the final remnants of the previous week's snowfall. At the Bridge Between Two Continents, slightly past Hafnir, we clamber across Leif the Lucky's Bridge to the midpoint where we straddle the rift between the North American and Eurasian tectonic plates.
We laugh at how 'cool' it is for me to be in America, while my son, just inches away, is in Europe. 'Cooler' still is to actually gaze down into the barren no-man's land of the Continental Divide, undeniable proof that the crustal plates are actually shifting apart.
Weary from sightseeing, we wind our way around the Reykjanes Peninsula, in the direction of Reykjavík. With darkness approaching, we wonder if the clouds will dissipate and the skies will be clear enough to see those elusive Northern Lights. They don't. The lights are another no-show. It's a shame, but you just can't predict those sightings of the aurora borealis.
Back at the Blue Lagoon, after a spirited week of snowmobiling, hiking and waterfall watching, we are more than happy to be dropped off by the Netbus for several hours of soaking before our flight home. It's right on the road to Keflavik Airport.
Lazying in the healing waters, with silica mud pasted over every imaginable pore of my face, I'm sure I look like a masked socialite at a Carnival celebration. With only my dark eyes peeking out, people might think I've had one-too-many shots of Brennivín after a weekend pub crawl. But a quick dousing of water, followed by an invigorating scrub, and the mask disappears.
I feel completely rejuvenated. And I look at least a good 15-minutes younger. Iceland's world-renowned spa retreat is indeed the perfect way to end a vacation. The perfect way to end a vacation in a land of mystery and intrigue, a little bit of elfin magic and a whole lot of Viking attitude.
If You Go
Flight: ICELANDAIR, Reykjavík Airport, 101 Reykjavík, Iceland; tel. (354) 5050 300; website: icelandair.com. During the winter, they have seasonal airfares and they also offer (year-round) the 'Iceland Stopover' whereby you can spend a few days in Iceland on your way to Europe at NO ADDITIONAL COST.
———————
Apartment: MIMIS4RENT, Mimisvegur 4, 101 Reykjavík, Iceland; tel. (354) 897 2568; website: mimis4rent.com – A great base for all your explorations and you can save tons of money cooking your own food. We ate like gourmands–leg of lamb, horsemeat stew–for about 1/5 of the cost of eating at restaurants. Really.
———————
Car Rental: CITY CAR, located at 4th Floor Hotel, Corner of Laugavegur & Snorrabraut, Laugavegur 101, IS – 105 Reykjavík, Iceland; tel. (354) 771 4200; fax (354) 511 3033; e-mail: [email protected]; website: citycar.is – Check them out for the BEST rates. We rented a compact car for 5 days and an SUV 4×4 (for exploration) for 2 days and they gave us the weekly rate for each one.
———————
Star Attraction: BLUE LAGOON, 240 Grindavik, Iceland; tel. (354) 420 8800; fax (354) 420 8801; website: bluelagoon.com
(Opening hours: Sept 1-May 31 – 10:00 a.m. – 20:00 p.m.; June 1-Aug 31 – 9:00 a.m. – 21:00 p.m.).
————————-
Airport/Blue Lagoon Service: NETBUS, Reykjavík, Iceland; tel. (354) 511 2600; e-mail: [email protected]; website: netbus.is OR bustravel.is