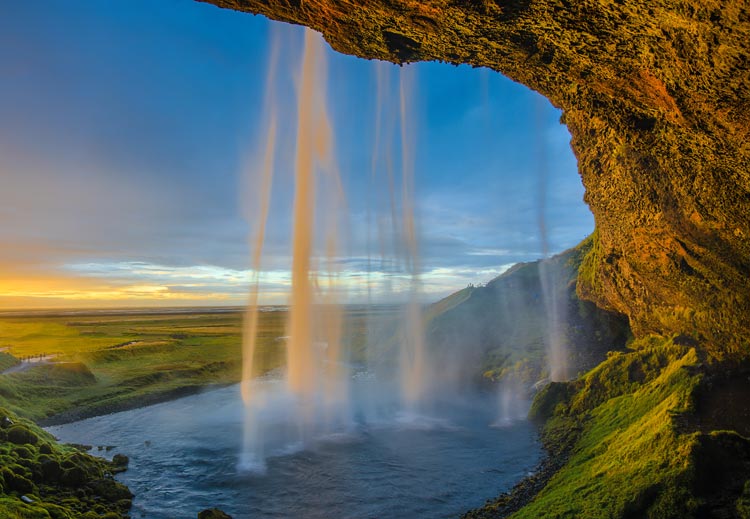 It's hard to pick just 10 places to visit or things to do in Iceland. Icelandic history is fascinating, while its nature is magical, and it can make ordinary things into something spectacular. Your casual stroll can become an exciting hike across the glacier. A quiet night under the stars can become an unforgettable northern lights show. However, the outdoors is not the only thing Iceland can offer; it also has a rich cultural life.
Here's our list of top 10 things to do and see in Iceland.
1. Explore Reykjavik
Reykjavik is home to 200,000 people, more than half of all Icelanders. The city is dominated by Hallgrimskirkja Lutheran Church, 75 meters (246 feet) high. Reykjavik is an important cultural center, with many museums in Reykjavik, galleries, and art, and souvenir shops. You can also use this opportunity to try some Icelandic beer or local dishes.
Due to its enormous water wealth and geothermal hot springs, Reykjavik has as many as 18 swimming pools, which are highly visited throughout the year. Iceland's capital also houses the impressive Harpa concert and conference hall, which has received numerous awards in the field of architecture.
During the day you can enjoy numerous attractions, while in the evening, Reykjavik becomes one of the best cities in Europe for nightlife. Many bars and nightclubs feature live music and a great atmosphere.
2. Drive Along the Ring Road
One of the biggest tourist attractions in Iceland is Route 1 or the Ring Road. It is approximately 1,300 kilometers (807 miles) long and connects Reykjavik with the second- largest city of Akureyri. This road trip is excellent if you want to explore Iceland at your own pace.
If you use the Ring Road as your guide, you'll see the most stunning waterfalls, volcanoes, and other spectacular wonders this country has to offer. The attractions include Jökulsárlón Glacier Lagoon, the beautiful Lake Myvatn, as well as the world-famous Golden Circle route. There's also Djúpalón Beach in Snæfellsjökull National Park, famous for its dramatic black- sand beaches and creative rock formations. Also, this road goes through the Hvalfjordur tunnel, almost 6 km (3.7 miles) long, positioned 165 meters (541 feet) below sea level.
3. Witness the Northern Lights in Iceland
The northern lights, known as Aurora Borealis, are undoubtedly the biggest natural attraction. The best time of year to watch this amazing natural occurrence is from October to April. The northern lights are caused by the collision of particles from the sun with particles of the earth. Polar light is usually green, but depending on the height at which particles collide, the colors may vary. So, shades of purple and red can be seen often. You never know when exactly the lights will show up, or how long this magical show will last. However, there are organized tours where experienced guides will take you to the best places where you can enjoy their dance.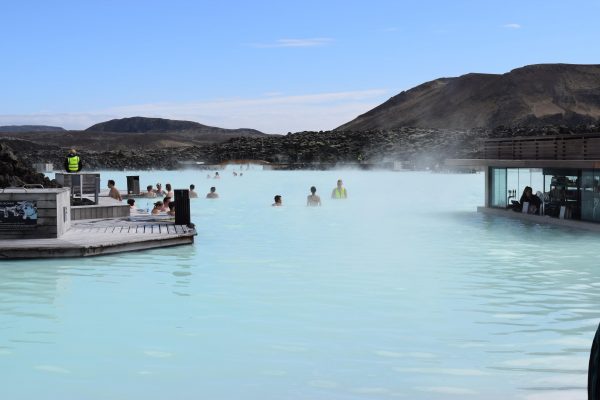 4. Swim in the Blue Lagoon
In Grindavik, in the middle of lava fields, lies the Blue Lagoon. Many tourists take a swim at the Blue Lagoon, a geothermal spa where the water is thick, milky blue, and its temperature is nearly 40 degrees Celsius (104 degrees Fahrenheit).
It's a beautiful feeling to swim in the Blue Lagoon, while the outside temperature is just a few degrees above zero. Water and mud from this lagoon are believed to, have healing properties, and they are used in the treatment of some skin diseases.
5. Go Whale Watching
It's impressive to see an enormous whale come out of the water from a close range. In the waters near Husavik, whales can be most commonly observed. The Westman Islands are also an excellent place for whale-watching.
The best period for whale watching in Iceland is from May to September. In the summer months, there are many whale- watching tours organized by local guides. You can often see minke and humpback whales, and also two of the largest animals on the Earth – fin and blue whales.
6. Admire Fascinating Waterfalls
The name of the most famous waterfall in the country is Gullfoss, which means "The Golden Waterfall.". You can visit it as a part of the Golden Circle Tour, which includes a visit to Thingvellir National Park and geysers.
There are about 10,000 waterfalls in Iceland. Among the most popular waterfalls is also the Seljalandsfoss, located in south Iceland and can be easily reached. Glymur waterfall, 198 -meters (649 feet) high, is also worth visiting, as well as Morsarfoss Waterfall, 228 meters (748 feet) high.
When it comes to water flow, Iceland's most powerful waterfall is Dettifoss. It is located in the northeastern part of the country, near Lake Myvatn. Other fascinating waterfalls include mentioning are Skogafoss, Haifoss, and Hengifoss.
7. See Geysers in Iceland
Haukadalur is a geothermal valley in southern Iceland, with numerous geysers that attract many tourists. The Great Geyser is about 100 km (62 miles) from Reykjavik and is part of the Golden Circle, which also includes Gullfoss Waterfall and Thingvellir National Park. It does not erupt regularly, but when the eruption occurs, it's up to 70 meters (229 feet) high.
A geyser Strokkur in the Geysir geothermal area is also worth visiting. Water, gas, and steam erupt every 5-10 minutes, up to 20 meters (65 feet) high. The temperature of hot springs is between 80 C (176 F) and 100 C (212 F) degrees C and more. Icelanders use steam and hot water from the geysers to heat their homes and greenhouses where food is grown.
8. Go Glacier Hiking and Explore Glacier Ice Caves in Iceland
The largest glacier in Iceland and Europe is Vatnajokull. It covers as much as 8 percent of Iceland's territory, and, by comparison, is the size of Cyprus. Numerous glacier hiking tours in Iceland will allow you to climb glaciers and enjoy fantastic views of the landscape. You can also see the glacial lake Jokulsarlon, located on the southeast side of this frozen attraction. There are two other glaciers in Skaftafel National Park – Falljokul and Svinafellsjokull. You may recognize some from "Game of Thrones" and other movies that were filmed there.
Iceland's second-largest glacier is Langjokull, just an hour and a half from Reykjavik. It is entirely covered in snow, which makes it so it is also known as an excellent place for snowmobile tours. In western Iceland, about a 2- hour drive from Reykjavik, is the impressive Snaefellsjokull. It is also the first national park in Iceland, with old fishing villages, black beaches, and a volcano.
Many glaciers in Iceland hide glacier ice caves, some of which are also accessible to tourists. Entering these dazzling caves is the ultimate experience. However, you can visit them only during the winter.
9. Explore the Volcanoes
Iceland has as many as 130 volcanoes. Thirty of them are still active. The only part of the country without volcanoes is Westfjords.
Volcanic eruptions are not very common. The lava often does not break the ice cap that covers the volcano. Many tour operators organize a visit to the volcanic regions. One of the most popular tours is visiting Grimsvotn Crater, parts of the Krafla system, as well as Snaefellsjokull volcanoes. The most famous volcanoes in Iceland are also Eyjafjallajokull, Hekla, Katla, and Askja.
However, there's also the Thrihnukagigur, the only volcano you can see from the inside. Descendt into the crater of this dormant volcano, and enjoy its intimidating size and beautiful coloration.
10. Westman Islands
The Westman Islands or the Vestmannaeyjar are near the coast of south Iceland. It is an archipelago of 15 islands, but shouldn't be confused with Vestmanna in the Faroe Islands. Heimaey Island is the biggest and the only populated island with only one town – Vestmannaeyjarbær.
The scenery of the islands is breathtaking. In addition, millions of puffins and other birds visit these islands every year. During summer months, there is a nest of 10 million puffins nest, so many visitors came here to enjoy bird- watching. There's also a Puffin Rescue Center that helps injured baby pufflings or adult birds.
On Westman Islands, you can also see the Elephant rock or visit the Beluga Whale Sanctuary.
Author Bio: Based in Serbia in Europe, Marija Stojanovic Petkovski worked as a journalist but realized writing about the most beautiful places in the world is something that inspires her. She is sure that a pint of good craft beer perfectly accompanies a tasty homemade lasagna. In her spare time, she enjoys playing with her children and spending time outdoors with her family.