Editor's Note: We're all dreaming of travel ahead. Here's some inspiration for future adventures. We share places, products and activities we recommend. If you make a purchase using a link on our site, we may earn a commission.
That's right. I'll say it again. Iceland is open again for people who are vaccinated.
Now you can visit those famous healing hot springs or see those beautiful waterfalls and black sand beaches! If you go soon, you might even be able to see lava pouring from the volcano that recently erupted on March 19, Mt. Fagradalsfjall, not far from Reykjavik.
It's definitely on my list.
If You're Vaccinated, You Can Go to Iceland
With the world populace becoming increasingly vaccinated, Iceland leads the way by opening its border to vaccinated travelers. Iceland recently announced that they would be lifting their travel ban and making exceptions to travel restrictions for vaccinated tourists from the US, UK, and many other countries as of April 6.
This means that if you're vaccinated, you will be able to travel to Iceland without having to quarantine or take a COVID-19 test upon entry. This applies to those who have fully recovered from COVID-19 as well.
Note: you will have to show proof your vaccination to enter the country.
Unfortunately, if you live in Europe's Schengen Zone, you won't be able to travel to Iceland yet, even if you are vaccinated. But there's hope. Iceland will start to lift the bans on even more countries later this year through a color-coded risk assessment system.
Keep an eye for when your country's color shifts from red to grey!
Book a Flight to Iceland
As a result of this announcement, we are starting to see more airlines launching direct flights to Iceland, including Delta Air Lines.
This is good news for travelers. Delta recently released this statement about the decision to offer more flight services to Iceland. Specifically, they are starting a new daily service from Boston to Reykjavik beginning May 20 and are resuming their daily service from Minneapolis/St. Paul on May 1 and New York-JFK on May 27.
All of these flights are red-eyes, so make sure you bring some entertainment or a sleeping mask ― I know I will for my trip in June.
Including the usual flights offered by JetBlue, Iceland Air, and these new flights by Delta. Also, It appears as though United Airlines will also be offering service to Reykjavik from Orlando as of June 3.
8 Things to Do in Iceland
Here are some ideas of what to do in Iceland:
Soak in the Culture and Art of Reykjavik
There is so much to do in Reykjavik. There are tons of museums, restaurants, nightclubs and shops to explore.
If you're trying to save money, you'll still have a blast walking through the charming streets. There are artistic surprises around every corner. Also, make sure you get a Pylsa (hotdogs) from a local stand.
This famous route is known for its geysers, waterfalls and parks. There are many tour companies located in Reykjavik that visit the attractions of this area – sign up with one to get a stress-free and planned experience.
Make sure you visit Thingvellir, a historic area known as the earliest site of the Icelandic Parliament. It is quite beautiful, and the history is fascinating and engaging.
See the Black Sand Beaches of Reynisfjara
The first time I saw this beach, I was in awe. I had never seen such beautiful, dark sand. Walking the black beaches will really stand in contrast to the usual experience of yellow- or white-sand beaches.
Sleep Under the Midnight Sun During the Summer
If you're going to go this summer, try to organize a camping trip for at least one night and sleep under the midnight sun. If you're not aware, Iceland's position in the northern hemisphere during the summer makes for days with nearly no darkness.
Again, make sure you have your sleeping masks for when you need to get some shut eye.
Stay Up Late, Bundle Up, and Look for the Aurora Borealis During the Winter
The opposite is true for winter: Iceland's position in the northern hemisphere during the winter means there is only a few hours of daylight and many hours of darkness.
For this reason, winter is the perfect time to hunt for the aurora borealis. Hope for clear skies. Alas, the last time I went to Iceland during winter, it was so cloudy that we didn't get to see it. Shucks!
Try Brennivin and Hakarl
This is certainly a touristic and novel cultural tradition that I loved. Brennevin is a type of aquavit, an alcohol similar to vodka.
Hakarl is a fermented shark meat that tastes like cat urine smells. Still with me? These two are like PB&J because the alcohol of the Brennevin neutralizes the urea and trimethylamine oxide in the shark meat, which is poisonous if too fresh and without Brennevin.
If you're an adventurous eater, this is a must!
Hike to a Remote Hot Springs for a Soak
Undoubtedly my favorite activity in Iceland was a long and cold hike through the wind and snow to a small, remote and local hot spring.
The hike was miserable, but when we stripped down to our birthday suits and entered the water, our worries just melted away.
I recommend doing this 100 percent.
Go To the Local Swimming Pools in Iceland
If you're not up to the challenge of hiking to a remote hot spring, then I suggest the next best thing: the swimming pools. Most of the cities and towns in Iceland have some sort of swimming pool complex with pools, hot tubs and saunas.
Not only are these facilities used for fitness, but they are also social spots for locals―and foreigners―to meet, greet and be merry with each other. Most people in Iceland speak English, so start a conversation and see where it leads!
You can also go to some of the spas, such a Blue Lagoon or Gamla Laugin.
Are these ideas giving you some wanderlust? Then go and check out flight times and prices for your own trip now. Don't forget your passport and your proof of vaccination.
Book This Trip
Ready to trek through the wonders of Iceland? Find the best flight deals here from the airlines currently offering flights through Kiwi. Then before you go be prepared with knowledge of favorite local cuisine, the best Aurora Borealis viewing spots, hotel or VRBO options and more through Travelocity and TripAdvisor.
There are currently travel restrictions for third-country nationals which can be found at Visit Iceland's COVID restriction travel page along with rules and guidelines for travel within Iceland.
Learn more about how and when to travel to Iceland here.
Author Bio: Harvey is an English teacher living in central Florida with his partner, AL. They dream of quitting their jobs and traveling full time.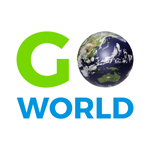 Latest posts by Go World Travel Magazine
(see all)