I found San Miguel de Allende, Mexico by chance—or else, destiny—and I returned to it for love, not once, but many times. In the in-between, I returned, quite frequently because it changed my life.
But as much as I would like to take credit for finding this colonial haven in Mexico's heartland, I can't. Just like every place that is life-changing, it is the place that finds us, not the other way around.
So, when I needed a break from the hustle and bustle of Toronto this charming town in the state of Guanajuato found me, it was fortunate that I already knew how to speak the language. My credit, if any at all, resided on answering the call to go where I was needed.
Blurred Lines Between Mexico and America
Being born in Mexico and having left the country at an early age to go to college, I never thought I would have a reason to return. After all, I was already a citizen of the world, and I longed to explore all of its buzzing capitals and far-flung villages.
But coming back to my home country allowed me to integrate that part of me as part of my whole existence. My article How I Became An Immigrant In My Own Country sums up that experience.
My life is divided by a line that says before San Miguel de Allende and after San Miguel de Allende. It was the place that helped me relax and heal spiritually and reconnect with many long-lost passions, like tennis, romance, writing and living life on my own terms. The other reason why it became so important to me is that it changed my view on travel.
Even though I've enjoyed extended stays and wonderfully immersive experiences in numerous countries, my outlook on travel—fuelled largely by being intensely goal-driven—was always on the backburner, oriented towards accomplishments. The more, the better.
How many countries had I been to? How many cities? Been there, done that.
But what I learned through time is that this goal-intensive way of traveling rarely amounts to meaningful experiences because it leads us to constantly look forward to the next place, and the next place, and so on, instead of fully soaking in and embracing where we are., in the moment.
I was thinking of it more like a job that I needed to get done, rather than enjoying the destinations and all they had to offer.
Bridging the Gap Between Canadian Winter and Spring in San Miguel de Allende, Mexico
My original plan when arriving at San Miguel de Allende consisted of staying for three weeks. I was living in Toronto at the time.
After spending Christmas in Texas with my family, I had planned to go to South America for a couple of months, working remotely while I waited for spring to arrive in Canada. San Miguel was supposed to bridge the gap between the then and the now.
Fortunately, being a digital nomad, I could take my work with me. And the only part of my job that is not fully portable―tennis coaching―is semi-portable because there are tennis courts almost everywhere.
San Miguel de Allende has risen to prominence as a popular destination for expats and tourists worldwide in recent years, especially following the denomination it received as the best city in the world by Travel and Leisure. It is widely known for its cobblestoned streets, its endearing yellow-and-terracotta houses and its flower-peppered rolling hills.
It is also home to countless entertainment venues, from swanky rooftops where you can contemplate the gorgeous sunsets to traditional cantinas where you can close the night to the tune of traditional Mexican songs. But these, in my opinion, are what make San Miguel unique.
Having spent considerable amounts of time in over thirty countries, this is why I returned to San Miguel de Allende.
The People in San Miguel de Allende
For me, people make a huge difference everywhere I go. I feel blessed and fortunate that I have been able to make so many good friends in different parts of the world.
San Miguel de Allende is full of people who, like me, have defied the rules of conventional living. That has gradually changed as the place has become a go-to spot for tourists (there is a difference between travelers and tourists) who go there to see and be seen.
But what I found―and what delighted me―is that most of the people I met were no longer conditioned by a certain role or by the societal structures of their hometowns so they were actually being themselves―Bohemian artists, spiritual seekers, eternal wanderers. That was my experience.
Almost everybody I met in town, regardless of their background story, had his or her life transformed in San Miguel. These people came from all corners of the world, Alaska, Florida, Germany, Sri Lanka.
There is something about the energy of this place that feels liberating, and most people I met were very open, friendly and welcoming. The atmosphere at coffee shops, parks, bars and restaurants was generally super casual and relaxed, making it very easy to engage in conversation and develop new friendships.
Make international friends, wherever you go! Discover InterNations, the community for global minds with over 4.2 million members worldwide. Enjoy events, join groups, and more!
Life moves at a different pace
One thing is that there are amazing people living and spending time in San Miguel de Allende which I believe is true for every place in the world. In my opinion, everybody is amazing in their own way.
Because San Miguel de Allende is less-structured, people don't have rigid agendas or ways of life and are, therefore, they are available to engage. This transition reminded me how people in smaller societies, they still value true, authentic human connection.
For a while, in Toronto, I lived in a condo building that had sixty floors. On a daily basis, I bumped into dozens of people—in the elevators, at the pool or the library—and most of them would weirdly nod when I said hello or smiled at them as if they had been knocked out of balance. Otherwise, they were be glued to their phones.
But when I spent time in Waterloo, a smaller town—even though it is a hub for most of Canada's technological innovations—I was greeted with utmost warmth and care upon my arrival to the apartment I had rented. Everybody helped me feel at home right away.
Being more familiar with larger Mexican cities than small towns, I expected San Miguel to be more like Toronto than Waterloo. I was pleasantly surprised when I realized it was the former. There are countless benefits when life moves at a different pace.
Activities and Human Connection in Mexico
One of these fabulous advantages as a digital nomad is that the lifestyle provided me with numerous ways to balance my on-screen time with off-screen activities. Of course, this was interrupted by the still-ongoing coronavirus pandemic.
But once activities are restored, I believe the countless events that made San Miguel such an entertaining place, like plays, concerts and ping-pong tournaments, will return.
Another advantage to San Miguel de Allende is that after spending so much time working on a computer, it is refreshing to be able toto connect with fellow human beings, who truly can take the time to get to know each other instead of always being on the go. There is another area where life moves at a different pace in San Miguel or where different—and more human—values are embraced.
Even though Guanajuato—the state where the city is located—is the state with the highest number of murders in Mexico, and even though it has been deeply affected by the pandemic on all levels, people here still trust, and have, gracefully, declined against adopting the mistrust and defensiveness of modern urban societies.
Don't have enough change for coffee or a pastry? Don't worry, you can always pay when you come back. (A la vuelta, as they say in Spanish)
People still greet everybody as they walk by, and it is odd not to say hello. Neighbors still rely on each other—and not on 24/7 convenience stores—for ingredients they might be missing, like milk or sugar.
Living at a different pace and with different values led me to completely reframe the ideals that were ruling my life. And the irony was that being more peaceful and mindful and less self-absorbed led me to be substantially more productive.
In San Miguel de Allende You Will Learn to See Again
The first couple of days in San Miguel de Allende as I walked through the picturesque Centro streets with my girlfriend, I noticed that she would stop at almost every corner to take pictures.
She delighted herself on the features of the architecture or with the jaw-dropping postcards, which combine nature and historical buildings, that you can find at every turn.,
Among the many things she has taught me, one is how to see and appreciate all the marvels that unfold in front of us, every moment. I also learned how to see people better.
Because everybody greeted us and wished us a nice day, it was so much easier to flow and feel like we were part of something larger. It was so nice to see people as humans and to connect with them on a personal level.
The experience quickly displaced the urban-fostered default mindset of seeing everybody as an object on our perpetual way somewhere else. This newfound way of seeing things also had tremendous benefits in my work. Because I was more fulfilled and in less of a rush, I could focus better.
I got in touch with an endless fountain of creativity that had been stuck inside me, waiting to be expressed. By doing less, I achieved more. As a digital nomad, it was a tremendous perk to be able to take sometime and discover a town that taught me to embrace a different way of life.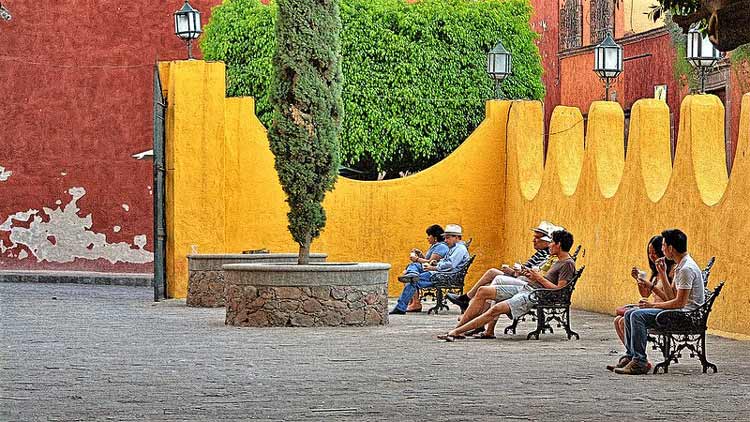 Appreciating the Small Town Life in San Miguel de Allende
As more tourists flock to fancier hotels, avoiding smaller destinations, despite the ongoing restrictions, you can see the unfortunate effects on the town's energy. Gentrification is a worldwide syndrome
But it is still an amazing place, and it will change you. It will awaken your senses. It will show you that there are different ways to live.
As of now, my cycle in San Miguel has temporarily concluded, although I know, at some point, I will be back.
But in the meantime, I live differently. I travel differently. I fell in love and made wonderful memories. And I might have left, but I will never be the same.
Author Bio: Javier Ortega-Araiza is a lifelong traveler, adventurer, and storyteller, narrating his human experience. His journey has taken him to over thirty countries, has been a digital nomad for over ten years. But what truly matters to him are the connections made, the people met, and the wonderful stories that he has listened to as part of his travels. He is a published author in both English and Spanish, and beyond writing, he hosts a podcast, is an avid tennis player and coach, a social entrepreneur and investor, and a spiritual counselor, among many other things in between. You can learn more about him at joapublishing.medium.com