Discovering Mexico
Do you need a place to hide out? Are you running from the law or a screwed-up life? I stumbled upon a high desert Mexican ghost town where anonymity can be bought for a few pesos and a bottle of tequila.
Where you can let your hair down or do it up in dreadlocks; where you can blend in with new age hippies or older 'want-to be' versions.
Living as expats in easygoing Chapala, Mexico works wonders to reduce the frenzy of everyday life, but at times, we still crave posh restaurants, high-end watering holes, classy art galleries and designer home furnishings.
Spending a few days in San Miguel de Allende, in the state of Guanajuato, Mexico, and awarded the 2013 Best City in the World by Conde' Nast Traveler, quenched our upscale thirst.
Our Hotel
We chose the boutique bed and breakfast, 'La Mansion del Bosque'– The Inn by the Park- for our get-away quarters.
Located three blocks from San Miguel's Central Plaza and steps from the well-manicured San Miguel Park, our second floor suite overlooked the garden, and intricate nooks and crannies hid the rooms that meandered inside the terra-cotta hued walls.
It provided the perfect backdrop for our 'opulence gig.' (www.mansiondelbosque.com)
At breakfast on the second day, we overheard a fellow 'Inn Mate' describe an intriguing exploit.
A California gal revealed that a secret, ancient indigenous ceremony was being re-enacted that day in Mineral de Pozos, one hour from San Miguel. Apparently, so hush, hush was this event that she whispered the tidbits she shared.
She had hired a guide to take her and her friends. Her final murmur, "only a privileged few know about it."
Fascinated by the hunt, the four of us traveling together quickly excused ourselves, did a cursory internet research of Mineral de Pozos, threw off our upscale clothes, donned our adventure jeans and headed out in search of this clandestine happening.
A Brief History of the Place
Our hasty review uncovered basic facts from the www.MineraldePozos.com website. Pozos originally settled by the Chichimec people, served as a wagon train trading post after silver was discovered in Zacatecas in 1567.
The Jesuits, always one step ahead of the Spanish founders, settled there in hopes of converting the indigenous population. Jesuit priests organized workers and mined trace amounts of silver there.
They built a smelting foundry in 1597 to process the ore. Later in 1657, they founded the beautiful, still functioning Church of San Pedro, bestowing the name San Pedro de Pozos on the town.
After the Spanish displaced the Jesuits, replacement miners unearthed huge gold and silver reserves west of town.
By 1895, Mineral de Pozos supported over 300 operating mines that created wealth for a population of 70,000. It earned a reputation throughout colonial Mexico for its opulent life style and haciendas oozing with grandeur.
Mexican President, Porfirio Diaz, promoted its thriving mining industry and boomtown appeal. It was temporarily renamed Ciudad Porfirio Diaz, in honor of the adoring President.
The mines of Mineral de Pozos proved so lucrative, so important to the economic growth of Mexico, that the Mexican Stock Exchange, La Bolsa, was founded to promote shares.
With the Mexican Revolution unrest brewing in 1910, mining ceased when the fighting began. After the mines were intentionally flooded, the global price of silver plummeted.
The last mine closed in 1927 and the town died without its source of revenue. By 1950, only 200 people remained in Pozos, making it a virtual ghost town.
The grand mansions, left uninhabited and unmaintained fell to decay in the dust.
Noting its historical significance, President Lopez Portillo named it a National Historic Zone in 1982, with little effect.
For the last 10 years, the community has attempted to resurrect the town, trying to encourage artists and musicians to abandon expensive San Miguel and set up shop in undiscovered Pozos.
The Present Status of Mexico
Today, around 2,000 people struggle to update the necessary infrastructure.
With this background on hand, we drove 45 minutes from San Miguel through beautiful high desert country, at an elevation or 7500 feet. Bucolic landscapes unfolded as goats, sheep and donkeys lined the deserted road.
On the outskirts of town, ruin after ruin draped with overgrown vines and nopal cacti engulfed crumbling, century old mansions and mining operations.
These reminders of a glorious past lured us on, eager to unearth the secrets of a town that went from boom to bust, a town resisting permanent death, trying to recover some of its long gone splendor and fame.
As we drove through the main, cobblestoned drag, the drab adobe brick buildings looked deserted.
We turned toward the central plaza, following the hand made wooden arrow pointing the way. The zocalo teemed with people.
All 2,000 inhabitants had congregated there for the 'secret' festivities. Eureka – we had found it!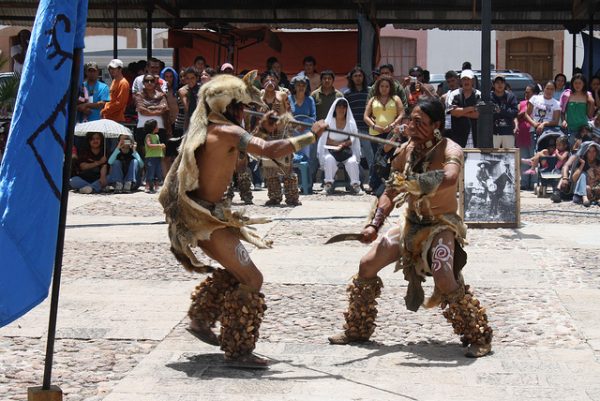 Artists from central Mexico, with their creations of ceramics, hand-painted gourd instruments, and jewelry lined the square.
Video cameras, amplifiers and microphones stood in the center. The high-tech equipment blazed in a time warp backdrop against crumbling colonial buildings lining the 19th century plaza. Something was up.
Meeting the Mexican People Around Us
Indigenous people, costumed in their ancient dress assembled for what seemed to be a formal presentation. I asked a bystander about the activity.
"Oh this is the annual Toltequidad Festival, held in celebration of the indigenous cultures of Mexico, with an exposition of their paintings, dances and rituals" he explained. "It's fortunate that you visited today."
I nodded in agreement, with a huge smile, as I realized we had stumbled upon the (not so secret) ceremony, without hiring a guide.
Judging from the crowd, the California group must have realized by now that the 'privileged few' had multiplied tenfold.
Flute and drum music played in the background and burning copal incense wafted through the air, preparing the ceremonial atmosphere for a historical progression of indigenous cultures of Mexico.
Each group reflected the relationship between the sky and the earth through dance, music and narration in their native language.
The plaza teemed with an assortment of old and new, cluttered together without any semblance of congruity; amplifiers bounced sounds off tin corrugated roofs, cymbals clashed against the faint beat of goat-skinned drums, indigenous people mixed with police security guards.
I spotted California girl in the crowd. Her face turned sour when I skirted her group saying, "Oh, I see you made it." She turned pale, trying to hide the high-priced guide behind her flock.
Following the ceremony, we walked around town to sense the isolation when visitors go home and festivals end.
Amidst the row of paint faded tiendas with dark interiors and customary, single light bulbs hanging from the ceilings, a large structure stood out as restored to past elegance.
Bright and inviting against the blight, the Posada de Las Minas Hotel, magnificently revamped to its original colonial opulence, provided a glimpse into the past and what could be in the future.
The elegant rooms, exquisite artwork, gourmet cuisine and manicured gardens provide a stunning overnight stopover or an exquisite place for lunch to recapture Mineral de Pozos during its heyday. (www.posadadelasminas.com)
As we drifted farther from the central plaza, the aroma of marijuana permeated an alley as a gathering of 21st century hippies passed a joint around.
A meager market near the church showed how this arid soil and climate offer farmers little more than subsistence.
Pozos is being touted as the upcoming escape for artists and writers and indeed a renaissance is unfolding in building restoration.
A slight sensation of rebirth and resurgence of energy drifted through the dusty streets. Pozos may travel back to the future one day to reclaim its presence of fame and beauty.
For now, it remains a place to hide, a place to be creative or a place to let imaginations run wild with scenes of 1895.
When visiting San Miguel de Allende, Mexico's opulence of the present, head to Mineral de Pozos, Mexico's opulence of the past and envision the potential magnificence of its future.
Author's Bio: After a life-long profession of treating the mentally ill at a PA psychiatric hospital for 33 years and also serving as its Director of Admissions, Carol retired to Lake Chapala, Mexico in 2006 with her husband, to pursue more positive passions. Her family thought that she, too, had 'gone mad.' She's been teaching English to Mexican adults for ten years, in a program operated by volunteer expatriates and writing for local on-line and print publications. Using her adventures experienced during visits to over 80 countries to capture a niche in travel writing, Carol also dabbles in 'memoir.' A frequent contributor to Lake Chapala English magazine, "El Ojo del Lago," she's won several literary awards from that publication, including Best Feature in 2010 and Best Fiction in 2014. She also netted a story regarding her psychiatric field work in the published anthology, "Tales from the Couch."
[mappress mapid="989″]