Editor's Note: We share travel destinations, products and activities we recommend. If you make a purchase using a link on our site, we may earn a commission.
They tell me there's a beach here. That's why people around the world vacation at Mexico's Riviera Maya. However, I don't much care as I sip a can of chilled Montejo pilsner sitting on a chaise lounge overlooking an emerald green canal.
Every few minutes a boat floats past; its electric motor as soft as a cat's purr. Lush trees and a pergola protect me from the afternoon sun's full intensity. Soothed by a chorus of song birds, I've lost the will to move. The beach will have to wait.
Fairmont Mayakoba
I'm relaxing on the secluded balcony of my canal-side casita at the Fairmont Mayakoba Resort in Playa del Carmen, Mexico. It's a two-room suite with a spacious living area, two bathrooms, and separate bedroom with king-sized bed. There is even a walk-in closet.
On the roof of my casita are a covered sun deck and a small soaking pool. Did I mention it comes with a butler? That's who brought my beer and platter of chips and fresh-made guacamole for an afternoon snack. With all this luxury wrapped inside a 1,113-sq. ft. casita, who needs a beach?
The Fairmont Mayakoba is a AAA 5-Diamond luxury resort on 240 acres of beach-front tropical forest about an hour south of Cancun International Airport. It is part of a larger resort community with three other resorts and a PGA golf course.
Mayakoba, Mayan meaning "village of water," was named for the meandering waterways that flow through the area. The entire development was built around these canals 13 years ago, designed to enhance what is already here.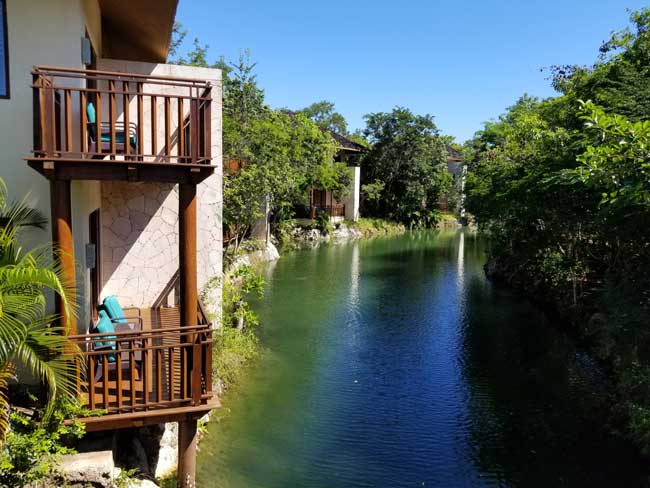 Lorena Vilchis, Director of Sales and Marketing for Fairmont Mayakoba, takes pride in the resort's natural surroundings.
"Our [mangrove] trees are the tallest and we have all three kinds, the Green, the Red and the White. It's fantastic!" she says.
"Animals are happy and reproducing. We went from, I understand, 75 to 300 species that we have and growing. I'm assuming you have already had encounters with our cute wildlife. Have you seen the coatis?"
I reply that I haven't seen one yet. Then that very evening a nocturnal coatimundi strolls across the paved path as I approach my casita. Related to raccoons, these house-cat sized creatures have reddish fur and long noses and this one totally ignores me as he disappears in the brush.
Much of the resort's wildlife can be spotted during nature boat rides on covered ferries, called lanchas, colored green and tan to match the surroundings. Lanchas have quiet electric motors that don't scare the wildlife away.
As we come around a bend, I see a dark feathered cormorant and a grey iguana sunning themselves on the same giant rock. Bright yellow-belly kiskadees chirp from tree branches.
Our boat driver/guide, Francisco, points out another local hiding behind some tall reeds – a crocodile. Only a few feet long, this guy is harmless. Francisco says the mangroves are a natural crocodile habitat.
However, once they grow to six feet the resort relocates them to a reptile preserve to protect both guests and crocodiles, which can grow up to 12 feet. These tranquil 30-minute tours in Mexico run every half hour from 7:30 AM to 5:30 PM and, while free, guests need to reserve spots in advance because boats fill quickly.
From the main hotel building to the dozens of casitas, the Fairmont Mayakoba has over 400 rooms, but you wouldn't know it because the property completely blends into its natural surroundings.
Electric carts transport people around or guests can borrow a bike from stations around the property to get to the beach, the restaurants, and the spa using paths shaded by jungle tree canopies. Half the fun of staying at Fairmont Mayakoba is getting around.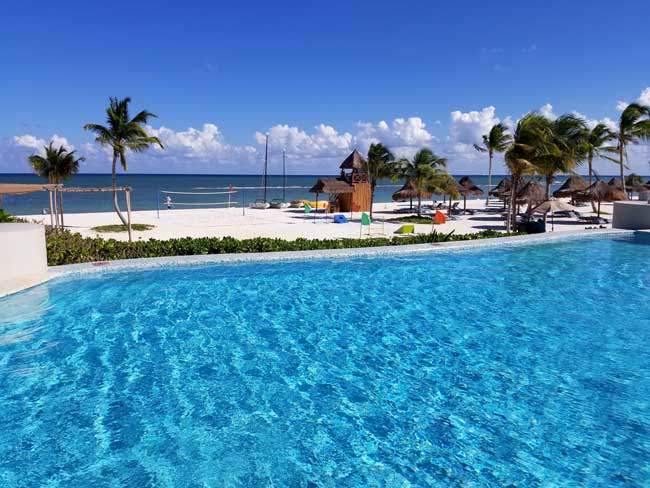 Dining at Fairmont Mayakoba
The Fairmont has three restaurants, all of which offer dining in gorgeous indoor/outdoor settings. Two are headed by new Executive Chef Diego Sobrino who brings Mexico's rich culinary history to Fairmont.
La Laguna
La Laguna, which has a large covered dining area overlooking the canal, is by the main pool area and Brisas is on the beach with sweeping views of the beach. Chef Sobrino has given both restaurants a menu overhaul with traditional dishes, many dishes he grew up with.
At La Laguna Tuna Crudo with raw tuna, cucumber, jicama root, and passion fruit vinaigrette is as fresh as the evening air and Chicken Mixiote, a thigh leg with baby onion, cilantro rice, and beans exudes Mexican comfort food.
Another part of La Laguna's new menu is Tlayuda or what I think is a colorful veggie tostada. A tlayuda, my server gently corrects, is a wafer-thin tortilla fried until crispy.
Oh, and those large black chunks that look like beans are actually chicatanas, giant winged Mexican ants tossed in garlic and lightly fried for a crunchy texture that takes some getting used, but tastes delicious.
The ancient Mayans ate insects regularly and in Mexico City, one of the world's culinary capitols, eating insects is considered a delicacy, so without hesitation Chef Sobrino added them to the menu.
Brisas
Since Brisas overlooks the Caribbean Sea, the kitchen specializes in seafood, sustainably caught using only the most abundant species in the surrounding waters such as grouper and Caribbean lobster.
Red snapper, fried whole and served family style, comes with a column of coaster-sized handmade tortillas that guests can use to pull chunks of meat off the fish, the way traditional Mexican families do. A squeeze of lime and some avocado tomatillo sauce top it off.
Vilchis says the restaurants play an important role in the Fairmont Mayakoba experience.
"I enjoy what happens when there's food," she says. "I'm prone to talking and having a good time and enjoying family and loved ones, so I love the culinary offerings we have. I'm Mexican by birth, but I also like to travel. I love how we've incorporated a lot of different ingredients from all over the world."
When asked which restaurant is her favorite, she laughs in refusal. "I have a favorite dish in every restaurant, so I tell everyone to do the tour. Do the grand tour because you will find your favorite as well."
Willow Stream Spa
Sipping a cup of grass-colored Mayan Juice from Fairmont's Willow Stream Spa lounge, I wait for a late afternoon deep tissue massage. A staff member tells me the peppery tonic is made from Chaya leaves, a regional plant believed to have healing powers by the ancient Mayans.
I feel I've added 10 years to my life just holding it. Willow Stream Spa is notable for using local herbs and plants in the treatments bringing a touch of Mayan culture to the experience.
My massage therapist, Fernanda, arrives and escorts me down the hall to a private room with soft lighting and music. First, she places warm smooth round stones on my back.
Then she asks if I prefer lavender or rose hips. Lavender, I reply, and immediately my nostrils fill with the floral. I'm completely relaxed before she even starts kneading my muscles.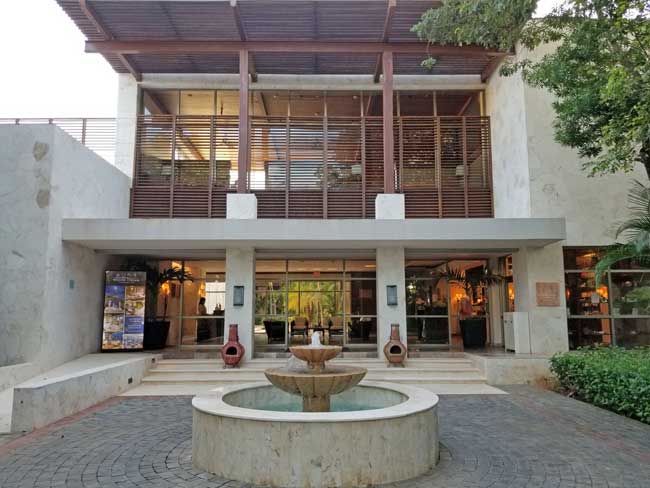 Beach at Fairmont Mayakoba Resort
In the pre-dawn shimmer of a pewter-colored Caribbean Sea, Mayakoba's beach is not quiet. Seagulls squawk while resort staff members converse in Spanish while raking the beach. The shoes of a couple out for a jog crunch in the sand as they pass. In the water, a swimmer's arms windmill one after the other between the waves.
Sitting on a cushioned lounge chair under a thatched-roof palapa, I am anticipating the Caribbean sunrise while sipping a latte I made in my casita. You didn't think I'd come all the way to Riviera Maya and not experience the beach, did you?
Mayakoba's vast beach has soft white sand and the water shines a deep sapphire blue when drenched in full sunlight. The palapas are first come, first serve; however, if you can't snag one, plenty of lounge chairs can be found around the beachfront infinity pool.
A tiki hut holds the water sports station staffed with friendly young men wearing long-sleeved grey and orange hoodies to protect them from the sun and salt water. I borrow a stand-up paddle board from Padro and head out into the wavy sea.
Fortunately, it's early enough that the wind has not picked up and I paddle easily from one end of the resort to the other and back again. Water sports are included with the resort fee, so paddle boards, boogie boards, kayaks, snorkel masks, and sand toys are available to everyone.
For an extra fee, guests can take a wind or kite surfing lesson, sail a catamaran, or take a snorkel trip to the Mesoamerican Reef just off-shore, the world's second largest coral reef system.
El Puerto: Richard Sandoval's Restaurant of Focus At Fairmont Mayakoba
On the last night of my stay, I dine at Richard Sandoval's El Puerto restaurant in the main building overlooking the entire resort.
With an Asian-Mexican mix of sushi and botanas (Mexican tapas), this is Fairmont's formal restaurant and an elegant place to watch the moonrise with a Carajillo, a Mexican after dinner cocktail made with espresso, a Spanish liqueur called Licor 43, and a touch of cream shaken over ice.
On returning to my casita, I notice that housekeeping has tidied up. Next to the pillow on the bed is a vibrant red Mexican hibiscus next to a hand-written note wishing me safe travels tomorrow. Vilchis says that is my "sparkle."
"We try to sparkle our customers. See how we can sparkle their lives with little details. It's wherever the imagination takes us."
I call it delightful. Fairmont's attentiveness makes me think beaches might be overrated.
Nah, just kidding.
If You Go
Be sure to check out the rest of the area during your trip to Mexico. Find more expert-guided tours and fun activities for the whole group in Playa Del Carmen through GetYourGuide. Check out Playa Del Carmen tours and reserve ahead here.
When you are ready, pick your best flight options and reserve your ground transportation all in one place through Omio Travel Partner.
Fairmont Mayakoba
https://www.fairmont.com/mayakoba-riviera-maya/
Author Bio: A member of the North American Travel Journalists' Association, Carrie Dow is a freelance travel writer based in Lakewood, CO, whose work has appeared in International Living, Go Nomad and Interval World. She is the Local Editor of DrinkDenver, a part of The Drink Nation, a website devoted to finding the best happy hours in cities across the US. She is also the founder of What's Pawsitive, a website covering animal welfare issues and animal-based travel around the world. An occasional football widow, she is mom to a Siberian husky and a Siamese cat.