The shapely woman's leg with a lamp on top, looking tackier than the pinkest of pink flamingos, sits right where it should — in the living room window. Across the room from the Parker family Christmas tree is a half unwrapped Red Ryder BB gun.
Yet when I discovered the 1940s lady's hat box in the closet of the upstairs bedroom, I called out to our guide, Dale Drottar: "My mother had hat boxes just like that in her walk-in closet."
"That's the type of thing we hope to hear from people here," Drottar replied.
A Christmas Story House
A Christmas Story House, in the working class Pembroke section of Cleveland, Ohio, in the midwestern United States, is the actual house that was used for exteriors in the holiday season classic, A Christmas Story. Jean Shepherd's autobiographical tale follows 10-year-old Ralphie Parker on his quest for a BB gun for Christmas, along with the adventures that transpired around him and his little world.
Who can forget the scenes where Ralphie's father, a.k.a. "the old man," chased the neighbor's mutts out of his way as he entered his home? That scene was shot here.
Remember Black Bart and his gang of bad guys climbing the backyard fence in Ralphie's fantasy sequence? That was filmed in the backyard.
Ralphie's kid brother, Randy, falling in the snow while trying to escape the neighborhood punks? That happened on this street, which happens to be West 11th Street in the real world, as opposed to the reel world.
Forget the fact that the interior scenes were filmed in and around Toronto. The movie producers wanted to replicate Shephard's boyhood steel town neighborhood of Hammond, Indiana. They found it here in Cleveland.
The House in A Christmas Story
Today the house's interior is decorated to look as much as possible like Ralphie's home in the movie, right down to the school composition book next to his famed glasses on the desk in his bedroom, in which he printed in crude letters, "What I want for Christmas is a Red Ryder BB gun with a compass in the stock and this thing which tells time. I think everybody should have a Red Ryder BB gun. They're very good for Christmas. I don't think a football is a very good present."
To which his teacher wrote the same admonition his parents gave him: "You'll shoot your eyes out," and gave him a C+ for his efforts.
Drottar concedes, "Some people disconnect when they hear this is not where the interior shots were filmed."
On the other hand, there are those visitors like Claire Kingsbury, visiting from Ocala, Florida, who said she had to see the home for sentimental reasons.
"This was my dad's favorite movie," she says. "He would watch it and say things like, `We sat in chairs like that all the time when I was in school. I also had a teacher who took our toys and put them in a drawer, and we never got them back.'"
Targeting those memories stuck in the recesses of our brains, or in our parents' brains, is a main reason for the replicating Ralphie Parker's house, which explains Drottar's excitement when I recalled that my mom had a hat box like the one in the upstairs closet.
"Nothing in the house was used in the movie so you can sit on the furniture," says Drottar.
And so I sit in the comfy chair by the console radio, next to a standing ash tray, something else my parents had in our house when I was growing up. I pick up a copy of a 1940 edition of the Chicago Tribune as the sounds of Little Orphan Annie, "Brought to you by Ovaltine," emanate from the nearby Philco.
Few details were spared in transporting this former real life two-family house into Ralphie Parker's 1940 movie home. The trimmed Christmas tree stands in the living room, sheltering wrapped presents and a blue bowling ball, while holly is sprawled across the fireplace mantle.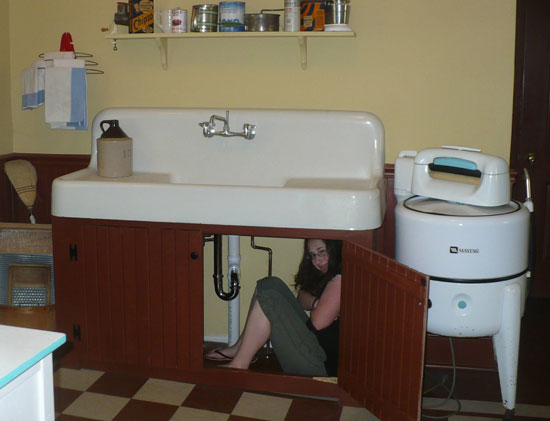 There is a crawlspace under the kitchen sink where a frightened Randy hid when he felt he was in trouble. And if you look carefully, you can see in the upstairs bathroom a bar of Lifebuoy soap with a bite taken out of it, evidence of Ralphie's punishment after spurting out a word his old man might have been allowed to say, but never a 10-year-old in 1940.
The climactic scene where Ralphie couldn't wait to unscramble Little Orphan Annie's secret code is played out in an upstairs bathroom, just as in the movie.
Sitting atop "Little Orphan Annie" from the Sunday comics (or Sunday funnies, to use 1940s vernacular) is another composition book on which Ralphie anxiously decoded the Little Orphan Annie Secret Society radio program's hidden message, only to learn to his disappointment that the hidden message was merely a shill for the show's sponsor: "Be sure to drink your Ovaltine."
The redecorating and opening of A Christmas Story House came from an unlikely source. San Diego Navy veteran Brian Jones began making female leg lamps, like the one Ralphie's old man coveted, as a cottage industry.
After sales unexpectedly took off, his wife Mary read on e-Bay that the house where the A Christmas Story exteriors were filmed was for sale nearly a continent away. The starting bid was $99,000, overpriced for a neighborhood that had degenerated into the type of place Chuck Norris might fear to tread following the closing of nearby steel mills.
Jones did not care. He had a dream to turn the house into a tourist attraction and he paid $150,000 for it. In time, he bought two more houses across the street. The neighborhood gradually began to gentrify.
Today, one of the buildings is a gift shop; the other a museum with four rooms filled with original props, including the toy soldiers and Raggedy Ann dolls that were in Higbee's front window, the original Parker home Christmas tree and the family's pajamas, with one exception — the famous bunny suit. Actor Peter Billingsley, who played Ralphie, has possession of it and has been loathe to display it publicly.
If you enter the museum at the right time, you might meet long time neighborhood resident Jim Moralevitz, who was here for the filming in 1982 and served as an extra, playing the a freight man who help deliver the leg lamp to the Parkers.
Most of the time, his job was caretaker to young actors Peter Billingsley and Ian Petrella, who played Randy.
Jim will happily recount his brush with movie history, like the fact that Higbee's Department Store in downtown Cleveland stayed garbed in Christmas regalia for three months after Christmas so filming could be completed there.
Moralevitz adds, "Randy hit on me a lot, always pulling pranks. I'd come back from the commissary with a cup of hot chocolate and he'd want some. Peter was a more serious kid. He wanted to see what was going on behind the scenes, how the movie was being made."
It was prescient. Today Peter works as a producer, but has not given up acting; he had an unaccredited bit part in the 2003 Christmas movie Elf.
Should you venture into the gift shop, you will be eye to leg with female leg lamps in all shapes and sizes, as well as in the forms of night lights and cookie cutters, inside snow globes and as a string of Christmas lights. There are ceramic replicas of movie scenes and A Christmas Story editions of such games as Yahtzee and dominos.
But should you buy an A Christmas Story candy bar, don't rush to throw away the wrapping. At the bottom of the box is an altered facsimile of the Little Orphan Annie Secret Society hidden message Ralphie waited so anxiously to decipher.
In this case, the hidden message reads — what else but — "Don't forget to eat your chocolate."
Visit A Christmas Story House and Museum
A Christmas Story House and Museum is open year-round on Thursday-Saturday, 10-5, Sundays 12-5pm; extended days and hours in December; check website for latest hours. A Christmas Story House, museum and gift shop are closed: Easter, Thanksgiving Day, Christmas Day, New Years Eve, New Years Day, and all other major holidays. Tours run every half hour with the last tour at 4:30. Tickets must be purchased prior to the last tour, and are sold in the gift shop located diagonally across the street from the house.  Admission: $10 adults, $8 seniors and $6 ages 7-12; free under age 7. Information: (216) 298-4919 www.achristmasstoryhouse.com
General Cleveland information: Positively Cleveland, 334 Euclid Avenue, Cleveland, OH 44114 (800) 321-1001; www.positivelycleveland.com
Cleveland lodging: Renaissance Cleveland Hotel, 24 Public Square (Superior Avenue and West 3rd Street), doubles: $119-$239, breakfast packages available on weekends, (216) 696-5600, https://www.marriott.com/hotels/travel/clebr-renaissance-cleveland-hotel/
Hampton Inn Downtown, 1460 East 9th Street, $99-$159, includes full buffet breakfast, (216) 241-6600 www.hampton-inn.com/hi/cleveland-downtown
Comfort Inn — Downtown Cleveland, 1800 Euclid Avenue, doubles: $94.99-$199.99, includes continental breakfast, (216) 861-0001, www.choicehotels.com
Cleveland bed and breakfasts include: J. Palen House, 2708 Bridge Avenue, (ca. 1875 Queen Anne style Victorian house once home to a Cleveland brew master), 6 rooms with private bath range from $169-$219, includes three-course full breakfast, (216) 664-0813 www.jpalenhouse.com
Stone Gables, 3806 Franklin Boulevard (Victorian style former private residence built in 1883), 5 rooms with private bath range from $125-$150, includes full breakfast, (216) 961-4654, (877) 215-4326 www.stonegables.net
About the author: Michael Schuman is a professional travel writer based in New Hampshire. He has won 15 travel writing awards from NATJA (North American Travel Journalists Assn.), and his byline has appeared in over 180 newspaper travel sections and over 25 magazines. He has written/published 42 books.