The sand was warm beneath my bare feet as I walked the winding path through the island, each step bringing me closer to the man I would marry. Two women throwing pink flowers petals led the way, while men with traditional Bodu Beru drums kept beat for our procession.
Looking out at the azure Maldivian sea, I could hardly believe this was real. This wasn't the wedding day I had dreamed of.
This was something much, much better.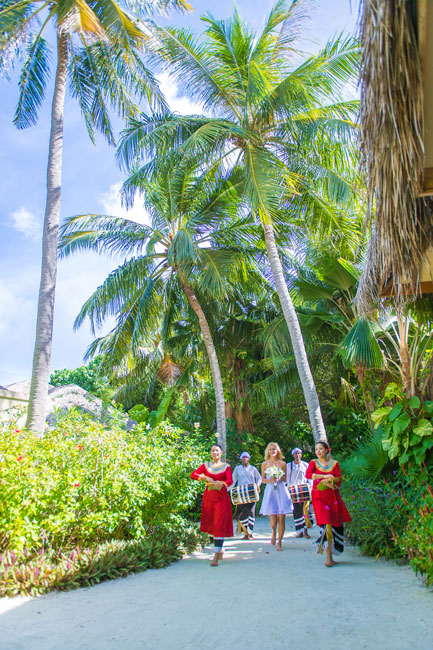 Eloping to the Maldives
Deciding to get married had been easy, but planning a wedding? That turned out to be more difficult than we thought. Wedding planning was stressful – and it wasn't us. We didn't care about fancy venues, menu options and ornate flower arrangements.
What we did care about was travel. In fact, our love of travel had brought us together. That was obvious when it came time to planning our wedding. We wanted the experience of joining our lives together to reflect who we really are. That's when we knew we wanted something different.
Two months later, we were on our way to the Maldives, where we would exchange our vows on a tiny sandbank in the middle of the Indian Ocean.
Travel in the Maldives
The Maldives had long been on our bucket list. Made up of 1,190 islands, this tropical nation is known for its clear seas, white sand beaches and world-class resorts. By eloping to the Maldives, we could have a romantic wedding ceremony on the beach and an unforgettable honeymoon – all for much less than a traditional wedding.
It turned out to be the perfect choice.
Baros Maldives
We chose to stay and have the ceremony at Baros Maldives, which has a reputation as one of the most romantic resorts in the Maldives. In fact, Baros Maldives was named the Indian Ocean's Most Romantic Resort for 2017 by the World Travel Awards, a distinction determined by travel and tourism professionals worldwide.
Baros is a small luxury resort located on a private island just 25 minutes by speedboat from Maldives International Airport in Male. The resort has a private, intimate feel with 45 Beachside and 30 Water Villas set among a tranquil lagoon.
Our spacious over-water villa had a secluded veranda with an infinity pool and steps that led directly to the sea. From our very private back deck, all we could see was the ocean – miles and miles of crystal blue waters. Occasional fish darted below. Once we saw a nurse shark lumbering past, paying us no mind.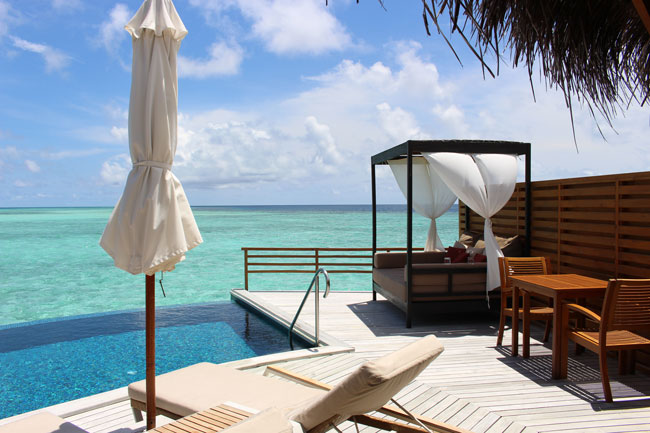 Activities and Dining at Baros
Travelers come to the Maldives for many reasons – beautiful scenery, a romantic getaway or white-sand beaches. Many come for the clear, warm seas, which are known for excellent snorkeling and diving.
Baros has two centers devoted to diving and exploring the sea. On the day we arrived, they provided us with free snorkel gear, and we spent the afternoon snorkeling along the house reef just yards from shore. The reef is rich with sea life and coral, and the water is warm. We swam among schools of fish as we explored an underwater wreck.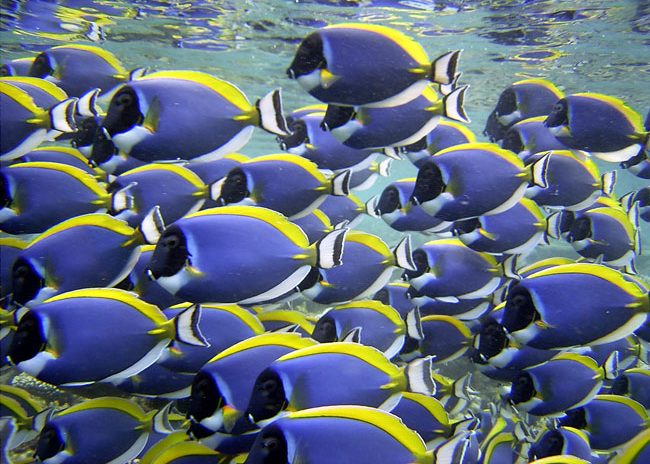 Later, we relaxed with a soothing couples massage at Baros Spa, which features treatments from Asia, and savored seaside meals at the resort's three excellent restaurants.
By the end of our first day at Baros, we were in love. With each other? Of course. But also with the Maldives.
Continued on next page