The Maldives is a top travel destination in the Indian Ocean. It brings to mind turquoise waters, pristine white-sand beaches and endless sunny days. The reality certainly lives up to the hype. It's a very special place to visit.
While you can easily spend your time on the beach and snorkel at your resort's house reef, if you hop on a boat and head offshore, you'll find the best marine life and underwater landscapes in the Maldives.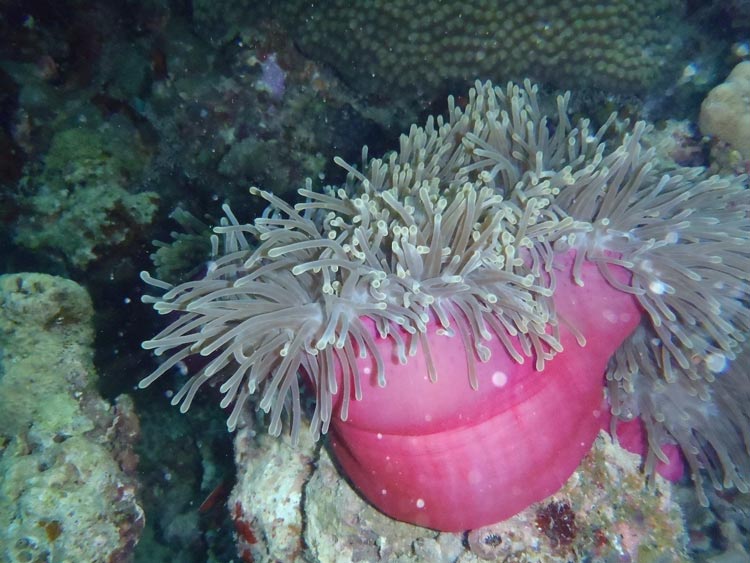 Best Dive Sites in the Maldives
You might think that each of the many atolls in the Maldives offers a similar dive experience, but each atoll group has its own unique highlights, and is suitable for different dive skill levels.
Where should you go diving in the Maldives? Here are my top picks of the different dive highlights at this quintessential tropical destination.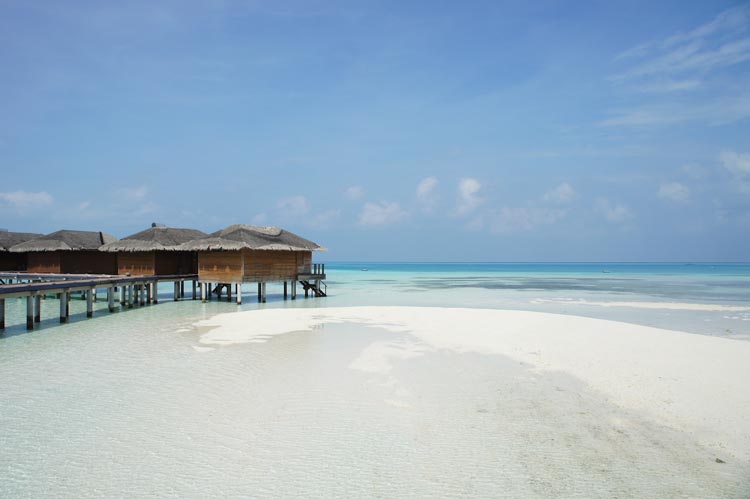 Diving in the Central Atolls
If you're looking for easy-going Maldives travel, the Central Atolls are a good choice. Being close to the international airport at Male, you won't need to do a long transfer to your resort or cruise boat.
There are plenty of options for island hopping, but if that sounds like too much effort, you can stay on Male itself and enjoy a variety of luxurious resorts and city highlights.
Don't be fooled into thinking this central destination of the Maldives lacks marine life because of its larger population and tourism hub.
The atolls around Male have beautiful coral-covered dive sites with deep channels and underwater pinnacles.
Some of the atolls, such as Ari Atoll, lack long stretches of reef, but the diversity of underwater landscapes is good.
You can swim with whale sharks and manta rays, dive with hammerhead sharks or just enjoy snorkelling in the shallows in-between relaxing on the beach.
Diving Highlights in the Central Atolls
South Ari Atoll offers diving or snorkeling for whale shark encounters.
If you love sea turtles, try Ari Atoll snorkeling and diving from January to April to see plenty of them.
Alimatha House Reef at Felidhoo (Vaavu) Atoll offers a charming night dive with numerous laid-back nurse sharks and stingrays.
Rasdhoo Atoll offers exciting hammerhead shark encounters at Hammerhead Point.
North Male's Manta Point is good for shallow coral reef diving, with plenty of manta rays, sea turtles and reef sharks.
Is the diving in the Central Atolls suitable for all experience levels? 
There are some dives suitable for new divers, as well as plenty of snorkeling options. That said, visiting as an experienced diver opens up a world of possibilities.
When is the best time to visit the Central Atolls?
All year, although December to May has long dry days with calm sea conditions.
Maldives: Diving in the Northern Atolls
If you take a trip to the Northern Atolls in the Maldives, you'll be visiting areas that have only opened relatively recently.
The Northern Atolls are a great place to get away from dive crowds and enjoy healthy coral reefs and flourishing marine life. Even fewer tourists visit the Far Northern Atolls, which are tucked away at the very top of the Maldives.
It's rather surprising when you consider the Northern Atolls are home to a UNESCO World Biosphere Reserve, and the Far Northern Atolls' dive sites are truly pristine.
Diving Northern Atolls highlights:
Visit Baa Atoll's Hanifaru Bay to snorkel with hundreds of swirling, feeding manta rays. It's a magical experience unlike any other.
Noonu Atoll's Christmas Tree Rock dive site has ledges of rocks covered in marine life and surrounded by shoaling fish.
Stay at the Far Northern Atolls, known for crystal-clear waters and unusual marine life such as guitar rays.
Is Diving in the Northern Atolls Suitable for All Experience Levels?
 Yes. There is plenty of diving for all experience levels in the Northern Atolls.
When is the Best Time to Dive in the Northern Atolls?
All year, although December to March is the dry season. If you want to swim with mantas at Hanifaru Bay, visit from May to November, which is also when you're more likely to spot whale sharks.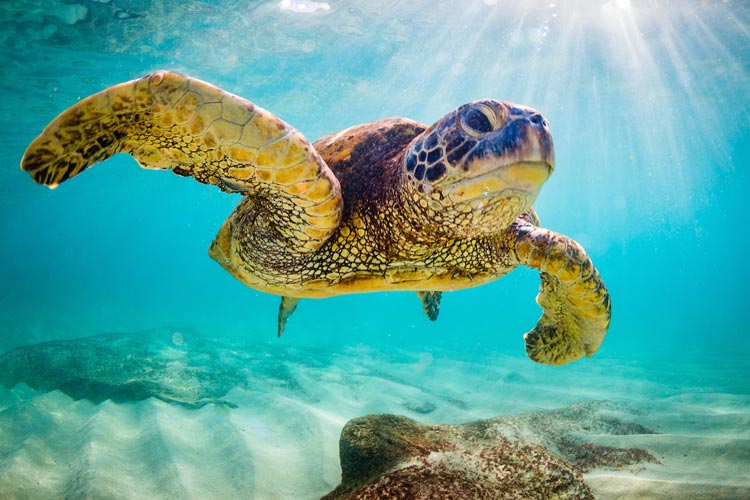 Diving in the Southern Atolls
While the Northern Atolls offer quiet diving and manta rays, a visit to the Southern Atolls is like stepping back in time.
This undeveloped part of the Maldives has numerous dive sites yet to be discovered, and the reefs are busy with life.
Although there aren't many whale sharks there, you can see plenty of manta rays, eagle rays, and schooling mobula rays.
If you want to go exploratory diving and see dive sites that few others have ever visited, try Southern Atolls liveaboard diving, especially in the Deep South.
Top Southern Atolls highlights:
Thaa Atoll's 37 dive sites are ideal for new and experienced divers looking for peaceful dives, unexplored reefs and mantas.
Laamu Atoll offers exploratory diving to discover new dive sites, plus grey reef sharks and huge schools of fish.
Visit the 7 km. (3.4 miles) beach and Buddhist ruins at Gan, the Maldives largest island.
Dive "Mantas and More,"  a shallow manta cleaning station on Meemu Atoll.
Nilandhe Atoll has gorgeous coral formations, wrecks, underwater channel hopping and cave diving.
Visit Fuvahmulah Atoll in the Deep South, for diving with numerous tiger sharks and occasional thresher sharks.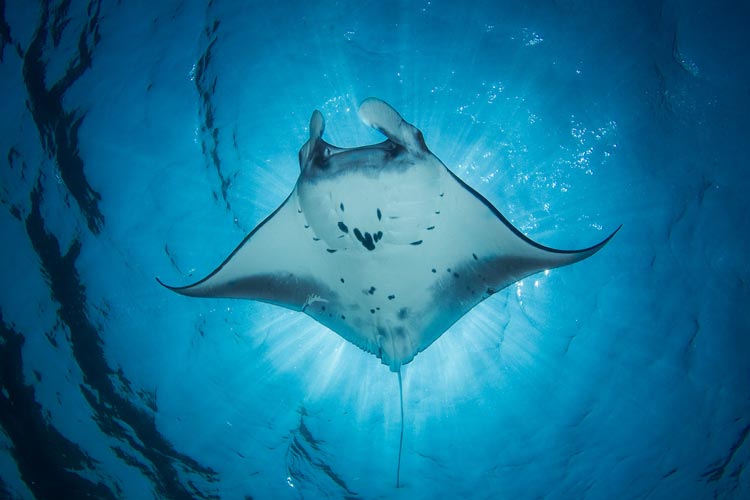 Is Diving in the Southern Atolls Suitable for All Experience Levels?
Yes. There are exciting deep and drift dives for experienced divers, plus plenty of easier options for new divers and snorkelers.
When is the Best Time to Dive in the Southern Atolls?
December to March for the best sea conditions. If you are keen to see mantas, May to November for peak manta numbers at Laamu or Meemu Atolls; all year for mantas at Faafu in Nilandhe Atoll.
Kathryn Curzon is a diver and writer at LiveAboard.com.