While Westerners love wandering around Morocco and Instagram the Arab charm, few know where to find Tunisia on the map. Nestled between Algeria to the west and Libya to the east, Tunisia is the northernmost tip of Africa.
Eighty percent of its border meets the sparkling Mediterranean Sea, and the sand, sea and mountains create a beautiful landscape.
Tunisia was once booming with tourists, but after terrorist attacks in recent years, the tourist industry has slowed down. However, the country has become safe once again and an exciting place to visit.
Inland, you'll find the bustling capital Tunis, with the stunning blue and white city, Sidi Bou Saaid, nearby. Drink mint tea with pine nuts and try a local favorite, bambaloni, a fried, sugar-rolled doughnut. Phoenician and Roman ruins reveal centuries of history, and the museums are well worth exploring.
Consider visiting the immaculate American military cemetery to pay respects to brave soldiers who gave their lives in the North African Theater during WWII.
Visit the Ancient Roman Amphitheater in El Jem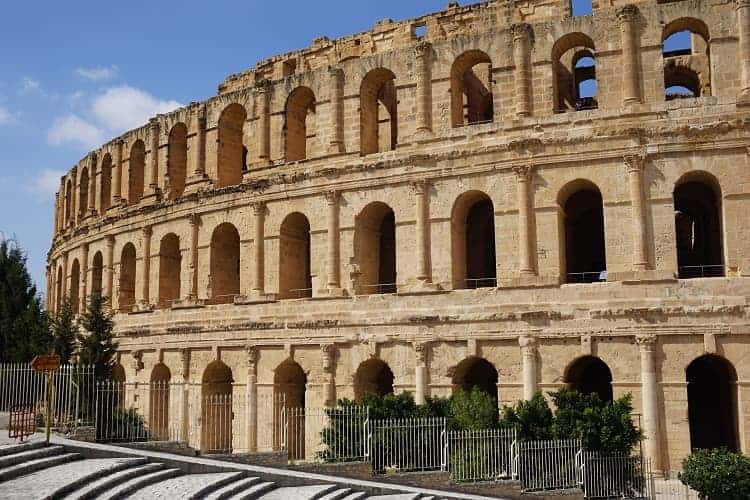 Down the coast in El Jem, you'll find an ancient Roman amphitheater, smaller but more intact than the Coliseum in Rome. You can climb to the top of its ramparts down to the tunnels underneath the stadium floor where slaves and animals were kept for games.
Ride a camel around the stadium for a small fee, then step across the street to try fresh, flavorful grilled meat kabobs.
Sousse is known for its opulent hotels and beautiful beaches, as well as several museums. Some choose to enjoy the sunshine, sand and the sea relaxing on the beach, while others take to the sky and water, hang-gliding and snorkeling to their heart's content.
Visit a seaside Salon de The (tea and coffee house) to enjoy a hot or cold drink while overlooking the beautiful Mediterranean Sea.
In Sfax, the second-largest city, you'll find the world's only medina (old city) completely enclosed by walls. Unlike many other medinas that cater to tourists only, locals still shop and sell here on a daily basis. Travel back in time and get lost in the narrow, winding passageways while you shop and discover.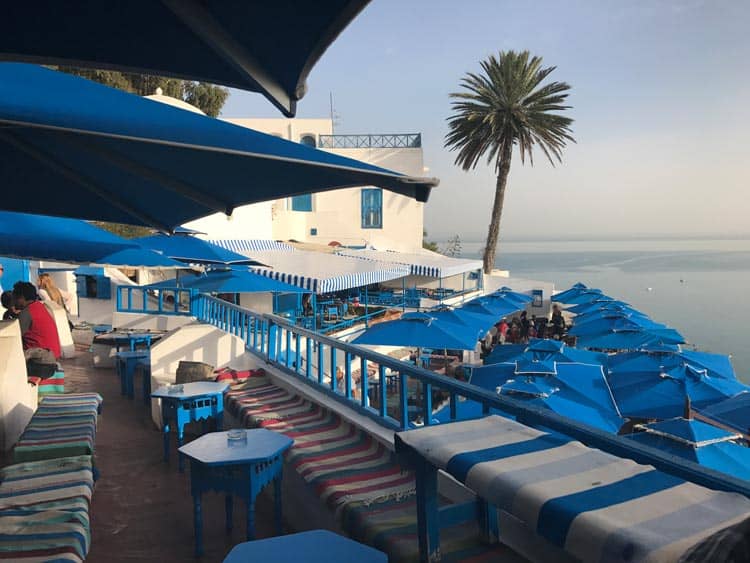 Don't forget to stop by the Ciao Ciao Patisserie for the best chocolate or almond croissants in the world, or one of many sweet shops to enjoy a scoop of creamy, opulent gelato.
Deep in the south, visit Douz and its date plantations. Then ride camels or 4-wheelers into the Sahara Desert. Spend a night camping in rug-covered tents, eating couscous cooked over a campfire, bread cooked in coals, and drink sweet, strong mint tea as you look at the stars.
Star Wars fans can visit sites where portions of "A New Hope" and "Phantom Menace" were filmed. Tunisia is the home to the real Tatooine, a village in the deep southern part of the country. Buy a burnoose, a traditional hooded robe that inspired Jedi robes, to truly become one with the Force.
If you love to travel in the desert, then you'll love this article: OASES IN THE DESERT: DUBAI AND ABU DHABI
Tunisian People are Warm and Welcoming
The greatest gift of Tunisia lies in its people. Their warm, welcoming culture of hospitality and kindness is a completely new experience coming from the West. Don't hesitate to get to know your guides and hosts. Your vacation will be richer for it.
Tunisians speak Tunisian Arabic; French is their second language. You'll be surprised by how many speak English, but don't hesitate to learn some Arabic greetings. Say hello with "Salam ali kom" or "Aslema", and thank your wonderful hosts with "shukrun" or "aishek" (eye-shek).
Tunisian cuisine is delicious and varied. It is unique in the region due to the inclusion of harissa, a spicy red pepper paste, into many of its dishes. However, don't let that scare you. Just ask for "moosh har" (not spicy).
Due to being a French colony until 1956, there is a heavy French influence, and you can find fresh baguettes, chocolate croissants, and more at patisseries and bakeries. Fresh seafood, couscous, fresh bread and much more will satisfy your palate and appetite.
Tunisia is a Muslim country, so you won't find pork products or alcohol, except in hotels that cater to tourists. Be aware of religious holidays and plan accordingly. Depending on where you are, shops and museums may not open for three-seven days during a holiday.
The currency is the Tunisian dinar and is currently worth almost three dinar to one U.S. dollar. This enables you to vacation without breaking the bank.
April through June is Ideal Months to Visit Tunisia
April through June and October and November are ideal times to visit Tunisia, with mild evening temperatures and pleasantly warm days. Summers are very hot (average temperatures above 90 degrees F) and winters are cool (average temperatures 45 to 60 degrees F) made especially colder because dwellings are mostly cement and have little heating.
Once you fly into the Tunis Carthage International Airport, you can get around without renting a car. Flag down a yellow taxi and you can get across town for the equivalent of $1.75. Vans that travel between cities are called luage. There is a metro in Tunis, and a train connects the coastal cities.
Visiting Tunisia is a chance to slow down. While Western influence is creeping in, Arab culture is highly relational and communal. Set aside your watch and relax into the daily rhythms. Isn't that what vacation is truly about?
Don't miss this interesting article: ROAD TRIP THROUGH TUNISIA: ANCIENT LAND
If You Go:
Check out STG Tourism (http://stgtraveltunisia.com) to plan the trip of a lifetime.
Consider staying at Hotel Ibis Tunis for a comfortable, hospitable experience.