Marseille, France's oldest and second largest city, is a great place for a getaway. Within three hours you can excuse yourself from the crowds of tourists in Paris and be in the South of France. The city provides a more authentic French experience with real French people. The weather is nice most of the year and there are a wide range of things to see, do and eat.
What to Do in Marseille
Marseille's MUCEM (a French acronym for the Museum of European and Mediterranean Civilizations, presents the story of mankind via art. It's a combination art / culture and natural history museum all in one. I love Ancient Rome and the city's Musee' d'Histoire de Marseille has an amazing collection of Roman relics and was built on top of a large archaeological site. There is a large Roman ruin of a forum, cemetery and warehouse buildings in the museum's courtyard.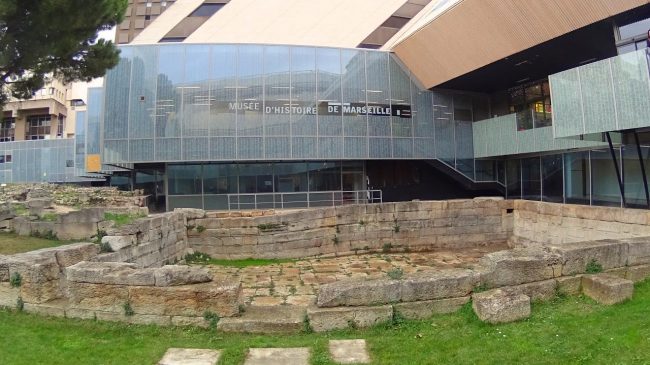 Other popular activities include a boat ride on the harbor and a visit to the Calanques, massive stone cliffs along the sea. For nature lovers, the area outside the city is great for walking and hiking. The city is also considered the gateway to Provence to the South of France and the Cote d'Azur region. Cities like Nice, Cannes and even Monte Carlo are only an hour or two away by train.
Where to Stay in Marseille
The InterContinental Marseille Hotel Dieu opened in 2013 as the city's first true five-star luxury hotel. Housed in the city's former Hotel Dieu (a hostel for medieval pilgrims and later the city's public hospital) it sits on a hill overlooking the Vieux Port. Many of the luxury hotel's rooms and suites have great views of the port and the cathedral on the hill beyond it.
Marseille is a foodie city and two of its best restaurants are at the InterContinental. They have Les Fenetres, a brasserie and Alcyone, a fine dining restaurant with a Michelin star. Alcyone does a single dinner seating each night and has only 30 tables. The video above shows one of my great dinners at Les Fenetres. Both restaurants and all the food at the hotel is overseen by Chef Lionel Levy. Before joining the InterContinental, Chef Levy ran Marseille's iconic Une Table Au Sud restaurant.
Getting to Marseille, France
Marseille is a direct, three-hour train ride from Paris on the high-speed TGV train. I rode in the First Class car, which offers larger seats and more personal space than the lower priced options. I did all my train reservations via Rail Europe, the official U.S. sales outlet for the French (and most other European) train systems. They offer point-to-point booking on their website, either within a single country or between various countries. They also sell Eurail passes, good for unlimited train (and bus and ferry) transportation for a certain duration (7 days, 30 days, etc.). Rail Europe sends you the physical tickets before you travel, so you have them in-hand when you arrive.
Read more of Freddy Sherman's take on travel on his Go World Travel Blog. You can also follow more of his adventures at luxuryfred.com, on his luxuryfred Instagram feed and on his YouTube channel.