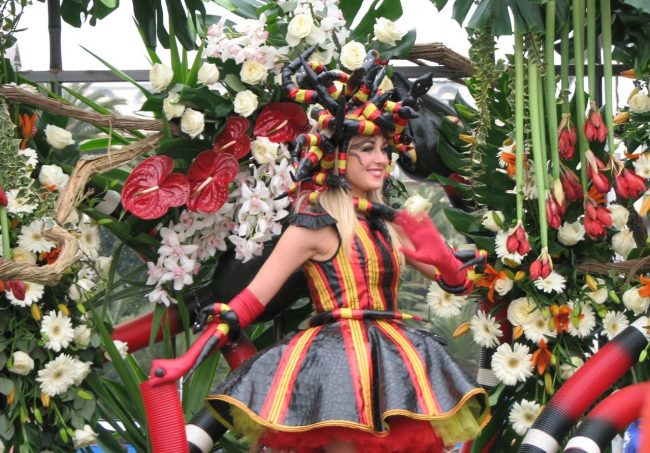 Not expecting much, my friend and I decided to hop on a plane to Nice in mid-February to escape the bitter cold of northern France. Luckily, during this time, Nice Carnival was in full swing.
In the three days we spent in the French Riviera, Carnival has firmly secured a spot in my list of must-sees when traveling in France.
Carnival in Nice, France
Nice Carnival is an annual festival in February that has been celebrated for centuries, and you'll want to plan ahead if you want to attend next year. Although Carnival spans two weeks, you only need two days to catch the main festivities – the parades.
I suggest watching the parades on a weekday as opposed to a weekend to avoid larger crowds.
Flower Parade in Nice
Reading brochures on the Flower Parade led us to believe that delicious drinks made of champagne and orange juice would be thrown into the crowd. Never ones to turn down free alcohol, we dumbly stood in the crowd awaiting our mimosas.
As it turns out, the mimosas the brochure was referring to was a flower. In hindsight, we should have been tipped off by the timing of the parade. The afternoon is not the right time for a brunch drink.
During the Flower Parade, several floats adorned in mountains of fresh flowers move down the streets of Nice accompanied by marching bands, dancers, acrobats, and a bevy of other interesting characters.
While you sing and dance along in the crowd, you're supposed to anxiously wait for the people on top of the floats to throw flowers at you. It's like a never-ending wedding bouquet toss.
As soon as they exhaust their pile of flowers, they begin stripping the floats of their floral decorations. By the end of the parade, the once intricately designed flower floats become skeletons, while the crowds of people become a garden of lilies and gerberas.
They don't call it a "flower battle" for no reason. It can be a feisty competition, but you're guaranteed to walk out with fistfuls of plants. Although my friend and I would have preferred bottles of mimosas over bouquets of mimosas, we were more than content with our haul.
Carnival Parade in Nice, France
The Carnival Parade takes place at two different times of the day, but you're much better off watching it at night when it becomes the Carnival Parade of Lights. Equal parts light show and street party, this parade is a true spectacle.
It rekindles your childlike wonder and shows you that European nights are reserved for more than just bar hops and clubbing.
Each year, a different theme is chosen and several towering floats are built, including the King and Queen of Carnival. The characters on the floats can vary from fascinating creatures to satirized political figures, but they all light up in spectacular colors.
The floats are accompanied by some of the same marchers from the Flower Parade as well as new entertainers that look particularly striking in the night.
Before the parade, stop by the street vendors to pick up some key Carnival provisions. A bag of confetti can be purchased inexpensively (it is just a bag of scrap paper after all) and is a lot of fun to throw around.
A carnival mask allows you to feel like you're part of the parade and makes for a great souvenir. Some snacks are also highly recommended to satiate your stomach. I enjoyed churros with a Nutella dipping sauce.
Outside of the Carnival
Due to recent tragedies, the organizers of Carnival have taken measures to ensure security for all attendees. This includes scaling back on the festival program.
As such, Carnival may not have the same amount of high energy events as previous years. Thankfully, Nice has so much more to offer.
During off times, take a stroll along the Promenade des Anglais and admire the French Riviera. It's probably a little too cold in February for a swim, but feel free to dip your toes in the water. You can also get lost in Old Nice; literally and figuratively.
Although it's relatively small, make sure to bring a map so you don't miss key attractions and you can find your way out.
Take your time to discover all things Niçois such as the colorful architecture, the laid-back way of life and the socca – a delicious food that I can only describe as a savory flatbread-crepe hybrid.
If you have the time, Monaco is right next door. It's just one bus or train ride away to this glitzy microstate. Remember, if you plan on getting into the casino, make sure you wear closed-toed shoes.
I watched elegantly dressed women get stopped at the door because they were wearing open-toed heels while tourists in sneakers entered without any trouble.
If You Go
Nice Carnival Official Website: https://www.nicecarnaval.com/en/index.php
Author Bio: Jan Natividad is a traveler and writer. Sometimes, he's even a travel writer. Give him a shout on Twitter @jwnatividad or check out his website, jannatividad.com