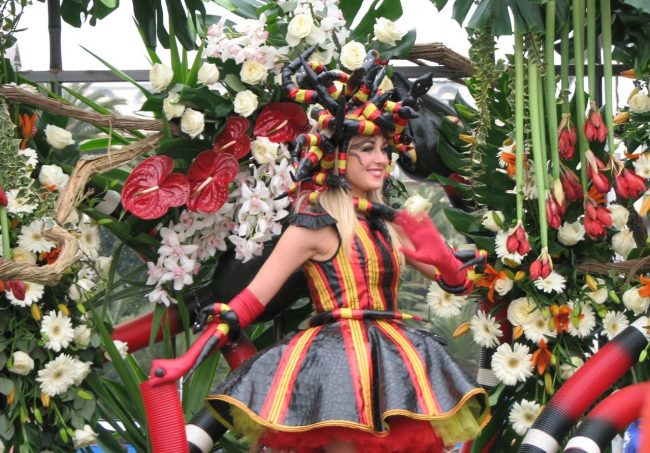 Not expecting much, my friend and I decided to hop on a plane to Nice in mid-February to escape the bitter cold of northern France. Luckily, during this time, Nice Carnival was in full swing. In the three days we spent in the French Riviera, Carnival has firmly secured a spot in my list of must-sees when traveling in France.
Carnival in Nice, France
Nice Carnival is an annual festival in February that has been celebrated for centuries, and you'll want to plan ahead if you want to attend next year. Although Carnival spans two weeks, you only need two days to catch the main festivities – the parades. I suggest watching the parades on a weekday as opposed to a weekend to avoid larger crowds.
Flower Parade in Nice
Reading brochures on the Flower Parade led us to believe that delicious drinks made of champagne and orange juice would be thrown into the crowd. Never ones to turn down free alcohol, we dumbly stood in the crowd awaiting our mimosas. As it turns out, the mimosas the brochure was referring to was a flower. In hindsight, we should have been tipped off by the timing of the parade. The afternoon is not the right time for a brunch drink.
During the Flower Parade, several floats adorned in mountains of fresh flowers move down the streets of Nice accompanied by marching bands, dancers, acrobats, and a bevy of other interesting characters. While you sing and dance along in the crowd, you're supposed to anxiously wait for the people on top of the floats to throw flowers at you. It's like a never-ending wedding bouquet toss. As soon as they exhaust their pile of flowers, they begin stripping the floats of their floral decorations. By the end of the parade, the once intricately designed flower floats become skeletons, while the crowds of people become a garden of lilies and gerberas.
They don't call it a "flower battle" for no reason. It can be a feisty competition, but you're guaranteed to walk out with fistfuls of plants. Although my friend and I would have preferred bottles of mimosas over bouquets of mimosas, we were more than content with our haul.
Continued on next page