It's hard to keep me away from Colorado. The state's diverse and dramatic landscape is a commanding draw and its magnetic and dynamic attraction is strong. Whether it's a National Park, Old West mountain town, archaeological site or unique geological formation, Colorado offers plenty of choices for all vacation appetites.
The Allure of Telluride, Colorado
Take Telluride for example. The town's allure is in its iconic peaks, storied past, well-preserved historic buildings and charming ambiance. It's an outdoor recreation mecca with year-round adventures.
There's everything from world-class skiing to mountain biking, hiking, paddling and fly fishing. You can also easily recreate a scene from "The River Runs Through It". There are 4×4 tours, hot air balloon rides, whitewater rafting trips and more. And yes, there are ample opportunities for retail therapy, too.
As I visited this quintessential alpine destination in late summer, hiking was foremost on my list. Trails that lead to a scenic reward, such as a waterfall or lake, are my favorites. Even though it's the journey, not the end, that's supposed to matter – and it does. I just like having a tangible goal when I set out.
Hiking in Telluride
In Telluride, Bridal Veil Falls and Bear Creek Falls are both popular hikes. At 365 feet, spectacular Bridal Veil Falls are the tallest free-falling falls in the state. It's at the end of a box canyon that offers expansive views overlooking the town.
This treasure is listed on the National Register of Historic Places. Bear Creek Falls, a slightly longer hike (2.5 miles one way versus 1.8 for Bridal Veil), is also very photogenic.
Another day, I trekked to Hope Lake. You have to drive a little way to reach the trailhead of this one. Also, having an SUV is helpful, as the section from the main road to the parking area is rocky and rough.
The hike is about 5.5 miles round trip and, as always, I got an early start to avoid the masses. Having most of the trail to myself is important, as I love the opportunities for peace and solitude.
As you climb what seems like endless switchbacks, you'll be able to see Trout Lake and the Lizard Head Wilderness. You'll cross creeks and go through verdant forests to reach this high alpine lake, but it's worth the effort.
Catch your breath, while you revel in the sight of this crystal, green-blue body of water surrounded by 13ers as its sentinels. If you're lucky, marmots will be your only company.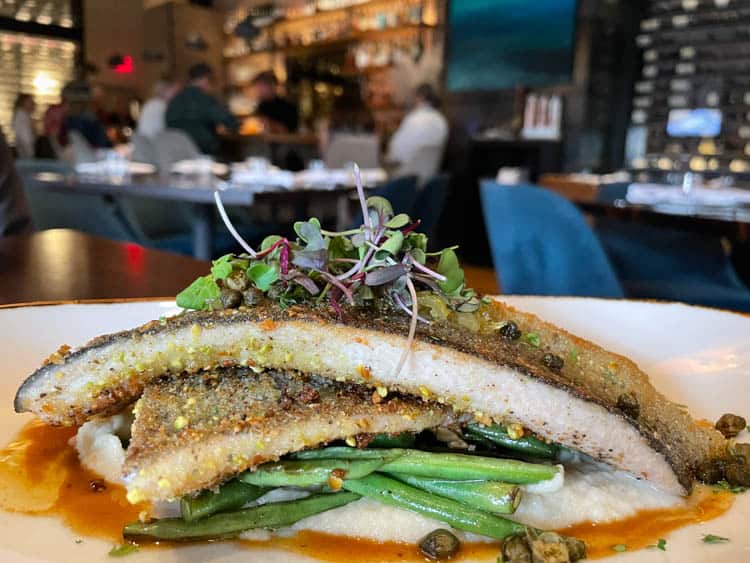 Dining in Telluride
Outdoor activities tend to work up an appetite, but I never worry about finding healthy, delicious food in Telluride. The town's culinary scene is impressive, with a wide variety of restaurants and cuisine. Here's where you'll want to try the Rocky Mountain trout, elk and/or bison, as they are specialties of the region.
I've had memorable meals at Allreds at the top of the gondola ski lift. Also at 211 South Oak, The National, The Marmotte (housed in a 125-year-old ice house) and Siam.
Where to Stay in Telluride
Accommodations in Telluride run the gamut from luxury lodges and vacation homes to cozy inns and rustic cabins. On this trip, I stayed at Lumiere with Inspirato, a boutique upscale property in nearby Mountain Village.
The place is conveniently located, steps to restaurants, shops, watering holes and most importantly the chairlifts and gondola. Hop on the gondola for a breathtaking, panoramic, twelve-minute ride into the heart of Telluride. It beats the driving and parking hassles, especially during peak times.
With only eighteen residences, Lumiere with Inspirato exudes intimacy, yet it has all the amenities of a five-star hotel. Take your pick of a Studio Deluxe or one-bedroom suite. Need two or three or four bedrooms? No problem. There's even an exclusive five-bedroom, five-bath penthouse, boasting 3,715 square feet of living space.
Luxury at Lumiere with Inspirato
My 1,050-square-foot, one-bedroom residence felt palatial. There was ample sitting and dining areas, a chef's kitchen (stocked with a basket of breakfast goodies and an acclimate kit). Plus a king bed, spacious bathroom (the LATHER body care products are a nice touch) and an additional half bath.
I really appreciated the washer and dryer, and deck with picture-perfect mountain views. When it got chilly at night; the gas fireplace was an added boon.
The light color palette décor, natural fabrics and contemporary design were soothing and easy-on-the-eyes. The place was airy and sunlit, and I immediately felt a sense of balance and harmony in the surroundings.
Additional property amenities include an outdoor hot tub, warm plunge and cold splash pools, sauna, small fitness center and lounge/bar. I took full advantage of the pools and hot tub after hiking, going from one to another in Finnish thermotherapy tradition.
I was also very impressed with the hotel's concierge and staff. They were friendly and hospitable. Furthermore, they were a font of ideas and suggestions for all things Telluride and the surrounding area.
They'll make reservations for you, book tours, massage treatments and private yoga sessions. They will also ply you with maps and directions and local insider tips. Best yet, they do it with a smile.
These are all wonderful benefits to staying at the Lumiere with Inspirato. However, there's another notable reason to make this property home base during your time in Telluride.
Be a Kind Traveler
You can have a positive impact in the local community when you reserve your room through the hotel booking platform, Kind Traveler. Founded by Jessica Blotter and Sean Krejci, "Kind Traveler is the first socially-conscious Give + Get hotel booking and media platform that empowers travelers to positively impact the communities and environment in the destinations they visit."
The company launched in late 2016 with twenty hotel partners and fifteen charity partners based in the U.S., Mexico and the Caribbean. Today, it works with 140 hotels and 90 charities in 22 countries.
Kind Traveler has gradually become an internationally recognized leader in sustainable tourism and has received recognition and awards for its commitment and efforts in this arena.
How Kind Hotels Give Back
How it works is simple. When you book a stay on the platform at one of its many properties, you can give a $10 or more donation to the local charity beneficiary or a charity of choice on Kind Traveler.
One hundred percent of your donation goes to the charity. Unlike in many other organizations where administration and other costs reduce the amount of money that actually has any direct connection with the cause.
The company's select collection of properties includes boutique, independent and lifestyle hotels that have a sustainable policy and are working to advance individual wellness, environmental sustainability and community impact.
In Lumiere with Inspirato's case, all donations go to the Telluride Foundation to help provide emergency medical care to local families in need.
In addition to the feel-good aspect of this program, travelers are also eligible to unlock exclusive rates and perks from the many Kind Hotels. And who doesn't like those bennies?
If You Go:
Author Bio: Debbie Stone is an established travel writer and columnist, who crosses the globe in search of unique destinations and experiences to share with her readers and listeners. She's an avid explorer who welcomes new opportunities to increase awareness and enthusiasm for places, culture, food, history, nature, outdoor adventure, wellness and more. Her travels have taken her to nearly 100 countries spanning all seven continents, and her stories appear in numerous print and digital publications.