If you're like me, Venice is on your bucket list. This unique Italian city is one of the top destinations in the world.
But if you're planning a visit to Venice, it's important to consider your timing. The best months to visit Venice might not be when you think they are.
Here's our guide on the best times to visit Venice, Italy. We'll share what you can expect if you visit in the high, low and shoulder seasons. With this knowledge, you'll be able to plan the trip to Venice that you've always wanted.
Best Tips & Tools to Plan Your Trip
What You Need to Know About Seasons in Venice, Italy
The Venice tourist season starts in April and ends in October, but the summer is also the busiest and most expensive time to go. Furthermore, the summers in Venice are very hot and humid, so you must be prepared for the weather. Comfortable shoes, hats, sunglasses and sunscreen are a must-have for this city during the summer months.
The best temperatures of the year are generally in March, April, September and October, when it is cooler but still pleasant. Most of Europe is best visited during these months because of the pleasant temperatures and fewer crowds.
The time of year with the fewest tourists but also the coldest temperatures in Venice is winter. The average temperature is around 44 F, so you will need warm clothes and a raincoat. However, with fewer tourists comes cheaper prices in Venice.
A Month-By-Month Guide to Visiting Venice, Italy
One of the best tips for traveling to Venice is how to avoid large crowds. Venice is a city that has had booming tourism for decades, and it is never empty. Things are a little better since the city banned cruise ships; however, the high season is still in the summer, and overall, the best time to visit Venice is in the autumn or spring.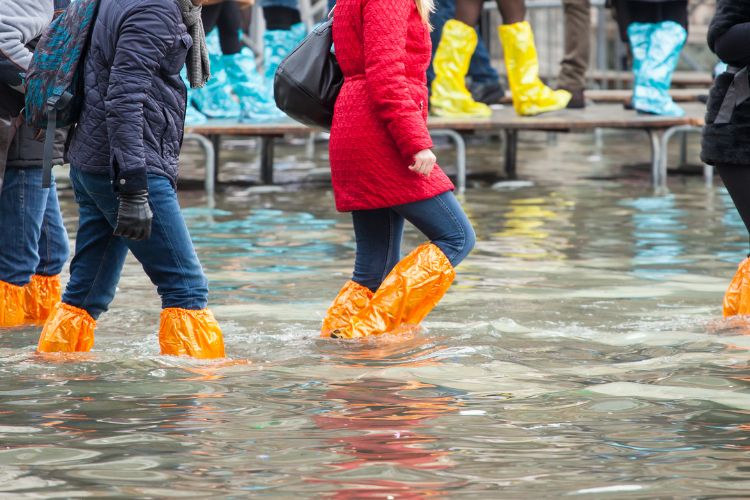 January in Venice
One of the reasons why Venice in winter is off-season is acqua alta. This is a unique tide peak that happens periodically in the northern Adriatic Sea between October and February. If you visit Venice in January, make sure to have rainboots and be ready for a wet experience.
February in Venice
The vibrant and extravagant Carnevale is the most visited annual event in Venice. For Italians, the carnival is a spectacular celebration even bigger than New Year's Eve.This is when they gather in costumes to celebrate the Venice Republic's victory over its enemy. The Venice Carnival has been celebrated since the 12th century, and if you visit it today, you will see a lot of people in masks and outfits that seem like they have traveled from the past.
Book your perfect Venetian hotel here
March in Venice
Easter is usually in March or April, and in Italy, it is a huge holiday because of their Catholic faith. If you come to Venice at Easter, you will find many shops and restaurants closed. However, if you are staying in a hotel, you will have everything you need and March is one of the best times of the year to visit Venice.
April in Venice
April has mild temperatures and is just the beginning of tourist season, making it one of the best months to visit Venice. You can enjoy sightseeing without worrying about sunscreen and long queues at every museum. It is also a great time to visit restaurants and cafes, which are starting to work longer hours as tourists arrive in the city.
May in Venice
May is a great month to visit Venice since it offers pleasant weather and longer, brighter days. Imagine yourself sunbathing in the back of a gondola or traveling to the lagoon in Venice. Also, from May to November every year, the Venice Biennale is held, making it an excellent time to visit Venice if you love art.
June in Venice
June is a great month to visit Venice if you want to visit during the summer but want to avoid humidity and hot days. You will catch a breeze from the Adriatic Sea and you will get to enjoy gondola rides on sunny days without much rain.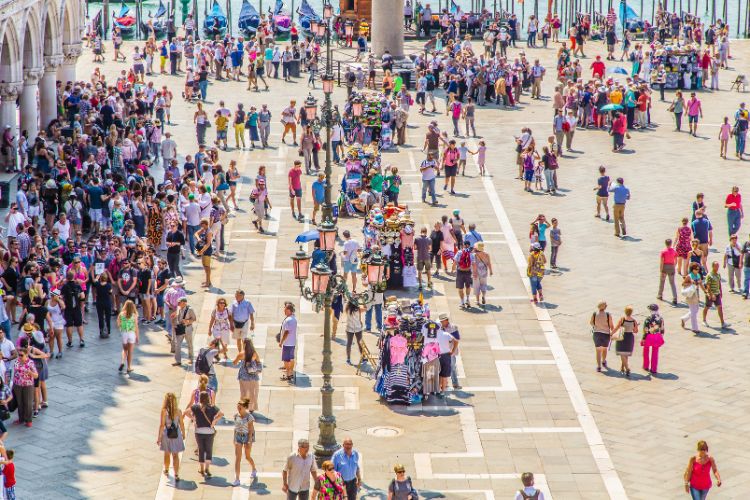 July in Venice
July is Venice's peak season, and places like the Rialto Bridge, Piazza San Marco and Doge's Palace are crowded. Italian streets and cafes are full of tourists, so be careful not to be a victim of pickpockets while making your way through the narrow streets.
August in Venice
This can be a great month for a European trip, especially if you want to visit major Italian cities like Venice, Milan, Rome and Florence. Make sure to create a bucket list of locations to see while visiting Venice. These include the San Marco Basilica at St. Mark's Square, Grand Canal and Rialto Bridge. In addition, a romantic gondola ride makes a nice break from a full day of walking.
September in Venice
September is the month of the famous Venice Film Festival when celebrities from all around the world visit the city. If you visit Venice at this time, you may feel like a superstar yourself. It is also the time of the Venetian regatta, which all yacht lovers love to see.
Also, late September is ideal if you want to see nearby cities in the Venetian lagoon, including Murano, Burano and Torcello. Day trips from Venice can include places like Padua and Verona, which can be reached within one hour's by train or bus. However, the best way of transportation around Venice and in the Venetian lagoon is certainly the Vaporetto, which is a water taxi here.
October in Venice
In October, tourists can enjoy great events like an opera at La Fenice, a wine fair, or one of the most renowned art festivals in the world. In addition, you will not encounter the same throngs as during the busy season. If we had to choose one month as the best to visit Venice, it would be October.
Find the best accommodations here
November in Venice
If you want to avoid the crowds, consider going to Venice in November. Compared to the height of the tourist season, November has cooler weather and fewer visitors. However, you'll need to be ready for the occasional downpour.
December in Venice
December in Venice is magical, with all the decorations for Christmas and New Year's Eve. Although the weather can be cold and rainy, it is a unique opportunity to visit museums which are almost empty at this time. Also, you will get some better rates for beautiful hotels in Venice's center.
Author Bio: Danijela Horvat is a travel writer with a passion for discovering new destinations. With a background in journalism and photography, she is trying to translate her own experience into articles.
Latest posts by Go World Travel Magazine
(see all)