As we boarded Aeromar's 76-seat turboprop aircraft, I counted only 19 passengers, including my husband and I, for our 40-minute flight from our home near Guadalajara to Puerto Vallarta, Mexico. In over 40 years of air travel, this had to be the emptiest plane I have ever flown on.
Seeing many rows completely vacant and only one person per row dispersed throughout the cabin gave me an eerie jolt. The evidence that this vacation would take on a façade unlike any other started to mount.
It seemed that autumn 2020, "coronavirus time"  just might turn out to be the perfect vacation time in Mexico, despite the grim, fear-mongering rebukes from friends and family when we even mentioned the word "travel." 
When most people were refusing to stray from their comfort zone or were still hiding in their basements, my husband and I braved the risks of living la vida as we set off on an eight-day run-away from the virus relax at the beach.
View from our ocean front room's terrace. At 1 p.m., the reduced occupancy shows just how empty the resort was. Photo by Carol L. Bowman

Waiting in the quiet airport during COVID-19 restricted travel. Photo by Carol L. Bowman

Blanket and trinket hawkers on the beach at the resort wait for tourists. Photo by Carol L. Bowman
Secrets Vallarta Bay Puerto Vallarta
Secrets Vallarta Bay Resort in Puerto Vallarta was open and welcoming guests, following strict COVID guidelines, of course.

After arrival in Puerto Vallarta, with our bags off the conveyor belt in under two minutes, an empty airport and taxis galore, we were deposited at the hotel lobby of Secrets Vallarta Bay in record time.
A welcoming hotel employee, wearing a mask and a clear plastic face shield, grabbed our luggage from the taxi and immediately disinfected each bag.
After all, airline luggage handlers and the taxi driver had touched them, he explained. I hadn't even thought about the transfer of germs on suitcases, but I was impressed that someone had decided such action proved necessary. And so began our journey through the safety precautions and clean verification world of COVID-19 protocols.
Cancelled Travel Plans
When our trips to Egypt and Tunisia fell victim to the pandemic, we searched the lean array of getaway alternatives that also followed basic health measures. Even though we don't believe in shutting down our lives, as well-heeled, savvy travelers we know that to go safely is smarter than to go blindly.
Travel within Mexico
As expatriates and permanent Mexican residents living in Chapala, Mexico, we looked to our adopted country for acceptable travel replacements. Secrets Vallarta Bay, a member hotel of the AMResorts brand, had recently reopened with the third-party Cristal International Standards of Prevention of the Spread of Infection-Check Certification.
With the governor of the state of Jalisco, Mexico, and its health minister's authorization, the resort received permission to open with 25 percent occupancy on July 1, 2020.  
A note for Americans, American Airlines has added direct flight routes from many cities in the US to Los Cabos, Cancun and Puerto Vallarta, and more Americans are visiting Mexico. 
AMResorts
Having previously visited two other Secrets locations in Mexico, we trusted the AMResorts brand. Through contact with the Puerto Vallarta reservations department, an upgraded, ocean-view room at a discounted price sealed the deal.
So here we were, Aug. 9, one month into the reopening experiment, ready and willing to follow any guidelines recommended.
I met with the assistant manager of reservations, Ana Flores, to find out what hoops Secrets had to jump through to receive the health certificate and Governor Alfaro's approval to welcome guests back after the four-month hiatus.
Ana reported that all hotels in the AMResorts chain have been given the same list of sanitation protocols so that consistency spanned across the brand. These implemented efforts that could slow or stop the spread of COVID-19 were developed through coordination of the Mexican health minister and hotel administration.
Hotel COVID Safety Ruled and Procedures
Ana discussed a few procedures that we would see in operation throughout our stay.
All hotel staff must agree to routine testing for corona-virus on a rotating basis.
Every employee, regardless of position, is required to wear both face shield and mask. In eight days, I never once saw any staff member touch, fiddle with or remove any of the protective coverings.
Guests are required to wear face masks in all common areas, even when ordering food or drinks in any of the restaurants or bars.
Menus are downloaded to cell phone devices from bar codes posted outside the restaurants. No physical menus can be handled by individual guests. Salt, pepper, syrup, etc. are offered by the staff. No receptacles that could transfer COVID-19 germs are available for guest use.
Items in hotel rooms that require physical touching by room attendants, such as shampoo, hair conditioner, soap and even the TV remote, are sealed in heavy plastic for the guest's protection.
The resort's eight pools receive daily doses of viral disinfectant in addition to regular pool chemicals.
Desktop computers and printers used by staff are disinfected frequently.
Elevator use, restricted to two persons at a time, requires application of hand sanitizer both upon entering and exiting the elevator car.
Social distancing has to be practiced, everywhere, even in the pools and restaurants with many tables removed to permit adequate distancing.
The list went on and on and I felt protected, safe and prepared to follow every rule. There were no lines for anything, no restaurant reservations required and because of the reduced number of guests, common areas were never crowded.
Of course, vacationing during virus time requires some adjustments to routine. Instead of always asking "Do you have your key" when we left our suite, the prevailing question had drifted to "Do you have your mask?"
Sets of two pool loungers, a table and an umbrella spaced 6-10 feet apart made the area around the pool and along the ocean feel inviting. Those past nightmarish images of unending rows of loungers around pools without so much as an inch between them were erased from memory.
No need to climb over other guests just to throw myself onto a chaise scrunched tight up against another one. None of that; just room to breathe, room to move around, room to sunbathe, a strange sense of empty space. It was heaven.
Mexican Health Ministry Inspections
Ana indicated that the hotel is subject to unannounced inspections by the Mexican Health Ministry to rate compliance with protocols. Lifting the restricted capacity depends on the number of positive cases reported each week.
It remains a game of chance for every employee; those already called back to work and those anxiously waiting for future rehire. "You will find the staff positive, friendly and helpful. Each one of them is so grateful to be working again after living through four months of little to no income to feed their families," Ana said.
Welcoming Staff
We found this abundantly clear as we strolled through the hotel sparsely filled with a masked menagerie of guests and staff. The fading of personal expression behind these disguises transformed the way I observed people.
I never realized how often approach is defined by a person's smile or scowl. Concentration on "eyes" became the method to identify a person or to get a feel for his/her emotional state. Even that was tough with the pool waiters, who with their Panama hats, sunglasses, masks and uniforms all looked similar.
It would have been impossible to pick any individual out in a line-up. But when each one spoke, we heard the glee of being back at work serving guests, as distinctive laughter spilled from hidden mouths.
An afternoon storm during sunset proved to be a double pleasure. Photo by Carol L. Bowman

Groups of two pool loungers, a table and an umbrella, spaced 6-10 feet apart, were such an open space treat. Photo by Carol L. Bowman

All eight pools receive viral sanitizer daily in addition to the regular chlorine treatment. Here, the concrete bed pool provided a cool relax. Photo by Carol L. Bowman
Seeing Beyond the Mask
Soon the masks became invisible, as the person behind the covering emerged. Soon we knew Oscar from Hugo and Alejandra from Adriana.
In contrast, when we walked into Puerto Vallarta central, a sad, oppressive shadow pressed down upon the town. During past visits to PV, we strolled along the city's Malecon fronting the Pacific Ocean and felt the charm of families enjoying the vistas, the parades and the vibrant pitches exuberated by vendors outside trendy shops and tacky souvenir markets.
Now, that main tourist venue had turned into a series of warning signs in both English and Spanish about social distancing and obligation to wear face coverings. The side of the street facing the ocean had police tape as its only companion, roping off tourists from congregating around the many bronze statues along the shore.
Shopping in Puerto Vallarta, Mexico
Vendors and hawkers attempted to lure the few visitors into their shops, but their barker cries sounded tired and desperate. Remembered excitement had paled, now replaced with worried tensions in their pleas, wondering when the tourists would return, wondering when they could go home with a pocket full of pesos.
Pre-COVID-19 electricity of this town had experienced a brown-out, but one far worse than power reductions those of us who reside in Mexico know well.

Following safety rules of sanitation and maintaining them religiously requires financial resources these people do not have. Unfortunately, travel in virus time is safer if spent in a place where consistent protocols are practiced, such as all-inclusive resorts.
The independent hotels we passed on our way into town dragged with insufficient takers. As an onlooker with memories of better times, to me, the world had become so tragic.
We returned to the resort where the much-needed positive vibes wafted throughout the facility, where staff once again had an income to feed their families.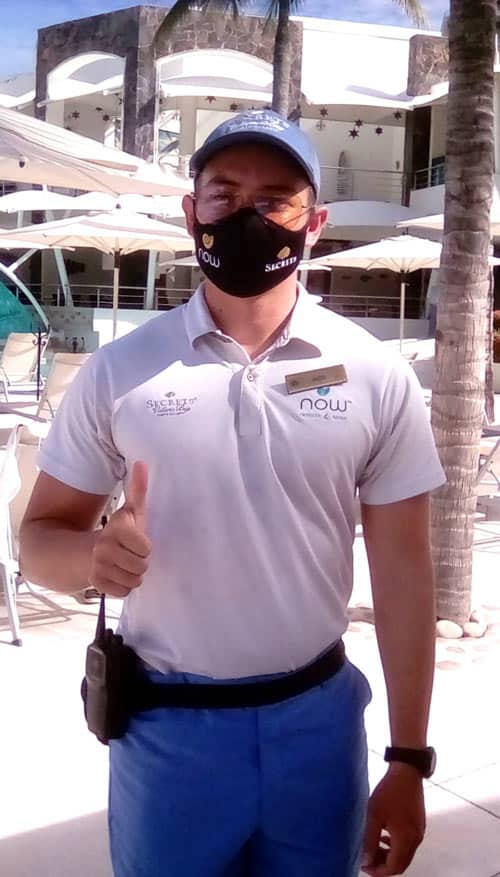 Rodrigo Quintero
We looked for Rodrigo Quintero, a young, university grad and entertainment and activities specialist whom my husband had met through daily water aerobics. Rocky, his preferred nickname, shared with us his joy at being recalled to his position as of Aug. 1 after four months of lockdown blues.
His eyes glistened with anticipation of being able to get his future back on track, saving money to move to Guadalajara so that he can complete his veterinarian degree in an approved facility of study. He displayed energetic gratefulness to Secrets PV for the opportunity to serve guests.
"I am so thankful to be working again. No one will ever know how much," he said, beaming. With his calm, encouraging approach, he had no trouble convincing lazy sunbathers to join his strenuous water aerobic exercise.
His greatest fear of returning to work was that he had not spoken any English for months. Yet, when thrown into dealing with guests from the U.S., plus expatriates like us, who enjoy speaking our natural language, his extremely fluent English slipped from behind his mask with perfection. Young, smart, goal-driven. He represents the future of Mexico, I thought with a glimmer of hope.
After seven days of the stuff, beach vacations are made of – soaking up rays, ocean play, daily tennis, pool laps and aerobic exercise, gourmet dinners in six signature restaurants, stunning Pacific sunsets and cocktails in hand with an unending supply of libations – it was time to return to our high-desert home in Chapala.
One last disinfectant spray of our suitcases and I believed our experience of safety protocols had come full circle. Not so. The most impressive was yet to come.
Aeromar Offers Free Rapid COVID-19 Tests
After check-in with Aeromar for our flight home, all passengers were directed to a small clinic area where a nurse waited to administer a rapid, COVID-19 finger-prick blood test free of charge. This was the topper, a blood test to board an airplane. We cautiously approached, wondering what might be our fate if the test turned positive. Would we have to remain in Puerto Vallarta?
Each passenger sweated through the 3 to 5-minute wait for the results. I silently prayed as I saw the indicator on my blood sample move into the negative zone. Ah, free of the virus, and free to travel.
We boarded the plane with the comfort in knowing that everyone tested negative at this moment. You could see relief peeking out from behind the face masks of all 25 passengers.
Since none of us had the virus, in a surprise move, the flight attendant came through the aisle with juice and cookies. Face masks came down to partake of the goodies. That felt strange, but just one more indication that virus time can really be vacation time in Mexico.
Author's Bio: After a life-long profession of treating the mentally ill at a PA psychiatric hospital for 33 years and also serving as its Director of Admissions, Carol retired to Lake Chapala, Mexico in 2006 with her husband, to pursue more positive passions. Her family thought that she, too, had 'gone mad.' She's been teaching English to Mexican adults for ten years, in a program operated by volunteer expatriates and writing for local on-line and print publications. Using her adventures experienced during visits to over 80 countries to capture a niche in travel writing, Carol also dabbles in 'memoir.' A frequent contributor to Lake Chapala English magazine, "El Ojo del Lago," she's won several literary awards from that publication, including Best Feature in 2010 and Best Fiction in 2014. She also netted a story regarding her psychiatric fieldwork in the published anthology, "Tales from the Couch."