Editor's Note: We're all dreaming of travel ahead. Here's some inspiration for future adventures. We share places, products and activities we recommend. If you make a purchase using a link on our site, we may earn a commission.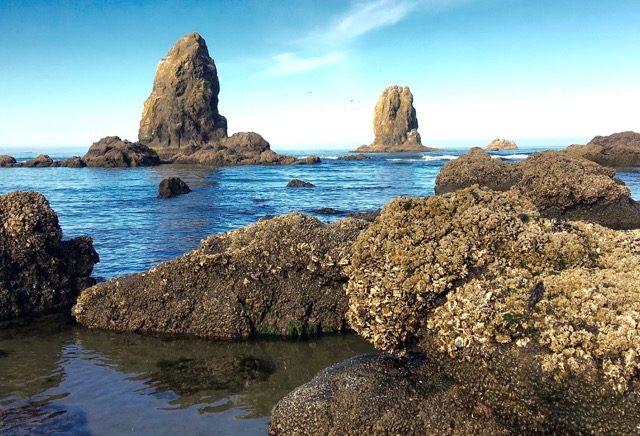 Cannon Beach, Oregon, is possibly the most popular beach in the Pacific Northwest, and there's a reason: It's a four-mile-long stretch of golden sand studded by off-shore rock formations, including the iconic, 235-foot-high Haystack Rock. In every season, you'll find events in Cannon Beach for all interests.
In normal times, there are year-round events, including a yoga festival (February), a wine and culinary festival (March), spring whale-watching (mid-March through mid-April), an arts festival (May), a sandcastle contest (June), a puffin watch (July), and an arts festival (November).
But you don't need a festival to enjoy Cannon Beach. It's the perfect place to explore on your own, with plenty of space to social distance. 
Whether you visit in sunny summer or stormy winter, here are eight must-do pastimes, most of which center around Cannon Beach's main attractions: the sea, the sand and the scenery.
Packing some layers from Colombia Sportswear will help you make sure that you can still enjoy the beach in all conditions. Check out their selection of lightweight jackets here.
What to Do at Cannon Beach
Find a hotel or Airbnb near Cannon Beach
Spot Seabirds on Haystack Rock
You can spy Haystack Rock from miles away, but get up close and you'll find that it's home to scores of seabirds, many of which nest among the monolith's crags.
Part of the Oregon Islands Wildlife Refuge, this huge basalt rock is home to pelagic cormorants, pigeon guillemots, common murres and the Western gull.
Tufted puffins nest here from April through August, and you can watch them dive into the ocean to catch fish. (They're dark with white faces topped by tufts of white feathers and bright-orange beaks.)
Nearby Ecola State Park is also great for bird-watching. (Download a PDF guide to Pacific Northwest seabirds: cannonbeach.org/documents/seabird-brochure-final.pdf)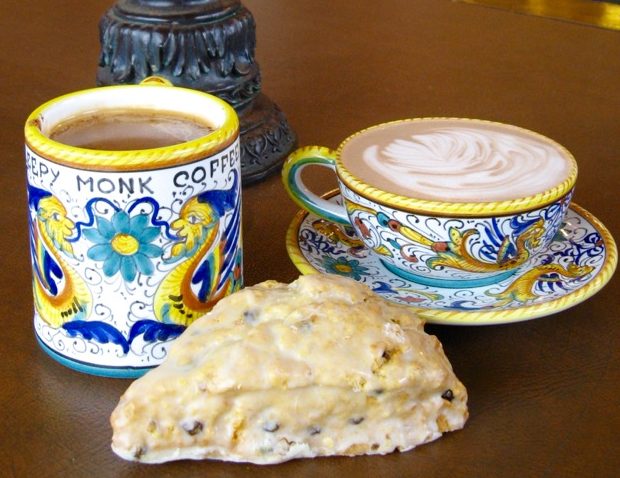 Wake Up at the Sleepy Monk Coffee Shop
Opening daily at a leisurely 8:00 am, this spot is popular with locals and visitors alike, which means there's usually a line to get in.
Never fear, its relaxed Irish-monastery atmosphere is the perfect spot for caffeinated conversation — or just some quiet time with the morning newspaper.
The fresh-baked scones (and other goodies) and the organic coffee, made from locally roasted beans, are worth the wait. (1235 S Hemlock St.; www.sleepymonkcoffee.com)
Discover the Wonders of Tidal Pools
Hotels in Cannon Beach post the tide schedule, and for good reason: Low tide means that tidal pools around Haystack Rock will be exposed, revealing the ocean life.
Starfish, crabs, barnacles, sea urchins and sea anemone — that are hidden underwater during high tide. Volunteers and staff from Cannon Beach's Friends of Haystack Rock are usually present during low tides.
They're on hand with fun facts about tidal-pool creatures and tips on how to observe colorful marine life without harming it. Friends of Haystack Rock wear red jackets: Ask them questions or attend a free Saturday tour. (friendsofhaystackrock.org)
Browse Art Galleries Downtown
There are more than a dozen art galleries in downtown Cannon Beach — plus numerous small shops and boutiques to explore.
You can find paintings, pottery, jewelry, photography—many created by Northwest coastal artists.
If you're interested in bronze sculpture, don't miss Bronze Coast Gallery, located in The Landing at 224 North Hemlock Street, to view an eclectic collection of works.
Play in the Waves and Sand
Yes, the waters off the Oregon coast are chilly — even in the middle of summer. Some brave souls splash around in the surf, but if that's too tooth-chattering for you, simply let the waves lap at your toes as you wander at water's edge.
You can also search the shoreline for shells, sand dollars, and driftwood; you can take home small quantities of these, as long as you don't collect them from within 300 feet of the base of Haystack Rock, a protected area.
Other fun beach options — whether or not you have kids in tow — are flying a kite or creating a sandcastle. Hone your sand-sculpting skills before entering the annual contest held in June (canceled for 2020). (cannonbeach.org/explore/Cannon-Beach-Sandcastle-Contest)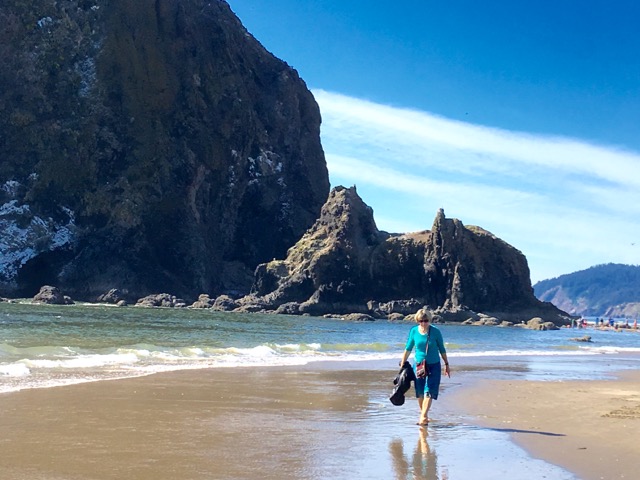 Dine at sunset on Cannon Beach
A handful of beachside restaurants offer stunning sunset views, and The Wayfarer is the most scenic.
Indoor and outdoor seating offers panoramas of Haystack Rock while you enjoy cocktails and locally sourced food, including the catch of the day.
A bit of a splurge price-wise, The Wayfarer experience shouldn't be missed, and the restaurant is arranged so that those sitting at nearly every table can watch the sky turning pink and orange through the windows. (1190 Pacific Drive; wayfarer-restaurant.com)
Build a campfire on the sand
Beachside fun doesn't end just because the sun has sunk below the horizon. Buy some wood and matches (sold at many Cannon Beach hotels and in local markets), grab a blanket and the marshmallows, and build a small fire.
Bonfires are not allowed—in a sandpit. (Be sure to stay a safe distance from shoreline vegetation.) Driftwood logs make great seats if you don't have beach chairs.
As sparks float into the starry sky, you'll stay warm on the coolest night. S'mores anyone?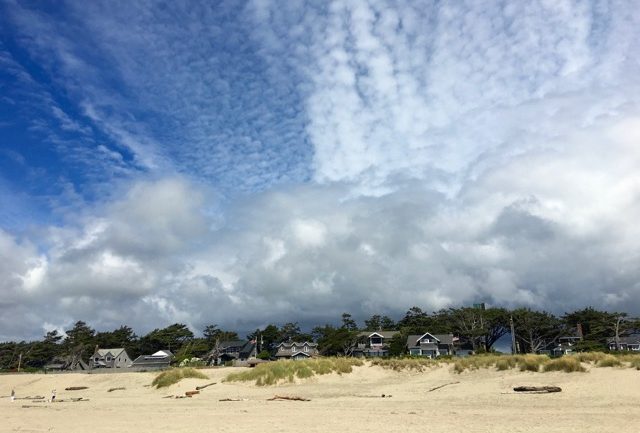 Fall Asleep Listening to the Surf
From an oceanfront room at the Hallmark Resort & Spa, you can tuck yourself into bed and hear the waves breaking on the shore. The best part? Waking up the next morning to an eye-popping view of Haystack Rock from your balcony.
If the Hallmark is booked, there are 40 hotels, motels and resorts in and around Cannon Beach. Beach camping is not allowed. (1400 South Hemlock St.; hallmarkinns.com/cannon-beach)
Author's Bio: Writer Laurel Kallenbach has visited Cannon Beach half a dozen times over the last 20 years.