Nestled in the heart of Oregon's wine country, just forty miles from Portland is the city of McMinnville. Though small, with a population of 33,000, the town is big on all things wine, as it's at the epicenter of the Willamette Valley, the state's famed wine locale.
The Oregon valley boasts nearly 250 wineries and vineyards, where avid oenophiles flock to tour and taste. They know the region's moderate climate and volcanic soil are ideal for producing award-winning red, white, rosé and sparkling wines.
Wineries and Tasting Rooms Abound in McMinnville Oregon
You'll find the majority of these wineries and vineyards within twenty miles of McMinnville, Oregon. However, if you want to stay put, the city's historic downtown has a number of tasting rooms.
The tasting rooms are of renowned wineries, including R. Stuart & Company, Willamette Valley Vineyards, Brittan Vineyard, Elizabeth Chambers Cellar and others. And they're all walkable.
New kid on the block is The Grove. Located in a beautifully restored old coffee roaster building on 3rd Street, this tasting room is home to two acclaimed Oregon wineries: Montinore Estate and Landlines Estates.
Best Tips & Tools to Plan Your Trip
Both wineries share a commitment to sustainability rooted in biodynamic and organic farming. They take pride in crafting wines that are expressions of their respective terroirs.
If wine's not your thing, don't despair. Options abound from craft beers to spirits and cider. The town's craft beverage scene is making waves as taprooms, distilleries and cider houses continue to open, presenting visitors with plenty of choices.
Stroll and Shop Historic Downtown McMinnville, Oregon
Voted among the fifty best small-town main streets, tiny McMinnville's downtown offers much more than meets the eye. And by more, I mean eclectic shops and boutiques with one-of-a-kind handcrafted items, galleries, outdoor art and of course, cafes, bistros and other eateries.
Find great souvenirs and food items from the Pacific Northwest at NW Food & Gifts. The store's wine collection is extensive with over 160 labels of hand-selected, small-run labeled wines from Oregon and Washington. You can also do wine tastings here with flights of six wines.
La Bella Casa is a trove of home décor treasures, children's clothing and more, albeit a tad pricey. Gals, you might want to stop in at Mes Amies for the latest in women's apparel and accessories.
I'm a sucker for independent bookstores and spent much time perusing the excellent collection of new and used books at Third Street Books.
Explore the Art Scene in McMinnville, Oregon
McMinnville's art scene is also robust for a small town. And if peeking into galleries and chatting with artists is your thing, you're in luck.
Longtime area painter John Stromme has his own gallery and is often manning the place so chances are you might get to meet him. The artist primarily uses acrylic as his medium, though he does like oil, too. His work is varied, everything from portraits and landscapes to still life.
Currents Gallery is artist-owned and operated, representing work by more than sixty local artists. It has a wonderful selection, including paintings and drawings, handmade cards, jewelry, ceramics, glass, furniture and clocks. I was particularly drawn to Claudia Herber's decorative gourd pieces.
Another favorite of mine is RJ Photography Studio. The local photographer captures the essence of the Willamette Valley landscape. They're an ode to the region's love affair with wine.
As you stroll, take note of the public art. Murals dot the town, adding splashes of color to the charming, turn-of-the-century buildings. Look for sculptures in alleys and on lawns. One of America's Founding Fathers occupies the corner of Third and Davis.
Sculptor Gary Lee Price's bronze of Benjamin Franklin is a magnet and you can see its attraction by the number of people taking selfies with dear old Ben.
McMinnville, Oregon even offers live stage productions over at Gallery Theater. The venue's 2023 season includes such beloved shows as "Into the Woods," "Harvey," "9 to 5," "Matilda" and more.
Check Out the Evergreen Aviation & Space Museum
Just a short drive from town are several notable museums. The Evergreen Aviation & Space Museum is a must for aviation fanatics, aspiring astronauts and history buffs.
There are actually two separate buildings, one devoted to aviation and the other on space, with a wide variety of military and civilian aircraft, unmanned aerial vehicles and spacecraft on display.
In the Aviation Museum, the star is the Spruce Goose. This mega aircraft was conceived during WWII when German submarines were sinking Allied ships, and there was a need to move troops and equipment across the Atlantic.
Henry Kaiser is responsible for coming up with the idea of a massive flying transport and looked to billionaire aviator Howard Hughes to design and build it.
Six times larger than any aircraft of its time, the Spruce Goose, also known as the Hughes Flying Boat, is constructed entirely of wood, due to wartime rationing of materials like steel and aluminum.
It flew just once on Nov. 2, 1947, in Long Beach, CA, lifting off the ground to an elevation of seventy feet and flying about a mile in 26 seconds. By the time it was completed, the $23 million, one-flight wonder was no longer needed for the war effort.
Historic Aircraft and Race to the Moon
In addition to the Spruce Goose, the Aviation Museum features planes from the beginning days of aviation. These range from the Wright Flyer and Curtiss Jenny, to modern aircraft.
There are specific exhibits dedicated to The Golden Age, Homebuilts, Korean War, WWII and Civilian. Displays show how planes first became popularized among farmers and then became mass-produced for business and the military.
The Space Museum takes visitors on a journey from early rocketry through modern space aviation today, including fascinating and informative exhibits on the start of the Space Age and the Space Race to the Moon.
Highlights include Sputnik and Explorer I, Mercury and Gemini capsules, Titan II, Apollo Lunar Lander and Rover, Space Shuttle artifacts, the A-10 Warthog and SR-71 Blackbird. Coming soon to the museum is the VL3 Mars Lander, the only Viking Lander remaining today.
Not Your Typical Waterpark
Right next door to the museum is Wings & Waves Waterpark. A series of slides, tunnels and wave pools will give you the perfect rush and it's the only place in the world where you can experience what it's like to barrel down from the belly of the Evergreen 747.
Take a Deep Dive Into the Region's History at the Heritage Museum
For a flash of the past, stop at Yamhill Valley Heritage Museum, a 40,000-square-foot complex containing displays of the area's agricultural history.
Among the items are more than 100 antique tractors, horse-drawn equipment and buggies, early 1900s autos and fire-fighting equipment dating back to the late 1890s. You can also visit an original 1880s one-room schoolhouse and a general store, plus a working blacksmith.
Go For a Hike
Get your nature fix and hike the trails around the area, such as Baker Creek Falls, Miller Woods Loop, the nature paths in Joe Dancer Park. The Harvey Creek Trail takes you through forested areas with vineyard views.
For something a bit out of the ordinary, there's Erratic Rock State Natural Site. Here's where a 90-ton rock was deposited during an Ice Age flood. The rock came from the northern Rocky Mountains and floated 500-plus miles in an iceberg via the mighty Columbia River. When the ice melted, the rock remained.
This is the largest glacial erratic found in the Willamette Valley and it stands out, as it's not the type of rock normally found in Oregon. A sign at the beginning of the short trail explains the rock's history and when you reach it, you'll have a nice panorama of the valley. Just imagine what it must have looked like during a flood.
Food, Glorious Food
All this activity will make you hungry. You're in luck because the bounty of Oregon wine country extends to its food. Along with the increasing numbers of in-town wineries come growing numbers of restaurants emphasizing fresh, seasonal, farm-to-table fare. They have reclaimed historic buildings for their cafes, bakeries, bistros and fine-dining establishments.
For breakfast, try Crescent Café, a family-owned spot with farm-fresh entrees in comfy digs. Menu items range from crepes and French toast to hash and egg dishes. I had the fried cornmeal with eggs and toast. Having never had fried cornmeal, I can say with certainty it tastes like polenta, which I love.
At lunch, head to WildWood Café, where you'll dine on hearty grub surrounded by assorted retro memorabilia. There's everything from sandwiches, melts and burgers to homemade soups and salads with all the fixings.
If you want to dine somewhere special, make a reservation at Humble Spirit. The restaurant does a commendable job of celebrating the valley's ingredients, showcasing sourced ingredients with a focus on everything local. They highlight the work of the region's farmers, ranchers, fishermen/women, winemakers and artisans.
My meal was scrumptious, beginning with the Oregon Bay Shrimp Rolls, followed by an incredible Roast Carrot Salad. The piece de resistance was the Whole Trout. And for dessert, my husband and I split the Roasted Pear with wine syrup, fennel crumble and whipped cream. Fully sated, we waddled out of the place and took a walk around town to digest our memorable meal.
If You Like Historic and Quirky Hotels, You'll love McMenamins Hotel Oregon
There are ample accommodations in McMinnville and many of them are unique. Historic and quirky properties are always of interest to me and when I heard about McMenamins Hotel Oregon, I immediately knew I wanted to stay there.
The building, which dates back to 1905, was just two stories initially and bore the name Hotel Elberton. Two more floors were added in subsequent years and the name changed to Hotel Oregon in 1932.
Seventeen years later, new owners built an apartment on the top floor as their home. In 1967, the hotel rooms were closed to the public, but businesses occupying the first floor kept thriving until McMenamins bought the place and began renovating it in 1999.
The hotel was a lively place in its heyday with numerous businesses occupying its storefronts, from beauty parlors and photography studios to a Western Union Office, dance lounge and soda fountain. It was a hub in the community, attracting young and old, with a cast of colorful characters who made it their hangout.
McMenamins lovingly transformed this McMinnville landmark. New life was breathed into the property with an infusion of artwork, murals, vignettes and historic photos. However, the rich wood detail, arched windows, art deco fixtures and more were retained.
They reopened all four floors for lodging, dining and events, and crowned the building with a one-of-a-kind rooftop bar that offers stunning vistas from downtown to the distant Coast Range.
The Hotel's Got You Covered When it Comes to Food and Drinks
For those staying at the hotel (or anyone else for that matter), McMenamins Pub is an easy dining option. Breakfast, lunch and dinner entrees emphasize seasonal and housemade daily specialties.
In the evening, wander over to the Paragon Lounge and enjoy a cocktail or glass of wine, with the enticement of live music on Thursday through Saturday nights.
Or head up four stories to that legendary rooftop bar for your libation. You'll feel like you're in a different stratosphere or perhaps a cloud bank as you sip on your McMenamins-made beer.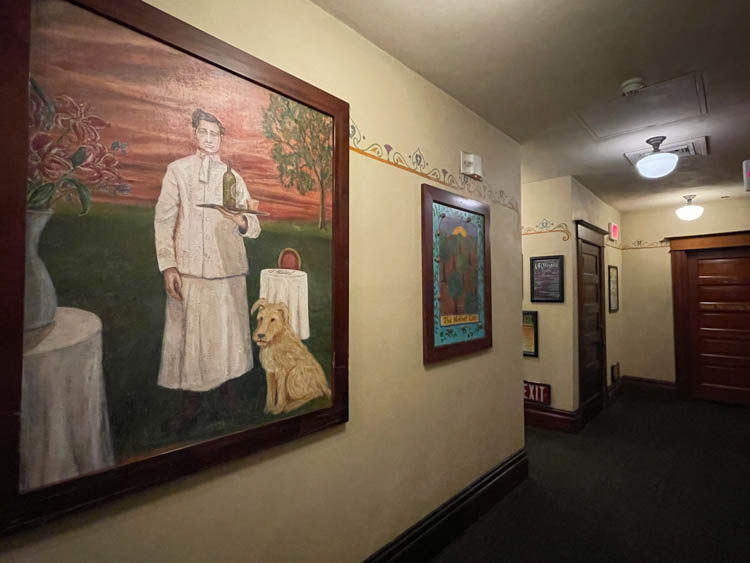 Guestrooms Celebrate Colorful Characters of the Hotel's Past
Each of the hotel's guestrooms celebrates a character or characters associated with the hotel or community. Some of the rooms have common bathrooms down the hall, others share bathrooms between adjoining rooms, while the suites have their own private bathrooms and comfy sitting areas. Original art adorns the rooms so that no two are alike.
I stayed in room 203, which is designated for Ollie Ruffner White. Described as a diminutive woman, Ollie was responsible for the canning operations at the family's farm. This operation produced jars and jars of fruit preserves, which were stored in the hotel's basement for later use.
Other characters include McMinnville newspaperman and civic leader Phil Bladine, who was responsible for getting the now famous UFO story out to the world (more on that later); sisters Joyce and Iva Widness, who "twisted hair" on the first floor of the hotel for many years; Heck Harper, the Roy Rogers of Portland; Lois Deever, hotel clerk extraordinaire of the 1940s; Rosie Wadersky, hotel chambermaid for twenty plus years; Bill Powell, respective McMinnville reporter who covered said UFO story, and many, many more.
McMinnville, Oregon Celebrates its UFO Sighting
As for this UFO story, the event happened in 1950. Local resident Evelyn Trent was feeding the animals on her farm when she spotted a disc-like object in the evening sky.
She went inside to alert her husband, Paul Trent, who grabbed his camera and was able to snap a pair of pics before the object disappeared. Of course, the photos went viral, igniting a media frenzy.
And the so-called "McMinnville UFO" earned the town a special notoriety that has been embraced and celebrated every year since.
Each May (this year the dates are May 19-20), thousands of visitors flock to McMinnville Oregon to attend the famed McMenamins UFO Fest. The celebration features a UFO parade, expert speakers, live music, a pet costume contest and more.
This event, which began at Hotel Oregon, was conceived as a way to honor the Trent sighting. It's evolved to become second in popularity only to the UFO fest in Roswell, NM. So if you crave some good old supernatural fun, mark your calendars now!
If You go to McMinnville, Oregon:
www.mcmenamins.com/hotel-oregon
Author Bio: Debbie Stone is an established travel writer and columnist, who crosses the globe in search of unique destinations and experiences to share with her readers and listeners. She's an avid explorer who welcomes new opportunities to increase awareness and enthusiasm for places, culture, food, history, nature, outdoor adventure, wellness and more. Her travels have taken her to nearly 100 countries spanning all seven continents.